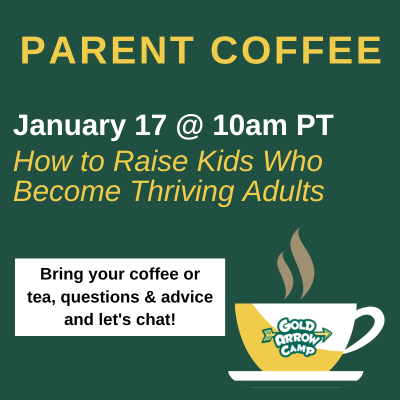 January Parent Coffee

Want to bring some of the fun, connection, and character and skills growth of GAC home to your family this year? Grab your coffee or tea, login, and join other GAC parents for our first parent coffee of 2024! We'll learn about and discuss simple, research-based and experience-backed strategies covered in HAPPY CAMPERS for bringing some camp strategies home to your family.
Get your copy of
Happy Campers
!
Audible
Kindle/Print
Audrey "Sunshine" Monke, who will be speaking at this coffee, is Gold Arrow Camp's Chief Visionary Officer, the author of
Happy Campers: 9 Summer Camp Secrets for Raising Kids Who Become Thriving Adults
,
and the host of the
Sunshine Parenting Podcast
. Audrey regularly speaks to parents and teachers on the topics of friendship skills, connection, and well-being.
See some of her past interviews and events here.