Many counselors feel the pressure to get internships so that their resumes are more appealing to companies after they graduate from college. While we think that working as a camp counselor is better than an internship we also know that not every corporate HR department realizes that. So we're happy to be able to offer paid internships for those staff members who might benefit from that arrangement.
Why take a GAC Internship?
It's paid. We're happy for you to get real-world experience in supervisory roles, practicing leadership, and collaboration skills all while getting paid. GAC Interns make the same wage as they would as counselors or leadership staff.
Build valuable skills. A GAC Internship will provide you with the opportunity to learn and practice collaborative problem-solving skills, group management, giving and receiving feedback (both negative and positive), time management, behavior management, and a myriad of other leadership skills.
You can build your own experience! We've had interns in fields as diverse as Exercise Sciences, Engineering, and Business. If you have a major, we can probably find a way to help you build an internship that will facilitate you growing skills in that major.
For more information on internships at Gold Arrow Camp, please send us an email!
We understand that many companies offer internships and that it can be a difficult decision about what internship to take, so we talked with two people who have had internships with Gold Arrow Camp, Megan "Dobby" Wride and Bruno "Anmut" Lomelirubi Vargas to share about their experiences. Both Dobby and Anmut were counselors before they were interns, but that isn't necessary. We're happy to have your first experience with GAC be an internship.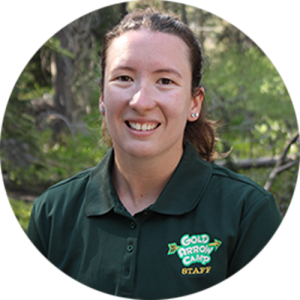 Megan "Dobby" Wride completed her internship with Gold Arrow Camp in 2019 as part of her Exercise Sciences program at Arizona State University. Her internship required a capstone project, which in her case was to design an exercise circuit for campers to use at camp, as well as leading campers through that experience.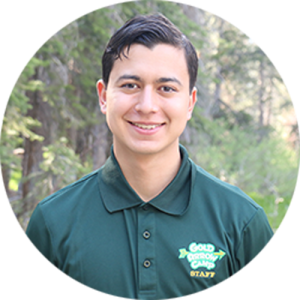 Bruno "Anmut" Lomeliburi Vargas completed his internship with Gold Arrow Camp in 2022 as part of his Business program at Minerva University. His internship required a written reflection on his experiences as a leader at camp during his summer as a Head Counselor.
What is your major?
Dobby: Exercise Science
Anmut: Business and Computer Science
Briefly Describe Your Internship At Gold Arrow
Dobby: I worked with Arizona State University to structure an internship where I designed an exercise circuit for campers and then led them through it at camp.
Anmut: I'm an international student, so I couldn't have a traditional job in the US. Additionally, as a double major, my schedule doesn't have a lot of space for electives. However, having a paid internship allowed me to work at camp and get some credits so that I could take more electives. For my internship I served as a Head Counselor, overseeing Group Counselors and their campers, and then I wrote a reflection tying that work into concepts that my university uses to link our learning.
What other majors do you think would be good for Gold Arrow Internships?
Dobby: I mean, camp does everything. I could see communications majors, doing interviews with counselors, doing interviews with campers, just spreading the word about what's happening every day at 7,000 feet.
Anmut: I think business, obviously and social sciences as well as the natural sciences. Really anything about being outside or that requires soft skills like managing people.
What was the difference for you between being a counselor and being an intern?
Dobby: I had more responsibility and ownership. For example I might have to take 30 minutes with my laptop to work on evaluations, to work on progress reports, to ask Bean questions. It wasn't too big of a separation, it was just that I needed to be able to access Wi-Fi more, which was completely possible.
Anmut: Really there was no difference other than my job description and that I had to write 2,000 words for my university at the end of it.
What did your university require from you to make this an internship?
Dobby: It took a lot of communication. Arizona State really values innovation and making your internship your own, and I think that building your own internship is far more valuable than going down a pre-set road. I met with my counselor, and then various emails between myself, my counselor, and Gold Arrow to really brainstorm how this could meet the requirements.
Anmut:I had to get it approved and, as I said, the reflection at the end.
What was the benefit of interning with Gold Arrow Camp to you?
Dobby: I just think that for the rest of your life, you're going to be working (probably) in the "traditional" fields for your major. When are you going to be a camp counselor, running around the woods, telling people, "ok, we're going to do squats here" and developing far more skills that you're going to be able to use in any professional setting, you'll be having to communicate with people from all walks of life, you'll be having to manage a whole cabin of 10 + individuals? So it's far more beneficial than just the professional setting.
Anmut: It was great that I got to work at camp. Also when I talk to my friends that had internships with Uber or Google or these other impressive big names, I think that I'm happier.
What advice do you have for anyone considering an internship at Gold Arrow Camp?
Dobby: Send an email. I was overthinking it way too much. You're not going to know what's going to happen, or if the requirements are going to fit until you send that email and get that conversation started.
Anmut: Find the person at your university who you can talk to about an internship and be honest with them about wanting to go to camp and being willing to do the work for that experience to be an internship.
GAC Internship FAQ