January 30 (6:30pm) – Sunshine at Stevenson School (Pebble Beach, CA)
February 19 (10am PT) – Happy Campers Book Discussion with Sunshine: Camp Secret #6: Kids Are More Capable Than Parents Think They Are. Join Sunshine for her 2019-2020 Zoom chats about her book, Happy Campers: 9 Summer Camp Secrets for Raising Kids Who Become Thriving Adults.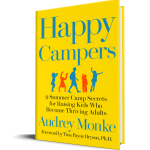 Join Happy Campers Book Club (Zoom meeting link will be emailed to you).
May 3 – LA GAC Party (details coming soon!)
May 17 – Atherton GAC Party (details coming soon!)
Please check back regularly, as more events are being scheduled!   If you would like to receive invitations to the GAC Chats & GAC Runners events scheduled in your area, be sure to fill out the information form here to be added to our mailing list.
To learn more about camp, please call the camp office at 800-554-2267, email us, or watch our camp video.