Each year, we hire several international staff members through international placement agencies, like Camp Counselors USA (CCUSA), Camp America, Camp Leaders, InterExchange and Wild Packs. You have the option of applying to one of those agencies or applying directly with us, using the application link on our website. Email staff@goldarrowcamp.com if you have any questions about the application process.
Q&A with International GAC Counselors
George "Oyster" Loveland, United Kingdom
Oyster is originally from Norwich and is currently studying astrophysics at the University of Leeds. He was been a Sailing Activity Counselor for two years.
Ana Sofia "Swift" Ruiz, Mexico
Ana Sofia is from Culiacan, Sinaloa, México and studies marketing at Tecnologico de Monterrey en Sinaloa. Last year was her third year at GAC, and she was a Group Counselor.
As an international applicant, what questions did you have?
Oyster: I had known for a long time before applying to Gold Arrow that I wanted to work as a camp counselor in the USA. The most important question for me was:  "Could I apply to work at a specific camp and still get a visa through an agency such as CCUSA or Camp America?"
The answer is yes, you most definitely can!
The process for me was to first apply directly to Gold Arrow Camp at
goldarrowcamp.com
. I did this as soon as applications opened. After some online interviews, I was offered a job as a Sailing Activity Counselor. Only then did I apply to CCUSA to get my visa sorted.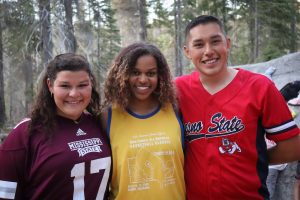 Swift

:
To be completely honest, I was so overwhelmed with questions! Will the food be good? (It was), are people nice? (they are), will I make friends? (I did), and I could go on forever…
I was really nervous since this was my first experience away from home, my family and my friends so I had all sorts of questions of how I was gonna make it on my own.
The truth is that even when I was in a different country, speaking a different language, surrounded by a lot of strangers, I was never on my own. GAC became my home, I improved my English skills so much, and all of the people I met became my family.
I think it's good to ask yourself lots of questions before coming to camp. Do some research, reach out to camp with those questions that make you lose your sleep, they will help you. But even if you did your research and you think you know what to expect, come with an open mind and be eager to learn and live new experiences.
What organization did you go through to come to camp?
Oyster: I applied directly to Gold Arrow Camp, and then used CCUSA to get my visa. I had to pay some fees to CCUSA and send them documents such as my job offer for Gold Arrow.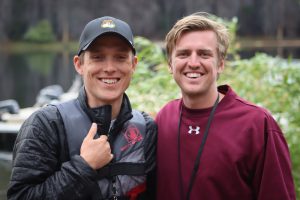 Swift: I came through Camp Leaders. They help you throughout the whole process and guide you with everything you need.
What was the process of getting a visa like?
Oyster: To get a visa, you have to use a visa agency, such as CCUSA, Camp America, or Americamp. These companies are recognized by the US government as sponsors of the J1 Cultural Exchange Visa. Most of the process was online. I had to set up an account with CCUSA, pay the program fees and send them my job offer. There are other documents you have to upload to the CCUSA website, such as a police background check and your passport information.
CCUSA then guides you through the process of applying for an appointment at the US embassy. This requires a trip to London for applicants based in the UK. Make sure you have all of your documents! CCUSA provided a list of all the documents you should take. There was a lot of waiting around at the embassy, the process takes 2-3 hours. For the interview, you go up to a window and answer some questions – for me, this took only a couple of minutes.
My advice is to get your visa sorted as soon as you can after receiving a job offer from Gold Arrow. The process takes time – you want the embassy to send your passport and visa back to you in time for your flight!
Swift: It was a long process, I really recommend to start it as soon as you can. It is also an easy process if you follow the steps. Trust your agency, they've been doing this for a long time.
The day I went to the US Embassy I had to wait in line for about 5 hours! So bring comfy shoes and try to meet people there, you will probably find other people who are also applying to camps.
What were your biggest concerns before coming to camp?
Oyster: At the end of the summer, you will have 30 days on your visa to travel around the US. Before camp, I was concerned that I had no travel plans. This was not something to worry about! You have 10 weeks at camp where you'll make really close friends, with whom you can plan your post-GAC adventures. This is not something to worry about before coming to camp!
Swift: My biggest concern was probably adjusting to camp. It was my first time being away from home and I just didn't fully know what to expect. Also, I was concerned about being in a cabin and not knowing what to do, but training week is literally awesome, and you most likely will be with a returner counselor who will guide you.
How would you describe your camp experience?
Oyster: I have had an amazing experience. It has been an adventure, that's for sure. The sheer beauty of the place is immense. At camp, I get to be on the lake everyday. I'm always having an impact on somebody's day. I'm passing on skills and helping campers learn and grow as individuals. I love the sense of community at GAC, especially amongst the staff. I have had two amazing summers at Gold Arrow – I'm excited to come back again next year!
Swift: It was the best, and most life-changing experience I've ever had. In 2 months I learned things about myself, I gained skills that I didn't expect I would, and I made friends that I know are forever (I'm even going to Japan with some of them!)
The most important thing is that I felt supported, welcomed and I felt that I was making a difference and truly helping campers grow, and growing myself as well. Camp made me so much more confident and independent. I definitely made friends, had fun and grew.
What advice would you give an international applicant coming to camp for the first time?
Oyster: Get your visa sorted as soon as you can. Don't worry about not knowing anybody at camp – you will make friends very quickly. Embrace being in America. Many things will be different to home – that's what a cultural exchange is all about!
Swift: First: If you come from a super hot place like I do and you are not used to the cold, please bring the warmest sleeping bag that you can, you'll thank me later.
Second: Get to know people as soon as you can, it'll help you feel even more welcome and you'll realize the awesome people you will be surrounded by the whole summer. Don't hesitate to ask for help, there's a lot of staff who have been in camp for a really long time who can help you, also the directors are really supportive and they really want you to have an awesome experience.
Third: Do not forget to bring something from your country, it can be pics from your hometown, a jersey or your flag! Kids and staff love to learn about you and where you come from! Camp is a lot of fun but always have in mind that you have a great responsibility and campers' needs always come first.
Finally, what you put into camp is what you get back. Be yourself, have fun, and be as positive as you can.
Any closing tips or remarks?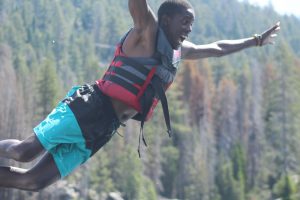 Oyster

:
Not many people from around the world have the opportunity to work at a top-class summer camp in the Sierras. Make the most of it. Constantly challenge yourself to take on new challenges and responsibilities. The mantra is true just as much for staff as for campers – this is a place where you will have fun, make friends and grow. My time at Gold Arrow has been so valuable and I wouldn't trade it for anything.
Swift: Make the most out of every single day! You will have a summer full of laughter, awesome people and incredible experiences.  Find something that you like to do to recharge energy, whether it is reading, writing a diary, listening to music. It is incredibly helpful.
Also, don't forget to keep in touch with people from home, it will make you feel happy and in peace, and they miss you as much as you miss them.
Use the time you have after camp to travel! A lot of people want to travel as well and you will definitely make plans with them.
Be really excited because you will be in a really unique place with awesome people, you will have the time of your life!
If you would like more information about how to apply as an international staff member, please email staff@goldarrowcamp.com.