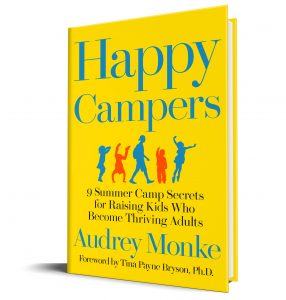 Happy Campers is a joyful and wise parenting book. Drawing on her lifetime of experience as a camper, camp counselor and camp director, Audrey Monke shows us what is most important in the lives of children. She then takes the next step and teaches parents how they can recreate the magic of camp in their own homes. I have never read a more optimistic and well-grounded guide to parenting.
–Michael G. Thompson, Ph.D., Bestselling author of Raising Cain
Keep the growth and happiness of summer camp going all year! Join author Audrey "Sunshine" Monke in the Happy Campers Book Club as she shares resources and ideas from her book, Happy Campers, 9 Summer Camp Secrets for Raising Kids Who Become Thriving Adults!
To join the Happy Campers Book Club

Step 1: Pick up a copy of Happy Campers at your favorite book seller: Barnes & Noble, Indiebound, Books-A-Million, or KOBO
Step 2: Complete this form, and you'll be sent exclusive downloadable resources and monthly links to join (optional) Zoom coaching calls with Sunshine.
Free Happy Campers Downloads
Happy Campers Book Trailer (featuring GAC campers & staff)
Happy New Year, everyone! Take a look at our January Kindness Calendar to kickstart your year with kindness. Every day is a great day to show people around us that we care! You can download the printable version here.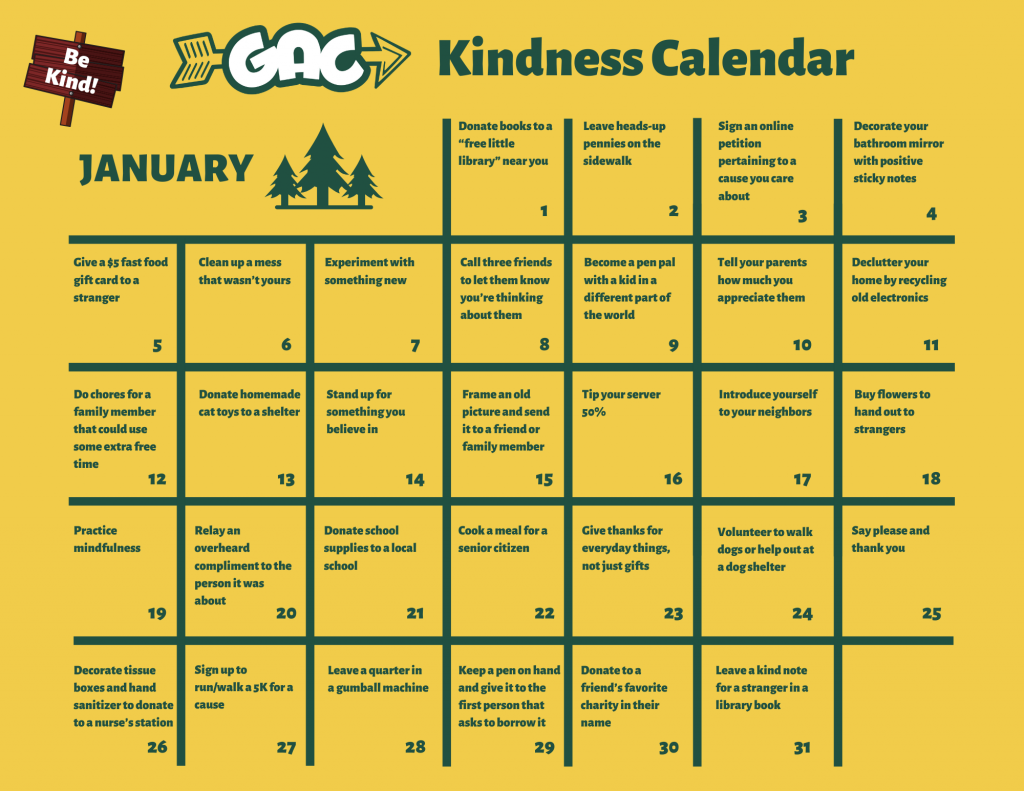 One of the highlights of each session is our camp-wide dance. We all come together at our Granite Grove event space for a night of kicking our heels up to some of our favorite songs.
Dances feature favorite group dances, like Footloose and Tragedy. There's also our photo booth for some pictures with friends, special snacks and drinks like the "Soy Rogers" and "Shirley Chipmunk," and a wide selection of games for those campers that prefer playing over dancing.
Each of our dances has a theme, and campers and staff are encouraged to dress up to match the theme. Some people bring costumes from home, while others improvise using their clothes or making something at Arts & Crafts. Whatever you choose to do, we know you'll have a great time at our dances.
This year's dance themes are:
June Shaver Specialty: Hollywood
Come as your favorite celebrity or dress to impress as one of your favorite movie characters for this fun SoCal themed party!
Session 1: Pirates
Shiver me timbers matey! Session 1 campers will be walking the plank to fun with their peg-legs, eye patches, and other pirate accessories.
Session 2: Groovy Hippies and Tie-Dye
Let's have some far-out fun in Session 2, when we enjoy the dance with our best hippie costumes, or your tie-dyed favorites.
Session 3: Halloween
Having a hard time coming up with a costume for Session 3's Halloween dance? Any costume will do as we celebrate the one night of the year when people love costumes as much as we do on dance night.
Session 4: Winter Wonderland
It'll be the end of August, but we're going to dress like a blizzard is on the way for our Winter Wonderland dance for Session 4.
Mini Camp and August Specialty: Candy Land
It's a night for sweet treats as we end the summer with a dance celebrating candy, or the board game Candy Land!
"No One Eats Alone is a Positive Prevention Initiative that works to prevent bullying before it starts by teaching students to lead the movement to change the culture of middle school!"
National No One Eats Alone Day is February 14, 2020! This popular national program is celebrated in many schools across the country and is a student-led event. It is a day where all kids feel included and accepted by their peers. Would you like to have your school participate? We encourage you to partner with a teacher and click here to sign up where you can request a No One Eats Alone Day backpack. The backpack will help you launch your own NOEAD at your school! If you're not sure if your school is already registered, see here!
We invite our GAC families and friends to join with us in celebrating I Heart Camp Day on Saturday, February 1st! If you're nervous that you don't have any I Heart Camp decorations and haven't been invited to a big I Heart Camp Day block party, don't worry! Celebrating this day doesn't require a trip to the party store. It just requires you to love camp and to be willing to share that love.
How?
It's pretty easy. Just take a picture of yourself holding a sign that says "I Heart Camp" (you could use the picture at the top of this story if you need inspiration) and then post it on your favorite social media on February 1st. Tag us (@goldarrowcamp) and use the hashtag #IHeartCamp. We'll share our favorites on our accounts! We love seeing everyone from staff to campers to alumni to parents getting involved!
Check our accounts all day on February 1st as we share your photos and some of our favorites from last summer!
Hello all! Can you believe it is the last month of the decade already!? Here are 31 ideas to keep your kindness going through December. Have a fabulous month! You can download the printable version here.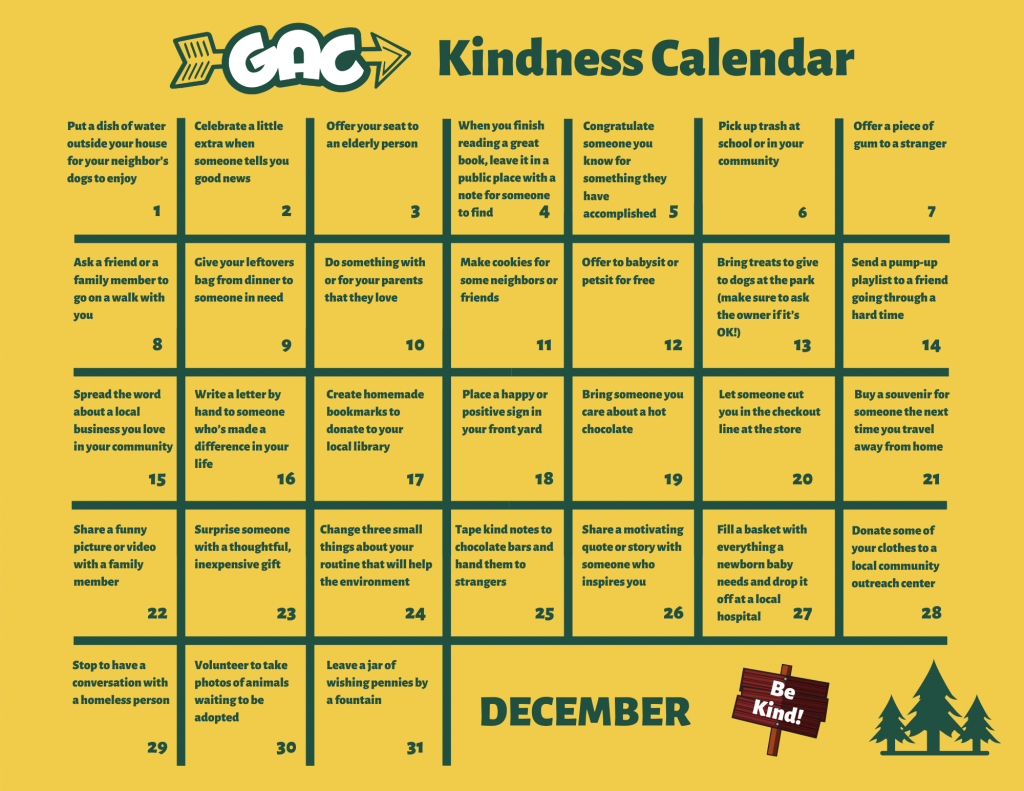 This Thursday, November 14, 2019, Sunshine will be spending time with parents and friends of Chandler School in Pasadena, CA. Her talk on "Raising Kids Who Become Thriving Adults" is part of their ParentEd series, which also features two of Sunshine's favorite parenting educators – Tina Payne Bryson, Ph.D. & Julie Lythcott-Haims.
If you are in the Pasadena area and want more information, please click here. We hope to see you there!
Camp T-Shirt Day is Right Around the Corner!
We invite all Gold Arrow families to join us and other camps and camp families around the world as we celebrate International Wear Your Summer Camp T-Shirt Day on November 12th. Do you want to take part in the fun? It's easy, just wear your favorite GAC shirt, take a picture, upload it to social media, and use the hashtag #CampTshirtDay. If you tag us too (@goldarrowcamp), we'll share some of our favorites on our Instagram. We can't wait to see your best GAC gear!
Join Us In Opting Outside
This year, we're thrilled once again to join with REI, the outdoor equipment co-op, to encourage you to opt outside on Black Friday. REI gives its employees a paid day off instead of opening for the crush of people looking for deals the day after Thanksgiving and encourages other organizations to do the same. They also started the #OptOutside hashtag as a way for people to share what they're doing in nature.
We love the idea of #OptOutside because it matches so wonderfully with our Core Values, specifically that we want children to "experience the awe of nature." We hope that you'll join with us in spending time outside on Friday, November 29th. If you take pictures, you can share them on social media using the hashtag #OptOutside. We'd love it if you also tagged us (@goldarrowcamp) so that we can see what you're doing outside. We'll share our favorite GAC family #OptOutside pictures on our social media channels.
If you'd like more information on the Opt Outside movement, visit REI's Opt Outside website.
Happy November, everyone! We hope the turn of the new month finds you all well. Here are 30 new ideas of how we can be kind to others this month. Enjoy! You can download a printable version here!