Though many of our traditional two-week sessions are full, we still have space in some of our teen programs and specialty camps.
For teens, we have spaces in both of our Junior Counselor sessions for boys. We also have space in our second Outdoor Leadership Course, which runs from August 4th through the 17th. You can learn more about the Junior Counselor program here, and our Outdoor Leadership Course here.
We also have space in our Mini Camp program, which is a one-week program. Mini Camp is a great opportunity to experience Gold Arrow Camp in a shorter format, or to get a last burst of positivity before you head back to school! More details about Mini Camp are available here.
At GAC, we love the Poetry Corner. One of our favorite parts of PoCo is the reading of haikus. Haikus are poems that are three lines long, with the first line having 5 syllables, the second line having 7 syllables, and the third line having 5 syllables.
So we're going to have a contest! Just send your best camp-related haiku to us (mail@goldarrowcamp.com) by Monday, April 15th. We'll share the best camp-themed haikus on Wednesday, April 17th. Why the 17th? Because it's National Haiku Day, that's why! We can't think of a better way to celebrate haikus than by sharing our favorites, and we can't wait to read your haikus!
We're thrilled to offer online Q & A sessions with camp directors. There will be two opportunities for you to join us virtually to discuss any questions you have about camp for 2019. These discussions are tailored to first-year families, but anyone with questions is welcome to attend.
The meetings will be hosted on zoom and we ask that you RSVP if you intend to join us. There will be a short presentation followed by an opportunity for you to ask questions and have them answered by experienced camp directors. The first online Orientation and Q & A will be on Wednesday, May 15th at 7 PM Pacific time. The second event will be on Sunday, June 2nd at 4 PM Pacific.
If you are interested in attending, please RSVP at this link. While you're there, you can also RSVP for our GAC Parties in Northern and Southern California.
For the third year, your friends at GAC are here to help you with Valentines. We know that it can be tough to find just the right message to send to your camp friends. That's why we've put together another set of "GACentines." These Gold Arrow themed cards are perfect for use in real life or online. Just print them out and send them, or download them to share on social media.
If you prefer your Valentines to feature photo staff puns, we can help: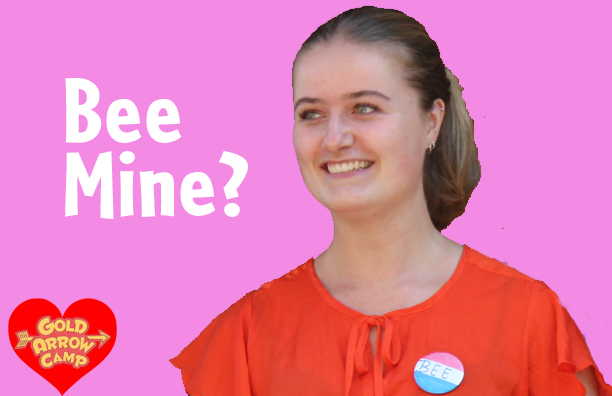 Perhaps you would prefer a Group Counselor? Here you go!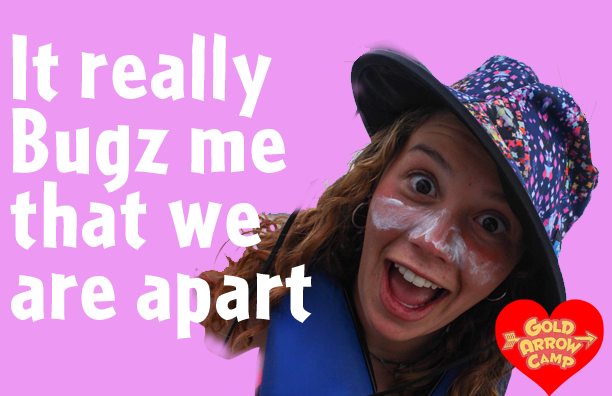 Maybe you like your Valentines to be a little bit like the 4th of July. Joe America is here to help.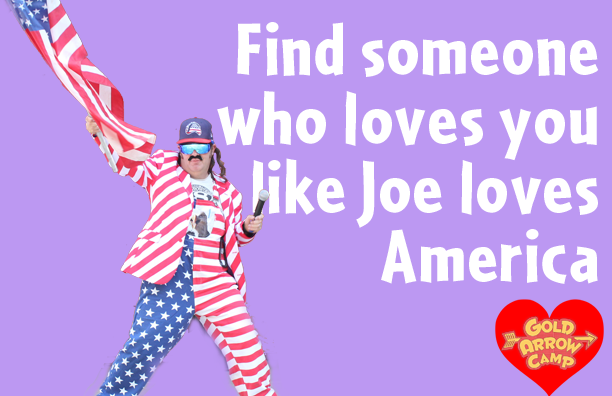 If you want your card to have an English flair, Lynx is right here waiting for you!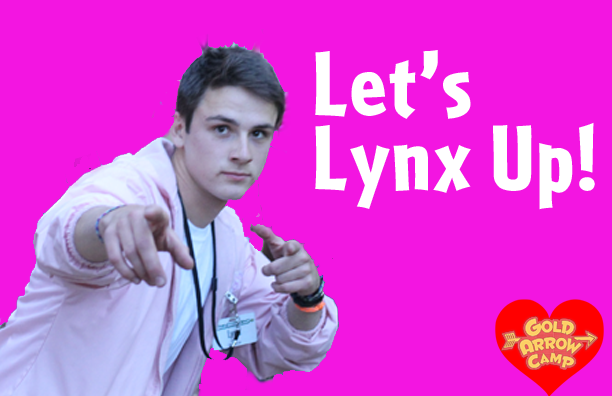 There's no excuse to not send this note!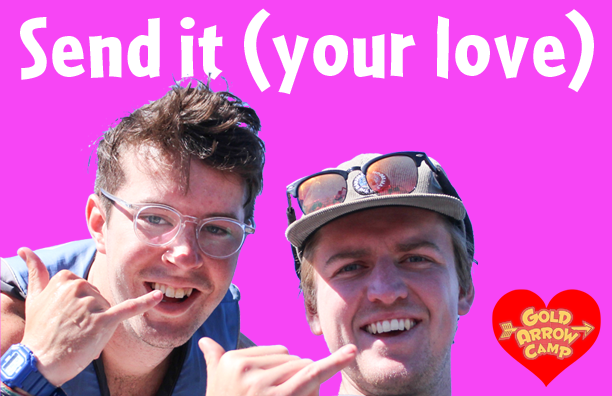 Maybe you want to show your affection with a Rocks & Ropes counselor. Sol is just the ticket!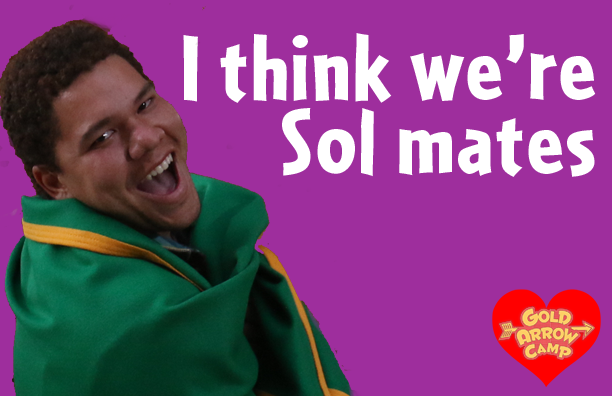 Baboon is here to serve up your Shaver Island Valentine.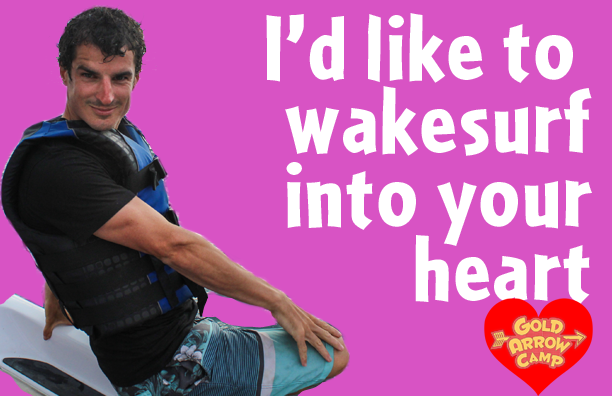 Finally, if you'd like something without a pun, we've got a shot of Toyota and Stix in the minutes after they got engaged during June Specialty Camp.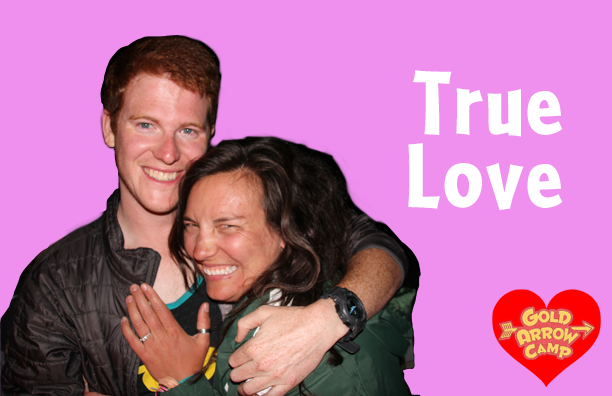 We are thrilled to announce that Camp Owner and Director Audrey "Sunshine" Monke's debut book has a scheduled release date. The book is ready to go and we're excited to read it! Happy Campers: 9 Summer Camp Secrets for Raising Kids Who Become Thriving Adults will be released on May 7th, 2019.
Based on thousands of interactions with campers, camp counselors, and parents, and on academic research in positive psychology, Happy Campers introduces a framework of intentional strategies to help parents create the same kind of transformational culture that kids experience at camp. Instead of raising a generation of kids who are overwhelmed, anxious, depressed, and unable to function as independent and responsible adults, parents can create an environment at home that promotes the growth of important character traits and social skills that kids need in order to have meaningful and successful lives. Complete with specific ideas to implement these summer camp secrets at home, Happy Campers is a one-of-a-kind resource for parents wanting to raise happy, socially intelligent, successful kids.
If you want to pre-order the book, you can do so at any of the following links:
If you're in the Los Angeles area and would like to attend a meet and greet with the author, Sunshine will have copies available (and will happily sign them) at our GAC Party on May 5th.
To help you pass the time until the book is released (and to make you smile), enjoy this video of Sunshine unwrapping her first book for the first time!
The advance copies of my book have arrived! Watch me open the box and see it for the first time!! http://sunshine-parenting.com/happy/

Posted by Sunshine Parenting on Thursday, January 31, 2019
At Gold Arrow Camp, we are passionate about lip protection. We're so passionate that every year we run a contest to name lip balms for our camp store. Past winners have included classics like Vanilla Tree and Tiller Towards Tangerine. This year is no different. Once again, we invite you to think up the best camp-inspired name for a lip balm flavor and send it to us. How? You could email us, or you could post it to either Instagram or Facebook and tag us (@goldarrowcamp). We can't wait to see what your creativity comes up with this year!
The National Day of Unplugging is right around the corner, and Gold Arrow Camp is thrilled to be taking part in this event yet again. We're going to be among the 112,000 people who have pledged to unplug for 24 hours starting at sundown on Friday, March 1st. You know how we feel about technology in the summer, and we think it's important to take a break during the rest of the year as well. If you visit the National Day of Unplugging website, you can sign a pledge to unplug, and they'll even send you a sleeping bag for your phone! We hope to hear from you (after the 2nd!) about your unplugged day. If you need ideas for what to do, start with this post about making dinner more like a campfire. That will get your 24 hours off to a great start!
Every year parents and campers alike wait next to their mailboxes, eagerly awaiting the arrival of the Gold Arrow Camp Parent Handbook. We know how much joy the handbook brings to the lives of our camp families, and so we're pleased to announce that it will soon be headed to your home.
Keep an eye on your snail mail for this year's edition! It's full of information on bus stops, packing for camp, a "parent to-do list" and a summer calendar!
Once again, the GAC Runners will be headed to Newport Beach on March 17th, 2019, for the 36th annual Spirit Run. This race is a favorite for us as we get to see so many long-time GAC families and campers at the expo. There are races for all ages and skill levels. We'd love to have you join us for the Spirit Run. Details and registration information are available here.
More information about the GAC Runners program is available here.
We invite our GAC families and friends to join with us in celebrating I Heart Camp Day on Friday, February 1st! If you're nervous that you don't have any I Heart Camp decorations and haven't been invited to a big I Heart Camp Day block party, don't worry! Celebrating this day doesn't require a trip to the party store. It just requires you to love camp and to be willing to share that love.
How?
It's pretty easy. Just take a picture of yourself holding a sign that says "I Heart Camp" (you could use the picture at the top of this story if you need inspiration) and then post it on your favorite social media on February 1st. Tag us (@goldarrowcamp) and use the hashtag #IHeartCamp. We'll share our favorites on our accounts! We love seeing everyone from staff to campers to alumni to parents getting involved!
Check our accounts all day on February 1st as we share your photos and some of our favorites from last summer!