9/16/20
Monkey & Junior checked on camp again on Wednesday, September 16, 2020, and took a few pictures to share with all of us: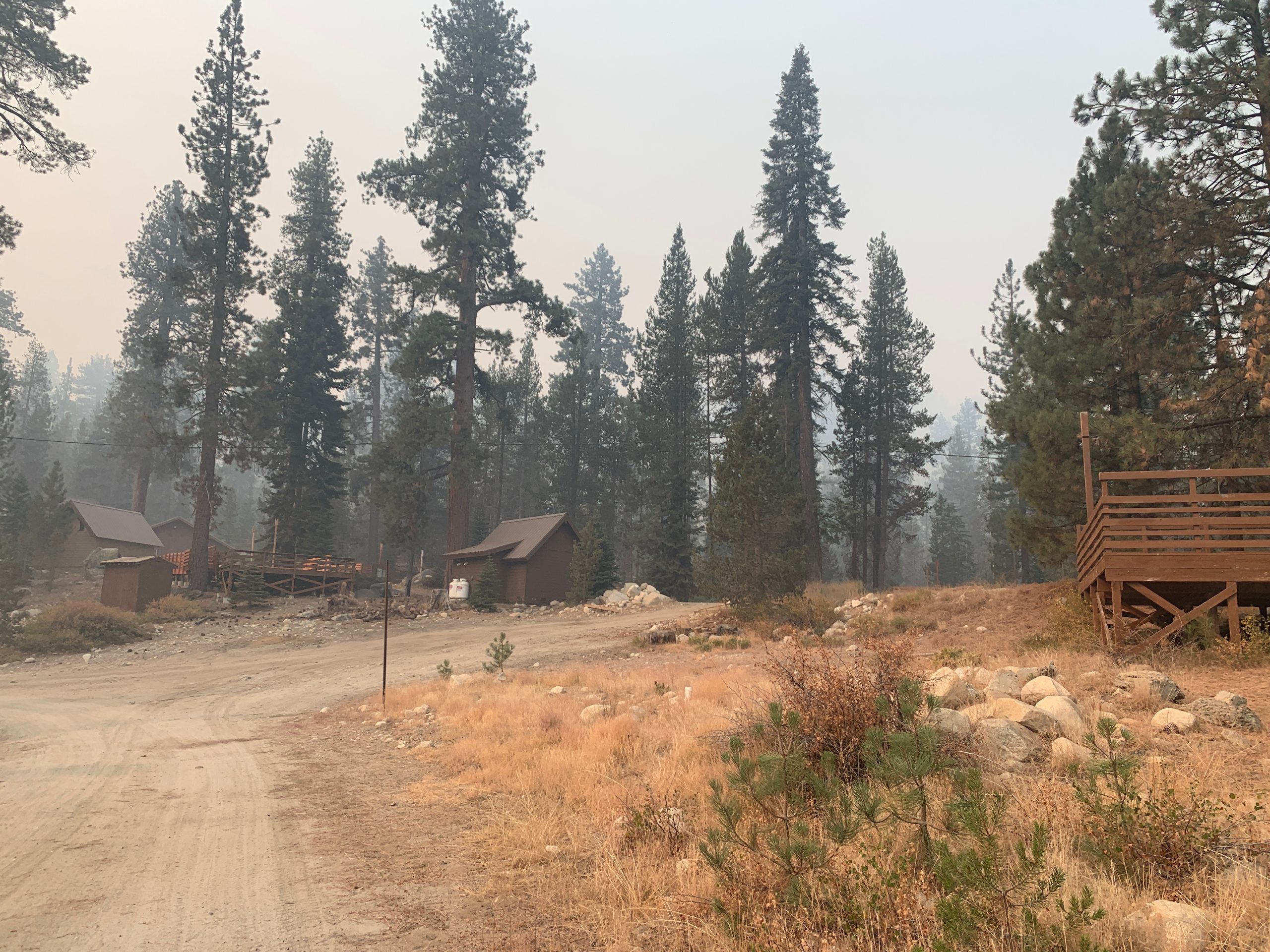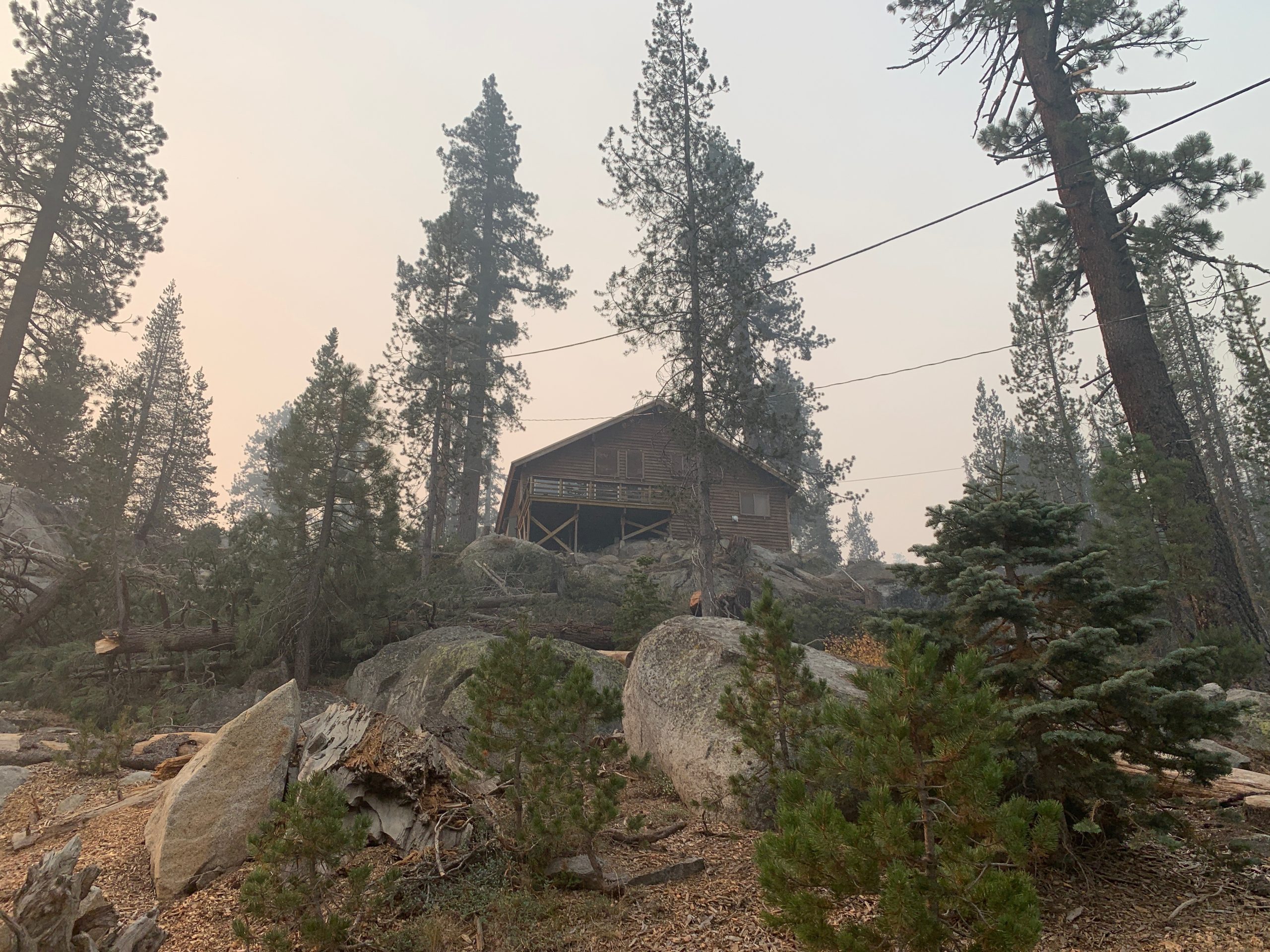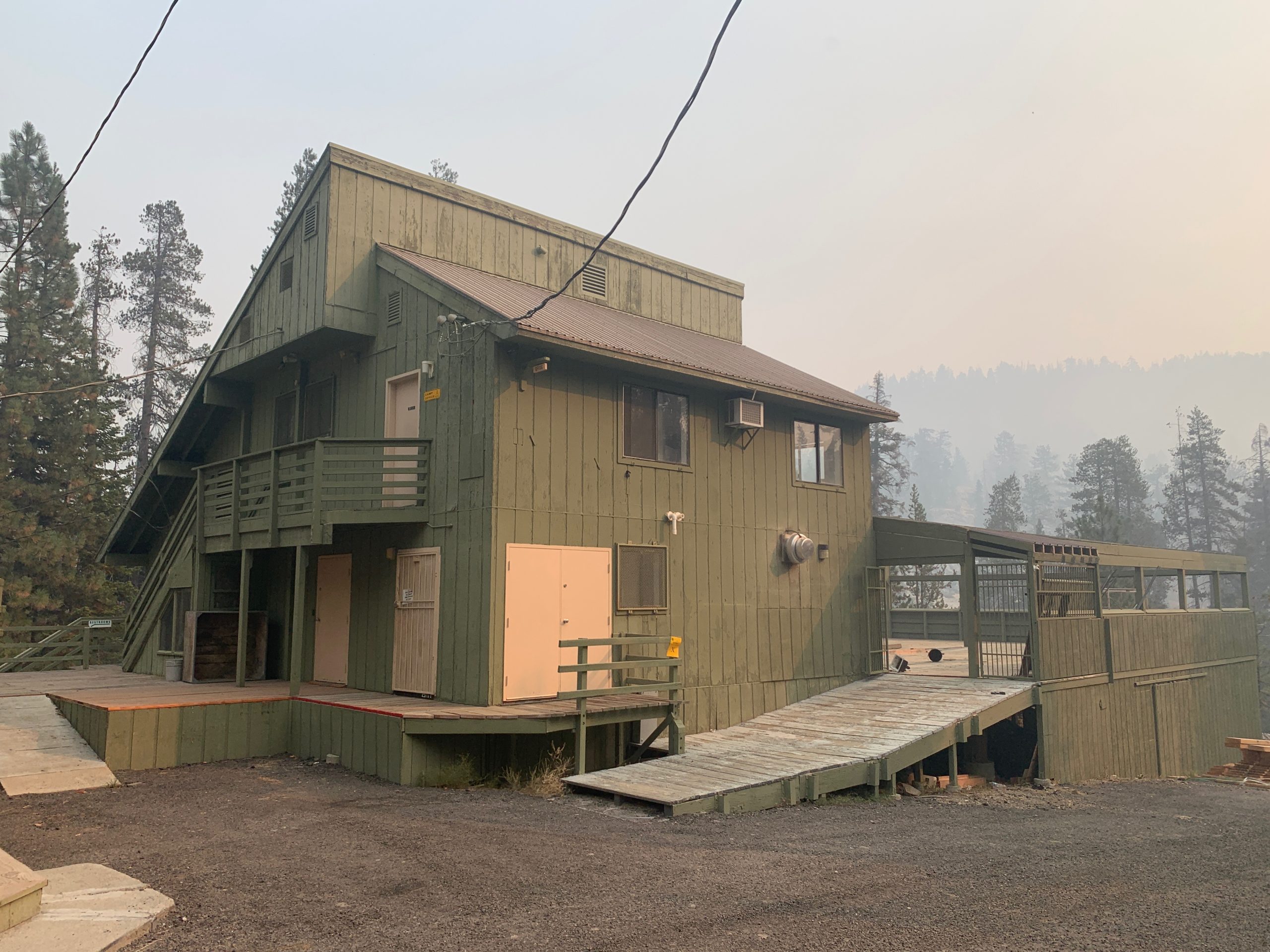 9/15/20
Thank you for your continued messages and concern about GAC. We have felt your love and prayers over the past weeks as we all watched the progression of the Creek Fire towards our beloved GAC.
Many of us became adept at refreshing the many different fire and heat maps, and we are thankful that it is no longer necessary to check for those dreaded red dots over GAC!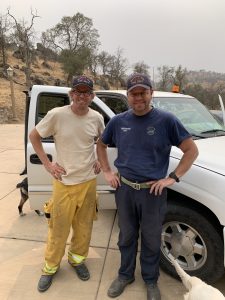 We do not anticipate any major damage to GAC from this fire; however, there is still some fire activity in the vicinity of camp, so we are continuing to closely monitor the situation. We're feeling confident that camp will continue to be safe from the Creek Fire, as the worst days of the blaze in our area were last week.
Our favorite firefighter, longtime GAC staff member Brad "Junior" Driscoll, is continuing to keep tabs on GAC.
Monkey, who was trained as a volunteer firefighter back in the 90s, was able to spend Tuesday – Thursday on the mountain with Junior, and he even had the opportunity to fight a blaze at the staff housing at China Peak. See news video featuring the back of Monkey as he sprays water into a burning structure.
On Saturday (9/12/20), Andy "Soy" Moeschberger joined Junior for a walk through camp. They found the Vanilla Tree, the Dining Porch, Big Campfire, and all of our camper tents and cabins safely waiting for the summer of 2021.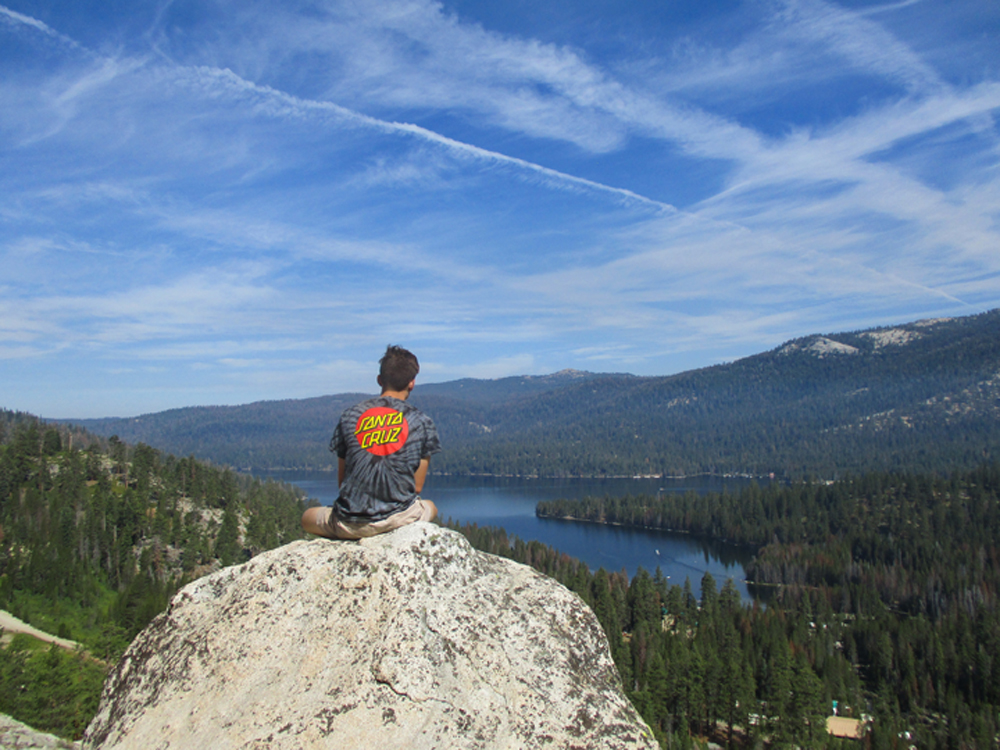 We are grateful for the prayers and support of our GAC community. We were extremely fortunate that GAC fared so well during the fire when many of our neighbors did not. Our hearts go out to the camps and cabin owners around Huntington Lake that lost structures to the Creek Fire.
9/10/20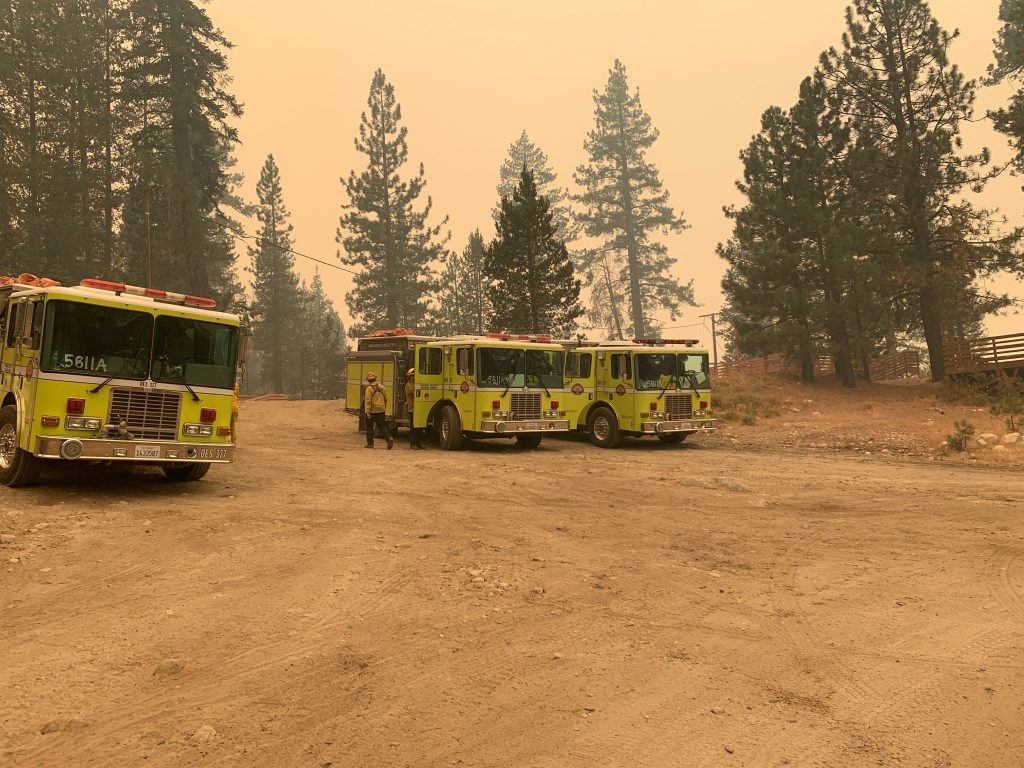 The report from camp continues to be positive. Junior and Monkey were both able to be at camp over the last 36 hours and here's what they report:
The Creek Fire is continuing to burn at Huntington Lake. There are crews in camp actively engaging in protecting structures. They have a water line protecting the edge of camp and are ready to fight the fire if the need arises. Lower temperatures and calmer winds have made the fire more predictable and less aggressive.
For now, camp is safe and well-protected. We are optimistic but understand that changes in wind or weather could change the situation.
Many of you have reached out to ask what you can do to help. Right now, the best resource is the Red Cross. You can also text CAWILDFIRES to 90999 to make a $10 donation to the Red Cross California fire relief efforts. When the Creek Fire is contained and we know more about what our beloved mountain community needs we will share opportunities for you to help more specifically.
We continue to be overwhelmed by your messages of support and continued thoughts and prayers for our little oasis in the High Sierra. We are in awe of the bravery and efforts of the fire crews that continue to battle the Creek Fire. Thank you all.
9/9/20
This afternoon we got a boots-on-the-ground report from camp. Here's the current situation as it stands as of 2pm:
Currently, there are two fire strike teams in camp. They are cutting a fire break from the lake to Highway 168 just to the west of the mini motorboat dock.
There is damage to the Mirimichi portion of camp, including Granite Grove, but there is no structural damage to camp right now.
We are exceptionally grateful to the fire crews who are working bravely and tirelessly and to the members of our GAC family who continue to reach out with generous offers of support. We are hopeful for low winds and continued cooler temperatures to aid in fighting the fire.
9/8/20
Thank you for the outpouring of calls and emails. It is overwhelming for us to know how much camp means to so many of you. We can't respond to each of you, but please know how much we appreciate your offers of support. Thankfully, all of camp's staff members have evacuated safely from the mountain. When we have more concrete details about how you can help, we will share those with you.
Due to communications infrastructure being destroyed by the fire, accurate updates from Huntington Lake have been slow and inconsistent. Based on the publicly available maps we can see that the fire is moving toward camp. We will update this page and our social media accounts as soon as we have confirmed information about the status of camp.
Again, thank you for your concern and your offers of assistance. For a long time, we have known that Gold Arrow Camp was a community that feels like a family. In this year of pandemic and fire your kind words of support and love have proved that point over and over again.
9/7/20
As of this morning, winds had shifted and camp is not directly threatened by the Creek Fire. The Huntington Lake Volunteer Fire Department has been working hard to fight the fire at the other end of the lake (where our Will'O sailing trip goes each session.)
Firefighters are currently fighting the fire around the town of Shaver Lake.
This is the heat map as of 11 AM on September 7th.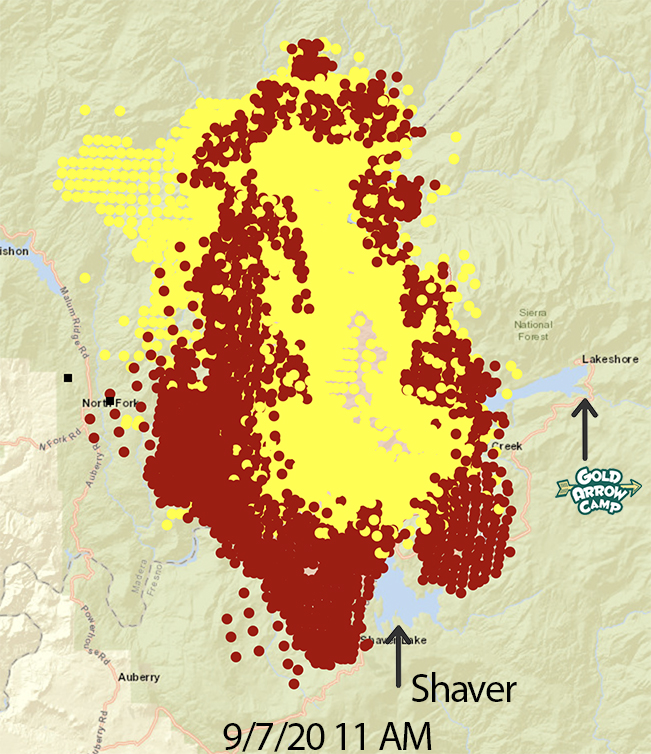 9/6/20
Thank you to our camp families, staff, and alumni who have reached out with concerns about the fire that is near camp.
On the evening of September 4th, the Creek Fire began below the town of Big Creek, near Shaver Lake. This morning, September 5th, the Fresno County Sheriff ordered the evacuation of everyone at Huntington Lake and Shaver Lake.
Both main camp and Shaver Island are currently safe, and we are continuing to monitor the situation. We're grateful to the brave firefighters who are working to contain the fire.
We will update this page with information as it becomes available. You can also find more information here.
We have enjoyed helping support our campers, staff, and parents as we continue to navigate social distancing and as families begin online or modified school schedules. We hope you will join us for some GAC community time that we have planned! We will take this opportunity to encourage fun, friendship, and growth.
Upcoming Virtual GAC Events
Wednesday, September 2 at 4pm PT – Afternoon Assembly
Wednesday, October 7 at 4pm PT – Afternoon Assembly
Wednesday, November 4 at 4pm PT – Afternoon Assembly
Wednesday, December 2 at 4pm PT – Afternoon Assembly
Campers are invited to join us for these Afternoon Assemblies hosted by GAC staff. These events will be held in a private Zoom meeting room and will also be streamed on Facebook. The link to Zoom will be sent via email. Please do not share this link with people outside of our GAC community.
We recognize how difficult this time is for all of us. It is our hope that by offering virtual events for our camp community, we can bring some fun and connection to a challenging time!

For long-time GAC campers and staff, receiving their Five Year Blanket is a BIG DEAL. Campers and staff look forward to being wrapped in their blanket at the final Appreciation Campfire of their 5th summer at GAC.
This year, due to the pandemic, we were not able to have in-person GAC sessions, but we did have a phenomenal group of 105 kids participate in GALA, our online leadership program.
During super secret road trips (coordinated with parents) this summer, the GAC crew drove throughout the state of California surprising our 5 & 10 year campers!
Congratulations to the amazing group of loyal GAC campers who celebrated their blanket & jacket years with us in 2020!
Photos
Learn more
Our GATA (Gold Arrow Teacher Academy) program had a great turnout for our first webinar and we are so excited to continue on this journey with everyone. There is still time to register for GATA and our next webinar is quickly approaching. Join us on September 9 at 5pm PT/8pm ET as we gather to discuss how to create a positive classroom culture and keep it going throughout the year. We will provide you with strategies for creating a positive classroom culture – a place where kids look forward to going each day and don't want to leave!
To learn more about GATA and to register for an individual or school membership, please visit https://goldarrowcamp.com/teacher-academy/.
As a GATA member, you will be able to join us for a monthly webinar, engage in weekly teacher chats, and receive no-prep or low-prep connection activities delivered to your email inbox weekly from the experts at fun, friendship, and growth.
To view our first webinar, click here. To access our first PDF which provides you with a list of activities to foster online classroom connections, click here.
We know that students and teachers are getting ready to head back to school this fall and many of them will be doing so without actually going to their schools. Distance learning is difficult, and it can be especially challenging to build a vibrant and connected classroom community over screens.
Gold Arrow Camp is here to help! We know that our community includes many educators, as well as parents, who may want their children's schools to be more like camp. This fall, we're going to share what we learned about building online communities from the online leadership academies for elementary, middle school, and high school students that we successfully provided this summer. Join the Gold Arrow Teacher Academy (GATA) for a monthly Webinar, weekly Teacher Talks, and no-prep or low-prep connection activities delivered to your email inbox weekly from the experts at fun, friendship, and growth.
To learn more about GATA and to register for an individual or school membership, please visit https://goldarrowcamp.com/teacher-academy/.
We love seeing how camp impacts our campers all throughout the year. Whether they are telling us or telling others, it makes us happy knowing the lasting effects that camp has on our campers. Enjoy Spencer's wonderfully written poem about early morning wakeboarding and the emotions behind his determination.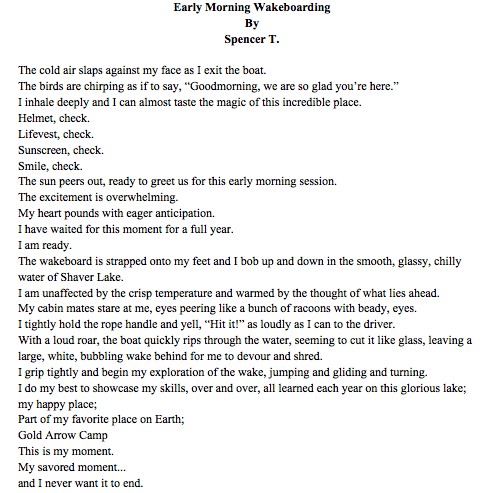 If you or your camper has something they would like to share with the GAC community, please email it to us at mail@goldarrowcamp.com! We would love to hear from you.
Have you ever wondered about the importance of sleepaway camp? We have many articles and stats we could share with you about why it is so important, but the best way to know is to hear from campers themselves. Here, longtime camper Julia shares about why summer camp is so important and the things that are learned while being there.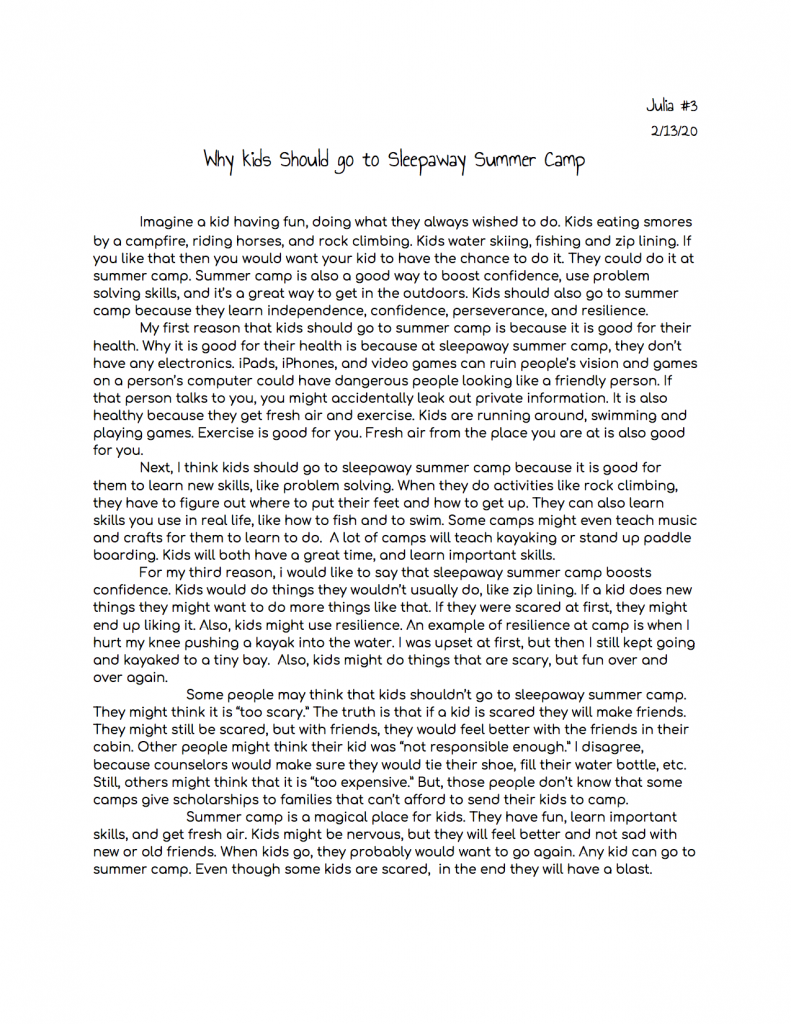 If you or your camper has something they would like to share with the GAC community, please email it to us at mail@goldarrowcamp.com! We would love to hear from you.
To put this simply, we have the best campers around! Our campers are so passionate about Gold Arrow and the skills and lessons they take away with them each summer. Summer camp is about more than just having fun, it's about growing as an individual and pushing yourself to try new things. Each camper takes away from camp something different, but the most important part is that they are each growing as individuals and sharing their discoveries with their families and friends.
Check out Wyatt's school presentation about his love for Gold Arrow. It is so amazing seeing his happiness while speaking about GAC to his peers.
If you or your camper has something they would like to share with the GAC community, please email it to us at mail@goldarrowcamp.com! We would love to hear from you.
Happy Campers at Home Happy Campers: 9 Secrets That May Help You Get Through This Challenging Year
Audrey "Sunshine" Monke, GAC's Chief Visionary Officer, wrote Happy Campers to give parents encouragement and share research-backed ideas for creating some camp "magic" at home. With most camps and other programs not operating this summer, and many vacation plans canceled, we'll be with our kids a lot this summer.
Why not try some simple strategies for creating more connection and fun at home? Sign up to get weekly emails (10 total) with tips from the book plus BONUS research and ideas Sunshine has learned since writing Happy Campers.
If you're on Facebook, Join the Happy Campers Group for more discussion of the topics covered in the book.
HERE ARE SOME FREE DOWNLOADS TO GET YOU STARTED ON YOUR HAPPY CAMPERS JOURNEY:
Free Chapter: Camp Secret #1: Connection Comes First
Sign up for your weekly emails here!
Are you stressed about summer and wondering how your family will manage? Are you completely burned out from the demands placed on you as a parent in recent months? Are you craving practical strategies for helping your child (and your family) thrive and prepare for what's next?

If so, please join us for a special live masterclass series designed to help you this summer: Parenting in Place: Helping Families Thrive in Challenging Times.

This new series comes from a group of parenting experts, therapists, authors, educators, and neuroscientists who've come together to share their very best strategies and ideas for how you and your family can thrive this summer.
Parenting in Place features 9 weekly masterclasses (hosted on Zoom) through June and early August, each focused on a different theme, and each including specific takeaways and strategies.
Because the event is live, attendees will have the opportunity to ask the hosts questions and communicate with other attendees through chat.
There is also a bundle of free bonus content (downloadables, templates, webinars) from their speakers, and created a closed moderated Facebook group so together you can keep the conversation going throughout the duration of the event.
Here's the whole line-up for the live webinars:
June 10: A Conversation about Summer Without Camp, with Audrey Monke and Katherine Reynolds Lewis

June 17: A Conversation about Race, with Julie Lythcott-Haims, JD, Nefertiti Austin, Christine Koh and Leslie Priscilla Arreola-Hillenbrand

June 24: A Conversation About Screen Time, with Devorah Heitner, PhD and Catherine Steiner-Adair, EdD

July 1: A Conversation about Independence, with Julie Lythcott-Haims, JD, MFA and Catherine Steiner-Adair, EdD

July 8: A Conversation about Anxiety & Building Resilience, with Madeline Levine, PhD and Michele Borba, EdD

July 15: A Conversation about Showing Up, with Tina Payne Bryson, Phd, LCSW and Katie Hurley, LCSW

July 22: A Conversation about Finding Peace, with Debbie Reber, MA and Christine Carter, PhD

July 29: A Conversation about Motivation, with Katherine Reynolds Lewis, Ned Johnson, and William Stixrud, PhD

Aug. 5: A Conversation about Back-to-School, with Jessica Lahey and Phyllis Fagell
Live events will be held on Wednesdays at 8 pm ET / 5 pm PT, but registrants will have access to replays in case they can't attend live.
This event is meant to be accessible as possible and they recognize the difficult position many families find themselves in these days.
Therefore, they're offering the entire series— 9-week series of live classes, the bonus bundle, and the closed Facebook community—for only $29. Once the event begins on June 10, the cost will go up to $39.
10% of the proceeds for the Masterclass will be donated to charity to support Covid-19 and social justice-related work.
To register for Parenting in Place, click on this link. It all gets started on June 10!
We look forward to seeing you there!