We are so lucky to have such amazing staff at Gold Arrow Camp, and every so often they are recognized for their incredible work outside of GAC. We want to take this opportunity to congratulate our very own Andy "Soy" Moeschberger on being awarded not one, not two, but three awards this year! He has worked so hard on many projects, especially legislative work to keep camps running and at the forefront of discussions amongst our political leaders. His work does not go unnoticed and we are so glad that it was noticed on a national level!
Grant Gerson Service Award – WAIC (Western Association of Independent Camps)
-The Grant Gerson WAIC Service Award pays tribute to those who make an extraordinary contribution to WAIC and to the advancement of the camp movement, and who have played an important role in the success of the association.
Southern California/Hawaii Service Award – ACA SoCal/Hawaii (American Camp Association)
-The Service Award is given as recognition to exceptional service to camping and the local area.
National Service Award – ACA (American Camp Association)
-This Service Award is designed to recognize continued and increasing service beyond the field/affiliate office level.
We invite all of our friends and family to join Gold Arrow Camp in participating in the National Day of Unplugging from sundown on March 5 to sundown on March 6. This time of being unplugged is a movement to encourage people to get a "24-hour respite from technology." If you have experienced a summer at GAC then you know the importance of unplugging and connecting face-to-face, which is why we don't allow cell phones at camp.
The National Day of Unplugging encourages people to use 24 hours free from technology to connect with "ourselves, our loved ones, and our communities." Wow. That sounds an awful lot like camp. We love the idea of unplugging (just for a little bit) at home so that we can reforge the kind of connections there that we forge at camp, where we're totally free from the burden of technology.
You can join us in celebrating by pledging to #unplug on social media, sharing this news story, or even planning an unplugged event with your family! You could have an old-fashioned dinner party, spend that Saturday working on puzzles or playing board games. If you need more ideas, check out the NDU 2021 Ideas List and sign up to become a FREE member!
If you have plans to unplug, please tag us in those on your social media. We'd love to share your plans (and what you did, after the fact, of course) on our social media!
We are excited to be able to offer some of the friendship and fun from camp in a new setting – Outschool! Gold Arrow Camp has recently become a partner organization with Outschool in order to teach our own courses on their platform. Outschool is a wonderful marketplace that offers live online classes for children. There is a variety of over 100,000 live online classes to choose from and we are thrilled to offer one of those (& hopefully many more soon)!
Our first course offering, Strength Spotting: Becoming Your Best Self, includes some of the most popular activities from our Junior Counselor workshop on character strengths and was also a well-received part of our online camp sessions last summer. Led by long-time year-round staffer and strengths guru Delta, the course helps kids identify their strengths and learn to lean into them as they navigate school, friendships, and life. It's a one-hour course that promises to be exciting and social.
If you would like to sign up for our character strengths course, use this link to get a $20 credit toward your first Outschool enrollment. Once you sign up with Outschool, the credit will automatically be applied to your first course. Check out all of the great academic and non-academic courses offered on Outschool, and we'll let you know when we have more of our courses available for you.
We hope to see you in one of our upcoming strengths courses!
Does your camper enjoy backpacking and hiking in nature? If so, this program is a wonderful way to do all of that and more. GACpacking provides an introduction to backpacking skills and life on the trail in a fun and compact one-week trip. Our GACpacking program is designed to serve as a bridge between the one-night backpacking experience offered as a regular part of our camp program and the Outdoor Leadership Course. On the trail, our hikers will have the opportunity to prepare their own meals, practice map and compass navigation, apply Leave No Trace principles and ethics, participate in sustainable backcountry living, and study wildlife biology. Each day there will also be time for reflection, dialogue, and discussion.
For more information about the GACpacking program, please visit https://goldarrowcamp.com/why-gac/gacpacking/ or email mail@goldarrowcamp.com with any questions.
PLEASE SHARE ABOUT GATA (Gold Arrow Teacher Academy) WITH THE PROFESSIONAL DEVELOPMENT COORDINATOR AT YOUR SCHOOL!
The webinars are great reminders of super valuable information that I've heard/read over the years. I love the chance to apply this information in a new teaching role. I'm grateful for the opportunity to learn and grow with like-minded people.
-Abbey, Teacher & GATA Member
This school year, GAC Directors are bringing the trainings we do with counselors each summer to educators all across the country through GATA (Gold Arrow Teacher Academy) and through custom professional development webinars for schools. Gold Arrow's entire director team has children of their own (currently ranging in age from 4-26), and most of us were teachers before or while working at camp. Supporting children by providing teachers with training and support to create positive, connected classrooms is a natural use of our skills and experiences (and is super fun for us).
If you're looking for a personalized, engaging professional development workshop for your school team, get in touch. We'd love to create an upbeat workshop geared specifically to the needs of the students and teachers at your school. Contact us and let us know what you're interested in.
GATA resources have been developed based over years of training our counselors and have been implemented successfully by GATA members over first half of this school year to support students' social and emotional well-being.
The topics we're covering in GATA include:
Creating Connections
Celebrating Strengths
Cultivating Character
You – or your whole school – can join GATA to have immediate access to the engaging and easily implementable SEL activities that address the social and emotional well-being of students and teachers.
New GATA members have immediate access to our past resources, can join live (or access later) all of our upcoming webinars, and receive weekly PDFs with low or no-prep activities that work virtually or live.
Join GATA now for only $65 (individual members – can be gifted to teachers) or $750 for a school membership (up to 20 educators, plus a 60-minute custom professional development training).
GATA WEBINARS NOW AVAILABLE ON DEMAND FOR MEMBERS
(Non-members can purchase single webinar access.)
• 8+ Activities to Foster Online Classroom Connections (Watch this webinar for FREE to get an idea of the style of our webinars).
• Creating a Positive Classroom Culture
• Coaching Students to Better Collaboration & Communication
• Personal Growth & Connection Activities for Students
• Creating a Strengths-Focused Classroom
ACTIVITIES & RESOURCES NOW AVAILABLE IN THE MEMBER LIBRARY
Activities to Foster Online Classroom Connections (FREE sample PDF)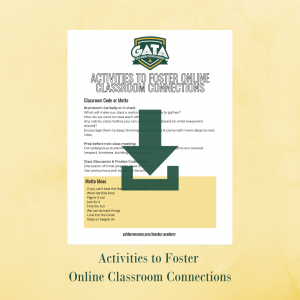 Questions for Classroom Connection
Creating a Positive Classroom Culture
Songs & Videos
Build Positivity & Optimism in Your Students
Guess Who
Jokes & Riddle
Teaching Kids Better Communication & Collaboration
Rules & Language of Collaboration
Create an Animal
Chill Music for Your Class
Coaching Students to Better Listening
SMART Goals
Autonomy & Problem Solving
Kindness Bingo
Filling Buckets
Personal Growth & Connection Activities
Friendship Bingo
Creating a Strengths-Focused Classroom
Inner Strengths
Encourage the educators at your school to join GATA for support, connection and fun SEL resources for teachers and students!
Questions? Get in touch with us to discuss your school's SEL professional development needs!
We invite our GAC families and friends to join us in celebrating I Heart Camp Day on Monday, February 1st! If you're nervous that you don't have any I Heart Camp decorations and haven't been invited to a big I Heart Camp Day block party, don't worry! Celebrating this day doesn't require a trip to the party store. It just requires you to love camp and to be willing to share that love.
Just take a picture of yourself holding a sign that says "I Heart Camp" (you could use the picture at the top of this story if you need inspiration) and then post it on your favorite social media on February 1st. Tag us (@goldarrowcamp) and use the hashtag #IHeartCamp. We'll share our favorites on our accounts! We love seeing everyone from staff to campers to alumni to parents getting involved!
For each of us, 2020 held a lot of different moments and emotions. We have now entered 2021, which is a great time to sit back and reflect on all that was last year. Audrey "Sunshine" Monke, GAC's Chief Visionary Officer, shares with us an activity that your entire family can do together that encourages everyone to choose one word that will help to provide guidance, inspiration, and direction for the year.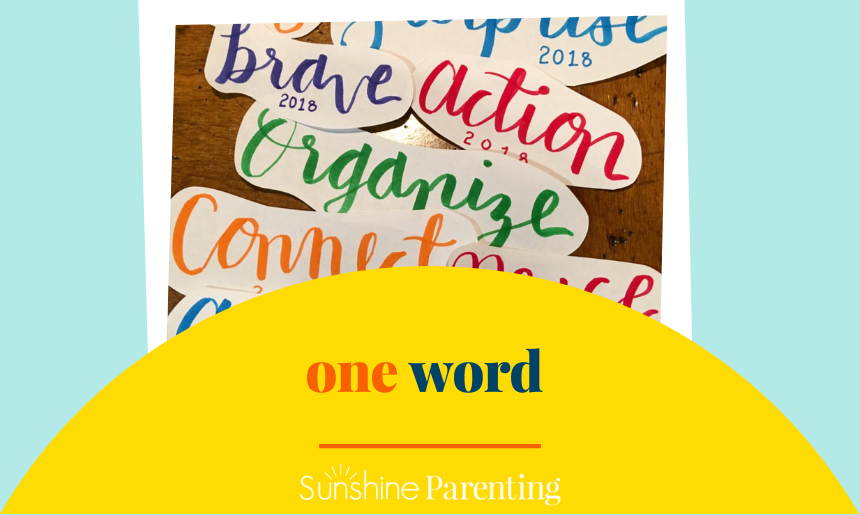 On her website (Sunshine Parenting) and her podcast, Sunshine shares many resources to encourage family time and reflection, among many other useful topics for parents. To access those resources, sign up to receive her weekly emails or subscribe to her podcast.
Happy New Year! Kick off the new year by attending the first Gold Arrow Teacher Academy (GATA) webinar of 2021 on Wednesday, January 13 at 5pm PT/8pm ET. This month's webinar looks at Creating a Strengths-Focused Classroom.
Parents and teachers tend to be more focused on children's weaknesses and spend the majority of time and focus on skills and traits that are areas of deficit or lack. A more effective way to bring out the best in students is to focus on strengths and guide students to use their strengths to be successful in school, in relationships, and in life. In this webinar, we'll provide resources and guidance on the language and activities that will make your classroom more positive and strengths-focused and a place where students learn to embrace their best qualities.
This webinar is free for all GATA members! If you are not yet a GATA member, you can join here or register just for the webinar here. Even if you're not able to attend the live webinar on Wednesday, you'll be able to access the recorded webinar and the accompanying resources.
Please share this information with the educators in your life!
This week's 5-year camper spotlight is on Ethan H.! Ethan is a friendly camper and pushes himself to reach his goals. This summer, Ethan's counselors said of him, "Ethan has great communication skills. He really embraces cabin time and makes it more fun!" We are so lucky to have a camper like Ethan as part of our community.
Check out this video of Ethan receiving his surprise 5-Year Blanket!
This week's 5-year camper spotlight is on Ethan H.! Ethan is such a joyous camper and always sees the positive. This summer, Ethan's counselors said of him, "Ethan has an outgoing and confident personality. This helps him connect more with his cabinmates." We are so lucky to have a camper like Ethan as part of our community.
Check out this video of Ethan receiving his surprise 5-Year Blanket!