Schoolhouse Rocks 5K on May 22 Join GAC Runners at the Schoolhouse Rocks 5K (Menlo Park) on Sunday, May 22
Join the GAC Runners for the Schoolhouse Rocks 5K in Menlo Park! We're thrilled to be back to help support the Menlo Park – Atherton Education Foundation at this great event. We'll be at the expo before and after the race, so please come and see us. The race starts at 9:00 AM, and we'll be taking a group picture with all of our GAC friends and families at our booth at 10:15 AM.
Information and registration available here.
Learn more about GAC Runners! While you're reading about the GAC Runners, you can also tell us what races you're running and request your GAC Runners socks!
May Parent Coffee "Getting Yourself & Your Camper Ready for Camp!"
Whether you're a first-year parent or a seasoned GAC family, getting your camper and yourself ready for camp both physically and emotionally can be a daunting task…What's a foam pad? Will my camper make friends? How do medications at camp work? What if my camper struggles to adjust to camp? Do I really need the Campanion app? What will I do with my free time when my camper is away from home? Bring your coffee or tea, your advice and your questions, and we'll help each other get prepared for camp this summer!

Hello everyone! It's a new month so that means new opportunities to show kindness to those around us! Click here to download the printable version.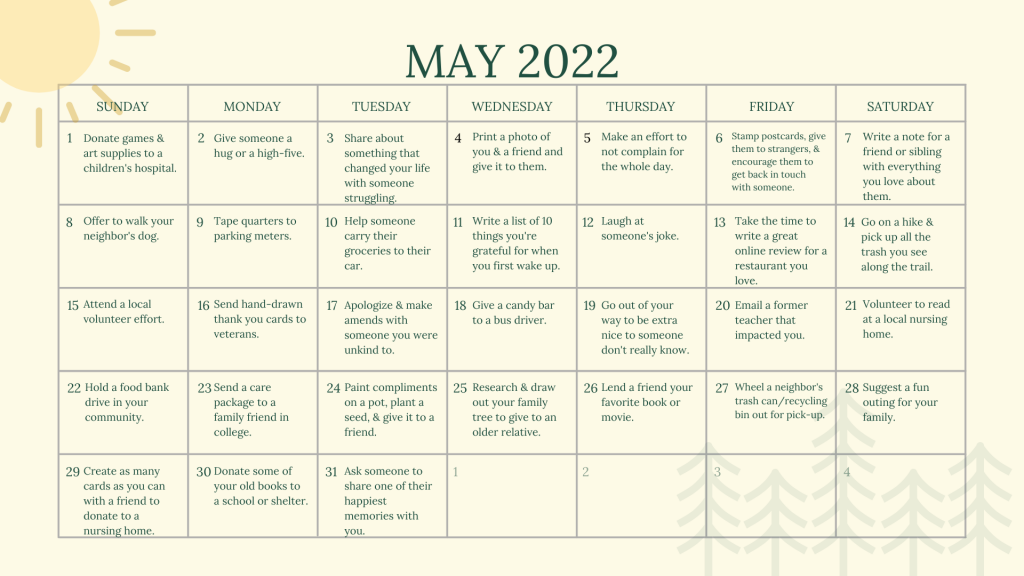 April Parent Coffee "Why Campers Can be Homesick AND Happy"
Are you worried that your child will struggle adjusting to being away from you and away from home? We'll discuss the discomfort some campers experience and how you can help your camper not only work through separation anxiety but end up confident and happy about future away-from-home adventures (like college).

Take a look at our April Kindness Calendar to spread kindness! Every day is a great day to show people around us that we care! You can download the printable version here.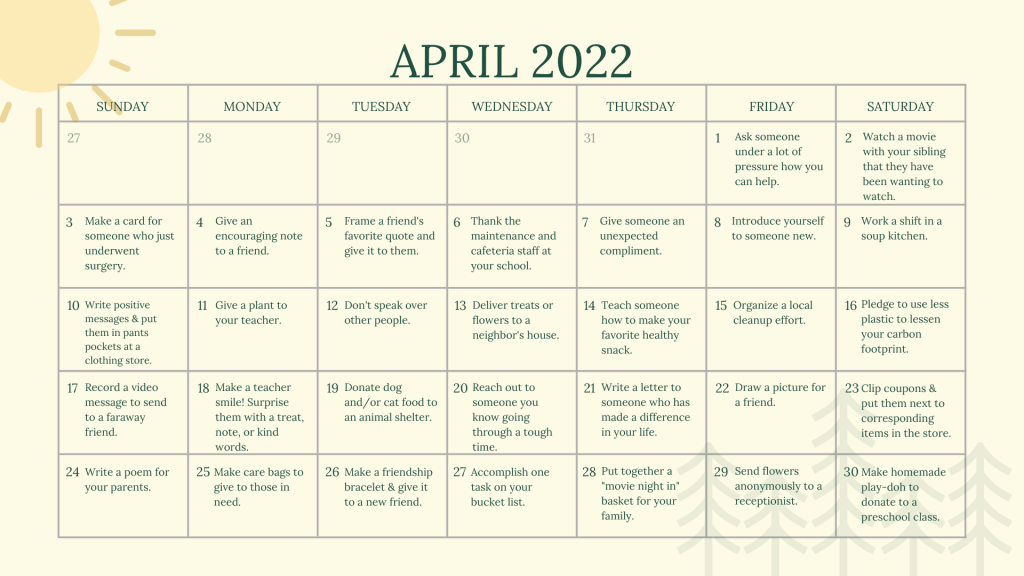 We are thrilled to announce that our online store is now OPEN for our Spring Sale! The items in our online store will be for online purchase only and will not be available in the camp store this summer. The camp store this summer will not have any clothing items, but will still have sundries, hats, playing cards, stickers, and smaller non-sized items.
The Spring Sale will only be open until April 4 and all items will be shipped before camp! Don't wait to get your GAC apparel!
If you have any questions, please email us at mail@goldarrowcamp.com or call us at 800-554-2267 ex. 0.
Hello everyone! It's a new month so that means new opportunities to show kindness to those around us! Click here to download the printable version.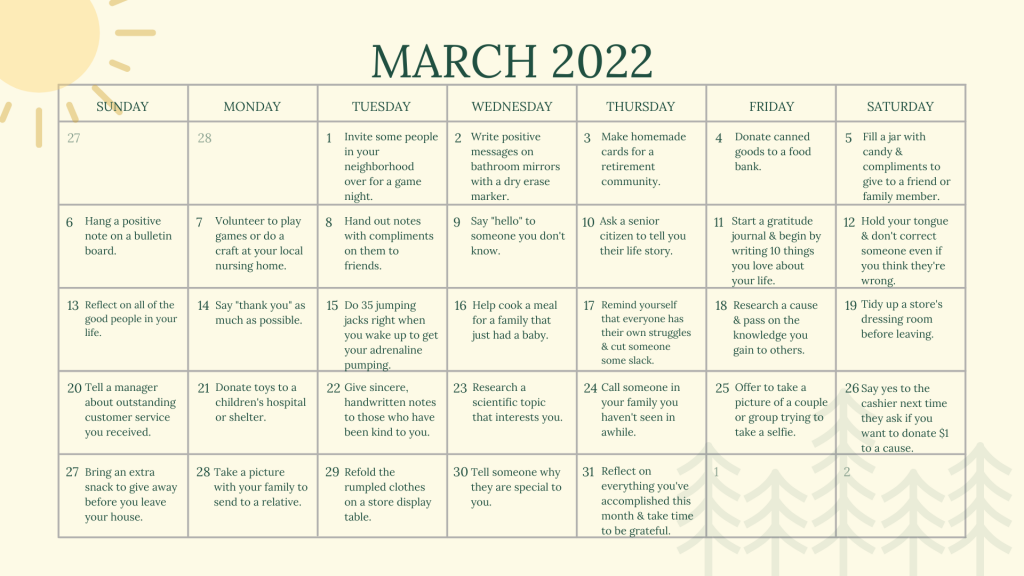 March Parent Coffee "Grow: Raising Confident, Responsible Future Adults"
Letting our kids do things on their own (like going to summer camp without us!) is challenging. Come learn simple strategies to let your child grow the mindset and skills they need to become responsible, confident, thriving future adults.

Check out other upcoming parent and camper events here!
The work to create a kinder world never ends. There is no limit on the amount of goodness we can put into the world, but we need your help! We invite you to join the annual Random Acts of Kindness Day (RAK DAY) celebration on Thursday, February 17, 2022 and help #MakeKindnesstheNorm.
Random Acts of Kindness Day is Thursday, February 17, 2022!
Random Acts of Kindness Week is February 13-19, 2022!
Click here for more ways to get inspired and for more information about the Random Acts of Kindness Foundation!
February Parent Coffee "Make Friends: Coaching Your Kids to Better Friendships"
Social and emotional skills, just like academic and athletic ones, are not fixed or personality dependent. The skills necessary to make and keep friends need to be discussed, modeled, and practiced.
Making friends, and being a good friend, doesn't come naturally to all people. And, coupled with the crazy culture we're in, it's no surprise that many kids are struggling to form strong friendships.
Come learn from Audrey "Sunshine" Monke how to be your child's "Friendship Skills Coach" at this month's Parent Coffee on Wednesday, February 16 at 10am PT.
Register HERE for the February 16 Parent Coffee. Registrants will be sent a recording after the meeting as well as a PDF with the strategies and links we discuss. We hope to see you there!