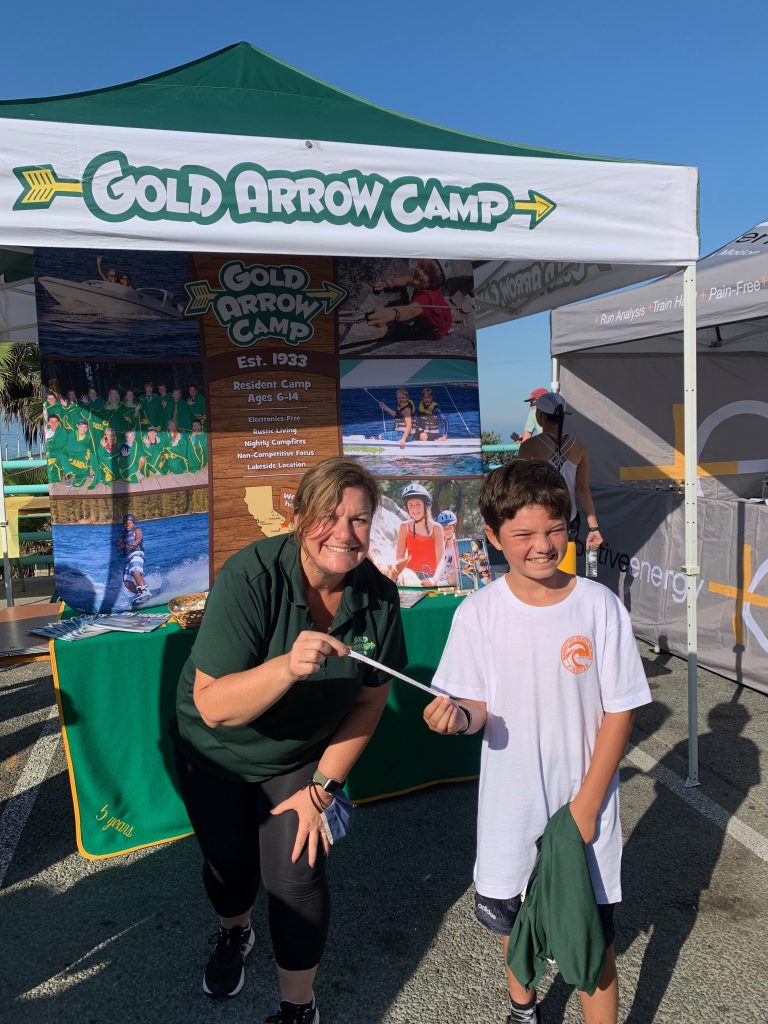 The GAC Runners had another successful year at the Manhattan Beach 10K! Thank you to the campers, parents, staff, and alumni who represented GAC on the course and at the booth! There were lots of smiles from a happy runners crew. Also at this event, the winner of a free week at camp was selected from the many names of parents who completed their 2021 Parent Evaluation by September 10th! And the winner is…The Galston Family. Congratulations!
If your school or town hosts a running event, let us know! We love to be a part of these community events.
The new month means we have new ideas of ways to be kind to those around you! We hope these ideas fill your bucket as you fill others' buckets. You can download and print out your own October Kindness Calendar HERE. Happy October!
At GAC, we believe that connecting with our kids and forming close, positive relationships with them is the most important responsibility of being a parent (or camp counselor!).
Opportunities to learn more about connecting with your kids
Connection Tips & Resources
Our Chief Visionary Officer, Audrey "Sunshine" Monke (host of the Sunshine Parenting Podcast and author of Happy Campers: 9 Summer Camp Secrets for Raising Kids Who Become Thriving Adults) is sharing connection tips with parents who sign up for her email series: Connection Comes First. As soon as you sign up, you'll immediately get access to a free audio or print download of the first chapter of Sunshine's book: Camp Secret #1: Connection Comes First.
Sign up for Sunshine's connection tips (and the free book chapter) here.
Connection Coffee Chat
Join with other GAC community members (staff & parents) to chat about the important topic of connecting with our kids! We'll share tips and resources AND get the chance to connect with one another.
When: Sep 29, 2021 08:30 AM Pacific Time (US and Canada)
Register for the 9/29/21 parent coffee chat by clicking this link.
After registering, you will receive a confirmation email containing information about joining the meeting.
National Public Lands Day is September 25, 2021! NPLD is a great way to connect with nature and give back to our public lands. There are many opportunities to help restore and improve public lands across the country. For more information about National Public Lands Day and to find an event near you, visit https://www.neefusa.org/npld.
If you participate in NPLD, please send us a picture to mail@goldarrowcamp.com or tag us in your social media posts!
Happy September from Gold Arrow Camp! This month, we're continuing to celebrate kindness with our September Kindness Calendar. Follow the prompts each day and practice kindness wherever you go! You can download and print out your own August Kindness Calendar HERE.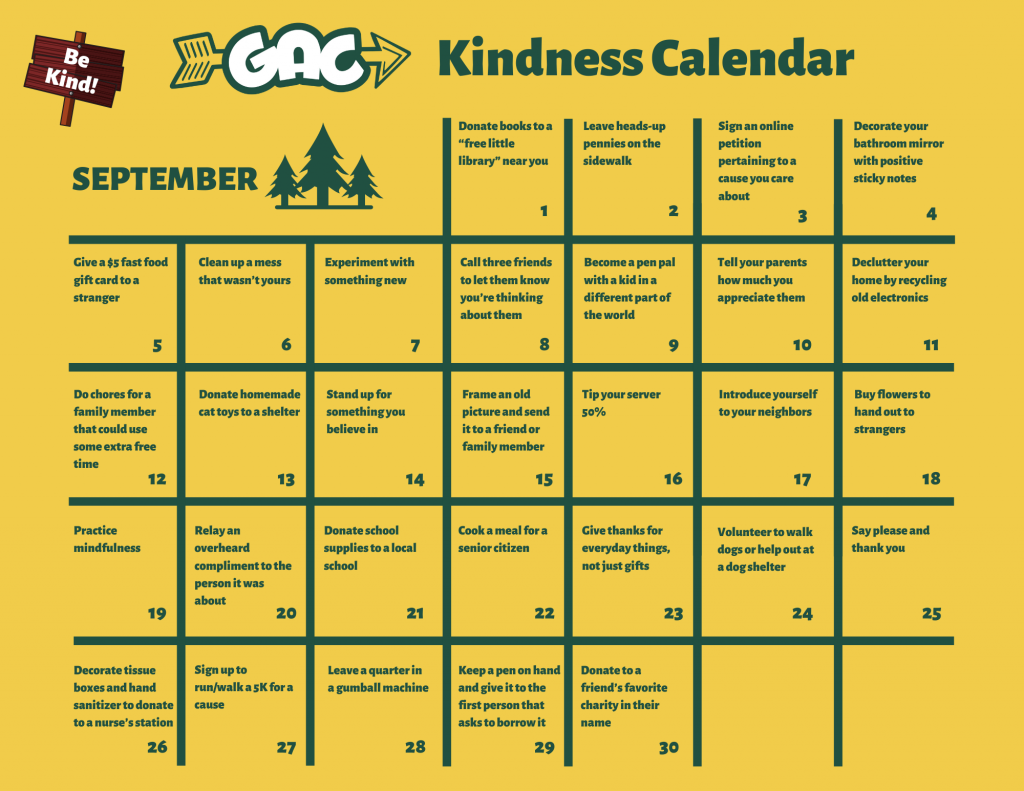 It's that time of year! The GAC Runners are headed to Manhattan Beach on October 2nd, 2021 for the 44th annual Manhattan Beach 10k! We love attending this race for so many reasons, but especially because we get to see so many wonderful GAC families. This event only offers a 10k race, so if that is not your cup of tea please come hang out with us at the Gold Arrow booth. We would love to catch up with all of you! There will also be a group photo taken at the GAC booth at 9:00 am. We can't wait to see you there!
Details and registration information are available here.
More information about the GAC Runners program is available here.
Check out some fun highlights and memories from Mini Camp and August Specialty! These sessions were such fun ways to end another GAC summer!
Check out the awesome fun we had during Session 4!
Our Shaver Watersports campers (AKA "Shaver Squad") headed to Shaver Lake this morning and are already out on the lake enjoying hours of water skiing, wake boarding, and kneeboarding!
The Shaver Squad will spend the next four days at our Shaver Island outpost camp. They'll head back to main camp on Thursday afternoon and join the Mini Camp campers for Big Campfire (skit night) on Thursday and our end of camp celebrations on Friday – our Banquet, Dance, and Appreciation Campfire.
Learn more about Shaver Watersports Specialty camp here.
Today at Camper Orientation, we reviewed the important friendship skill (especially when you're at a new place!) of introducing yourself to others. Campers practiced introducing themselves to a camper in another cabin group (since they already met everyone in their own cabin group yesterday) and then introducing their new friend to one of the friends they've already made in their own cabin group.
As a camp, we set the goal of introducing ourselves to three new people today. We're already making friends here at GAC!