"If you have good thoughts, they will shine out of your face like sunbeams and you will always look lovely."
– Roald Dahl
This week for our BE YOU theme, we're focusing on finding activities that get you into a state of "flow."
Flow is a term coined by psychologist Mihaly Csikzentmihalyi (pronounced "cheeks sent me high") that refers to a state of optimal experience and involvement in an activity during which we are performing at our best.
Watch Dr. Csikszentmihalyi talk about flow in his TED Talk, "Flow, the Secret to Happiness."
When we're in "flow," we are doing something we really, really enjoy. We can't wait to do the activity again, and we feel a lot of positive emotions while participating in the activity. We can stick with it for hours without even noticing the time going by. In fact, when we're in flow, it's hard to stop whatever we're doing. Flow is different from pleasure – simply doing things that are enjoyable like watching TV, scrolling on social media, or shopping. Instead, flow activities usually are demanding and take our full attention and concentration.
People achieve flow in all different ways, including while playing a musical instrument, playing a sport, writing, painting, attending a concert, bird watching, riding a horse, or running, to name just a few. Often we cannot relate to the passion others have for their personal "flow" activity, since their enthusiasm and passion seem inordinately high. For the lucky ones among us, we find flow in our daily work.
The younger you are, the more likely it is that you've been in flow today. Young children excel at getting into a state of flow, usually during unstructured play time. As they create their pretend worlds, "cook" in the sand box, build a fort, or swing high on a swing, they are joyful and time flies by for them. Young children are experts at happily living in the moment. As we get older, however, we need to be more aware of getting ourselves into that engaged, amazing state that we enjoyed when we were younger.
Here's an official definition of flow:
Flow is the mental state of operation in which a person performing an activity is fully immersed in a feeling of energized focus, full involvement, and enjoyment in the process of the activity. In essence, flow is characterized by complete absorption in what one does.
And here are some ideas of possible flow activities from Deann Ware, Ph.d:
Physical activities such as sports, yoga, dance, and martial arts
Outdoor challenges such as hiking
Music–writing, playing, mixing
Art–painting, sculpture, mixed media, pottery
Photography
Woodworking
Do-It-Yourself projects, such as home improvement
Working with animals
Gardening
Cooking and baking
Software development/coding
Scrapbooking
Writing
Needlework–sewing, knitting, cross stitch
Horseback riding
What you do for work (hopefully!)
This week's #GACbeyou challenge
What activities get you into flow? When have you been doing something that you are so engaged that you've completely lost track of time? That's a fun thing to explore as we continue to delve into our "BE YOU" theme. Flow states are a great clue as we figure out who we are and what makes us our best self!
What are new activities you want to try this summer?
What makes your heart "sing?"
Sometimes, we need to explore different activities before we figure out which activities get us into that awesome state of flow. Don't worry if you haven't found that awesome, engaged state yet. Sometimes, it takes awhile to explore, and many adults haven't even figured it out yet! So start now, while you have some free time, exploring different activities – creative, athletic, academic, etc. – and find your flow!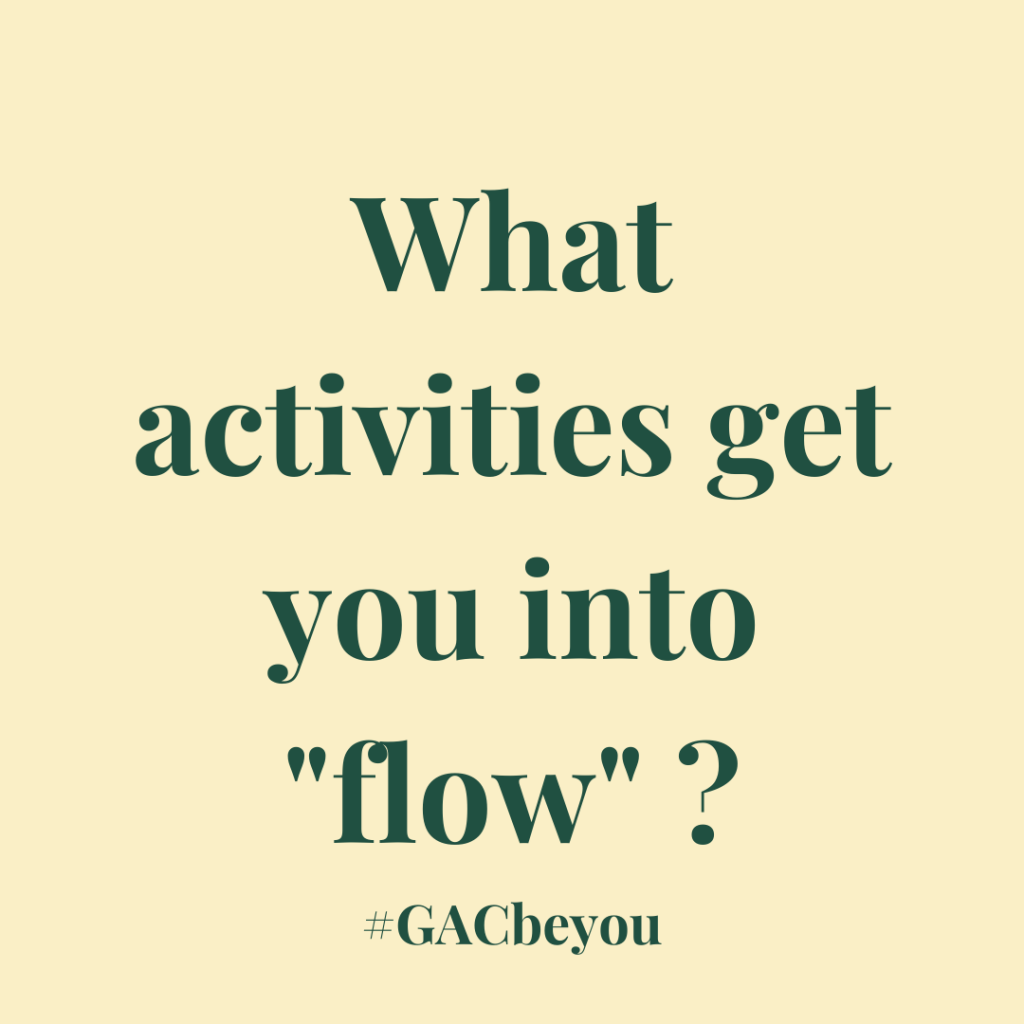 GACspiration
Want to be inspired? Print out this week's GACspiration and post it on your bathroom door or mirror (just like at GAC)!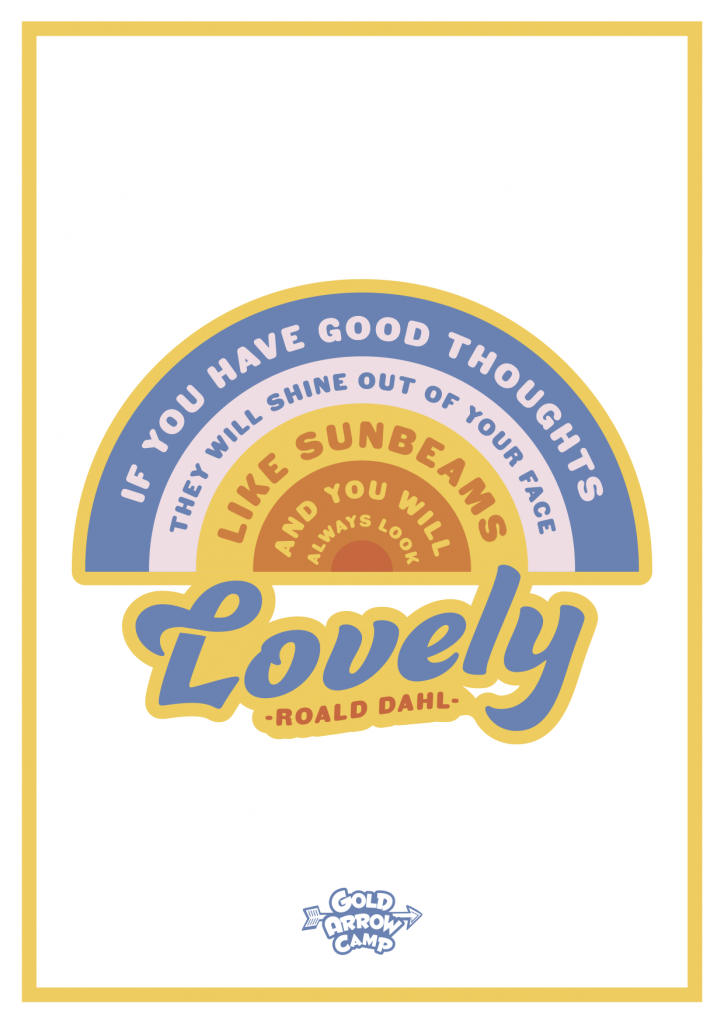 Activity Ideas
Make a list of different possible flow activities that you want to explore. Consider different hobbies, sports, and music you have some interest in learning more about.
Try one new activity from the list you made.
More Flow activity ideas:
positivepsychology.com
dailyshoring.com
From Designing Your Life:
Energy Engagement Worksheet
Good Time Journal Activity Log
Resources
Read more about flow in this post on Sunshine Parenting.
Podcast: Play in new window | Download
Subscribe: Apple Podcasts | Android | Email | Google Podcasts | Stitcher | Spotify |
"To be yourself in a world that is constantly trying to make you something else is the greatest accomplishment."
― Ralph Waldo Emerson
Have you ever thought about how amazing it is that there is no one else who is exactly like you? You are unique, original, and one of a kind!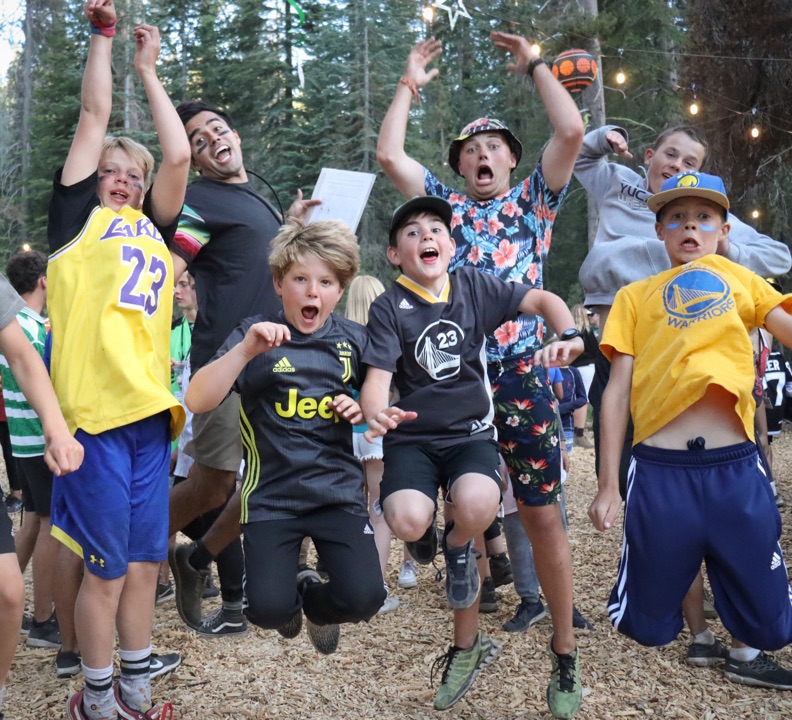 This week for our BE YOU theme, we're focusing on what you like best about yourself. It may sound strange to think and talk about what you like about yourself. It may sound like bragging or being overconfident. But it's really important that instead of always telling ourselves and thinking about our faults and what we don't like about ourselves that we take time to think about what we do like.
Watch the challenge online: https://www.youtube.com/watch?v=Y8tPrYhEoHQ
This week's #GACbeyou challenge
Journal or share with someone else (can be a parent, sibling, or friend) your answer to this question: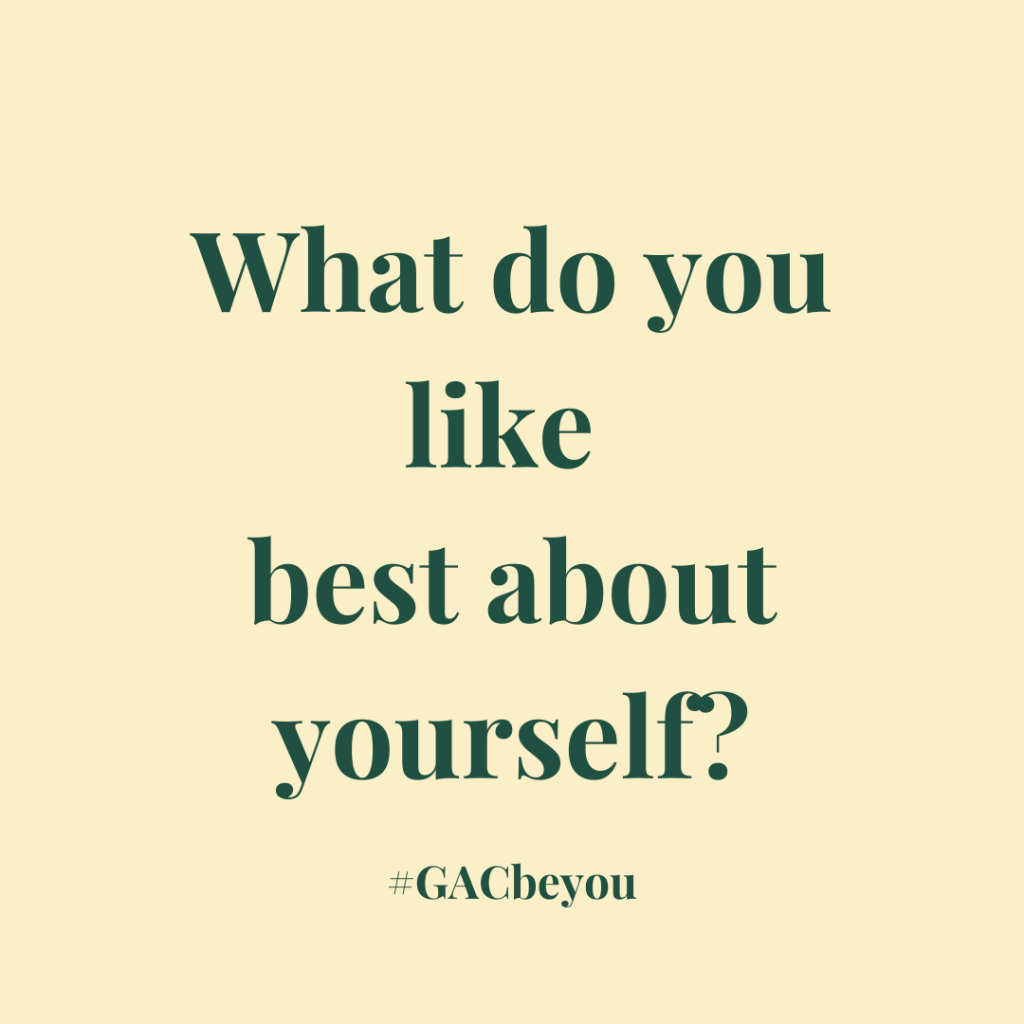 Focus on your the inner qualities — personality traits and talents — that you like best about yourself.
Here are some examples of personality or character traits that you might especially like about yourself:
Kindness – You think about others and do acts of kindness.
Enthusiasm – You get super excited about things – and get other people excited, too.
Grit – You stick with things even when it's hard.
Sense of Humor – You make people laugh.
Gratitude – You thank others and think about things you're grateful for.
Honesty – You tell the truth, even when it's hard or you get in trouble for telling the truth.
Brave – You courageously speak what you believe, even when your opinion is unpopular.
Compassionate – You think about others, feel pain when others are hurt, and take action to help.
Leader – You influence others to act in a positive way.
Loyal – You stick by the side of your family and friends and stay loyal even when people are going through hard times.
These are just a few examples of character traits you might really like about yourself. There are many more!
Here are a few talents you might really like about yourself. How would you finish this phrase: "Something I like about myself is that I'm great at ……"
Music (playing an instrument, singing)
Sports (playing soccer, running, ping pong)
English, science, history, or another subject
Painting, photography, drawing, sewing, making friendship bracelets.
Writing
Reading
Doing magic tricks, riding a unicycle, playing chess, etc.
There are so many different talents and skills each person has. What is something you are good at that you really like about yourself?
GACspiration
Want to be inspired? Print out this week's GACspiration and post it on your bathroom door or mirror (just like at GAC)!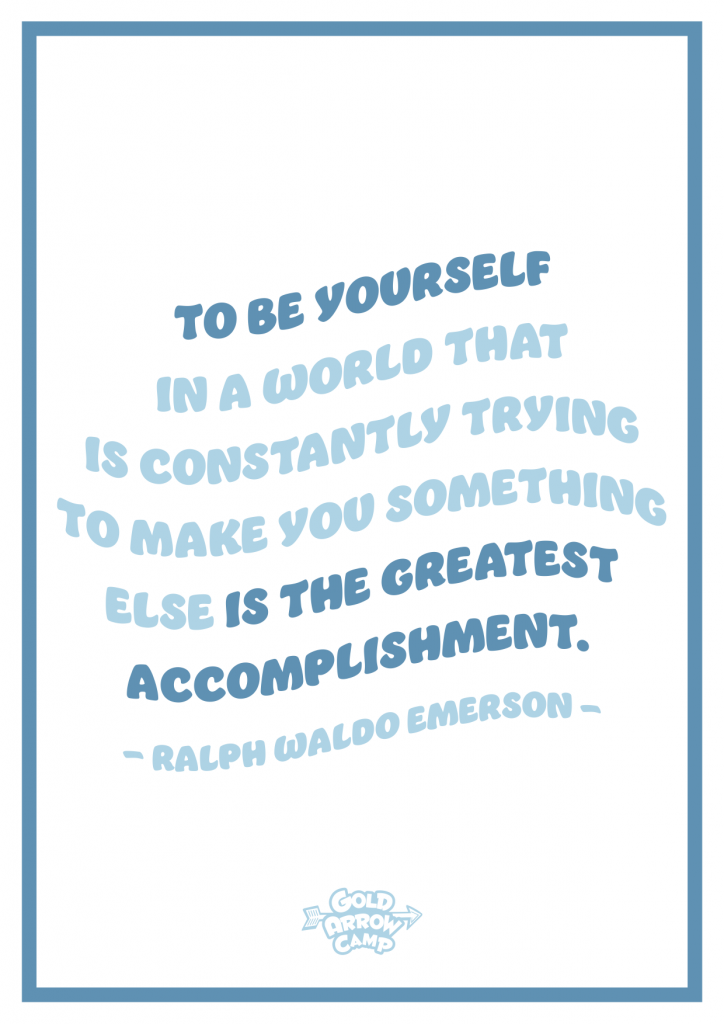 Activity Ideas
• Get together (in person or online) with your family or a group of friends. Give everyone a chance to share one thing they like about themselves.
• Create a longer list of 10 (or more) things you like about yourself. You could make a list of as many things you like about yourself as how old you are. So, if you're 14, write 14 things you like about yourself.
• Share with one of your parents, siblings, or a friend something you like about them and ask them to share something they like about you. You'll both feel happier after the conversation!
Resources
#GACkindness: 30 Days of Kindness
Will Kellogg on Growing Grit and the First Attempt In Learning
Sunshine Parenting Podcast Ep. 28: Focusing on Our Kids' Strengths
Podcast: Play in new window | Download
Subscribe: Apple Podcasts | Android | Email | Google Podcasts | Stitcher | Spotify |
My School In Motion, founded by camp parent Apryl Krakovsky, is a program designed to get school communities moving and learning every day. Their videos are fun exercise routines for kids and adults that incorporate positive messaging about health, wellness, and nutrition.
"My School In Motion, Inc.'s mission is to provide all students, regardless of race or socioeconomic status, with an early positive physical activity experience, while at the same time educating them in the areas of nutrition, fitness and wellness, and empowering them to make smart choices today and in the future. We want to ensure that students have the best start to every school day and set them on a path for a lifetime of health, productivity and happiness."
We are lucky enough to be able to share some of My School In Motion's exercise routines to you in your home! Do these routines with your family and enjoy the fun you have with them!
Movement Routines: Good Life, Boom Boom Pow, I Like to Move It, PB & Jelly Time
Movement Routines: PB & Jelly Time, Who Let the Dogs Out, Cupid Shuffle
Movement Routines: Popcorn, U Can't Touch This, Jack Attack, Good Life
Movement Routines: Set A Goal – One Step at a Time Warm-Up, Waka Waka, I Like to Move It, Cupid Shuffle, Yoga/Focused Breathing Cool Down
Movement Routines: Sunburst, Just Say Yes, 5678, Who Let the Dogs Out, Agadoo
Movement Routines: Dynamite, 5678, Addams Family, Macarena, Agadoo, Focused Breathing/Balloon
Movement Routines: Cardio Routine 1, PB&Jelly Time, Waka Waka, Just Say Yes, Good Morning Sky
12 Stay at Home Tips Want some stay-at-home tips for your family?
We're all spending a lot of time at home these days during COVID-19, and it's good for our mental and emotional health to mix things up once in a while.
Here's a recap of the ideas Sunshine's been sharing at our virtual Afternoon Assemblies!
Focus on others by doing small (and large) acts of kindness, and it will make you feel better, too!
#2 Mail a hand-written letter or note
Everyone LOVES getting a real letter in the mail. Collect the random cards and stationery from around your house (or in your camp supplies). Next, write a postcard, note, or letter and mail it to a friend, relative, or even a stranger (see ideas in 30 Days of Kindness)! You might even get one back, which is super fun!
Many kids do not know how to address a letter. Take time to learn, and you'll be all set for writing letters from camp!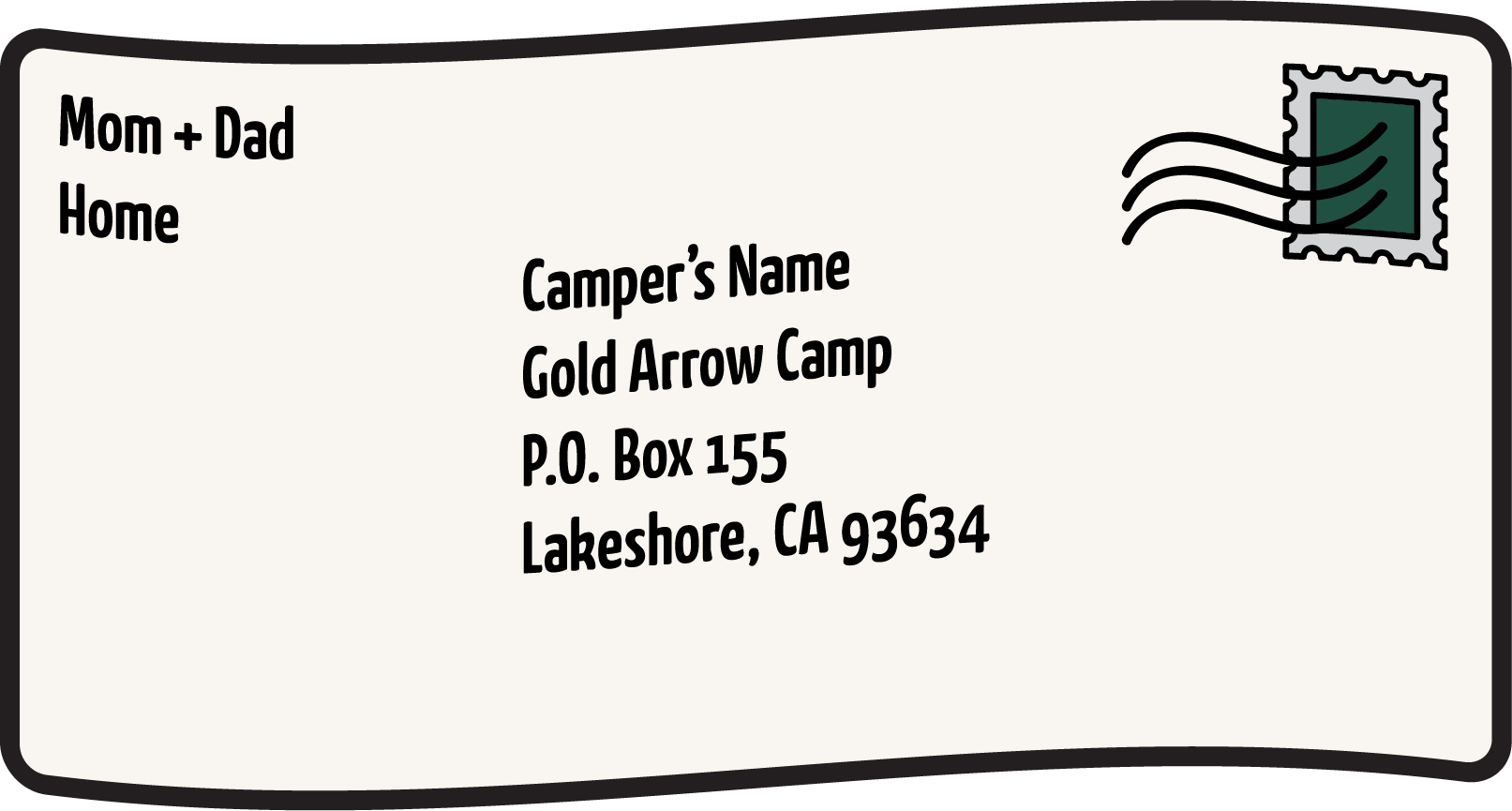 #3 Learn to cook something new
What's a favorite recipe you want to learn how to cook? Take this time at home to learn how to cook something (or several things)! Cook the recipe three times, each time doing the cooking more independently.
Step 1 Cook the recipe with your parent.
Step 2 Cook the recipe with your parent supervising, but you doing all the cooking.
Step 3 Cook the recipe on your own. Let your parent relax while you cook!
Here are a few moments of video of Sunshine supervising (Step 2 above) her 16-year-old making this POMEGRANATE HABANERO SHREDDED BEEF RECIPE:

Bonus: Send us your favorite recipe and/or create a video tutorial of how to make the recipe (see Joss' below):

#4 Clean out your game/puzzle cabinet(s)
What's even in there? Go through your games and puzzles. Find a favorite or two to get out to play as a family. For ones you no longer use because they are for younger kids , create a stack to donate to another family or neighbor. For ones with missing pieces, recycle, use for creating a craft, or put in the trash.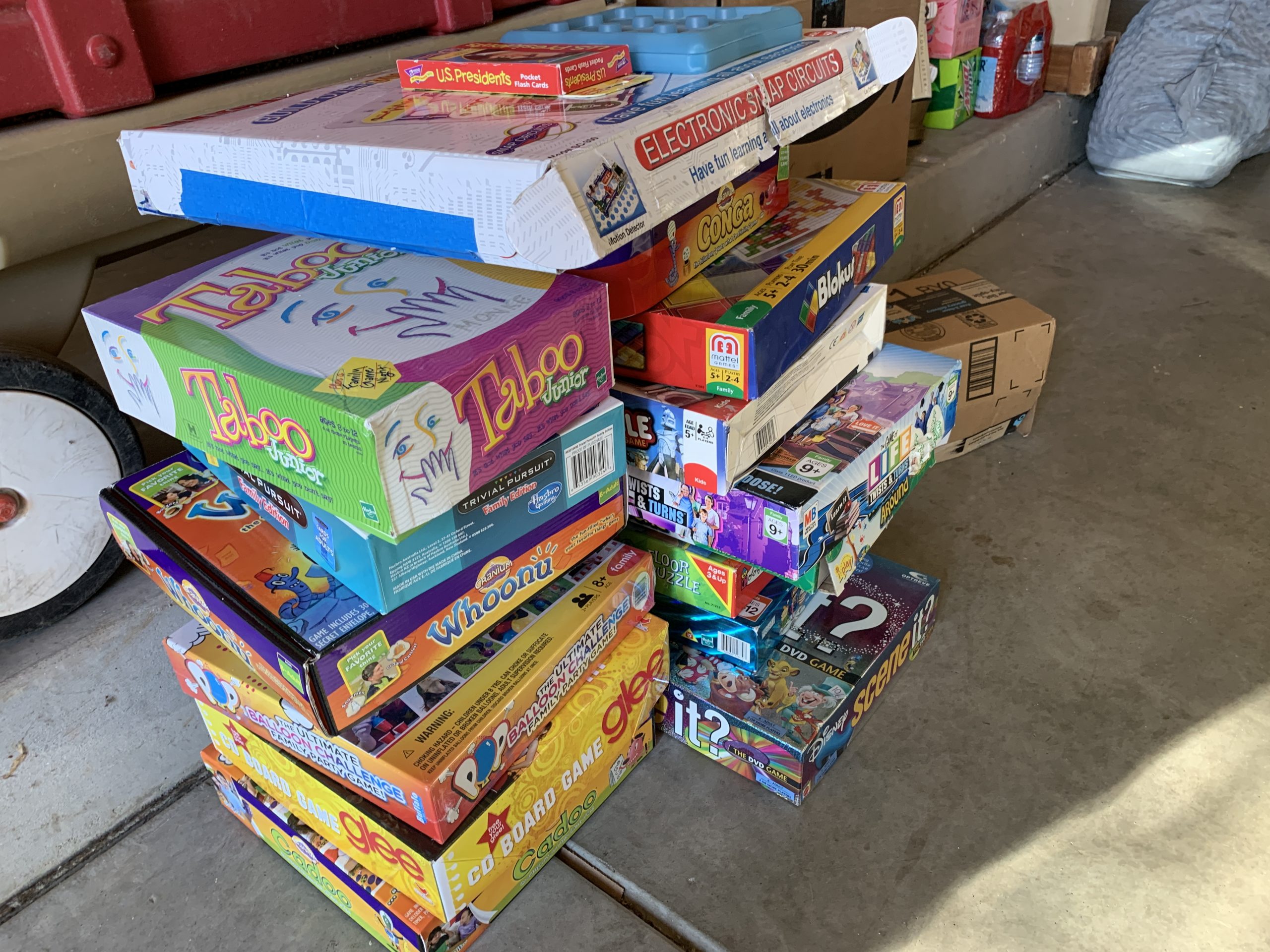 #5 Make a list of 10 things you've been wanting to do
With school now online and extracurricular activities, sports, and in-person social time with friends limited, we've got some extra time on our hands. This is – for many of us – a new situation. And it can feel uncomfortable having so much down time. Try writing a list of 10 things ranging from random "to dos" to things you'd like to learn. This can include books you've wanted to read, hobbies or crafts you've been interested in trying, a musical instrument you'd like to learn to play or practice playing more, learning sign language, or anything else that comes to mind for you! You can try to include things that include:
• Something physical (train for a 5K run, do a daily plank, try an online yoga class)
• Something creative (friendship bracelet, crochet, painting)
• Something social (call or write a letter to a friend)
• Things you haven't had time for (a book you've wanted to read or movie you've wanted to watch)
Then, take the first step. Start reading the book or research how to do the hobby.
#6 Sort your books by color
Do you love books and reading? Take some time to organize your books. Create a beautiful shelf by organizing your books by color!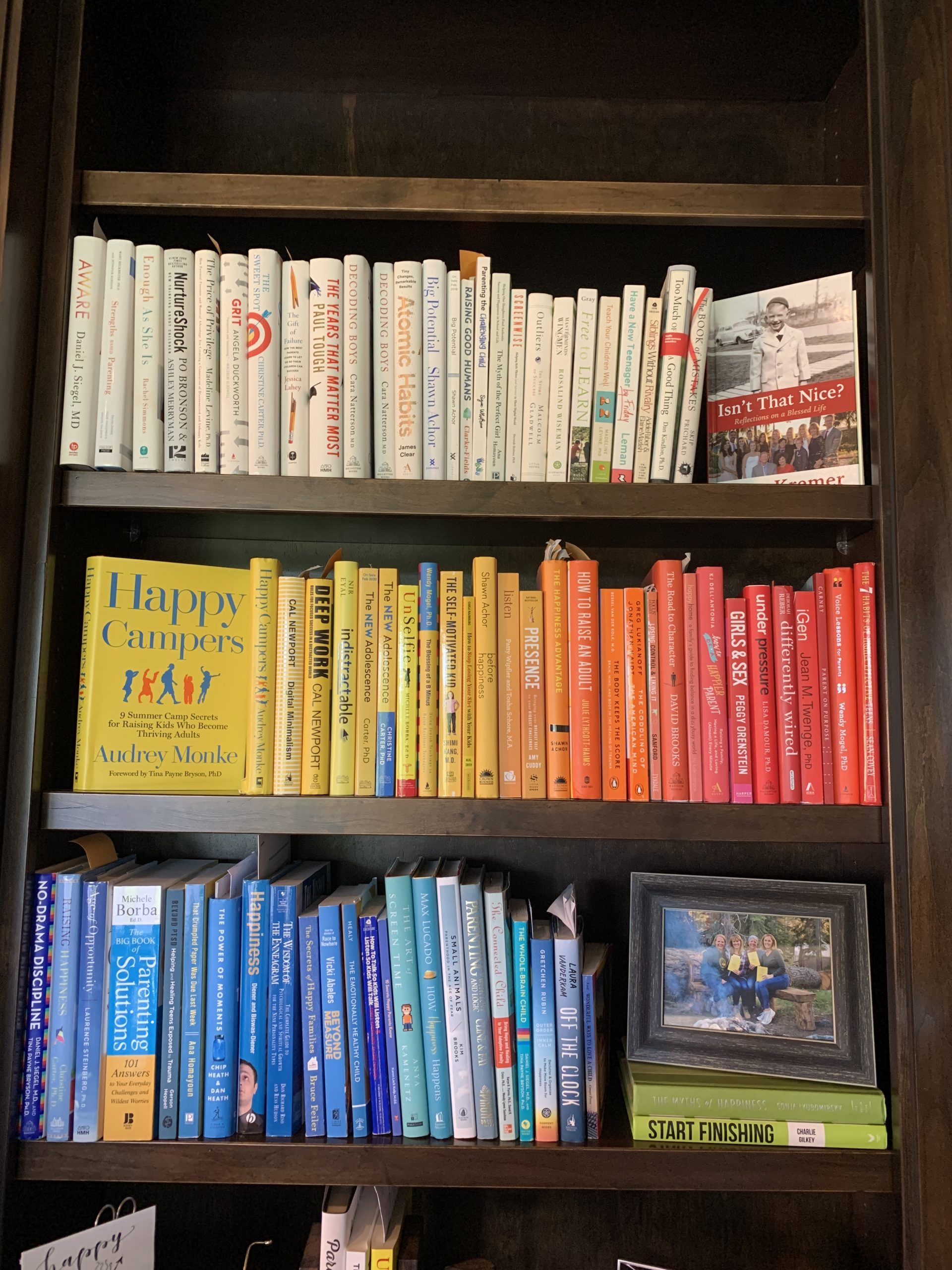 #7 Move some furniture (or create a little quiet space just for yourself)
To make your home feel a little different, move some furniture around a bit so that it feels "new." Or, create a little space for yourself on a cozy chair or on some pillows in your bedroom or a closet or room that doesn't get much use. Put some of your favorite "quiet" activities in a basket or box there – things like mazes, coloring supplies, books to read, or crafts to do.
#8 Call or FaceTime a friend
Now that you're an expert on Zoom and other online meeting platforms, organize a get-together with a friend or group of friends. To make it even more fun, have a theme like "crazy hair." For a fun activity, get a game like Yahtzee that you can play together by each having your own set of dice! Or, play "Name that Tune" or "Pictionary."
#9 Make family dinner like a campfire
Pretend you're at camp around the campfire and you're the counselor. Lead a discussion like counselors at camp do! Have every family member share their high, low, and hero of the day or ask a question that everyone answers.
#10 Brainstorm (as a family) things you're interested in doing together for fun
Create a list with your family of things you're each interested in (rotate whose idea you do together as a family)
Nature walk: identify birds, build a trail

Movie marathon: pick an actor and watch all the movies with that actor in it

Puzzle competition with another family
#11 Make a list of things to organize or spruce up in your room or house
Take a walk around your house and make your list of things you've wanted to do around your bedroom/house (Ideas: hang a picture, make a collage for your wall, clean out drawers of things to hand down to a sibling, friend, or to donate). Take before and after pictures and
send them to us
!
#12 Find things to laugh at
Laughter makes us all feel better. Find funny memes and videos to share with each other. Even better, tell a joke or create a funny song or skit and share it with your friends at GAC so we can use it at our upcoming assemblies and campfires!
What are your tips for stay at home activities? Share them with us!
by Audrey "Sunshine" Monke
Wendy Mogel's best selling book, The Blessing of a Skinned Knee, resonated with me. I can relate much of her message to camp and to my own family. I heard Dr. Mogel speak at a conference several years ago, and she continues to be active in the camp community. Many of our camp parents have heard her speak at school parenting events or have read her book. If you haven't had a chance to read The Blessing of a Skinned Knee, I highly recommend it. In addition to sharing about the importance of letting our kids take healthy risks, and not always rescuing them from failure, Mogel gives many other valuable insights. She has recognized the value of camp experiences in the development of emotionally healthy kids, as you can read in the article "Camp Blessings" on her website.
A question I often get asked, especially by kids who haven't yet been to GAC, is "What if I don't want to do an activity?" Sometimes it starts with a statement, "I don't like horses. Do I have to do that activity?"
My short answer is, "You won't be forced to do any activities, but you will still go with your group, and you will be encouraged to try."
I think there are three main reasons kids don't want to do a particular activity, and they are the same reasons why adults often choose to forgo some recreational options:
1. A previous negative experience with the activity, usually not at camp and not with experienced instructors.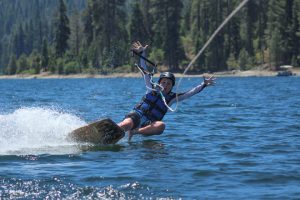 Falling off a horse, being dragged behind a ski boat and not getting up, or getting lost on a hike are all examples of negative experiences that make a person naturally inclined not to want to try again.
2. Fear!
Fear of being humiliated. Fear of failure. Fear of heights. Fear of deep lake water. Fear of rocks. Fear of going to the bathroom in the woods. Fear of getting hurt. The list goes on and on.
3. Based on their perception of themselves or their past successes/failures, they think they won't like it.
It's not in their normal repertoire of things they like and/or are good at.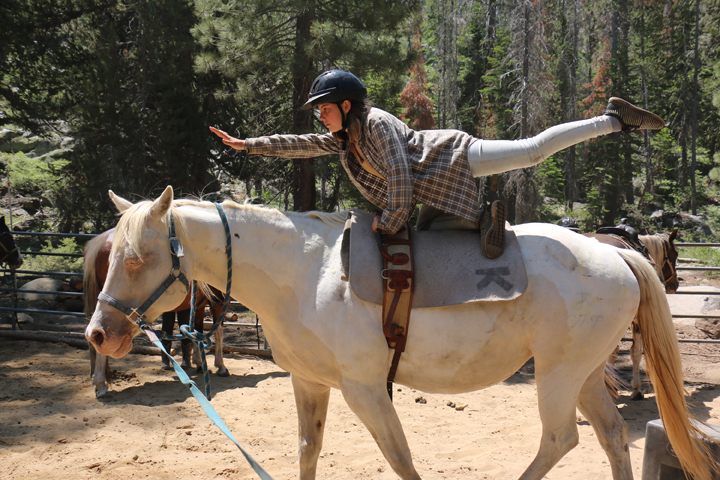 I'm sure there are other reasons for kids to not want to do an activity, but these are three that readily come to mind from what campers have told me over the years. Interestingly, the reasons kids don't want to do an activity are the very reason for trying the activity and may be the best thing that happens at camp for that camper.
If a child doesn't want to do an activity because of a previous negative activity, trying it at camp could lead to either a changed mind (and a new activity they like) or, at the very least, a not-as-negative experience to remember.
If a camper doesn't want to do an activity because of fear, then trying the activity could be the most life-changing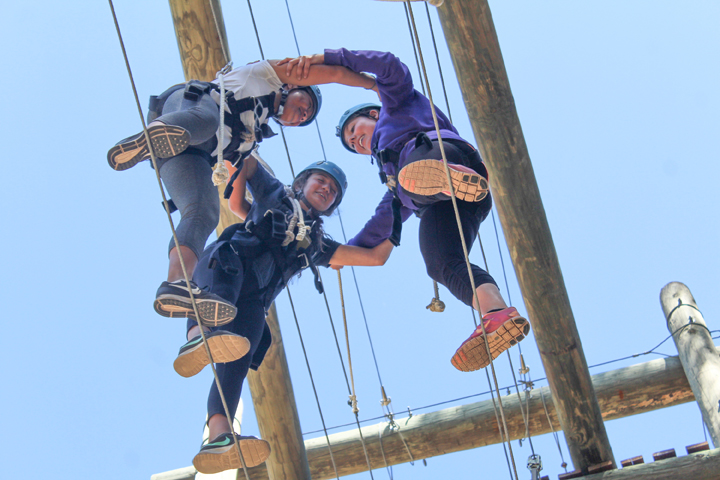 event that occurs for that camper during their camp stay. Overcoming fears and challenging oneself to attempt something that seems impossible can lead to great feelings of accomplishment and improved confidence. With the support and encouragement from cabin mates and counselors, campers feel on top of the world after successfully trying something they feared. For the camper with a fear of heights, climbing half-way up the ladder on the high ropes course will be celebrated as a huge accomplishment, and one that can make him/her proud. This is an example of something hard that leads to something good, a theme that Dr. Mogel stresses. The camp environment offers a supportive place for kids to learn how to overcome fears and accomplish things they didn't think were possible.
If a camper doesn't want to do an activity because they don't think they'll like it based on their preferences or perception of themselves, trying something different offers an opportunity for expanded confidence. A camper who sees himself as non-athletic and more adept at target sports may shy away from the more physical activities, yet trying and accomplishing them could change his perception of himself in a positive way. A camper who likes shopping and clothes and sees herself as not an "outdoorsy" kind of person may dread going on a backpacking trip. Yet, the experience of cooking and sleeping outdoors could lead to an expanded view of herself and an appreciation for the many different facets of a personality. Sometimes, the activity a camper thought would be their least favorite becomes a favorite!
So, when a camper tells us all the reasons why they "don't want to" or "can't" do an activity this summer, we will continue to encourage them to "give it a try," because we know the hidden blessings in the least favorite activity.
By Alison "Bean" Moeschberger
The program at Gold Arrow has been designed to provide campers with a variety of experiences and opportunities while they are at camp. Rather than focusing on skill progression in one area, we feel it is important for campers to be introduced to activities they may not have chosen to do on their own. We strive to create a supportive and encouraging environment in which campers feel comfortable pushing their own boundaries and can learn about themselves as they conquer fears, face challenges, and live in community with others.
Cabin groups are scheduled to participate in activities together for two of the three activity periods each day. During cabin activities, the Group Counselor plays a key role in fostering personal growth in campers. These specialized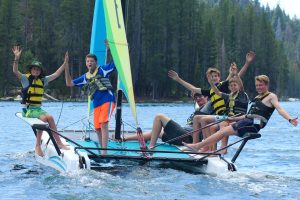 counselors attend activities with the cabin group and help campers set personal and group goals and hold the group accountable for reaching their goals and encouraging others. Participating in activities as a cabin group allows campers to take risks and push themselves in a safe, supportive environment. Through watching cabin mates overcome fears and accept new challenges, campers learn resilience and empathy. Everyone's role in the group is necessary, and the Group Counselor serves to build and enhance the supportive community so that the cabin group feels like a family.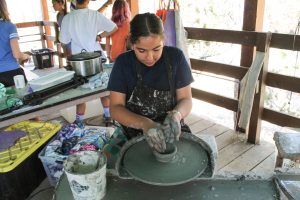 The third activity period of the day, called "Free Time," gives campers an opportunity to sign up for activities as individuals. Campers can try special activities that are only offered during this period or return to an activity they enjoyed with their cabin group.
You can find out more information on activities offered at Gold Arrow Camp here.
Episode 56
Today was a special day for Soy because he got to have one of his best camp friends on the POG. Tank, who worked alongside Soy on the operations team at camp and who is a vital part of Morning Assembly, joined the POG-Cast from Vail, Colorado to talk about coming to camp, living in the mountains, and the most requested song at dances and Morning Assembly. There's a superhero-themed Joke of the Cast and Ralph Waldo Emerson provided the GACspiration.
Podcast: Play in new window | Download
Subscribe: Apple Podcasts | Android | Email | Google Podcasts | Stitcher | Spotify |
Most tangible, material gifts we give our children, spouse, and friends are outdated, broken, lost, or unused within months of the gifting. We can rarely remember what the gifts from past years even were.
Like most parents, I realize there are far more important gifts we give our children than the ones we wrap in December for Christmas or Hanukkah. This time of year is a great time to remind ourselves that the gifts that last are the ones that can't be wrapped: gifts of time together and connection and of fun family memories.
As my dad's favorite coffee mug says, "The best things in life aren't things."
In the spirit of this season of giving, here are a few (mostly) non-toy gift ideas. I hope you get some great ideas for each of your kids, and maybe the adults in your life, too!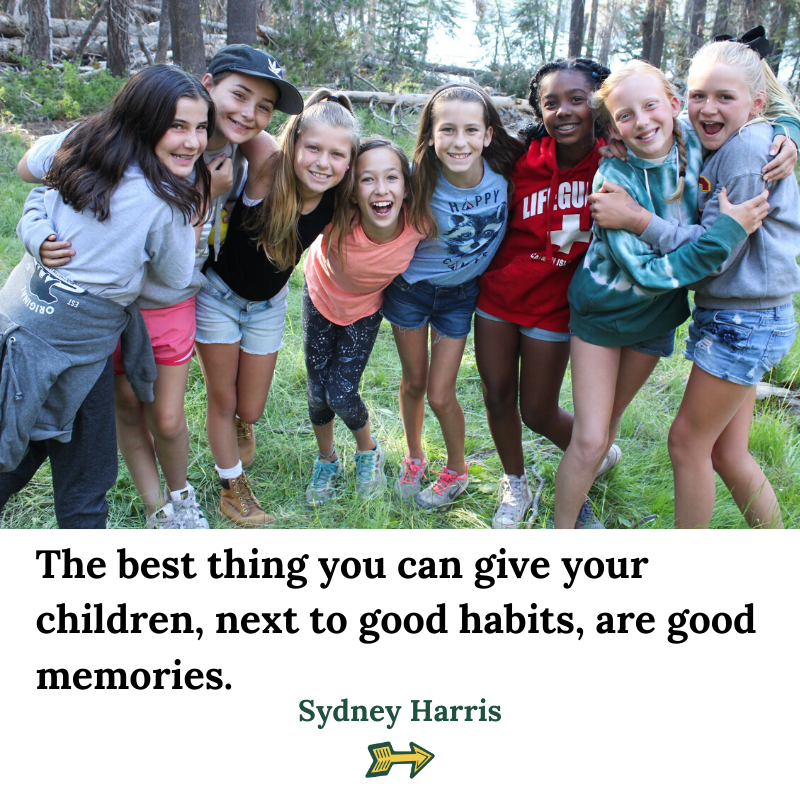 The Gift of Time
Play games together
Game nights produce memories (good and bad), so maybe consider giving a group gift of a new game to play this holiday season.
Invest in a group activity
We have probably gotten the most mileage of family activity time from our basketball hoop, ping pong table, and trampoline. These are "big" group gifts that got the most mileage in both years and quality time together. So, if you have more than one child, consider one "WOW" gift that will get a lot of use. When our kids were little, a few of the most popular group gifts were a large whiteboard and a gymnastics mat. Both got many hours (and years!) of use.
Schedule "dates"
I know families who have "date nights" with each of their children. I love the idea and would like to work it into my gift giving this year. One child may want a lunch date, while another prefers a bike ride or a game of tennis. In any case, spending time with our kids, doing something they want to do with us, is a gift indeed (for both them and us). Time seems to be the hardest gift to give, but it is also most highly valued by the recipient. How about creating a gift coupon for a date that would be special for your child?
Event gifts
These can be costly, but one popular gift we've given our teenagers is concert tickets. Wrapping up the ticket in a gift bag with a ribbon makes it a "real" gift.
Subscriptions, Memberships, or Classes
Subscriptions to magazines, Book of the Month, music lessons, or classes are always a great way to give a gift that kids enjoy all year long! If a child has an interest in something specific and would enjoy an outing, consider researching a class or exhibit and creating a coupon or certificate to present to them. One year, I gave my daughter a one-day photography class using a local Groupon, and we had a great Saturday together in January learning how to use all the settings on our cameras.
Plan fun family events
Anything you do as a family creates memories and is a gift that will be remembered. Whether it's a movie and popcorn night at home or a walk through the neighborhood to see the holiday lights, the gift of time as a family is so important to our kids. When we don't default to our phones, computers, and TVs, it's amazing what we discover there is to do!
Remember family memories
Like many of my gift suggestions, this one requires time. I love recording and recounting memories (my 36,059 photos on iPhoto prove it). My kids never get tired of hearing stories from when they were little or watching our scant supply of digitized home videos from when they were toddlers. One of my favorite gifts from my husband was a hard drive with all of our family movies digitized on it. We have had hours of entertainment watching our old home movies.
Take some time this holiday to get out the old photos (or pull them up on the screen using the cool new technology) and create a book or collage or slideshow together. We also like to list our "Top 100 Memories" of the year over the holidays. It's fun to reflect on what we've done together and what's happened over the year.
Gifts to Wrap
Books
For something to wrap, gifting books is always a great option, especially when I'm excited to have found one I have enjoyed myself and think the recipient will enjoy. And, although books are a material item, a good book has a much longer lifespan than most toys or electronic devices. Passing along a favorite, loved book (even if it's well-used), inscribed with a personal message, is a fun gift idea. Or, giving a fresh copy of one of your favorite books or series that you enjoyed at your child's age is a meaningful gift.
Books have the potential to be re-read, passed around, and enjoyed by many. They can take on a life of their own. While most books can be read on an e-reader or borrowed from the library, there are some that your child may value having in their personal library. When you give a book gift, be sure to inscribe the book with a note with the child's name, the occasion the book is being given, the year, and your name. Who knows the mileage that book will have?
Another fun idea is listening to a book together on a holiday drive! Check out some fun family book listens on Libro.fm!
Personalized or Homemade Gifts
Having your name or initial on an item makes it feel extra special and shows that thought and time went into the selection.
Some of my favorite personalized gifts to give and to receive over the years have included:
Personalized stationery
Monogrammed towels, key chains, luggage
Framed photos
Collages
Letters of appreciation
Recipe & ingredients to cook something
Instructions & supplies for a science experiment
Supplies (and offer of your time) for a craft: wood working, needlework, sewing, painting, lettering, welding, etc.
Give friendship, fun, and growth
I'll "wrap up" my gift-giving suggestions with one of my favorites (predictably, since you're reading this on our blog), the gift of a session at camp! The gift of camp lasts a lot longer than any toy. Campers learn life skills, such as social skills, independence and responsibility, while having the time of their lives.
Many grandparents or parents give camp as their child's big gift for the holidays. Especially for kids who have been to camp before, this is a gift they really appreciate. I like the idea of wrapping up the "You're going to camp!" note with a campy item like a water bottle, camp t-shirt, beanie, sleeping bag, or disposable camera.
With our kids now beyond childhood, we opted last year (for the first time) to forgo the major gift giving and instead had a fun trip over the holidays be our big gift. We went to Costa Rica and took surfing lessons!
Instead of running out to a bunch of stores and wearing out the UPS truck with daily deliveries (both of which I have decades of experience doing), this season I will take a few minutes to think about each family member and friend and decide what would be a special, meaningful item I can give them or experience I can offer.
I wish you a stress-free holiday season where you can focus less on acquiring more stuff and more on creating fun family memories.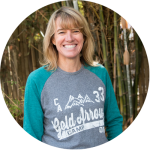 Audrey "Sunshine" Monke, Chief Visionary Officer of Gold Arrow Camp, is an author, speaker, and podcaster. You can find more of her writing and resources at her website, Sunshine Parenting. Her book, Happy Campers: 9 Summer Camp Secrets for Raising Kids Who Become Thriving Adults, is available wherever books are sold.
By the end of high school, teens need to have mastered more skills than just reading, writing and math to be successful, thriving adults. Gold Arrow Camp's Outdoor Leadership Course (OLC) helps campers develop important life skills that stretch them far beyond academics: Leadership, Independence, Communication Skills, Resilience, and Responsibility.
The OLC is a two-week program for young people interested in developing important life skills. Trained leaders guide OLC participants on a challenging, six-day, 30-mile backpacking trip into the High Sierras. Throughout the session, campers develop backcountry navigational and survival skills, practice wilderness first aid skills, and participate in GAC activities.
The purpose of OLC is to challenge teens to learn and grow in self-awareness, develop maturity, discover the value of community and working with others to solve problems and accomplish shared objectives. While growing and learning, participants develop five skills vital for success: Leadership, Independence, Communication Skills, Resilience, and Responsibility.
1. Leadership
"Being a part of OLC has influenced my life after camp because it taught me how to be a leader and being a part of a high school swim team, being a leader is a big part of staying together as a team." – Sophia, OLC Participant
After arriving at camp, OLC participants receive leadership training before departing on the backpacking trip. They do exercises in team building, learn conflict resolution techniques, and practice positive communication. While in the wilderness, campers have the opportunity to learn and practice map and compass navigation, outdoor cooking, Leave No Trace principles and ethics, sustainable backcountry living, and wildlife biology.
All OLC participants serve as "Leader of the Day," which means they use navigational skills to determine which path to take, when to stop for breaks, and what to do about any situations that arise while hiking. At the end of the day, the "Leader of the Day" receives feedback from trip leaders and peers.
2. Independence
Achieving independence is essential to making the transition to adulthood, and participating in challenging outdoor program with other teens is a perfect way to develop the self efficacy needed to feel confident away from home. The hard skills learned during the OLC — navigation, outdoor cooking, wilderness first aid, camping, and hiking — require independence, curiosity, and creative problem solving.
3. Communication Skills
"I really enjoyed getting to discover myself in the woods, thinking and hiking and communicating with my fellow campers." – Blake, OLC Participant
Effective communication is arguably the most important of all life skills. Trained trip leaders use positive guidance to facilitate reflection, dialogue and group discussion throughout the program. Leaders encourage campers to think about what happened that day, what their successes and challenges were, and how to grow from those experiences. At the end of the course, all OLC participants have improved communication skills with peers and counselors.

4. Resilience
Research shows that wilderness courses are well-suited to teach outdoor skills, self-confidence in general and confidence during adversity. Participation in an outdoor leadership program have a positive impact on emotional intelligence, specifically on stress management and adaptability. All OLC participants set personal and group goals before leaving on the backpacking portion of the course and work to accomplish those goals throughout the session with the help, direction, and encouragement of trip leaders.
A multi-day backpacking trip through the rugged terrain of the High Sierra has days that tax participants both mentally and physically. In the Outdoor Leadership Course, teens learn to push through challenges through encouragement from their trip leaders, supportive group dynamics, and building their self leadership. While surrounded by their peers, they learn just how far they can push themselves. They learn, literally, that they can climb mountains. After their OLC accomplishments, finding a way to make it to sports practice or finishing up a college admissions essay seem easy.
5. Responsibility
OLC participants are responsible for managing their equipment, completing tasks carefully and on time, admitting their role in mistakes, and working to correct those mistakes. The OLC equips campers to take the initiative to make their own decisions, fulfill obligations, and grow from their experiences.
In addition to the skills OLC participants learn and the growth they experience from the program, there is something else that too many teens don't have the time to find; genuine face to face FUN!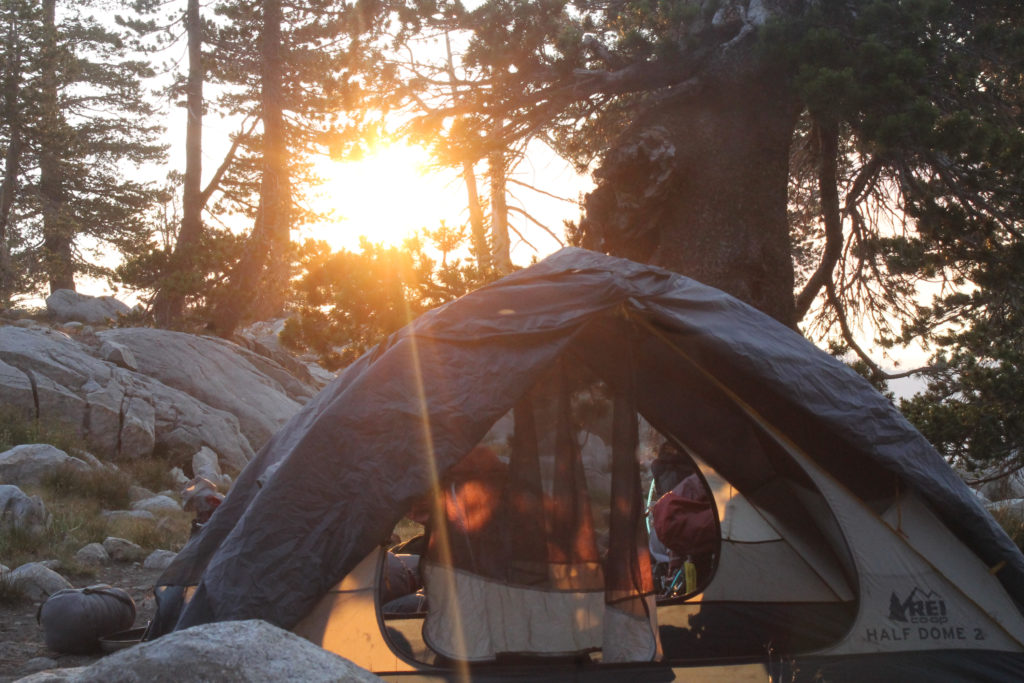 "What I enjoyed about the OLC was that every day was different, some days we would do longer hikes, and others we would have a lot of time to relax and the enjoy the people and scenery. One of my favorite days out in the backcountry was when we hiked about 5 miles and then hung out in a river for the rest of the afternoon, and then made quesadillas for dinner. The food was always amazing, and there was always plenty to eat. My favorite lunch was probably Nutella and English muffins. We had a lot of Nutella." – Charlotte, OLC Participant
If you have any questions or would like to know more, visit the Outdoor Leadership Course page, email us, or give us a call at 1-800-554-2267 ex. 0.

Raise Thriving Kids Workshop – September 27 in Newport Beach Make this the happiest, most connected and growth-filled year ever for your family! Raise Thriving Kids Workshop
Port Streets Clubhouse
1900 Port Carlow Place
Newport Beach Friday, September 27
9:00 am – 4:00 pm
Join Audrey "Sunshine" Monke and Sara Kuljis for a 1-Day LIVE parenting workshop in Newport Beach, California.
What you'll learn during this workshop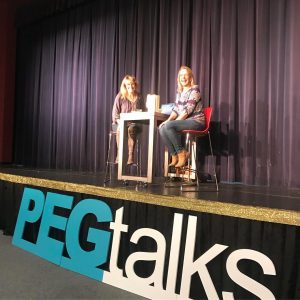 • Creating the Family Culture You Want by learning how to move your actions closer to your values and determining what kind of family you want to build.
• Raising Successful, Thriving Kids means defining what success for your kids looks like, what character traits you seek to foster, and how to help them become thriving adults.
• Building Your Positive Parenting Toolbox that includes skills like Authoritative Parenting, Connection Before Correction, Play & Fun, and the Power of Affirmation.
• Loving The Child You Have by harnessing the power of Positive Language – Behavior Management, Calming Skills for Ourselves & Our Kids – Internal Chatter, Empathy, and Compassion.
Your Investment

of

$250 Includes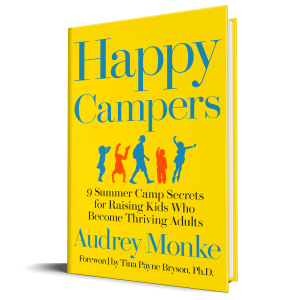 • A signed copy of Happy Campers: 9 Summer Camp Secrets for Raising Kids Who Become Thriving Adults
• A binder full of parenting resources and activities to support you in raising thriving kids
• Four follow-up group Zoom coaching calls with Audrey and Sara
• Lunch
• Discussions & advice that will improve your parenting and make your family life happier and more connected
Spaces are limited so claim your spot now!
ENTER "GAC" AT CHECK OUT FOR A $50 DISCOUNT!