Happy September from Gold Arrow Camp! This month, we're continuing to celebrate kindness with our September Kindness Calendar. Follow the prompts each day and practice kindness wherever you go! You can download and print out your own September Kindness Calendar here.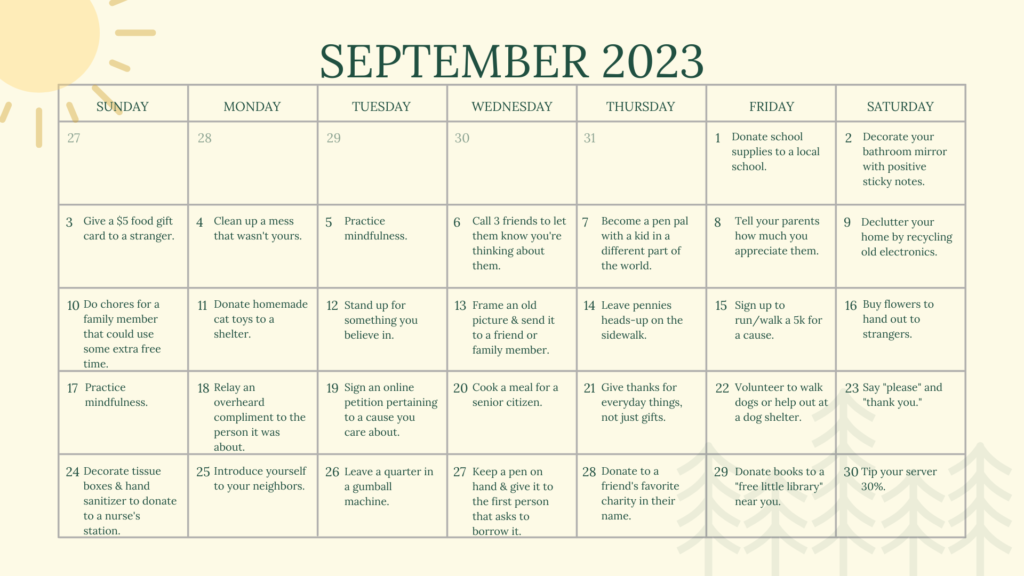 There's always something going on at camp, whether that's a cabin theme day, a backpacking trip or a visit to Shaver Island! Check out the outpost schedule below to see where each cabin is going this session.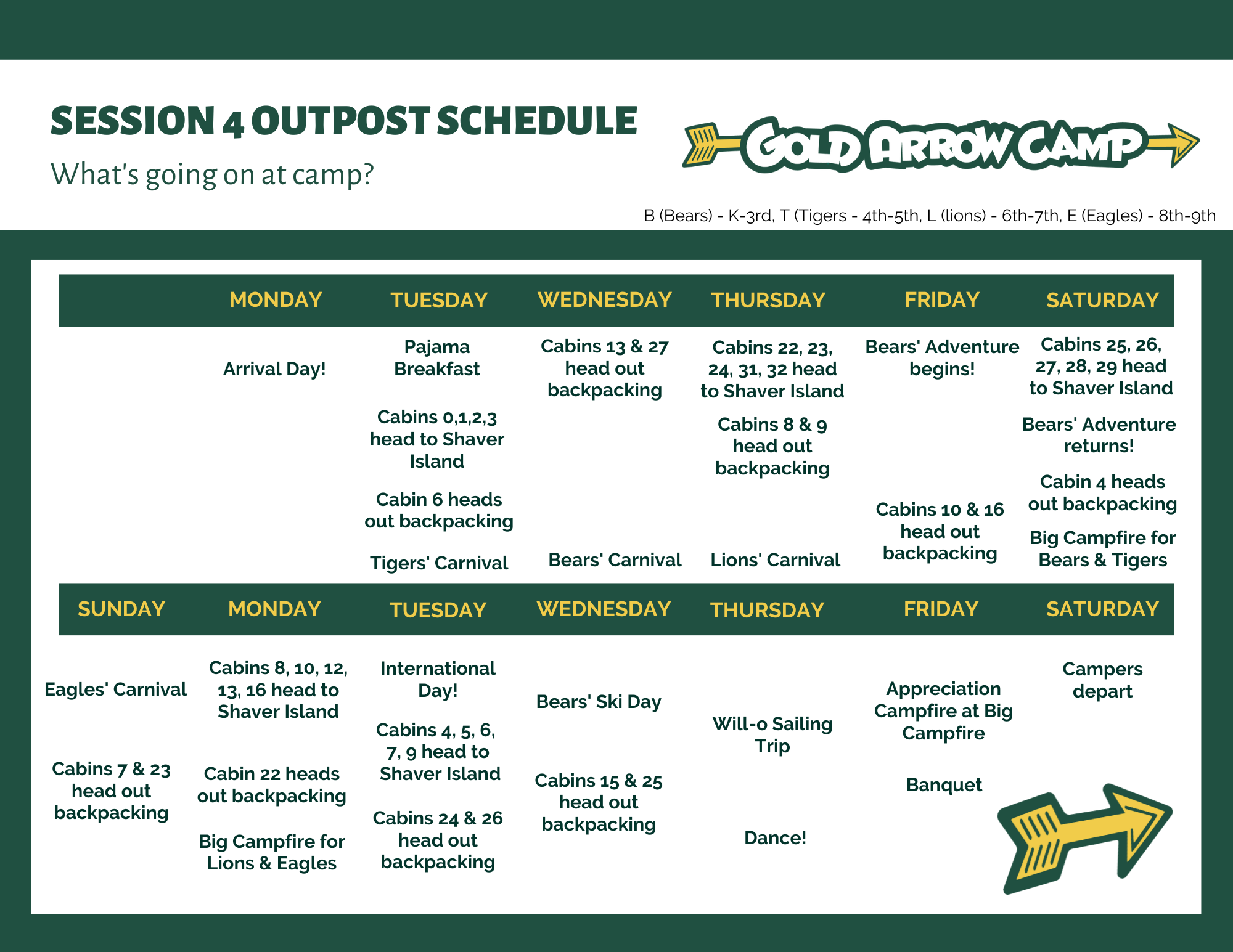 Happy August! We have loved spreading kindness and want to keep it going. Enjoy these kindness tips and feel free to download and print the calendar here.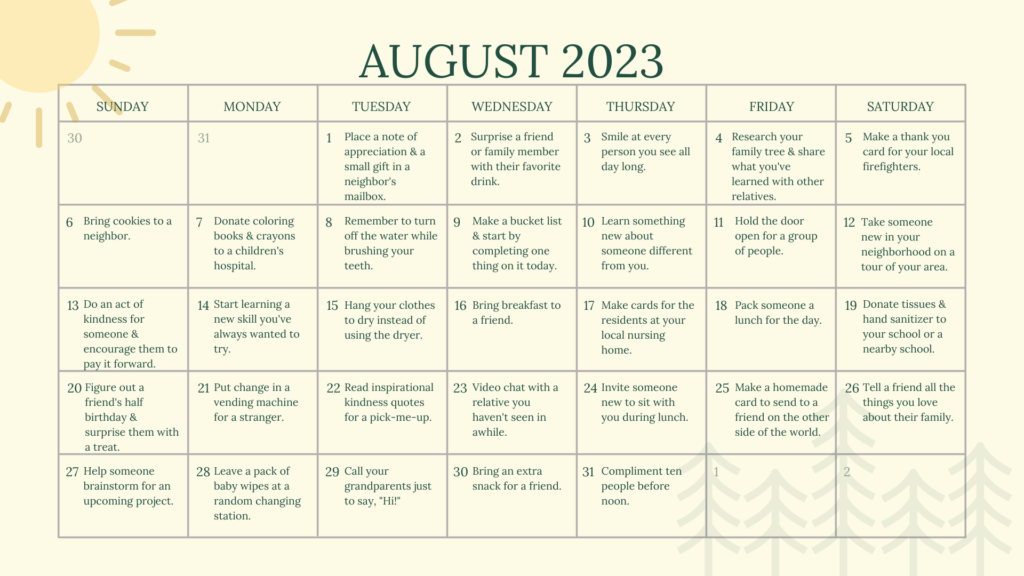 Because all of us make mistakes in our relationships, an important friendship skill is learning how to apologize sincerely and effectively. Apologizing well when we hurt a friend with our words or actions is a skill we're working on growing this summer at GAC.
In just about every conflict, the disagreement or issue is never ALL one person's fault. Usually both people did or said something that hurt the other person. With campers, we brainstorm examples of conflicts they get into with friends – often minor things like disputes over card games or using an item that belongs to someone else without asking. Sometimes, we unintentionally hurt a friend.
Apologizing well includes owning up to mistakes and apologizing for words or actions that hurt another person. A sincere and thoughtful apology is the most effective way to resolve conflicts with friends & family members.
Conflicts are a normal part of all relationships, so we are normalizing for campers that all of us – at times – need to apologize to our friends. These are the simple steps to making a meaningful apology when we've done or said something we regret or that has hurt our friend.
6 Steps to a Good Apology
Use the words, "I'm sorry."

Acknowledge exactly how you messed up.

"I used unkind words that hurt your feelings."

Tell how you were feeling and why you think you did the thing.

"I was feeling jealous of how well you did at wake boarding, so I made an unkind comment."

Tell the person how you'll fix the situation.

"I'd like to share some things that I really admire about you so that you understand how much I like you. And I'm going to take a breath before I make impulsive comments."

Promise to behave better next time.

"I'm going to do my best to not blurt out unkind things. If I mess up, I want you to tell me."

Ask for forgiveness.

"Will you forgive me for messing up your card game?"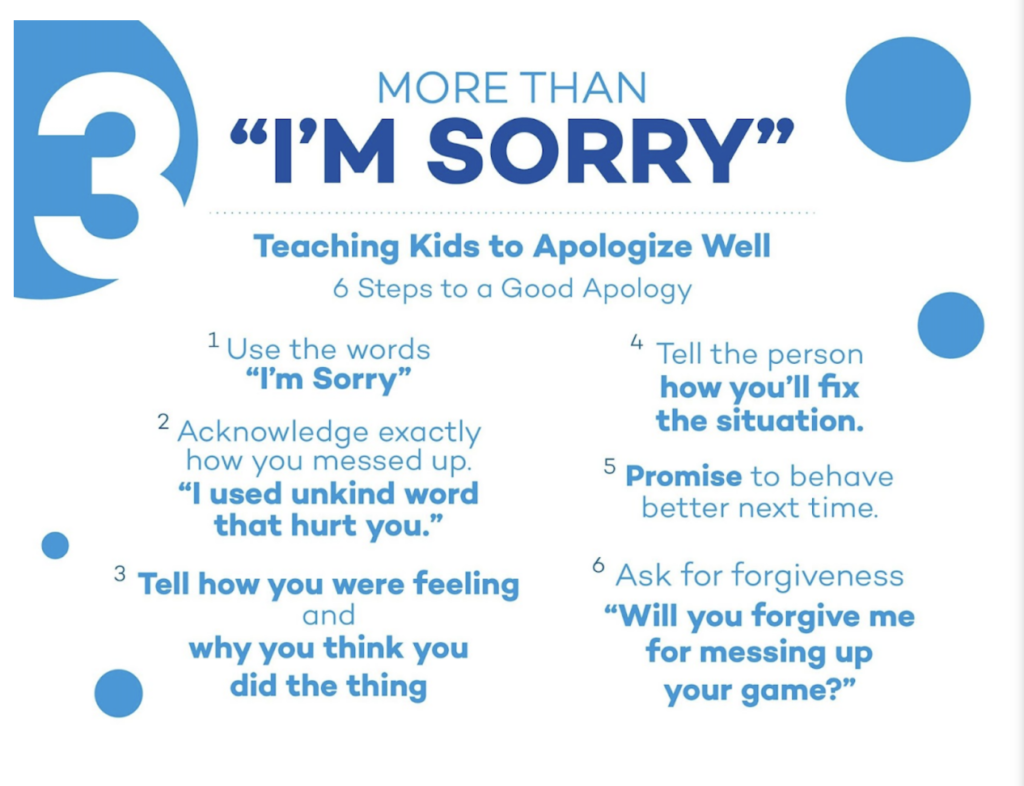 Resources/Related
There's always something going on at camp, whether that's a cabin theme day, a backpacking trip or a visit to Shaver Island! Check out the outpost schedule below to see where each cabin is going this session.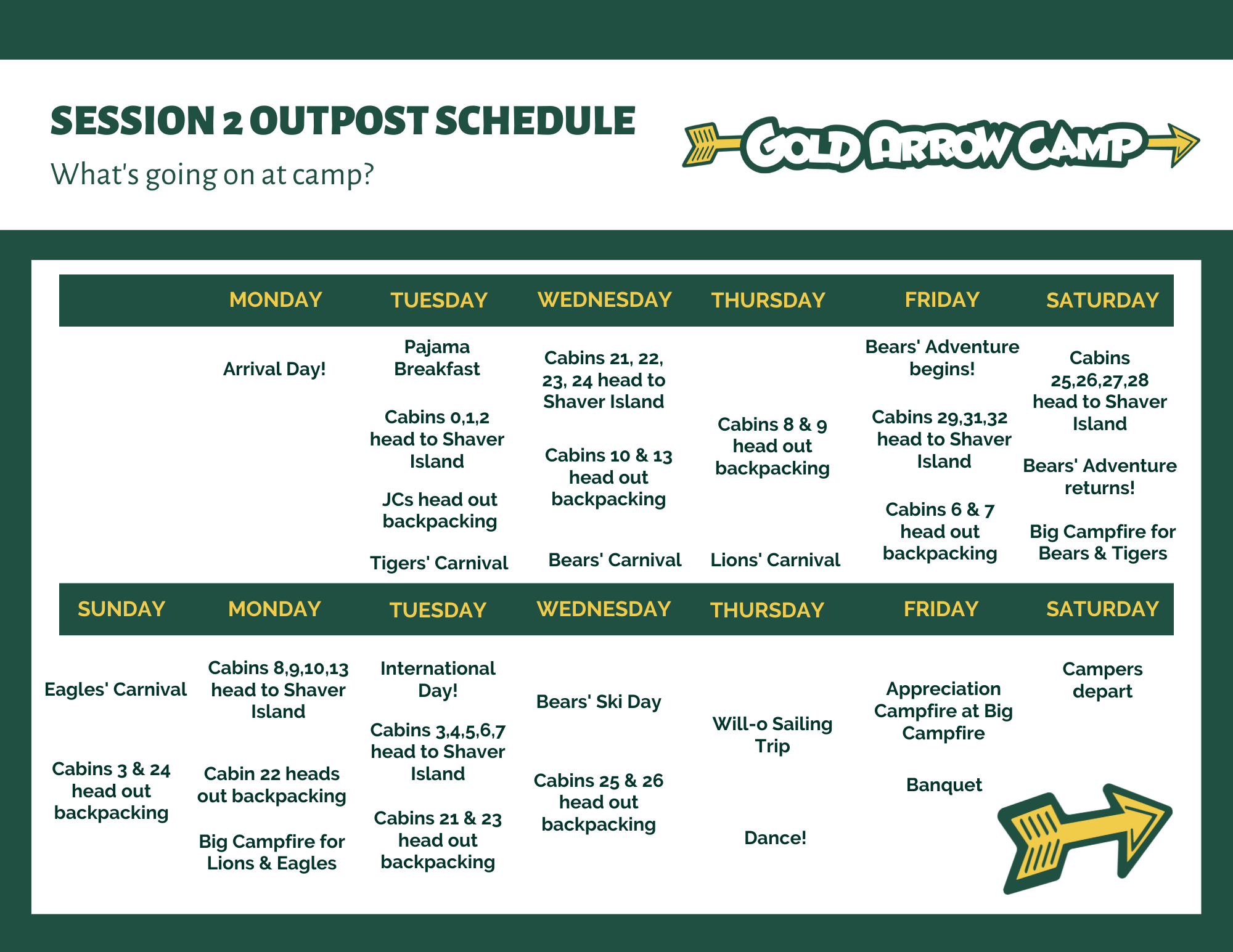 July 19th is Camp Kindness Day, so we are getting you ready with our July Kindness Calendar! We encourage you to show kindness to someone everyday and we came up with a few ways to help you do that! Click here to download the printable version.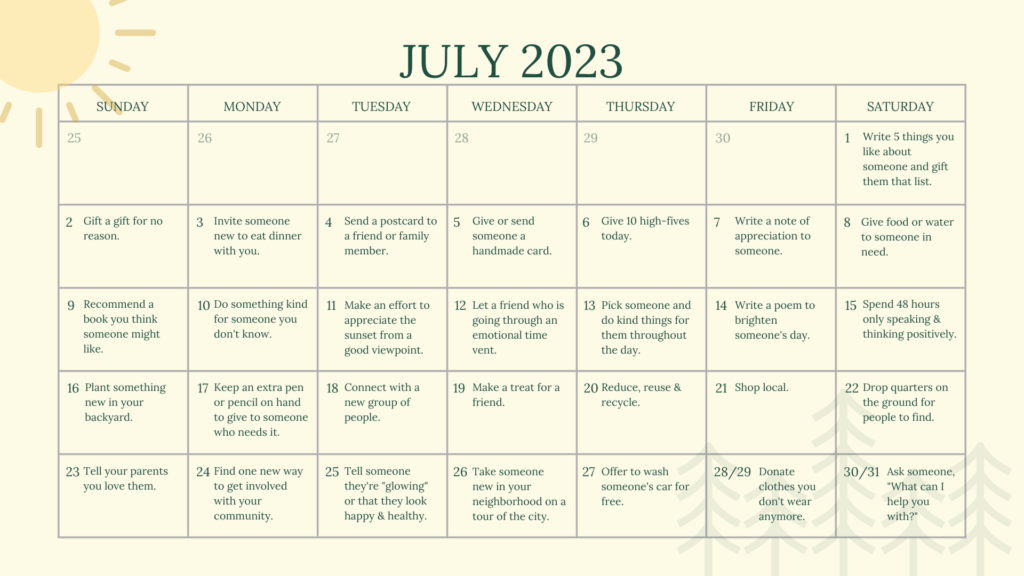 There's always something going on at camp, whether that's Jers-day Thursday, a backpacking trip or a visit to Shaver Island! Check out the outpost schedule below to see where each cabin is going this session.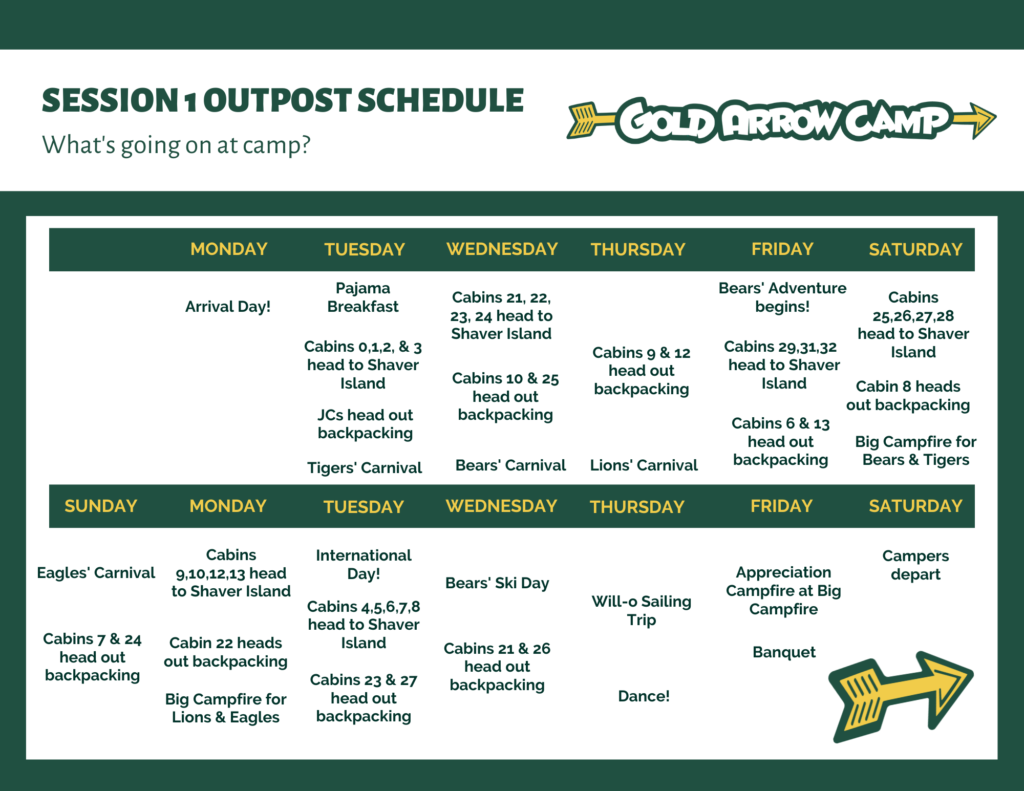 Yesterday, we welcomed an awesome group of campers for Session 1+, which starts with a week at our Shaver Island Outpost camp. Among this group of campers, there are ten 3-year campers, two 5-year campers, and two 10-year campers. Eight campers from outside of California.
They're going to enjoy an action-packed week of waterskiing, wakeboarding, and kneeboarding on our island outpost in the middle of Shaver Lake. They will get to sleep under the stars after spending fun-filled days on the lake! How lucky they are!
Want to learn more about June Specialty? Click here.
Happy June and the start of GAC 2023! Here are 30 ideas of how we can be kind to others this month. Enjoy! You can download a printable version here!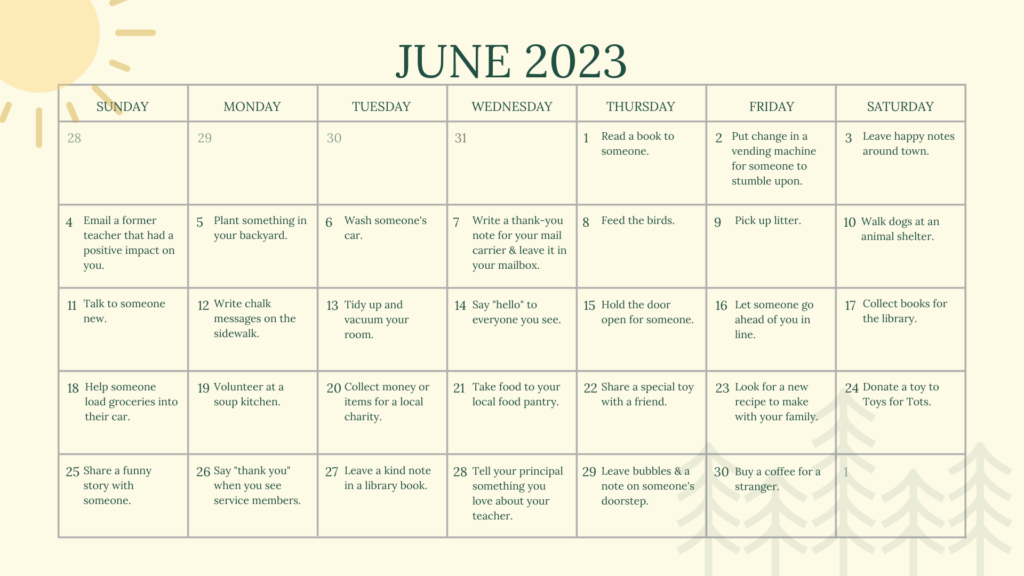 Packing for camp is the start of your child's independent camp experience. Please have your child participate in packing for camp so that he/she knows where to find their clothing and other items. Campers who don't participate in packing often don't know what they have or where to find things, which makes it harder to acclimate to camp. Be sure to download and print the appropriate packing list.
Luggage
For our two-week (and longer) sessions, we recommend campers pack in two pieces of luggage. One larger piece (soft-sided trunk or footlocker) can be used for most of the camper's clothing. A smaller duffle bag can be used for sleeping bag, pillow, and other equipment that doesn't fit in the main piece of luggage. The smaller duffle bag will be used for campers who travel to and from Shaver Lake. For campers traveling by air and coming with only one piece of luggage, a backpack or small sport-sized duffle bag can be packed within your main bag and used for the Shaver trip. A small backpack is also useful for carrying a towel, shower supplies, or other equipment around the camp. Please note that campers do not unpack into drawers or cubbies in the cabin during their stay.
All luggage must be tagged with camper's name. Luggage tags are sent to camp families in April. Additional luggage tags will be available at the bus stops and camp on the first day of each session.
Labels
All of your camper's clothing and belongings must be clearly labeled with your camper's full name. Items that are not labeled are unlikely to be returned to your camper if lost in the cabin or around camp. A sharpie marker, iron-on or stick-on labels, or stamps all work for labeling.
Shoes
Our terrain at camp is rough and uneven, and appropriate footwear is a safety requirement. Please make sure your camper has at least one pair of closed-heal and closed-toe shoes that have adequate tread for walking on rocks, dirt, and other uneven surfaces. Running shoes, hiking shoes, or other athletic footwear work well at camp, as long as they fit the camper well and have adequate tread. Other types of shoes (flip flops, Crocs, Converse, etc.) can be worn in the cabin and at the waterfront, but closed-heal, closed-toe shoes must be worn while walking around camp, participating in activities, and traveling to and from camp.
Younger Campers
For younger campers, we recommend placing like-items together in their main piece of luggage to easily access what they need for the day or activity. For example, stack all short-sleeve t-shirts together, include underwear in a packing cube or plastic zip-lock bag, group pants in one area, etc.
Climate
Gold Arrow Camp is located at 7000 feet elevation, and our night time, mountain temperatures can get very chilly. Be sure your camper's sleeping bag is rated to at least 30 degrees F (or lower), so that your camper will be warm at night. Sleeping bags used for indoor, overnight sleeping are not sufficiently insulated for camp use.
What Not To Bring
Do not send any of these items, as they are not allowed: food, candy (including gum), cash, water guns, silly string, water balloons, sling shots (or any other weapons), electronic games, headphones, e-readers, cell phones, fireworks, knives, matches, lighters, tobacco, alcohol, or illegal drugs. For campers traveling by air, cell phones, headphones, and travel money can be held in our office.
Do not send valuable items such as expensive cameras and jewelry. We recommend campers use a disposable camera marked with their name.
Send old clothes that do not require dry cleaning or special washing. Laundry service is provided for campers staying three weeks or longer. Urgent laundry will be done for campers staying for a one or two-week session. Do not bring irreplaceable items to camp, as they could get lost or damaged.
Please do not send any personal athletic equipment (water skis, fishing poles, etc.). We provide top quality equipment that is sized for our campers.