Many of our GAC camper families include multiple siblings who attend camp each summer, so it's not surprising that when campers return as camp counselors, they often overlap with their siblings who work at GAC, as well. This summer, we're grateful to have an especially large group of staff siblings, including:
Sneaks & Shred
Flaps & Otter
Peanut Butter & Agave
Magic & Maps
Ski & Sis
Butter & Jam
Quest & Jupiter
Mariachi & Liono
Gatsby & Vinci
Falls & Aqua
Foxtrot & Squid
Hood & Odin
Donatello & Anmut
Skillet & Catavee
Spock & Lyric
Astro & Minty
Truffle & Spotlight
Gem, Latte, & Goat (not pictured)
To learn more about each of these amazing GAC staffers, check out MEET OUR STAFF.
Our Session 3 JCs (Junior Counselors) host this week's episode of Whadda Week!
Get to know them and hear their goals for Session 3.
Links:
Subscribe to Gold Arrow Camp's Whadda Day Podcast.
Podcast: Play in new window | Download
Subscribe: Apple Podcasts | Google Podcasts | Spotify | Stitcher | Email |
Listen to Sunshine Parenting Episode 165: Cultivating Kindness
Being considerate of others will take your children further in life than any college degree.
Marian Wright Edelman
Being a considerate, kind person who thinks about others is a character trait that helps children form good relationships and leads to a happier and more successful life as an adult.
What does this mean for super competitive parents who want their children to succeed at all costs, even if it means cheating and being mean to others? It could be helpful for parents to know that research has clearly shown that kind people are happier people, and happier people, in turn, are more successful in life. In jobs and in future relationships, kindness will take our children "further in life than any college degree."
Focusing on kindness needs to be a higher priority for everyone who cares about children.
In our cut-throat, competitive culture, where assertiveness and achievement are glorified and valued, focusing on developing kindness is often overlooked.
There are anti-bullying posters and speakers at most schools, but where is the message about the powerfully positive impact of kindness?
Parents and youth development professionals, including teachers, coaches, and camp staff, know that wording things positively and telling kids what we DO want them to do is far more effective than a list of "don'ts" and "nos." So, why hasn't this message translated into how we teach children to treat one another?
We're talking with children a lot about not bullying each other, but we're not talking with them enough about what we want them to be doing instead — which is, of course, to treat each other with respect and kindness. I propose that as parents and youth development professionals we flip the "anti-bullying" message into a "pro-kindness" one.
Ways to model and practice kindness
Get kids to focus on kindnesses that they have seen by asking them to point out kind acts they have witnessed or done.
Brainstorm with kids kind things they can do for others and help them follow through. Focus on small, easy kindnesses rather than huge things.
Talk with kids about how they feel after someone has done something kind for them or after they've done something kind for another person.
Questions to Ask Kids to Spur Conversations about Kindness:
• Share something kind they've seen someone else do this past week.
• What's the kindest thing someone has ever done for you?
• What are kind things we can do for our friends? Siblings? Parents? People we don't know?
• How do you want to be remembered by your classmates and friends?
"You can't live a perfect day without doing something for someone who will never be able to repay you."
— John Wooden
This topic is so important to Gold Arrow Camp and to Sunshine that she dedicated an entire chapter of her book, Happy Campers, to it: Camp Secret #8: Make it Cool to be Kind. Each chapter of Happy Campers ends with five different "Bringing Camp Home" activities to consider trying in your family.
More Kindness Ideas & Resources
Read (or listen to) Wonder by R.J. Palacio
One of GAC counselors' favorite read-aloud books is R.J. Palacio's Wonder. Consider reading (or listening – Audible version is free right now if you sign up for a free Audible trial) to Wonder individually or as a family read-aloud. Get some popcorn and have a family movie night to watch the movie version after you finish reading.
Do you like Pinterest? Check out Sunshine's Kindness board.
It's the second week of Session #2 here at Gold Arrow Camp. With help from Hooper and Sunshine, Olivia, Hadley, Lindsay, & Dove (Cabin 18) host this week's episode of Whadda Week!
Podcast: Play in new window | Download
Subscribe: Apple Podcasts | Google Podcasts | Spotify | Stitcher | Email |
By Alison "Bean" Moeschberger
The program at Gold Arrow has been designed to provide campers with a variety of experiences and opportunities while they are at camp. Rather than focusing on skill progression in one area, we feel it is important for campers to be introduced to activities they may not have chosen to do on their own. We strive to create a supportive and encouraging environment in which campers feel comfortable pushing their own boundaries and can learn about themselves as they conquer fears, face challenges, and live in community with others.
Cabin groups are scheduled to participate in activities together for two of the three activity periods each day. During cabin activities, the Group Counselor plays a key role in fostering personal growth in campers. These specialized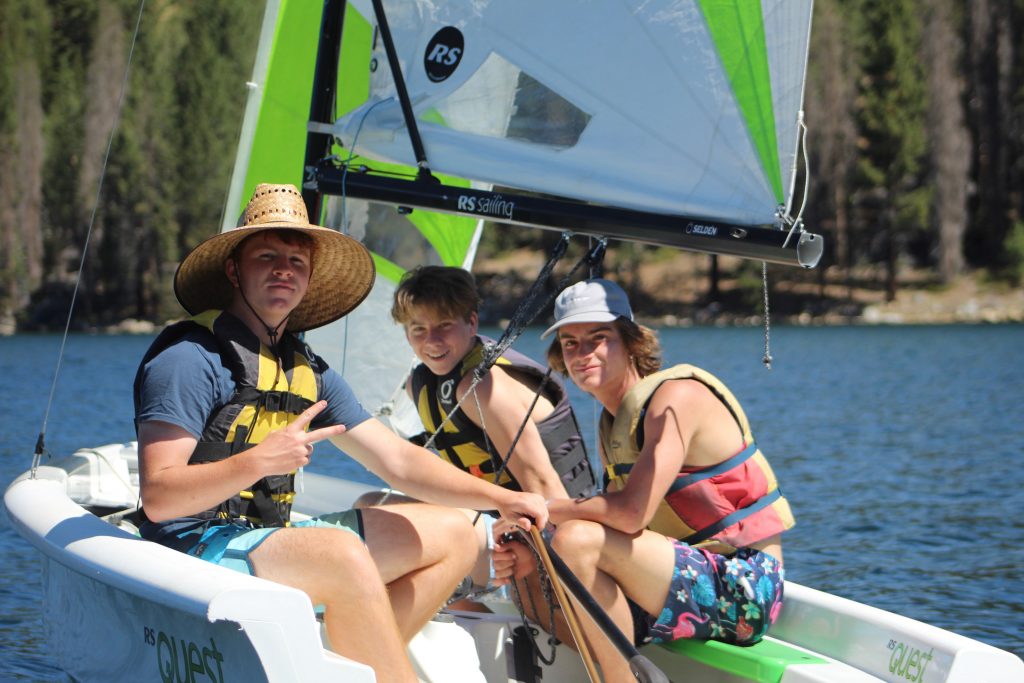 counselors attend activities with the cabin group and help campers set personal and group goals and hold the group accountable for reaching their goals and encouraging others. Participating in activities as a cabin group allows campers to take risks and push themselves in a safe, supportive environment. Through watching cabin mates overcome fears and accept new challenges, campers learn resilience and empathy. Everyone's role in the group is necessary, and the Group Counselor serves to build and enhance the supportive community so that the cabin group feels like a family.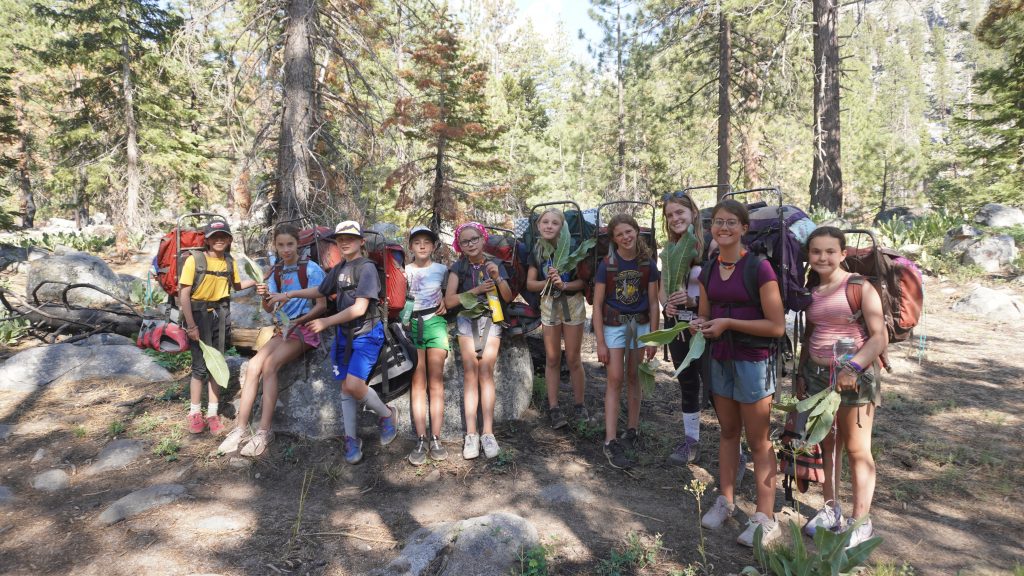 The third activity period of the day, called "Free Time," gives campers an opportunity to sign up for activities as individuals. Campers can try special activities that are only offered during this period or return to an activity they enjoyed with their cabin group.
You can find out more information on activities offered at Gold Arrow Camp here.
Session 1 has already come and gone and we miss everyone so much already! We hope you enjoy these memories and we cannot wait to see you next year!
Hosts Bravo and Frames, along with Cabin 27, kick off Session #2 with this week's episode of WHADDA WEEK!
Podcast: Play in new window | Download
Subscribe: Apple Podcasts | Google Podcasts | Spotify | Stitcher | Email |
There's always something going on at camp, whether that's a cabin theme day, a backpacking trip or a visit to Shaver Island! Check out the outpost schedule below to see where each cabin is going this session.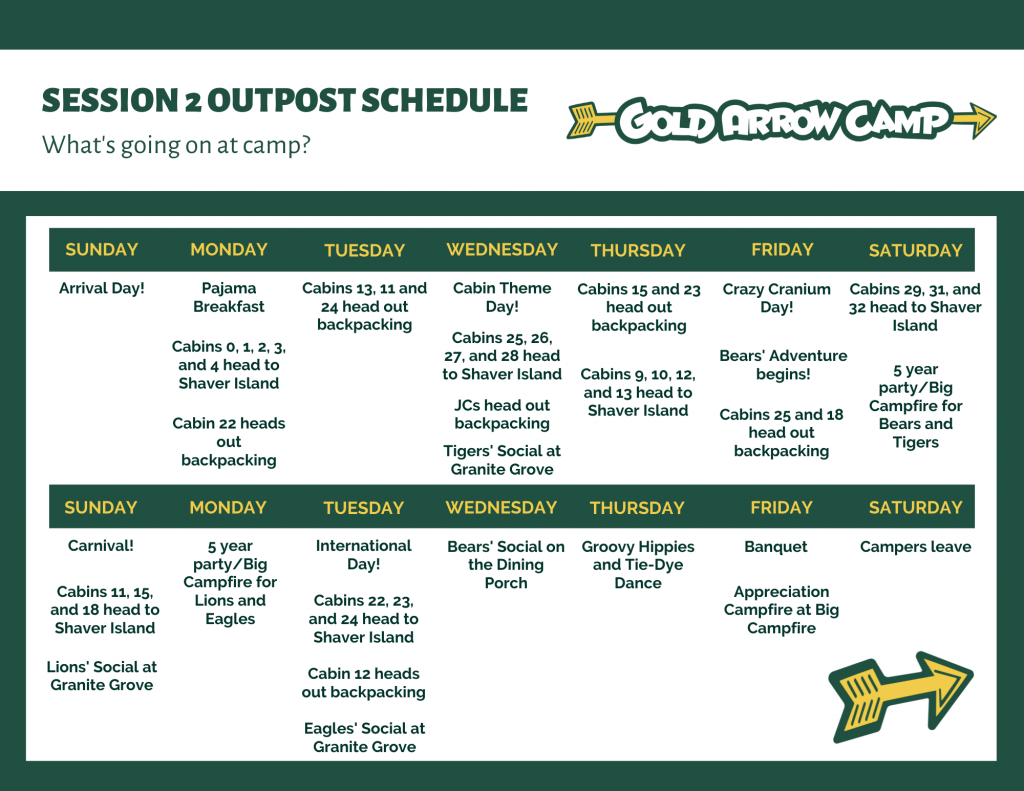 by Andy "Soy" Moeschberger
My single favorite time of day at camp is campfire. Every night each of our 31 cabins has its own campfire unless the cabin is at a social (a campfire with another cabin) or our dance. Why do I love this time of day so much? In part because I love the smell of woodsmoke. In part because it means the day is winding down and I'll be in bed within the next 3 hours. But mostly because of the magic.
What could be so magical about a campfire? Some logs, some pine needles, a match, and some popcorn. That's simple and fun, but it isn't magic.
I beg to differ. I think that the time spent around a campfire is magic. It's transformational and powerful in the way that nothing else I have experienced in my life is. When a group of 10 friends is gathered around the flickering flames under a blanket of stars they can and will share truths that are more lasting and meaningful than if they were in a game room or around a dining room table.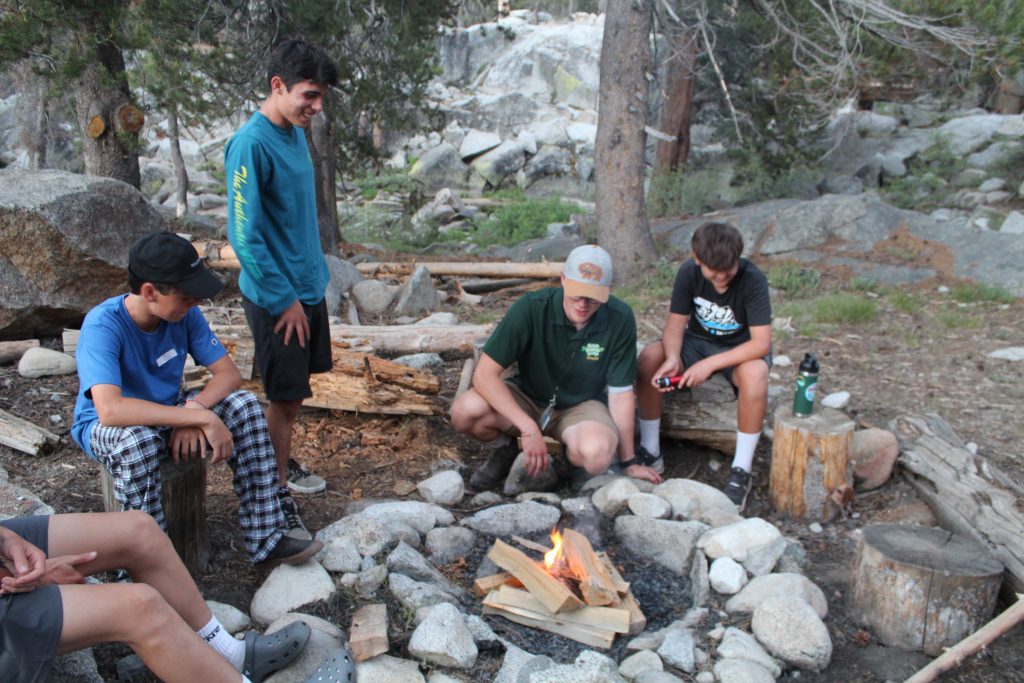 But why? What is it about the campfire that makes this possible? Well, maybe it isn't magic. Maybe it's science. According to a study from the University of Alabama, adults who were exposed to a "fire with sound condition" (a video of a fire with the sound turned on) showed lower blood pressure and increased "prosocial" behaviors (such as smiling, making eye contact and engaging in conversation). And that was a VIDEO of a campfire with an adult by themselves! The authors hypothesize that this is an evolutionary development. They believe that for ancient humans the fire provided warmth and a way to cook, and also signaled the safety of numbers. Our ancient forerunners knew that by being around the campfire they could relax. Even a millennium after we moved indoors, our minds still subconsciously know that a fire is a place where we are safe.
Children need this more than ever today. The pressures of the world increasingly weigh on young people. If they can have an opportunity to feel, like the cavemen of old, relaxed and safe, then they can begin to become their best selves. The campfire is a natural way to do that. As I tell our graduating campers at their Paddle Ceremony, the most meaningful moments of their camp careers probably occurred around a campfire.
Many camps have only occasional campfires, or "flashlight" fires. While there are benefits to that, we know the nightly practice of an actual campfire is important. Our counselors are trained specifically on campfires. The training is far more than how to stack the logs and what the ideal marshmallow looks like. Indeed, they practice in our training how to lead a meaningful discussion around the fire. They lead campers in sharing their highs and lows of the day. They help to facilitate discussions about real life topics that campers are interested in or struggling with.
On our last night of camp, we gather for an all-camp campfire that we call Appreciation Campfire. There are songs and stories and skits. Off to the side of our amphitheater (which we call Big Campfire!), there is a campfire pit, where the logs crackle away merrily. As the night winds down, the flames grow lower and lower. At the end of the night, counselors share their appreciation for their cabins by candlelight as the last embers of the campfire glow.
That's just a last tiny piece of magic before we go home.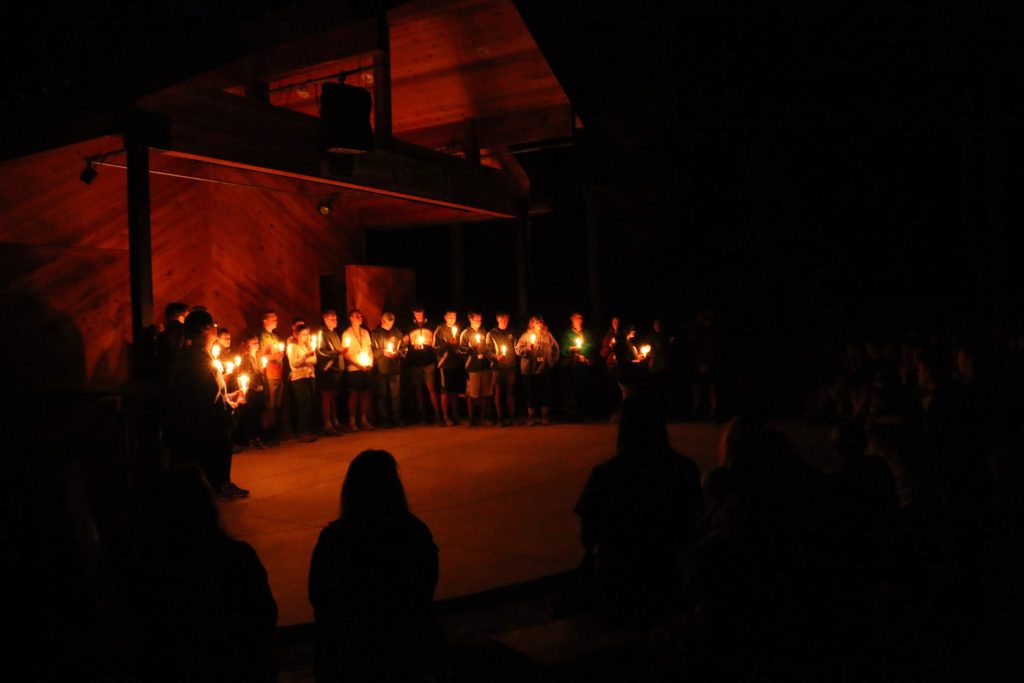 What's happening this week at GAC? Find out on WHADDA WEEK – Your weekly look into life at camp!
We're halfway through Session 1. Here's an update from campers on what's happening this week and what we're learning about being BETTER TOGETHER and friendship at GAC. Listen to more episodes about camp at https://goldarrowcamp.com/podcast-2/.
Podcast: Play in new window | Download
Subscribe: Apple Podcasts | Google Podcasts | Spotify | Stitcher | Email |