A few years ago, I conducted research on the impact camp experiences have on children's social skills and happiness. This research was through the California State University, Fresno for my master's degree thesis entitled, "The Perceived Impact of Camp Experiences on Youth Social Skills and Subjective Well-Being."
"Friendship is the gold of childhood"
Michael Thompson, Ph.D.
Children and adolescents require more than intellectual growth and physical health to become happy, successful adults. They also need to develop the social skills necessary for positive relationships with others (Crosnoe, 2000). The importance of quality childhood friendships for well-being both during childhood and later in life has been clearly established, and many camp programs specifically focus on fostering those friendships, along with teaching, modeling, and practicing social skills.
Campers look like they're having a lot of fun playing outdoors and learning new activities, but are they also learning life skills during just two weeks at a residential summer camp? That was one of the primary questions of this study, which examined the perceived impact of a two-week residential camp experience on children's happiness and social skills development. Participants were 167 children ages 6-15 from six different two-week, residential summer camps in Arizona, California, and Colorado. The children completed an end-of-camp written survey during the summer of 2014 in which they were asked to rate (1-5) how much they thought their social skills were impacted by their camp stay. Did their social skills, for example, get a lot worse (1) or a lot better (5)?
Participants' parents went on-line to complete the same survey two to four weeks after their child's camp stay. Both children and parents reported significant positive changes in the children's social skills and happiness as a result of their two-week camp experience, and 140 of 147 (95%) children reported improvement in their overall social skills.
Social Skills Improvement
| | | |
| --- | --- | --- |
| Social Skill | % of Campers Reporting Improvement | Mean Answer |
| Choose people who would be good to be friends with. | 64% (107 out of 156) | 3.91 |
| Get to know more things about my friends. | 74% (123 out of 155) | 4.18 |
| Enjoy being with my friends. | 69% (115 out of 157) | 4.17 |
| Help my friends have a good time when they are with me. | 64% (107 out of 157) | 4.03 |
| Find ways to meet people I want to be friends with. | 65% (108 out of 157) | 4.06 |
| Get to know people who I might want to become friends with. | 73% (122 out of 157) | 4.10 |
| Listen carefully to things that my friends tell me. | 60% (100 out of 156) | 3.94 |
| Understand my friends' emotions. | 62% (103 out of 157) | 4.01 |
Focus on Friendship
Camp counselors, unlike teachers, view their primary role as one of facilitating friendships and positive experiences. They are also trained to help campers build social skills. At most camp programs, counselors participate in up to a week of training prior to the summer. Sessions include exercises in communication, leadership, and team building, during which counselors are trained to lead "ice-breakers" that help campers get to know one another and connect. Making friends is an important part of the camp experience, and with the help of their counselors, children learn and practice their friend-making skills. Given that camp programs emphasize forming new friendships and rekindling old friendships, the finding that children felt their social skills improved as a result of camp supports the hypothesis of this study and anecdotal testimonials. Not surprisingly, all campers (100%) reported making new friends at camp, with 99% of campers' parents (132/133) reporting the same.
How many new friends did you make at camp?
| | |
| --- | --- |
| Number of New Friends | % of campers |
| 0 | 0% |
| 1-3 friends | 14% |
| 4-6 friends | 14% |
| 7-9 friends | 19% |
| 10 or more friends | 44% |
Note: 10 children (6%) did not answer the question.

How do camp experiences foster friendships and develop campers' social skills?
While the specific mechanisms for social skills development were not part of this study, campers' comments provide some clues as to why camp experiences help foster close friendships and improved social skills.
Sense of belonging and social acceptance, understanding their value to the camp community:
"I'm not exaggerating, camp is my favorite place on Earth. The people provide a sense of belonging and 'welcomeness.' I'll be back next year!"
"I liked the freedom you are provided with and how many new friends you can make within two weeks!"
"Camp is really fun. It's usually hard to make friends, but here it's easy."
"I liked bonding with my horse, my friends, and the counselors."
"Camp is really fun and it's usually hard to make friends, but here it's easy."
"I get to make new friends and grow better friendships with existing friends."
Opportunity to practice skills like cooperation, altruism, and empathy:
"What I like best about camp is creating connections and having a new home."
"What I like best about camp is hanging out with my friends."
"Camp helps me come out of my shell."
"It's fun and I get to play with my friends."
Improved ability to label emotions in facial expressions, more time in face-to-face communication (no screens!):
"I want to come back to camp to get away from electronics, and I really like this experience."
"I liked that there are no electronics, like a cleanse."
Opportunity to practice their conversation skills at meals, activities, around the campfire, during rest time and while walking around camp:
"I loved doing activities with my cabin group and just talking to them."
"The best thing about camp is the bonding time you spend with your cabin mates."
"I love camp and getting outdoors and meeting new people from places all over the world."
"I loved all of the wonderful counselors and the friends I made."
Children who live together in close quarters, share activity and meal times, and gather around campfires in discussion and games get an intense burst of time with one another and often report feeling closer to their friends at camp—with whom they spend only two weeks—than to their school friends. Because they are with each other so much and—at the six camps of focus in this study—are required to unplug from electronics, children at summer camp spend more time in intentional, directed conversation as compared to when they are not at camp. Trained counselors lead campers through team- and relationship-building activities throughout the day, skills that are more deeply developed thanks to increased face-to-face communication.
At camp, children are socializing with one another from the moment they wake up until the minute they fall asleep. They have time to internalize group social norms and learn appropriate social interactions by emulating counselors and fellow campers. For a child who has grown up in the same neighborhood or gone to the same school their whole life, camp may be the first opportunity to meet such a large number of new friends and interact with a diverse group of people. Campers get practice talking to new people, figuring out appropriate self-disclosure, and asking questions to get to know others. It's no surprise that campers and parents believe camp improves social skills. Those two weeks each summer spent at camp may, indeed, be life changing. And new friends and improved social skills may be the reason!

REFERENCES
Crosnoe, R. (2000). Friendships in childhood and adolescence: The life course and new directions. Social Psychology Quarterly, 63(4), 377-391. doi: 10.2307/2695847
In all probability, the educationist of the year 2000 AD will look back upon us and wonder why we, the school people of 1938, failed to include the camp as an integral unit of our educational system.
– The Kappan Magazine, the official magazine of Phi Delta Kappa – 1938
If you ever have the opportunity to visit us at camp, you'll have the opportunity to sing the GAC Song. While many people love the "wadda-ing" that takes place in the chorus, my favorite part comes in the final verse. We sing, "I sure did learn much more here than I ever did at school."
My love of this line comes from my teaching before I came to work for Gold Arrow full time; I was a high school social science teacher for 14 years.
It may seem odd that a teacher would love a line about learning more at camp than we did at school. But I do because camp and school operate symbiotically. While those of us in camping and education have known this anecdotally for many years, there is an increasing body of evidence that supports that belief with data.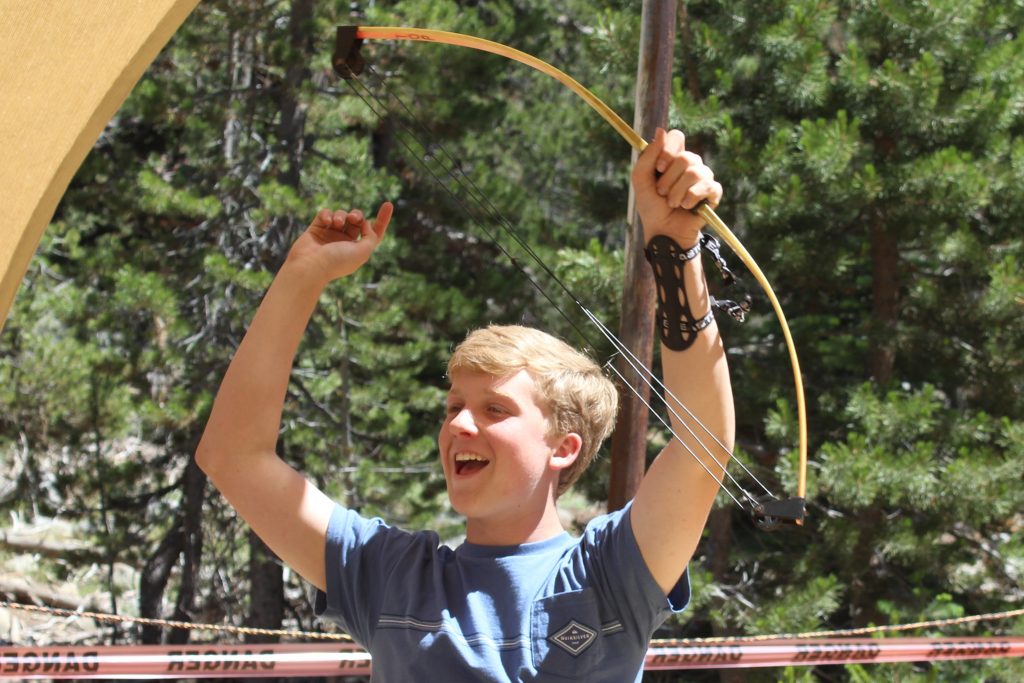 Some of that research has been supported by the American Camping Association, and I was privileged to hear one of the leaders in the field, Lance W. Ozier Ed.D. speak on this at a recent conference. He has written on the history of camps and schools (you can read it here). In that article, Dr. Ozier lays out the reasons that camp blossomed in America after the Civil War. As people moved to the cities, adults began to worry that their children were losing touch with nature, and so they sent them to live in nature. How familiar does that refrain sound to us today?
And yet the challenges for young people are even greater now than they were then. The rise of computers, social media, and cell phones has had as great a social impact as urbanization a hundred years ago. Today, camp serves not just as a way to re-engage children with nature, but as a way to help them learn vital social skills in a systematic way. We are fortunate that one of our camp owners and directors, Audrey "Sunshine" Monke, has studied the impact of camp on building social skills. Her research shows that a significant majority of campers report having improved social skills because of camp. She believes that this is because camp counselors are specifically trained in helping campers to improve skills like making friends and listening to others.
It isn't just Sunshine that has found these results. According to research conducted by the American Camp Association, campers and their parents report that campers have more social skills, higher self-esteem, and more independence. When a child returns to school more comfortable socially, they have more confidence and are more likely to sit up front, ask questions, and ignore distractions. When they do that, they are setting themselves up for more academic success.
But wait, there's more! Camp also provides an opportunity for children to struggle in a safe and supporting environment. At camp, we talk a lot about growing grit, a concept that has been moved into the public discussion about education by Angela Duckworth's research. We think that grit is so important we made it our theme for an entire summer! But there is increasing research that shows how struggling actually changes the way the brain grows. This research in neuroplasticity shows that the brain grows much more when it is engaged in something difficult. So every time a camper tries to waterski another time, or climbs the rock wall, their brains are growing!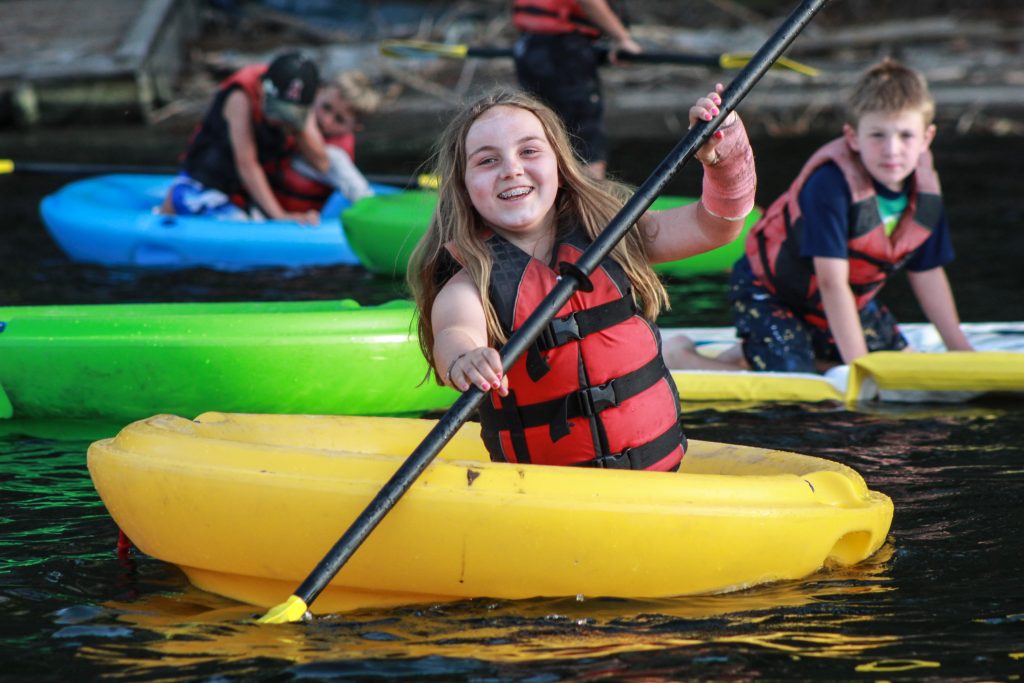 (Interestingly, that same research shows that the brain also grows more and stronger synapses, in mice at least, when they are allowed to roam openly in nature.)
None of this is news to people who send their kids to camp, or those of us who work at camp. We can see anecdotally that kids are more confident and more "alive" after camp. But this research simply confirms what so many educational researchers knew in the early 1900s: going to camp when you're not in school will help your education.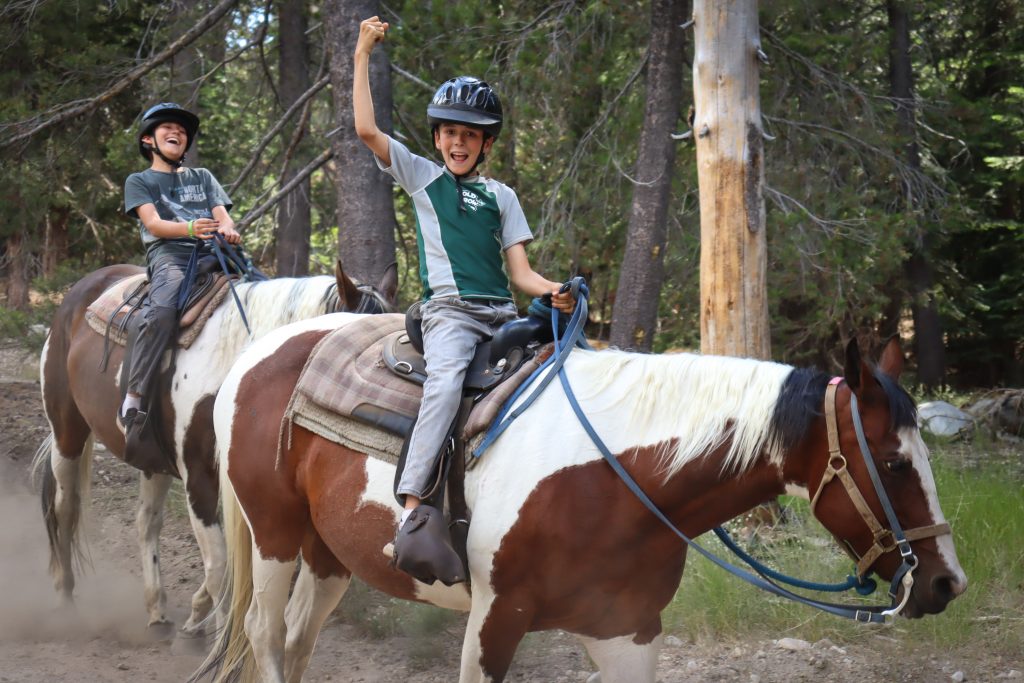 Originally published on Sunshine Parenting
By Audrey "Sunshine" Monke

As parents of this generation, we've been told that great parenting means being super-involved with our children and always being in constant communication with them. We give them cell phones as soon as we feel they are ready to have a bit of independence so that we can be assured that they will call us the minute they need us.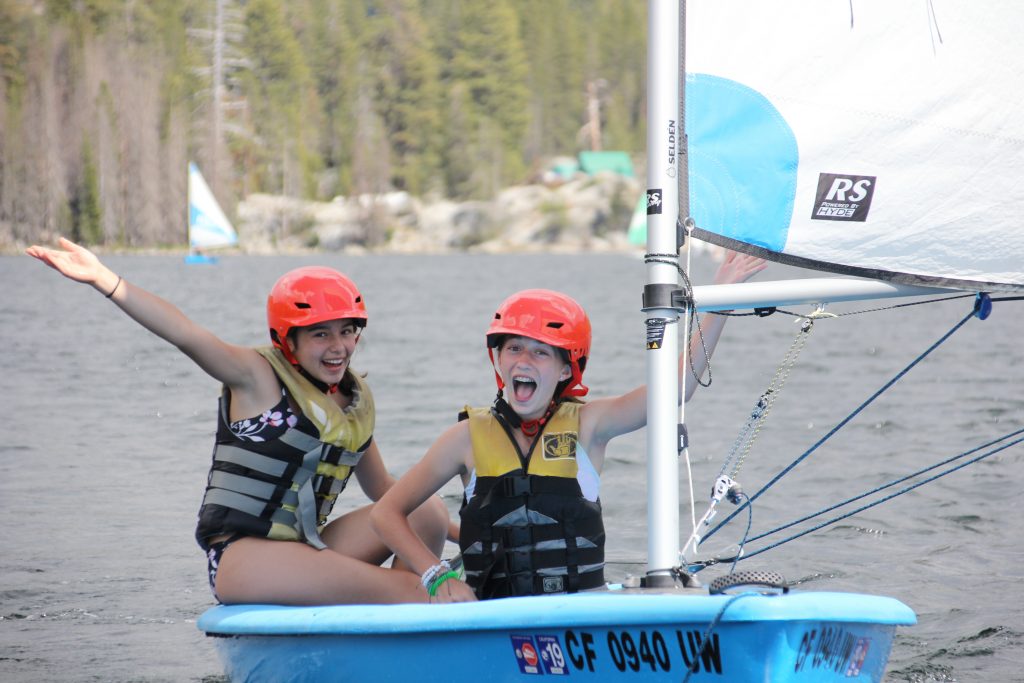 There are many benefits to this parenting style. We know our kids well and have developed close family relationships. We also know each of their homework assignments (and assist with a few of them), the drills they did at soccer practice (because we either coached their team or stayed and watched), and what they ate for snack at school. The downside to our "helicopter" parenting, though, is it makes it difficult for our children to develop their independence, problem-solving, and decision-making skills.
Hooray for camp! Without a cell phone (or their parent next to them) to immediately turn to when they are faced with a decision, campers learn to use other resources – including their own great minds. Without us watching them and being a reminder of what they've been scared of in the past, they challenge themselves and try something new. The confidence that results from their accomplishments and independence can be life-changing, and the best thing we hear from our campers and parents is that camp truly makes their life better.
According to past staff member and camper, Renee "Zippy" Tucknott, "Gold Arrow Camp taught me early in life that I can survive in the world without my parents making my decisions, and I am able to make my own decisions and choices that will impact my life. When I got to college, I experienced some of the same decisions and choices and already knew I could survive on my own."
As technology has provided us with the ever-increasing ability to be in touch– immediately – with everyone, it has also given the children and young adults of this generation a crutch that we (those of us in our late 30s and up) did not have. When faced with a decision or problem with a friend, we had to rely on ourselves first and later discuss it with our parents. Now, kids are getting accustomed to calling their parents before attempting to solve the challenge on their own.
At GAC, we have a great support network to help our campers work through challenges, fears, and problems that may come up. They never feel "alone," but they feel independent from their parents, and a lot of pride comes from that independence.
So, enjoy your child's stay at GAC this summer and rest assured that while your helicopter is parked, your child is spreading their wings!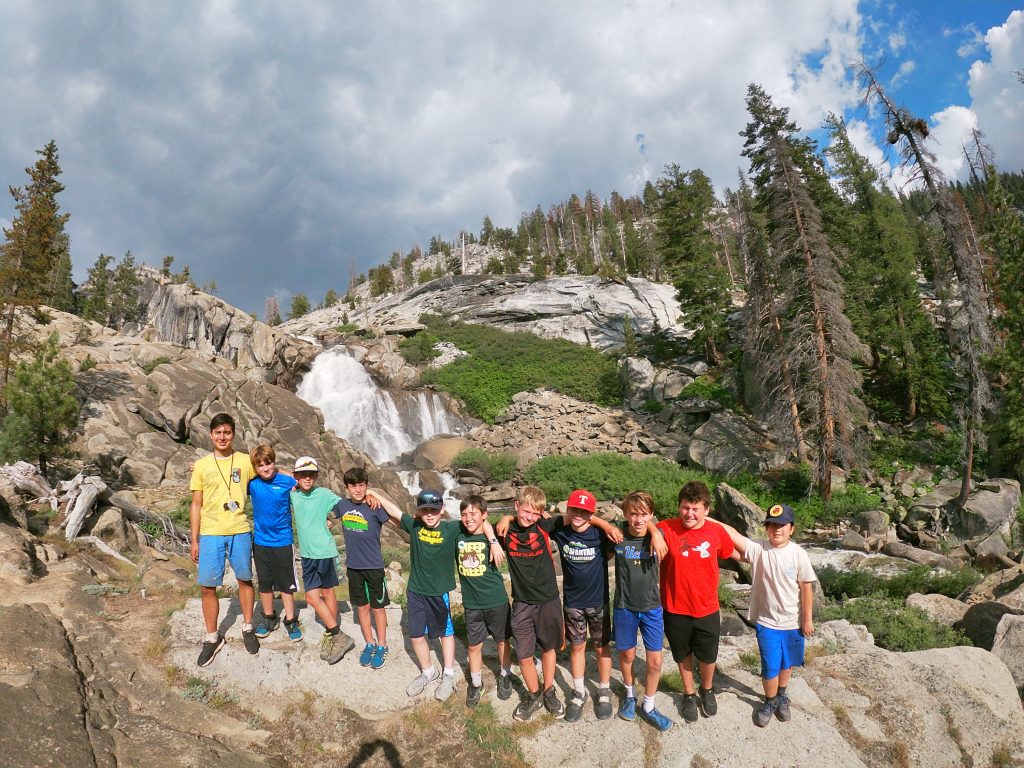 by Audrey "Sunshine" Monke
Wendy Mogel's best selling book, The Blessing of a Skinned Knee, resonated with me. I can relate much of her message to camp and to my own family. I heard Dr. Mogel speak at a conference several years ago, and she continues to be active in the camp community. Many of our camp parents have heard her speak at school parenting events or have read her book. If you haven't had a chance to read The Blessing of a Skinned Knee, I highly recommend it. In addition to sharing about the importance of letting our kids take healthy risks, and not always rescuing them from failure, Mogel gives many other valuable insights. She has recognized the value of camp experiences in the development of emotionally healthy kids, as you can read in the article "Camp Blessings" on her website.
A question I often get asked, especially by kids who haven't yet been to GAC, is "What if I don't want to do an activity?" Sometimes it starts with a statement, "I don't like horses. Do I have to do that activity?"
My short answer is, "You won't be forced to do any activities, but you will still go with your group, and you will be encouraged to try."
I think there are three main reasons kids don't want to do a particular activity, and they are the same reasons why adults often choose to forgo some recreational options:
1. A previous negative experience with the activity, usually not at camp and not with experienced instructors.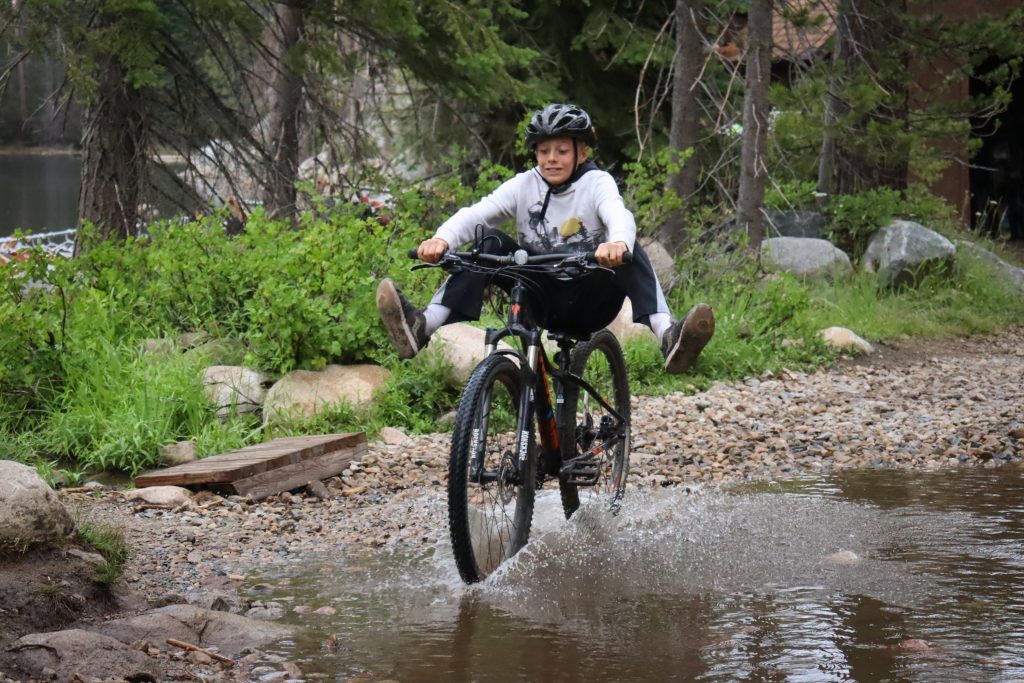 Falling off a horse, being dragged behind a ski boat and not getting up, or getting lost on a hike are all examples of negative experiences that make a person naturally inclined not to want to try again.
2. Fear!
Fear of being humiliated. Fear of failure. Fear of heights. Fear of deep lake water. Fear of rocks. Fear of going to the bathroom in the woods. Fear of getting hurt. The list goes on and on.
3. Based on their perception of themselves or their past successes/failures, they think they won't like it.
It's not in their normal repertoire of things they like and/or are good at.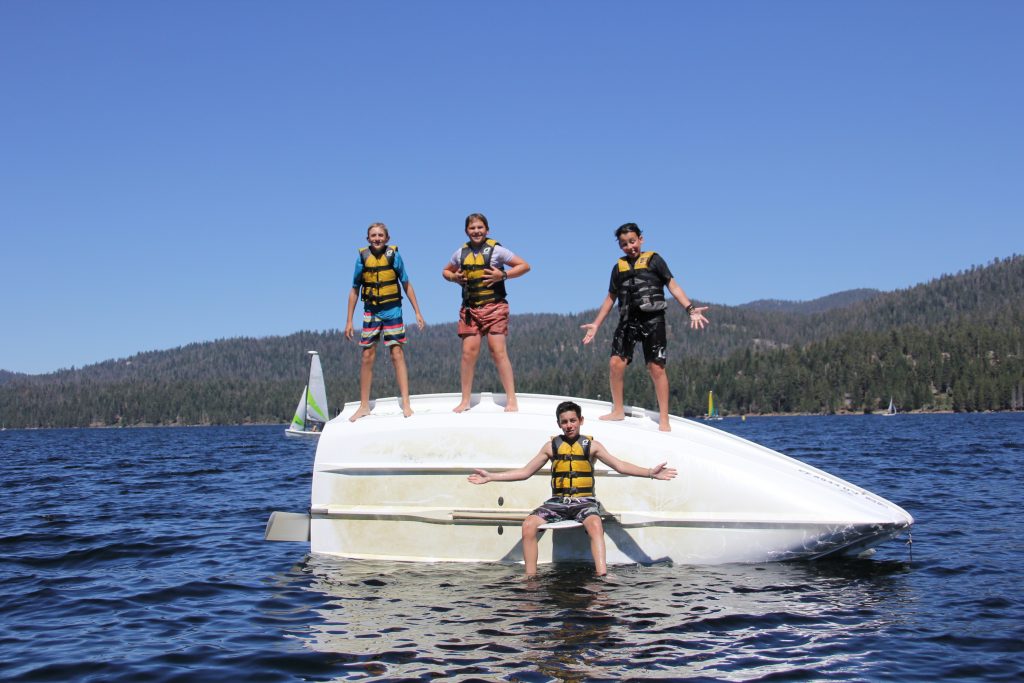 I'm sure there are other reasons for kids to not want to do an activity, but these are three that readily come to mind from what campers have told me over the years. Interestingly, the reasons kids don't want to do an activity are the very reason for trying the activity and may be the best thing that happens at camp for that camper.
If a child doesn't want to do an activity because of a previous negative activity, trying it at camp could lead to either a changed mind (and a new activity they like) or, at the very least, a not-as-negative experience to remember.
If a camper doesn't want to do an activity because of fear, then trying the activity could be the most life-changing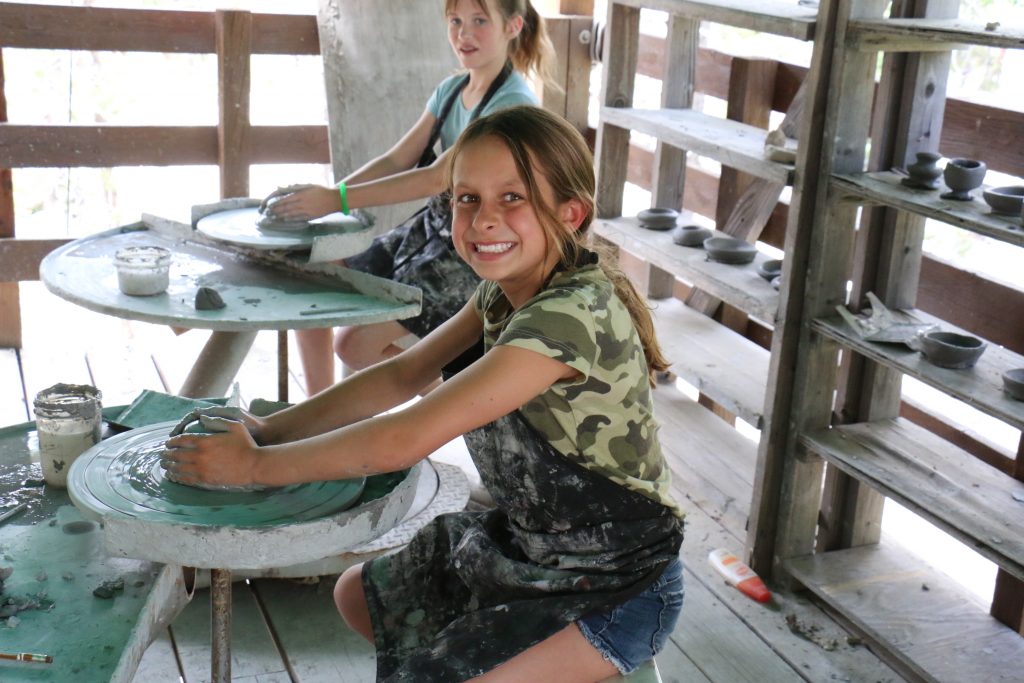 event that occurs for that camper during their camp stay. Overcoming fears and challenging oneself to attempt something that seems impossible can lead to great feelings of accomplishment and improved confidence. With the support and encouragement from cabin mates and counselors, campers feel on top of the world after successfully trying something they feared. For the camper with a fear of heights, climbing half-way up the ladder on the high ropes course will be celebrated as a huge accomplishment, and one that can make him/her proud. This is an example of something hard that leads to something good, a theme that Dr. Mogel stresses. The camp environment offers a supportive place for kids to learn how to overcome fears and accomplish things they didn't think were possible.
If a camper doesn't want to do an activity because they don't think they'll like it based on their preferences or perception of themselves, trying something different offers an opportunity for expanded confidence. A camper who sees himself as non-athletic and more adept at target sports may shy away from the more physical activities, yet trying and accomplishing them could change his perception of himself in a positive way. A camper who likes shopping and clothes and sees herself as not an "outdoorsy" kind of person may dread going on a backpacking trip. Yet, the experience of cooking and sleeping outdoors could lead to an expanded view of herself and an appreciation for the many different facets of a personality. Sometimes, the activity a camper thought would be their least favorite becomes a favorite!
So, when a camper tells us all the reasons why they "don't want to" or "can't" do an activity this summer, we will continue to encourage them to "give it a try," because we know the hidden blessings in the least favorite activity.
We are so lucky to have such amazing staff at Gold Arrow Camp, and every so often they are recognized for their incredible work outside of GAC. We want to take this opportunity to congratulate our very own Andy "Soy" Moeschberger on being awarded not one, not two, but three awards this year! He has worked so hard on many projects, especially legislative work to keep camps running and at the forefront of discussions amongst our political leaders. His work does not go unnoticed and we are so glad that it was noticed on a national level!
Grant Gerson Service Award – WAIC (Western Association of Independent Camps)
-The Grant Gerson WAIC Service Award pays tribute to those who make an extraordinary contribution to WAIC and to the advancement of the camp movement, and who have played an important role in the success of the association.
Southern California/Hawaii Service Award – ACA SoCal/Hawaii (American Camp Association)
-The Service Award is given as recognition to exceptional service to camping and the local area.
National Service Award – ACA (American Camp Association)
-This Service Award is designed to recognize continued and increasing service beyond the field/affiliate office level.
Does your camper enjoy backpacking and hiking in nature? If so, this program is a wonderful way to do all of that and more. GACpacking provides an introduction to backpacking skills and life on the trail in a fun and compact one-week trip. Our GACpacking program is designed to serve as a bridge between the one-night backpacking experience offered as a regular part of our camp program and the Outdoor Leadership Course. On the trail, our hikers will have the opportunity to prepare their own meals, practice map and compass navigation, apply Leave No Trace principles and ethics, participate in sustainable backcountry living, and study wildlife biology. Each day there will also be time for reflection, dialogue, and discussion.
For more information about the GACpacking program, please visit https://goldarrowcamp.com/why-gac/gacpacking/ or email mail@goldarrowcamp.com with any questions.
PLEASE SHARE ABOUT GATA (Gold Arrow Teacher Academy) WITH THE PROFESSIONAL DEVELOPMENT COORDINATOR AT YOUR SCHOOL!
The webinars are great reminders of super valuable information that I've heard/read over the years. I love the chance to apply this information in a new teaching role. I'm grateful for the opportunity to learn and grow with like-minded people.
-Abbey, Teacher & GATA Member
This school year, GAC Directors are bringing the trainings we do with counselors each summer to educators all across the country through GATA (Gold Arrow Teacher Academy) and through custom professional development webinars for schools. Gold Arrow's entire director team has children of their own (currently ranging in age from 4-26), and most of us were teachers before or while working at camp. Supporting children by providing teachers with training and support to create positive, connected classrooms is a natural use of our skills and experiences (and is super fun for us).
If you're looking for a personalized, engaging professional development workshop for your school team, get in touch. We'd love to create an upbeat workshop geared specifically to the needs of the students and teachers at your school. Contact us and let us know what you're interested in.
GATA resources have been developed based over years of training our counselors and have been implemented successfully by GATA members over first half of this school year to support students' social and emotional well-being.
The topics we're covering in GATA include:
Creating Connections
Celebrating Strengths
Cultivating Character
You – or your whole school – can join GATA to have immediate access to the engaging and easily implementable SEL activities that address the social and emotional well-being of students and teachers.
New GATA members have immediate access to our past resources, can join live (or access later) all of our upcoming webinars, and receive weekly PDFs with low or no-prep activities that work virtually or live.
Join GATA now for only $65 (individual members – can be gifted to teachers) or $750 for a school membership (up to 20 educators, plus a 60-minute custom professional development training).
GATA WEBINARS NOW AVAILABLE ON DEMAND FOR MEMBERS
(Non-members can purchase single webinar access.)
• 8+ Activities to Foster Online Classroom Connections (Watch this webinar for FREE to get an idea of the style of our webinars).
• Creating a Positive Classroom Culture
• Coaching Students to Better Collaboration & Communication
• Personal Growth & Connection Activities for Students
• Creating a Strengths-Focused Classroom
ACTIVITIES & RESOURCES NOW AVAILABLE IN THE MEMBER LIBRARY
Activities to Foster Online Classroom Connections (FREE sample PDF)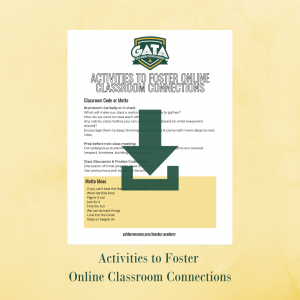 Questions for Classroom Connection
Creating a Positive Classroom Culture
Songs & Videos
Build Positivity & Optimism in Your Students
Guess Who
Jokes & Riddle
Teaching Kids Better Communication & Collaboration
Rules & Language of Collaboration
Create an Animal
Chill Music for Your Class
Coaching Students to Better Listening
SMART Goals
Autonomy & Problem Solving
Kindness Bingo
Filling Buckets
Personal Growth & Connection Activities
Friendship Bingo
Creating a Strengths-Focused Classroom
Inner Strengths
Encourage the educators at your school to join GATA for support, connection and fun SEL resources for teachers and students!
Questions? Get in touch with us to discuss your school's SEL professional development needs!
For each of us, 2020 held a lot of different moments and emotions. We have now entered 2021, which is a great time to sit back and reflect on all that was last year. Audrey "Sunshine" Monke, GAC's Chief Visionary Officer, shares with us an activity that your entire family can do together that encourages everyone to choose one word that will help to provide guidance, inspiration, and direction for the year.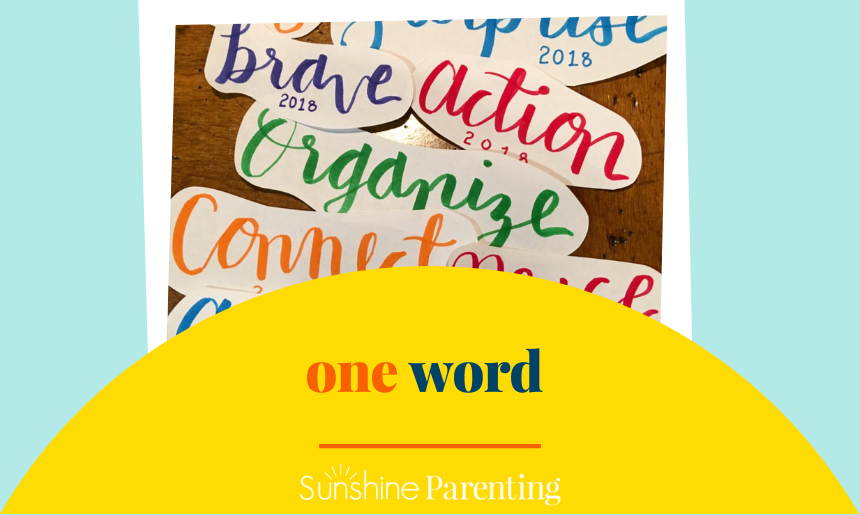 On her website (Sunshine Parenting) and her podcast, Sunshine shares many resources to encourage family time and reflection, among many other useful topics for parents. To access those resources, sign up to receive her weekly emails or subscribe to her podcast.
Creating a grateful family culture is a challenge in our entitled, indulgent age. Yet much research has confirmed what we intuitively know – practicing gratitude and being grateful are keys to a happier life. Therefore, it's well worth our consistent and continued effort as parents to model and teach our kids to practice gratitude. As we enter this Thanksgiving week, let's promote gratitude in our families. After all, if we constantly dwell on what's going wrong in our lives and in the world (and stay focused on what we don't have), we are left feeling anxious, empty, and depressed. But when we take time to count our blessings, we shift our mindsets and become happier, more grateful people.
For those of you who would like to create a more grateful family culture, here are five family gratitude practices you might try. If your family is like most, they will likely only agree to participate in one or two of these, so choose one that resonates for you and go for it!
Daily Gratitude Sharing
Just like we do with our Highs and Lows at dinner or at camp with campers around the campfire, we can get into the habit of sharing, as a family, one (or more) things we're grateful for. This can be at family dinner, on the car ride to school, at bedtime, or whatever time works best with your family's schedule. Just make it a daily habit and everyone will get used to it. When we've tried this, it seems to eventually warrant some kind of guidelines about what types of things are "shareable." For example, being thankful for a particular video game might be appropriate to share once, but it's best to encourage everyone to share about people and events (rather than things) they are grateful for.
Gratitude Jar or Board
This can be an ongoing family gratitude practice, perhaps kicked off at Thanksgiving and ending on New Year's Eve. For the jar, people jot down things they are grateful for and put the notes inside. On a specified day (end of the year is good!), empty the jar and read the notes so the whole family can reflect on individual and group blessings. A board is a more visual way to show thanks. Simply tack the notes up as you think of things you're thankful for. Having a "minimum daily or weekly requirement" of one note per person works well, just so we make it a habit and fill up our jar or board.
Thankful "Warm Fuzzies" at Thanksgiving
This is one of my favorite activities and something we've done for the past few years. Each family member has an oversized place card at their dining spot. Throughout the afternoon and evening, people are required to write something they appreciate or are grateful for about each person on the inside of their place card. It can be just a few words or a whole sentence, but each person needs to write on everyone's card. These are really fun keepsakes that provide a nice boost to each family member. This can also be done as a group by passing the cards around until each person has signed each other person's card. When your own card gets back to you, you've completed your warm fuzzies!
Gratitude Journal
Ask each family member to find a journal that's sitting empty or partially empty, or even a spiral notebook will do, and ask them to write down two or three things they are thankful for each day. If someone is feeling especially creative, they can even decorate their journal! From experience, it's best not to force anyone to write in their journals! Sharing out loud, at dinner or bedtime (see #1), is better for kids who don't enjoy writing. Perhaps a good alternative would be a family gratitude journal, completed by a parent or designated scribe, when everyone's sharing what they're grateful for. That would be similar to the gratitude jar or gratitude board.
Giving to Others
Perhaps the best way to promote gratitude in our children and ourselves is reaching out and serving others who are less fortunate. There are so many opportunities this time of year (and all year long, for that matter) to participate in collection and delivery of food, toys for children, winter coats, and more. There are so many needy people, and reaching out to help others (even virtually!) not only makes us more kind and compassionate, but also more appreciative of what we have.
There are so many ways to build up our gratitude muscles, and helping our kids learn to be more grateful people can have a life-long positive impact. Here's to an attitude of gratitude during the holidays! Happy Thanksgiving!
There are so many reasons great parents choose to send their kids to summer camp. Several years ago, I shared five of them on the most popular post I've ever published. But now I have more to share. Consider this the second installment in a series with others to follow, because the list of ways kids benefit from summer camp is seemingly endless.
Since I last wrote about reasons great parents send their kids to camp, I conducted research and found that camp experiences positively impact campers' happiness and social skills. I'll begin, then, with happiness.
The first reason great parents send their kids to camp is that it helps them BE HAPPIER.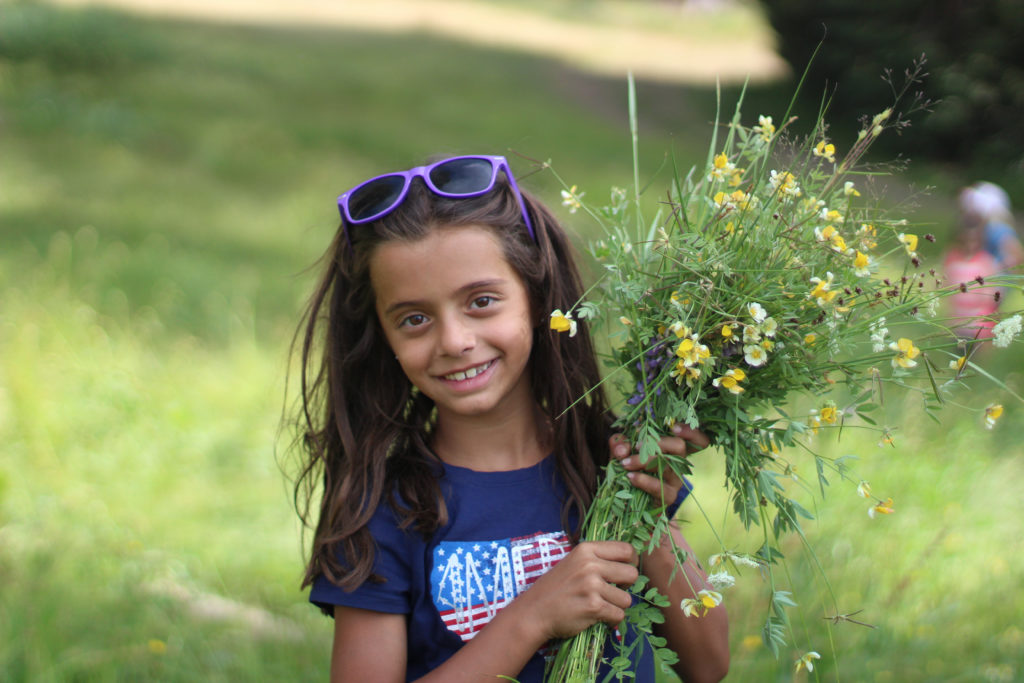 "Camp makes me happy and nothing can prepare me for life as well as this environment."
"Come on," you're thinking, "How can two weeks in the mountains change my child's overall happiness level?" Good question. One of my research findings was that both parents and kids agree that children feel happier after being at camp. The combination of positive emotions, deep friendships, being disconnected from technology, and just plain fun makes kids feel happier at and after camp I've previously written about how the science of positive psychology may explain why kids flourish at camp and demonstrate increased happiness levels before and after their camp experience. In this era, when we're seeing our kids suffer from rising rates of depression and anxiety, isn't it nice to know that there's a place where kids can go that actually serves as a positive intervention for overall happiness?
Next, great parents send their kids to camp because it helps them DISCOVER THEIR BEST SELF.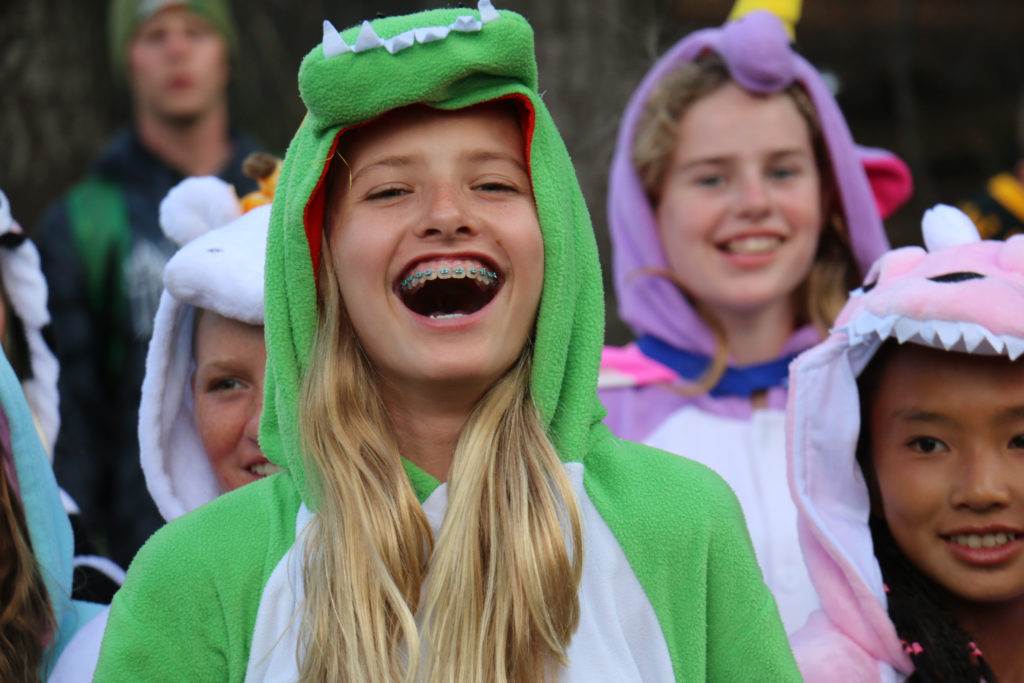 "Being at camp gives me this sense of belonging that I've never felt anywhere else."
In many different ways, but all with the same underlying meaning, campers describe camp as a place where they can be themselves. They feel open to saying and being who they really are, not stuck conforming to what's considered "cool" and "acceptable" in the outside world. Surrounded by a diverse group of friends of different ages and backgrounds, kids develop the ability to explore their own interests and express their own thoughts better. As a parent, I hate to admit that I sometimes push my own interests on my kids, even when I don't mean to. For example, I might say, "You're so good at softball! Don't you want to keep playing?" when my child says she doesn't want to play anymore. Stepping away from their regular activities and normal life schedules (as well as their well-meaning but often overly directive parents), kids have the opportunity to think through what's really important to them as individuals.
Third, great parents send their kids to camp because it helps them GROW THEIR GRIT.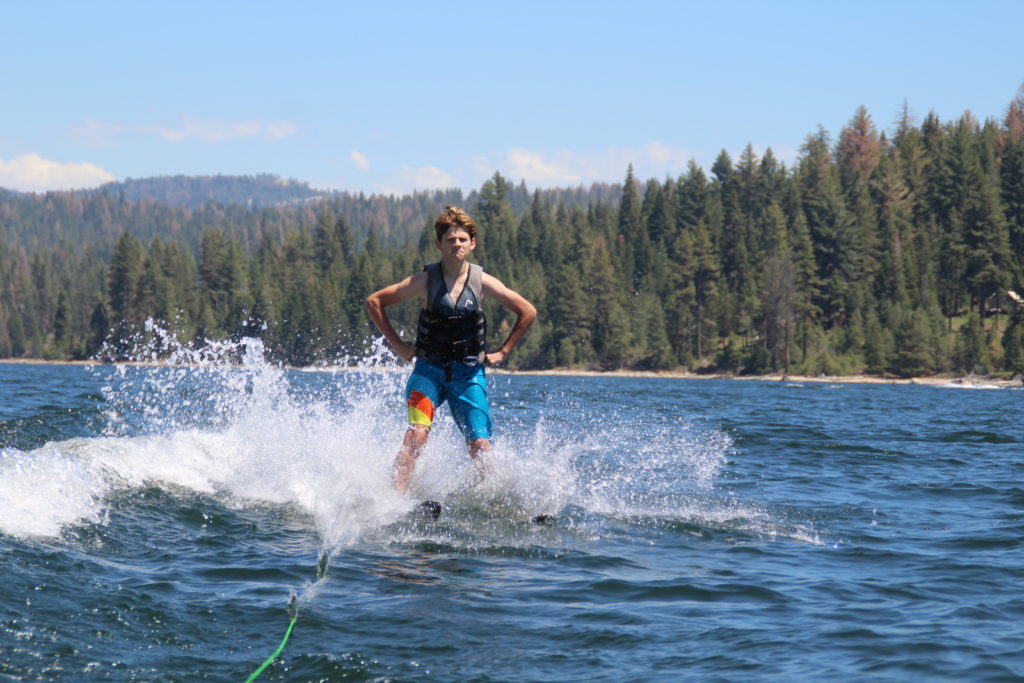 "The counselors challenged me to do things I wouldn't normally do at home."
Learning self-reliance, experiencing mistakes and failures, and reaching for goals are all camp experiences that help campers develop their grit, an important character trait that we've learned is critical to success in life. Camp offers a unique experience to children – the chance to be away from their parents for a short period of time and learn to handle more things on their own. Without parents to step in and assist, or rescue from mistakes, kids develop confidence in their own ability to make decisions and solve problems. Just being "on their own" is a huge confidence builder for kids, and they feel more self-reliant after being responsible for themselves and their belongings for a few weeks.
Fourth, great parents send their kids to camp because it helps them MEET POSITIVE ROLE MODELS.
"Camp has made me into a leader, having the best role models as my counselors to look up to."
One of the best things that happens at camp is that kids get exposed to a different kind of adult role model than what they see in the media. No reality TV stars will be gracing the waterfront or backpacking trips at summer camp. No perfectly coiffed and stick-thin model will be standing next to them brushing teeth in the bathroom. No macho guy who speaks disrespectfully about women will be leading the campfire discussion. In fact, the college students who choose to spend their summer working at camp are an outstanding bunch of young adults. Most are stellar students with outstanding leadership skills. They love the outdoors and working with kids, and they are the kind of people we want our kids to emulate. They love leading discussions on topics that are important to their campers and helping them build confidence. There's no focus on appearance at summer camp, and so designer clothes, make up, and trendy hair-styles don't hold the same importance that they do at junior high or high school. In fact, the predominant style at camp is pajama pants paired with dirt and sweat-stained t-shirts. And we hardly ever spend time in front of a mirror.
Finally, great parents send their kids to camp because it helps them DEVELOP BETTER COMMUNICATION SKILLS.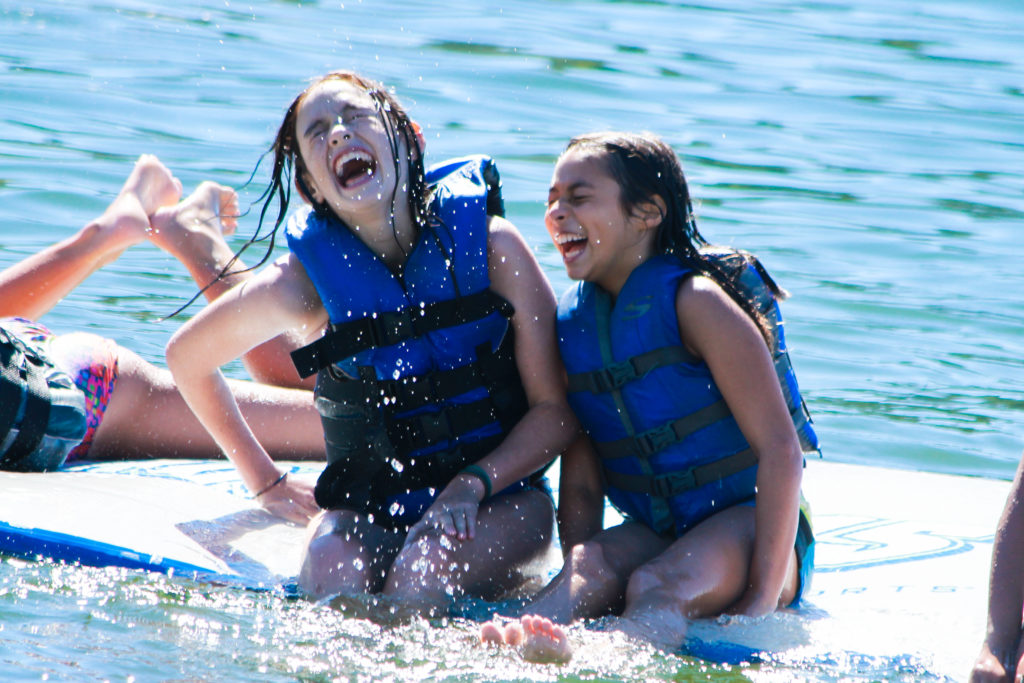 "The other part of camp that has influenced me the most is the simple idea of trying to always smile."
In post-camp surveys, campers consistently write about how ditching their electronics was one of the best things about their camp experience. In fact, it's a practice they take home with them, setting aside phones during meals with friends so they can connect more genuinely, face-to-face. In the absence of technological tethers, campers have many hours each day to practice these face-to-face communication skills. They learn the importance of things like eye contact, smiles, and body language as they positively interact with their peers. Counselors help facilitate lively discussions, and campers learn to ask each other questions, listen more carefully, and figure out common interests. Kids learn and practice valuable communication skills at camp, which they can use throughout their lives.
There you have it! Five (more) reasons that great parents send their kids to camp!
This post was originally published on Sunshine's blog, Sunshine Parenting. For more camp-related posts, visit the "Summer Camp" page at her blog.