Mark Your Calendar for the November GATA Webinar!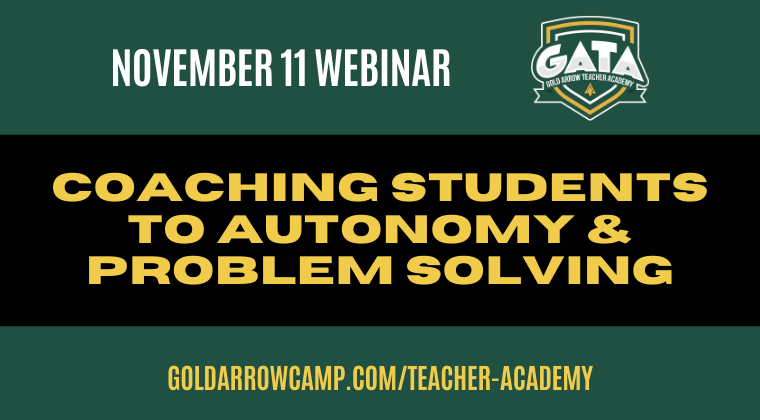 Our Gold Arrow Teacher Academy (GATA) has provided members with valuable resources, webinars, and connection over the past few months. With a new and often challenging learning environment for teachers and students, having access to strategies that promote friendships, fun, and character growth in classrooms can be transformative.
If you are an educator or have an educator in your circle of family and friends, please consider joining GATA! New members have access to our past webinars, a library of resources, and all upcoming webinars and Teacher Talks. If you'd prefer to purchase access to the November 11th webinar only, that's an option here.
Join us for next month's webinar, Coaching Students to Autonomy & Problem Solving on November 11 at 5pm PT/8pm ET. How often do you find yourself dealing with student and parent issues that they can handle on their own? Would you like a framework for guiding your students and parents to know what to deal with themselves and when to seek your guidance? Many students (and parents) do not know how to appropriately assess the seriousness of their challenges and discern when it's necessary to seek your assistance, so they contact you about every problem, no matter how small. Teaching students (and parents) how to assess the size of their problem, and discern whether your intervention is needed, is an important life skill for your students and a time saving strategy for you.
-Ashley Platt, GATA Member