Hello GAC Community,
We were overwhelmed by your outpouring of love and offers of help during the Creek Fire. Your reaching out was a reminder to us of how important and impactful camp has been in your lives.
During the fire, when we did not know the direct impact the fire would have on GAC or what help we might need in the future, we directed people who offered us financial support to donate to the Red Cross, which did important work supporting the immediate needs of our mountain community – many of whom lost homes or were evacuated for many weeks. Now that the smoke has settled and we've been able to enter camp and assess the damage, we have a way for you to help GAC.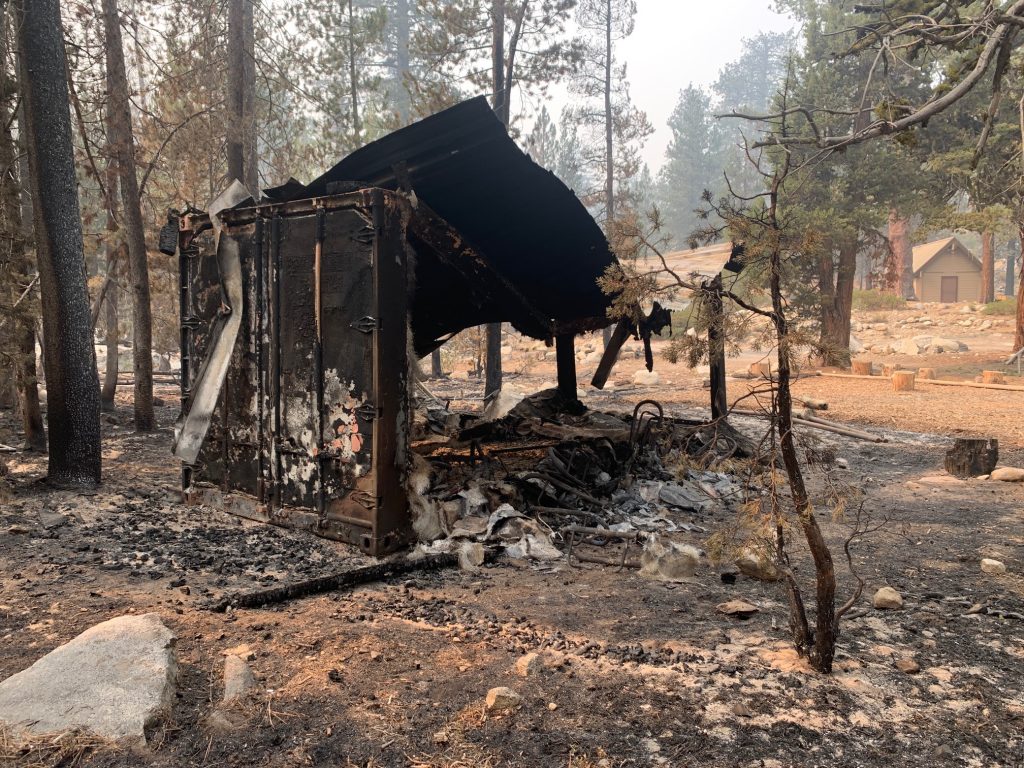 While we are thankful that most of our buildings and trees were spared, GAC did not escape the Creek Fire unscathed. The fire burned strongly in the western half of GAC, the area known as "Mirimichi." The fire destroyed several old Boy Scout structures (from the camp that was formerly on the site) and two of our newer storage sheds – the Horse Tack Shed and the Granite Grove Shed, both of which were storing program equipment. All of our mountain bikes, hammock structures, tables and chairs for our Granite Grove dances and dinner parties, and horse program supplies were burned beyond recognition.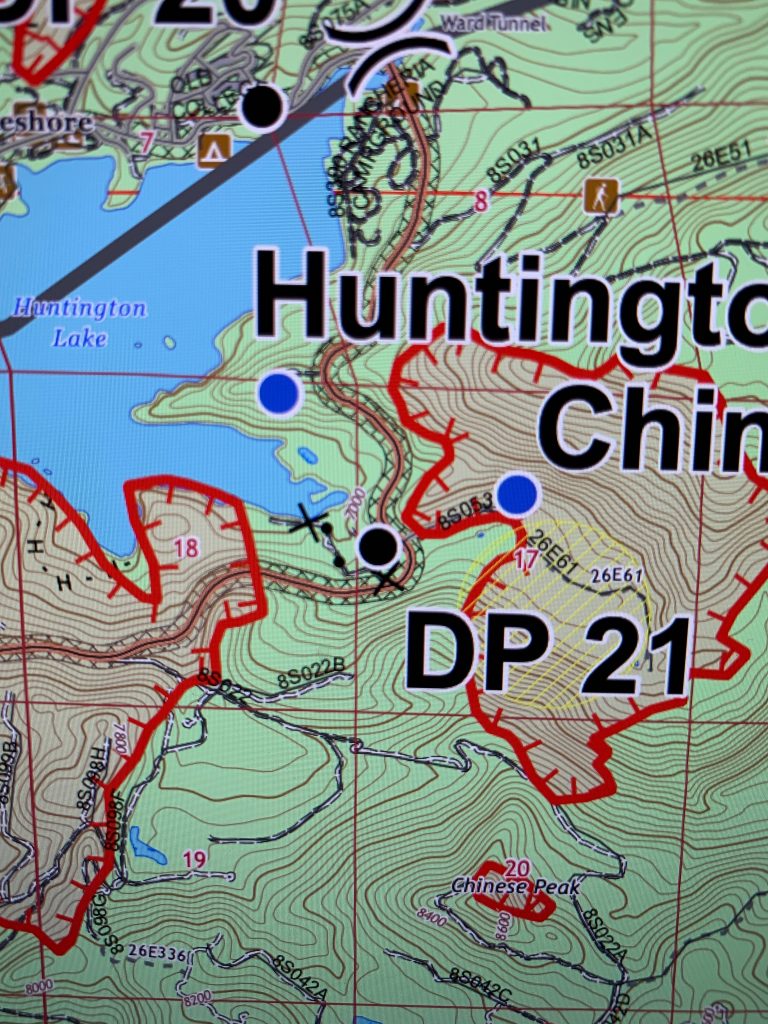 Though we have fire insurance and have filed a claim, the insurance will not cover the total of our loss. And while we are thankful that most of our buildings and property were spared from damage, this loss – on top of our other significant financial losses from not being able to operate in 2020 – is another blow during an already challenging year.
By making a donation to our #GACSTRONG Creek Fire Fund, you can help us recover from our losses from the fire and replace buildings and equipment in preparation for 2021. A donation of any size to the fund will be gratefully accepted. To honor your loyalty and support of GAC, we'll engrave your name on a sign that will hang on one of the two new buildings: Granite Grove Shed 2.0 or Horse Tack Shed 2.0.
We're thankful that all we have to replace at camp is equipment and two sheds. We're also thankful to have such a supportive and caring camp community. Thank you for all of your support over the years, and especially the last 9 months, which have been the most challenging we've faced. We are encouraged that, however challenging our obstacles may be, we need to continue working to bring much-needed fun, friendship, and growth to our campers who go on to bring positive changes to the world.
We can't wait to whadda together again in 2021!
9/16/20
Monkey & Junior checked on camp again on Wednesday, September 16, 2020, and took a few pictures to share with all of us: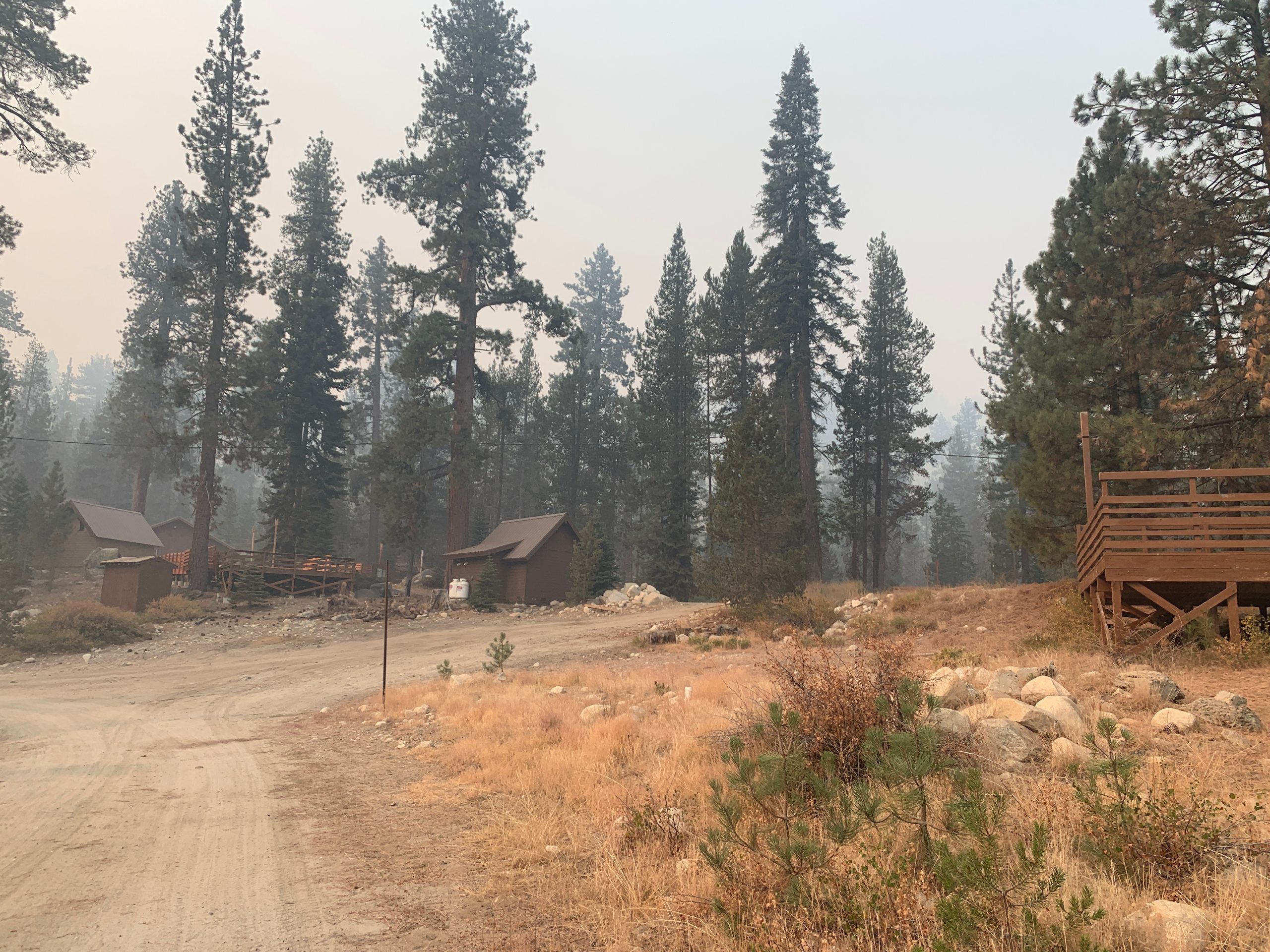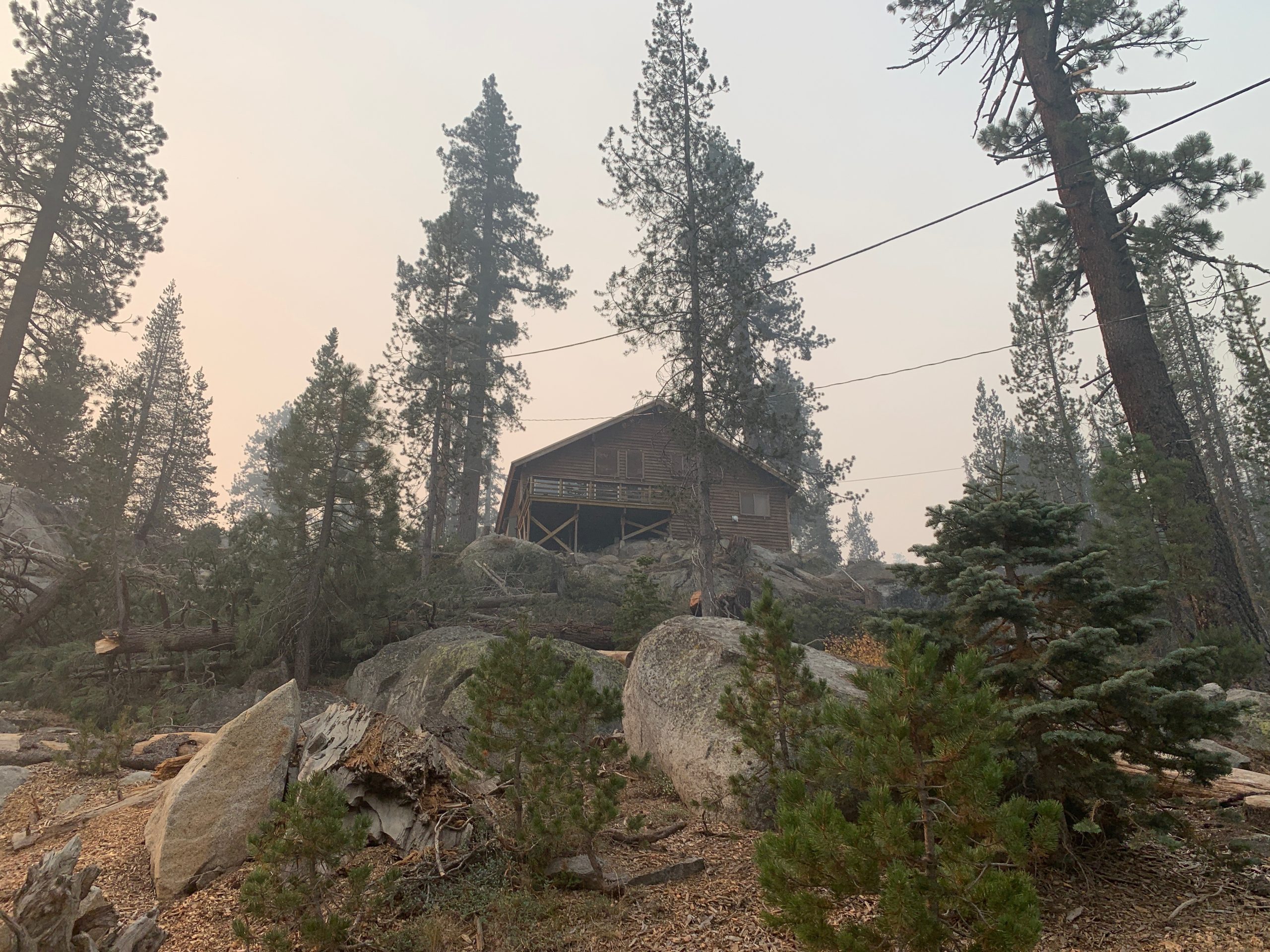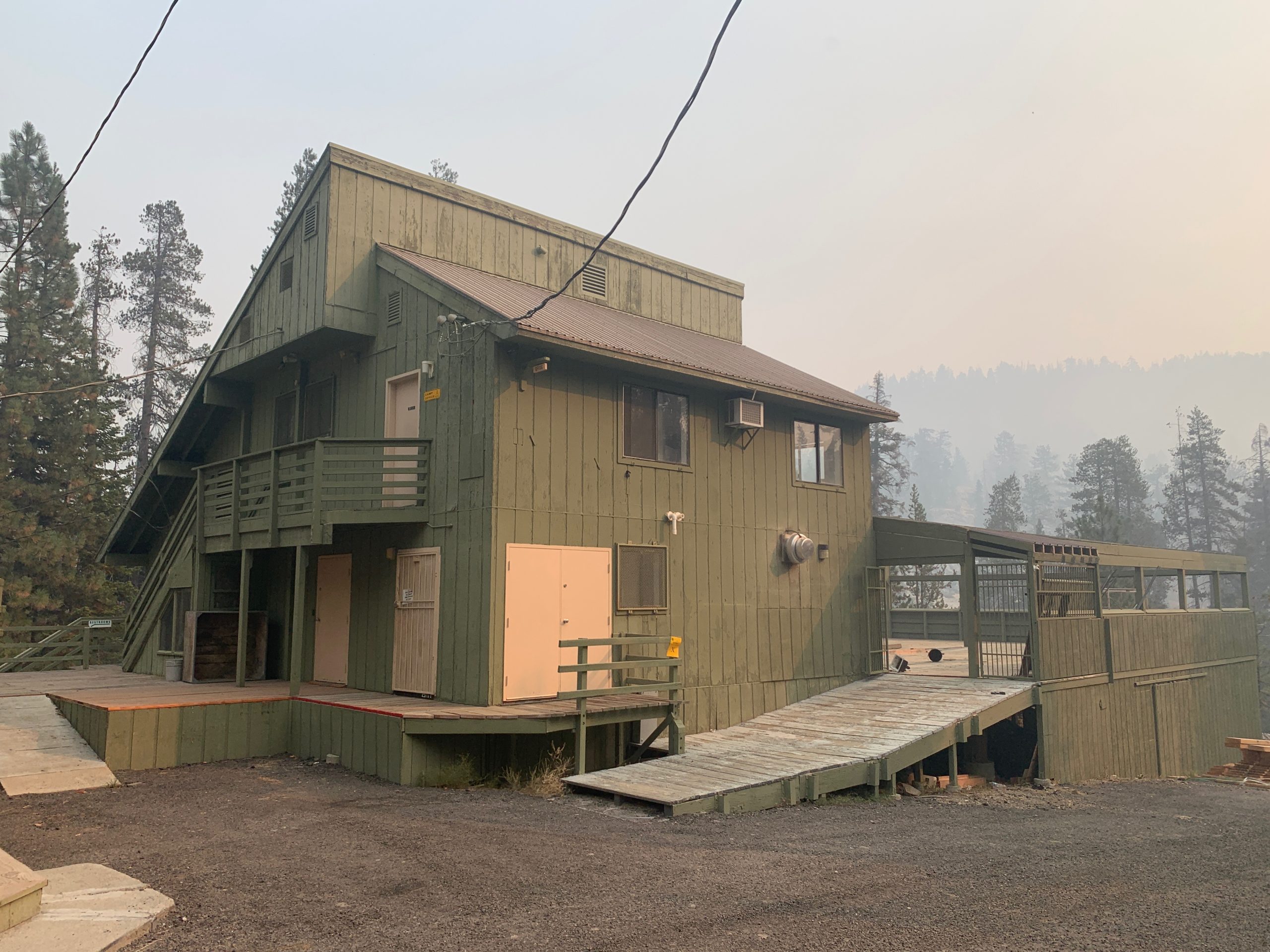 9/15/20
Thank you for your continued messages and concern about GAC. We have felt your love and prayers over the past weeks as we all watched the progression of the Creek Fire towards our beloved GAC.
Many of us became adept at refreshing the many different fire and heat maps, and we are thankful that it is no longer necessary to check for those dreaded red dots over GAC!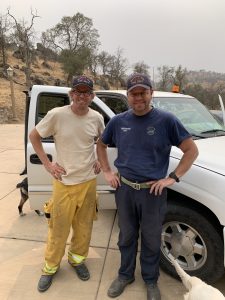 We do not anticipate any major damage to GAC from this fire; however, there is still some fire activity in the vicinity of camp, so we are continuing to closely monitor the situation. We're feeling confident that camp will continue to be safe from the Creek Fire, as the worst days of the blaze in our area were last week.
Our favorite firefighter, longtime GAC staff member Brad "Junior" Driscoll, is continuing to keep tabs on GAC.
Monkey, who was trained as a volunteer firefighter back in the 90s, was able to spend Tuesday – Thursday on the mountain with Junior, and he even had the opportunity to fight a blaze at the staff housing at China Peak. See news video featuring the back of Monkey as he sprays water into a burning structure.
On Saturday (9/12/20), Andy "Soy" Moeschberger joined Junior for a walk through camp. They found the Vanilla Tree, the Dining Porch, Big Campfire, and all of our camper tents and cabins safely waiting for the summer of 2021.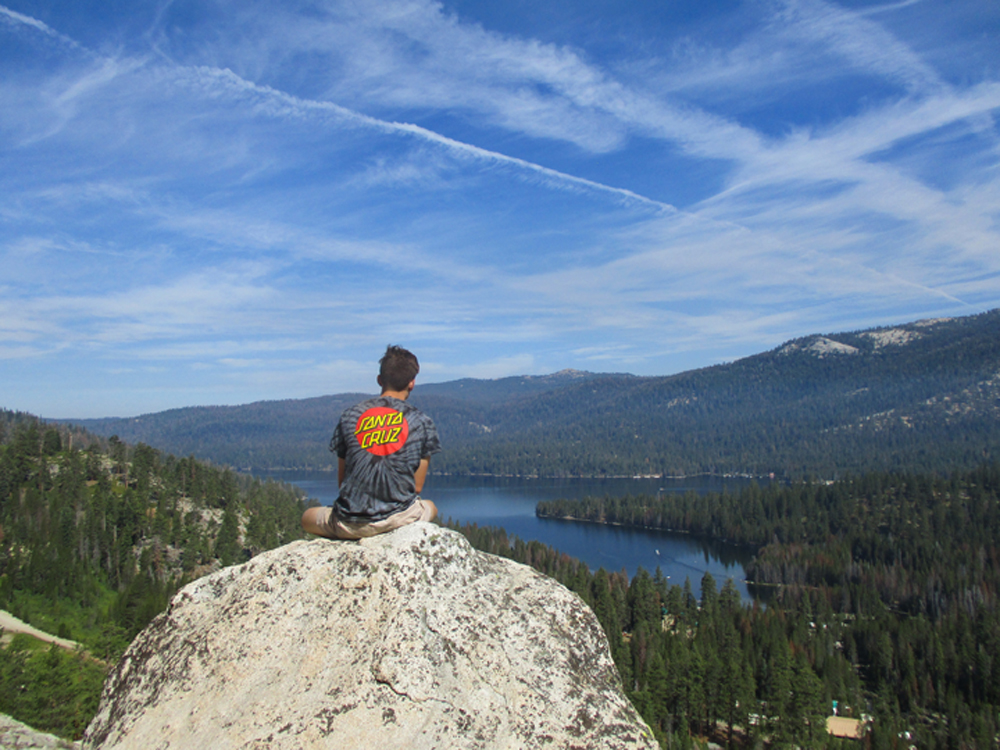 We are grateful for the prayers and support of our GAC community. We were extremely fortunate that GAC fared so well during the fire when many of our neighbors did not. Our hearts go out to the camps and cabin owners around Huntington Lake that lost structures to the Creek Fire.
9/10/20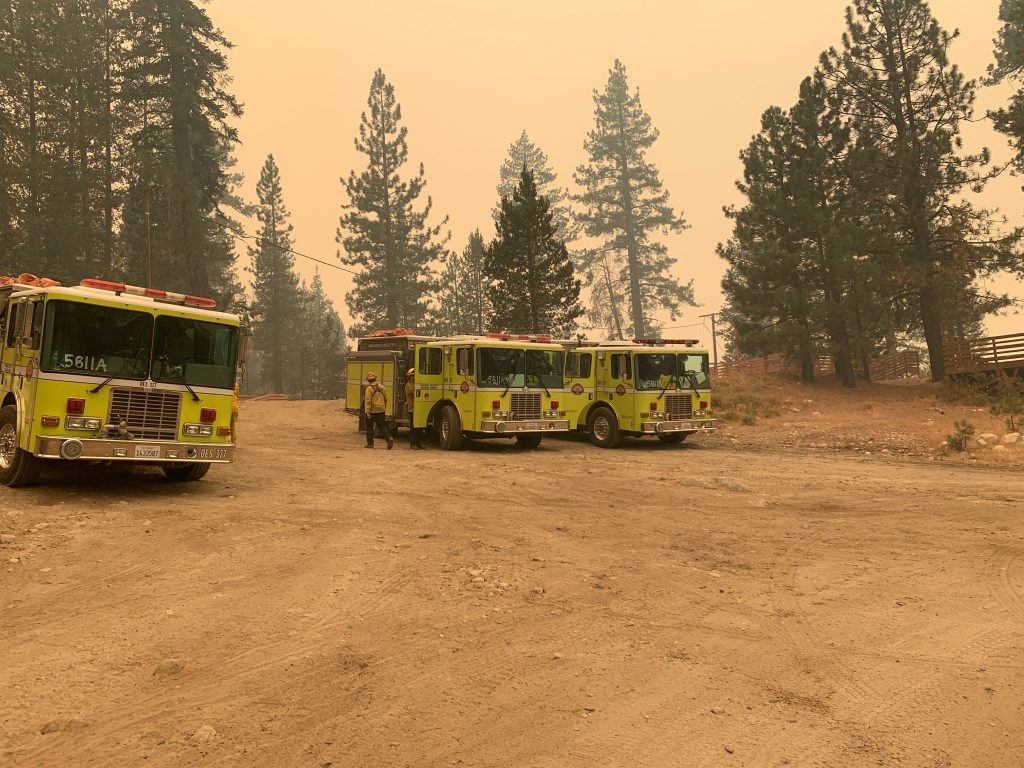 The report from camp continues to be positive. Junior and Monkey were both able to be at camp over the last 36 hours and here's what they report:
The Creek Fire is continuing to burn at Huntington Lake. There are crews in camp actively engaging in protecting structures. They have a water line protecting the edge of camp and are ready to fight the fire if the need arises. Lower temperatures and calmer winds have made the fire more predictable and less aggressive.
For now, camp is safe and well-protected. We are optimistic but understand that changes in wind or weather could change the situation.
Many of you have reached out to ask what you can do to help. Right now, the best resource is the Red Cross. You can also text CAWILDFIRES to 90999 to make a $10 donation to the Red Cross California fire relief efforts. When the Creek Fire is contained and we know more about what our beloved mountain community needs we will share opportunities for you to help more specifically.
We continue to be overwhelmed by your messages of support and continued thoughts and prayers for our little oasis in the High Sierra. We are in awe of the bravery and efforts of the fire crews that continue to battle the Creek Fire. Thank you all.
9/9/20
This afternoon we got a boots-on-the-ground report from camp. Here's the current situation as it stands as of 2pm:
Currently, there are two fire strike teams in camp. They are cutting a fire break from the lake to Highway 168 just to the west of the mini motorboat dock.
There is damage to the Mirimichi portion of camp, including Granite Grove, but there is no structural damage to camp right now.
We are exceptionally grateful to the fire crews who are working bravely and tirelessly and to the members of our GAC family who continue to reach out with generous offers of support. We are hopeful for low winds and continued cooler temperatures to aid in fighting the fire.
9/8/20
Thank you for the outpouring of calls and emails. It is overwhelming for us to know how much camp means to so many of you. We can't respond to each of you, but please know how much we appreciate your offers of support. Thankfully, all of camp's staff members have evacuated safely from the mountain. When we have more concrete details about how you can help, we will share those with you.
Due to communications infrastructure being destroyed by the fire, accurate updates from Huntington Lake have been slow and inconsistent. Based on the publicly available maps we can see that the fire is moving toward camp. We will update this page and our social media accounts as soon as we have confirmed information about the status of camp.
Again, thank you for your concern and your offers of assistance. For a long time, we have known that Gold Arrow Camp was a community that feels like a family. In this year of pandemic and fire your kind words of support and love have proved that point over and over again.
9/7/20
As of this morning, winds had shifted and camp is not directly threatened by the Creek Fire. The Huntington Lake Volunteer Fire Department has been working hard to fight the fire at the other end of the lake (where our Will'O sailing trip goes each session.)
Firefighters are currently fighting the fire around the town of Shaver Lake.
This is the heat map as of 11 AM on September 7th.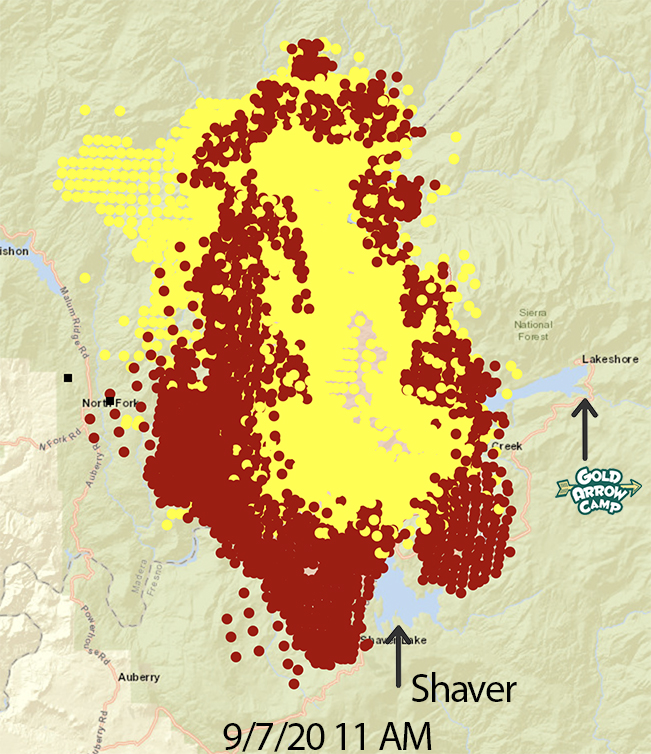 9/6/20
Thank you to our camp families, staff, and alumni who have reached out with concerns about the fire that is near camp.
On the evening of September 4th, the Creek Fire began below the town of Big Creek, near Shaver Lake. This morning, September 5th, the Fresno County Sheriff ordered the evacuation of everyone at Huntington Lake and Shaver Lake.
Both main camp and Shaver Island are currently safe, and we are continuing to monitor the situation. We're grateful to the brave firefighters who are working to contain the fire.
We will update this page with information as it becomes available. You can also find more information here.