Episode 40.
The GAC POG-Cast is over the hill! We're also over the moon that April joined us to talk about her role as a photographer at camp last summer. She also had great insight on how to deal with the fear that coming to camp sometimes creates in campers. Soy is back to playing guitar and telling Dad jokes and there's a GACspiration too!
Podcast: Play in new window | Download
Subscribe: Apple Podcasts | Android | Email | Google Podcasts | Spotify |
by Andy "Soy" Moeschberger
My single favorite time of day at camp is campfire. Every night each of our 31 cabins has its own campfire unless the cabin is at a social (a campfire with another cabin) or our dance. Why do I love this time of day so much? In part because I love the smell of woodsmoke. In part because it means the day is winding down and I'll be in bed within the next 3 hours. But mostly because of the magic.
What could be so magical about a campfire? Some logs, some pine needles, a match, and some popcorn. That's simple and fun, but it isn't magic.
I beg to differ. I think that the time spent around a campfire is magic. It's transformational and powerful in the way that nothing else I have experienced in my life is. When a group of 10 friends is gathered around the flickering flames under a blanket of stars they can and will share truths that are more lasting and meaningful than if they were in a game room or around a dining room table.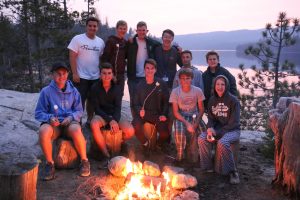 But why? What is it about the campfire that makes this possible? Well, maybe it isn't magic. Maybe it's science. According to a study from the University of Alabama, adults who were exposed to a "fire with sound condition" (a video of a fire with the sound turned on) showed lower blood pressure and increased "prosocial" behaviors (such as smiling, making eye contact and engaging in conversation). And that was a VIDEO of a campfire with an adult by themselves! The authors hypothesize that this is an evolutionary development. They believe that for ancient humans the fire provided warmth and a way to cook, and also signaled the safety of numbers. Our ancient forerunners knew that by being around the campfire they could relax. Even a millennium after we moved indoors, our minds still subconsciously know that a fire is a place where we are safe.
Children need this more than ever today. The pressures of the world increasingly weigh on young people. If they can have an opportunity to feel, like the cavemen of old, relaxed and safe, then they can begin to become their best selves. The campfire is a natural way to do that. As I tell our graduating campers at their Paddle Ceremony, the most meaningful moments of their camp careers probably occurred around a campfire.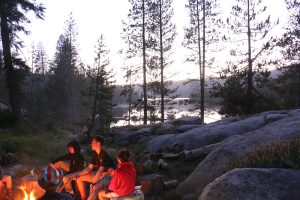 Many camps have only occasional campfires, or "flashlight" fires. While there are benefits to that, we know the nightly practice of an actual campfire is important. Our counselors are trained specifically on campfires. The training is far more than how to stack the logs and what the ideal marshmallow looks like. Indeed, they practice in our training how to lead a meaningful discussion around the fire. They lead campers in sharing their highs and lows of the day. They help to facilitate discussions about real life topics that campers are interested in or struggling with.
On our last night of camp, we gather for an all-camp campfire that we call Appreciation Campfire. There are songs and stories and skits. Off to the side of our amphitheater (which we call Big Campfire!), there is a campfire pit, where the logs crackle away merrily. As the night winds down, the flames grow lower and lower. At the end of the night, counselors share their appreciation for their cabins by candlelight as the last embers of the campfire glow.
That's just a last tiny piece of magic before we go home.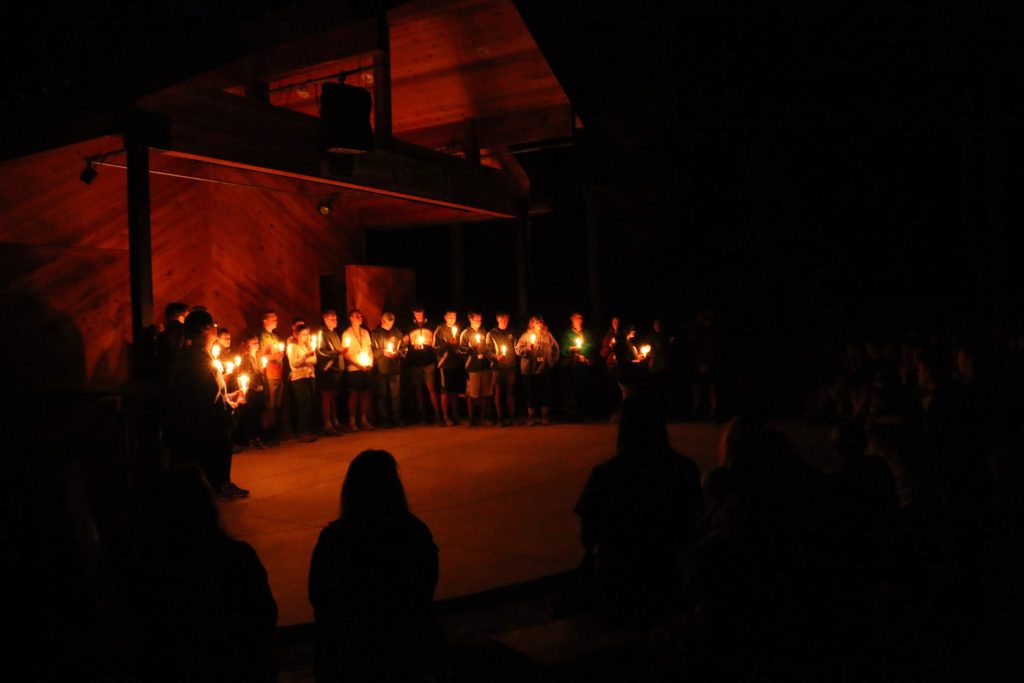 by Audrey "Sunshine" Monke, Camp Director
Recently, I've been going through the many boxes of letters, photos, and memorabilia which I have collected over my first five decades. It's been a time-consuming task, but I'm trying to organize into a smaller number of boxes what has been accumulated over the first half of my life. What has struck me most is the huge number of letters I amassed from my childhood, high school, and college friends. Until this week, I didn't remember how much we corresponded, but I just finished going through hundreds of letters. I now have proof of the many friendships that were solidified over hours of writing to one another.
I mostly have the ones written to me, but I can assume from the "Thanks for your letter"s that I was writing at the same rate as my friends were. Maybe some of my letters are in a box out there somewhere?
Not only was there a huge volume of letters (see picture), some of the letters were ten pages long, with tiny writing. Others were short notes or fun greeting cards. Most of them were in beautiful, cursive writing, even some from boys! What an amazing thing to think about. Back then, without the distractions we all have today, we had TIME to write letters like that! Plus, we enjoyed it and were good at it! We wrote letters, because often long distance phone calls were too expensive. Many of us traveled and studied overseas, so the letters chronicle our trips.
The process of trying to get rid of most of this paper required that I at least skim through each one. I pulled out many that I simply can't bear to throw away. I found letters from my late grandparents, with their words of wisdom. I found letters my parents had written to me over the years. I also found letters from friends showing major teen angst, which is a good reminder now that I have teens of my own. We weren't that different back then after all! It's just that we didn't splash our anger and sadness at each other on Facebook. We wrote each other heartfelt notes.
One thing I realized is that my kids will not have a big box of letters like mine. They don't write letters like we did in the pre-computer, pre-email, pre-social networking, pre-cell phone era. But then I had a revelation! They DO still get to send and receive letters. It's when they're at camp! I have told parents how much campers enjoy getting "real" mail while at camp (the kind with a stamp), but now I have realized another benefit – they will have these letters as keepsakes and memories of their childhood. And you, as parents, most definitely should save all of the letters you get from your camper!
Among my box, I came across a postcard I sent to my parents in 1977, when I was a camper at Gold Arrow Camp. This is what it said:

My postcard home from camp, 1977.
"Dear Mommy,
I think it's mean that you have to write a letter to get into dinner, but I'm glad to write a letter to you because I love you. It's been raining since we got here. But we still went horseback riding. I wrote a letter to daddy this morning and sent it. Camp is so fun. I can't wait to tell you. My counslers name is Liz. She's nice.
Love, Audrey"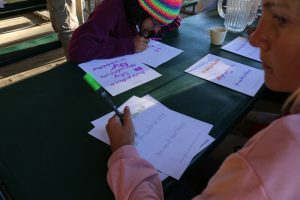 Let me tell you, we have gotten some good laughs in our house over this postcard. Not just about how I spelled "counselor," but about my comment about the "Mail Meal" (dinners on Wednesday and Sunday that you need to have a letter or postcard home as your ticket in). The dreaded "Mail Meal" has been a camp tradition for as long as anyone can remember, but I didn't even remember thinking it was a bad thing. My adult view is much different than my ten-year-old one! I now understand how much parents need those letters. I hope most kids get beyond the "I have to write this letter" part, and share some of their feelings and memories of camp. The resulting memorabilia will be priceless.
So, here's to another benefit of camp I've only this week realized. We have the chance for our kids to experience the (almost) lost art of writing and receiving handwritten letters. And you, as a parent, have a chance to write down words that your child will be able to read and keep long beyond any email you've sent them!
P.S. Did you see this hilarious book? P.S. I Hate it Here: Letters from Camp It is full of some really funny, real letters kids wrote to their parents from camps.
Episode 38.
On this episode, former camper (and current Head Counselor) Frames joined Soy. They had a great chat about why being a camp counselor is better than taking an internship and what she was most nervous about when she came to camp for the first time at eight years old. There's also a great oceanic Joke of the Cast and we learn all about Frames' dog's name, which Soy enjoys more than he should.
Podcast: Play in new window | Download
Subscribe: Apple Podcasts | Android | Email | Google Podcasts | Spotify |
by Audrey "Sunshine" Monke
Wendy Mogel's best selling book, The Blessing of a Skinned Knee, resonated with me. I can relate much of her message to camp and to my own family. I heard Dr. Mogel speak at a conference several years ago, and she continues to be active in the camp community. Many of our camp parents have heard her speak at school parenting events or have read her book. If you haven't had a chance to read The Blessing of a Skinned Knee, I highly recommend it. In addition to sharing about the importance of letting our kids take healthy risks, and not always rescuing them from failure, Mogel gives many other valuable insights. She has recognized the value of camp experiences in the development of emotionally healthy kids, as you can read in the article "Camp Blessings" on her website.
A question I often get asked, especially by kids who haven't yet been to GAC, is "What if I don't want to do an activity?" Sometimes it starts with a statement, "I don't like horses. Do I have to do that activity?"
My short answer is, "You won't be forced to do any activities, but you will still go with your group, and you will be encouraged to try."
I think there are three main reasons kids don't want to do a particular activity, and they are the same reasons why adults often choose to forgo some recreational options:
1. A previous negative experience with the activity, usually not at camp and not with experienced instructors.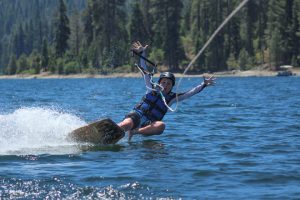 Falling off a horse, being dragged behind a ski boat and not getting up, or getting lost on a hike are all examples of negative experiences that make a person naturally inclined not to want to try again.
2. Fear!
Fear of being humiliated. Fear of failure. Fear of heights. Fear of deep lake water. Fear of rocks. Fear of going to the bathroom in the woods. Fear of getting hurt. The list goes on and on.
3. Based on their perception of themselves or their past successes/failures, they think they won't like it.
It's not in their normal repertoire of things they like and/or are good at.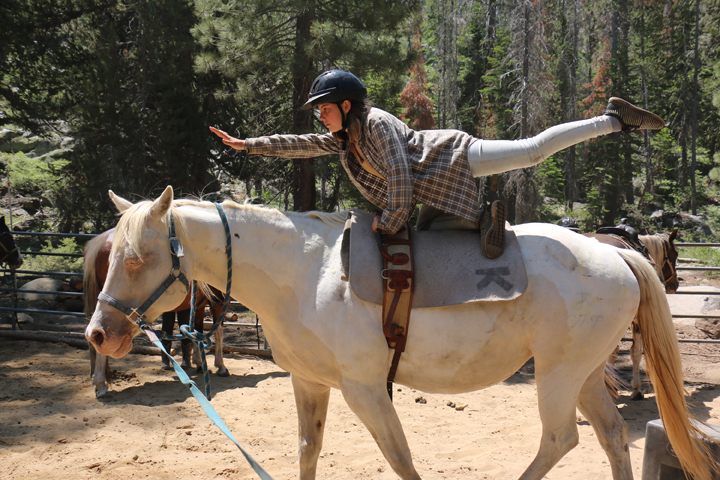 I'm sure there are other reasons for kids to not want to do an activity, but these are three that readily come to mind from what campers have told me over the years. Interestingly, the reasons kids don't want to do an activity are the very reason for trying the activity may be the best thing that happens at camp for that camper.
If a child doesn't want to do an activity because of a previous negative activity, trying it at camp could lead to either a changed mind (and a new activity they like) or, at the very least, a not-as-negative experience to remember.
If a camper doesn't want to do an activity because of fear, then trying the activity could be the most life-changing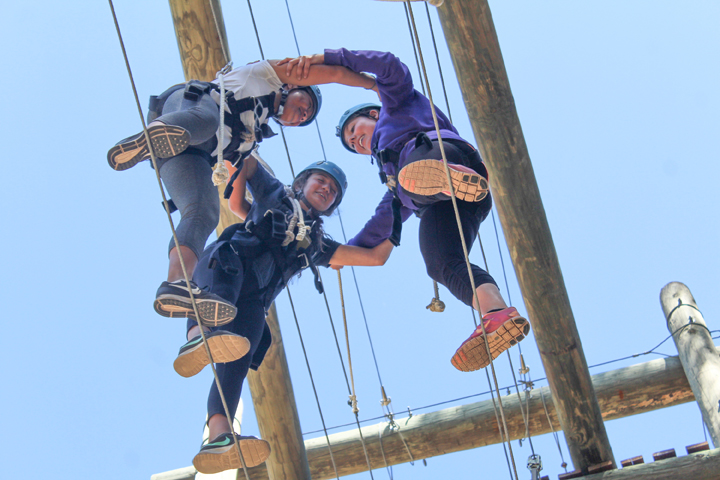 event that occurs for that camper during their camp stay. Overcoming fears and challenging oneself to attempt something that seems impossible can lead to great feelings of accomplishment and improved confidence. With the support and encouragement from cabin mates and counselors, campers feel on top of the world after successfully trying something they feared. For the camper with a fear of heights, climbing half-way up the ladder on the high ropes course will be celebrated as a huge accomplishment, and one that can make him/her proud. This is an example of something hard that leads to something good, a theme that Dr. Mogel stresses. The camp environment offers a supportive place for kids to learn how to overcome fears and accomplish things they didn't think were possible.
If a camper doesn't want to do an activity because they don't think they'll like it based on their preferences or perception of themselves, trying something different offers an opportunity for expanded confidence. A camper who sees himself as non-athletic and more adept at target sports may shy away from the more physical activities, yet trying and accomplishing them could change his perception of himself in a positive way. A camper who likes shopping and clothes and sees herself as not an "outdoorsy" kind of person may dread going on a backpacking trip. Yet, the experience of cooking and sleeping outdoors could lead to an expanded view of herself and an appreciation for the many different facets of a personality. Sometimes, the activity a camper thought would be their least favorite becomes a favorite!
So, when a camper tells us all the reasons why they "don't want to" or "can't" do an activity this summer, we will continue to encourage them to "give it a try," because we know the hidden blessings in the least favorite activity.
by Alison "Bean" Moeschberger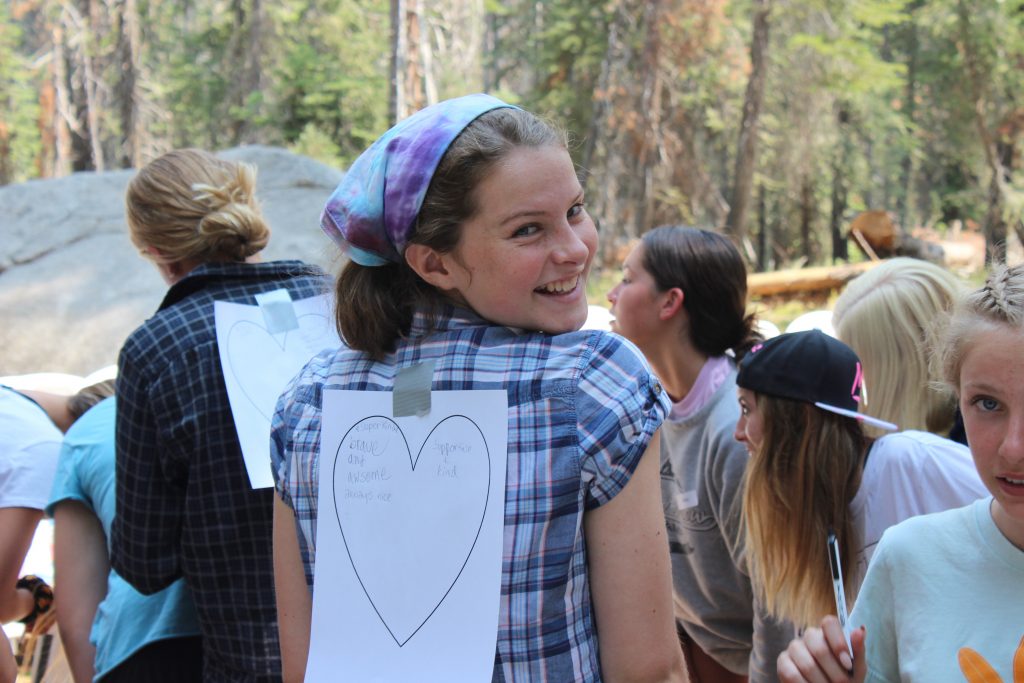 Every summer at Gold Arrow Camp, we choose a theme to guide our efforts in helping campers become the best versions of themselves. This practice started in the summer of 2012 when the staff selected "gratitude" as the guiding theme. We followed that with kindness (Cool 2B Kind), relationship building (Creating Connections), helpfulness (Give a Hand), grit (Growing Grit), positivity (The Energy Bus), and 2018's focus on friendship (Find-a-Friend).
One thing that makes life at camp special is that we live in a community where our shared experience is derived solely from our interactions with each other. At camp, we exist in a perfect bubble, shielded from input and news from life outside of GAC. This provides us the privilege and responsibility of maintaining our own positive and encouraging atmosphere. Every interaction we have with another person is an opportunity to have a positive, negative, or neutral impact. It is easy to be too self-focused and worry about our own agenda and needs. Encouraging others and actively seeking opportunities to have a positive impact are noble challenges we are excited to embrace in our community.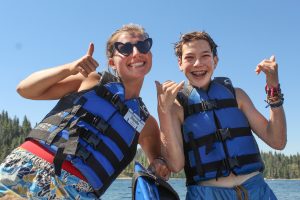 In keeping with our core value of equipping campers to bring positive changes to the world, we're proud to announce our 2019 summer theme: Filling Buckets!
Carol McCloud's children's book Have You Filled A Bucket Today? is our inspiration. McCloud tells the story of a young boy and the impact his kindness and encouragement have on his community. Every person carries an invisible bucket. When someone does something kind, encourages another, or helps in some way, it fills another person's bucket. Conversely, negative interactions empty people's buckets. In the story, the boy discovers an important truth about kindness. He realizes that when he encourages others, his own bucket is filled. We're thrilled to make our GAC community stronger by helping campers understand that encouragement makes others feel valued. Together, we will experience the joy that comes from making others our focus.
There are many opportunities at camp to fill other people's buckets through kindness and encouragement. Filling Buckets means using our words and actions to show how much we care:
Sharing a heartfelt smile
Greeting each other by name
Helping others without being asked
Giving sincere compliments
Recognizing others for bravery and achievements
Encouraging others when they succeed and also when they're struggling
Elevating the needs of others above our own
Seeking opportunities to have a positive impact on others
Filling Buckets builds on the work we've done in the areas of positivity, friendship, and kindness. The friendships we forge at camp are special for many reasons, and we know that keeping the focus on lifting each other up will add depth and richness to our connections. It is our sincere hope that 2019's GAC campers will take this theme home and continue to make positive changes in their communities by being kind and encouraging with everyone they encounter. Everyone deserves a full bucket!
Enjoy this video of Monkey and Soy announcing the theme on our Facebook page.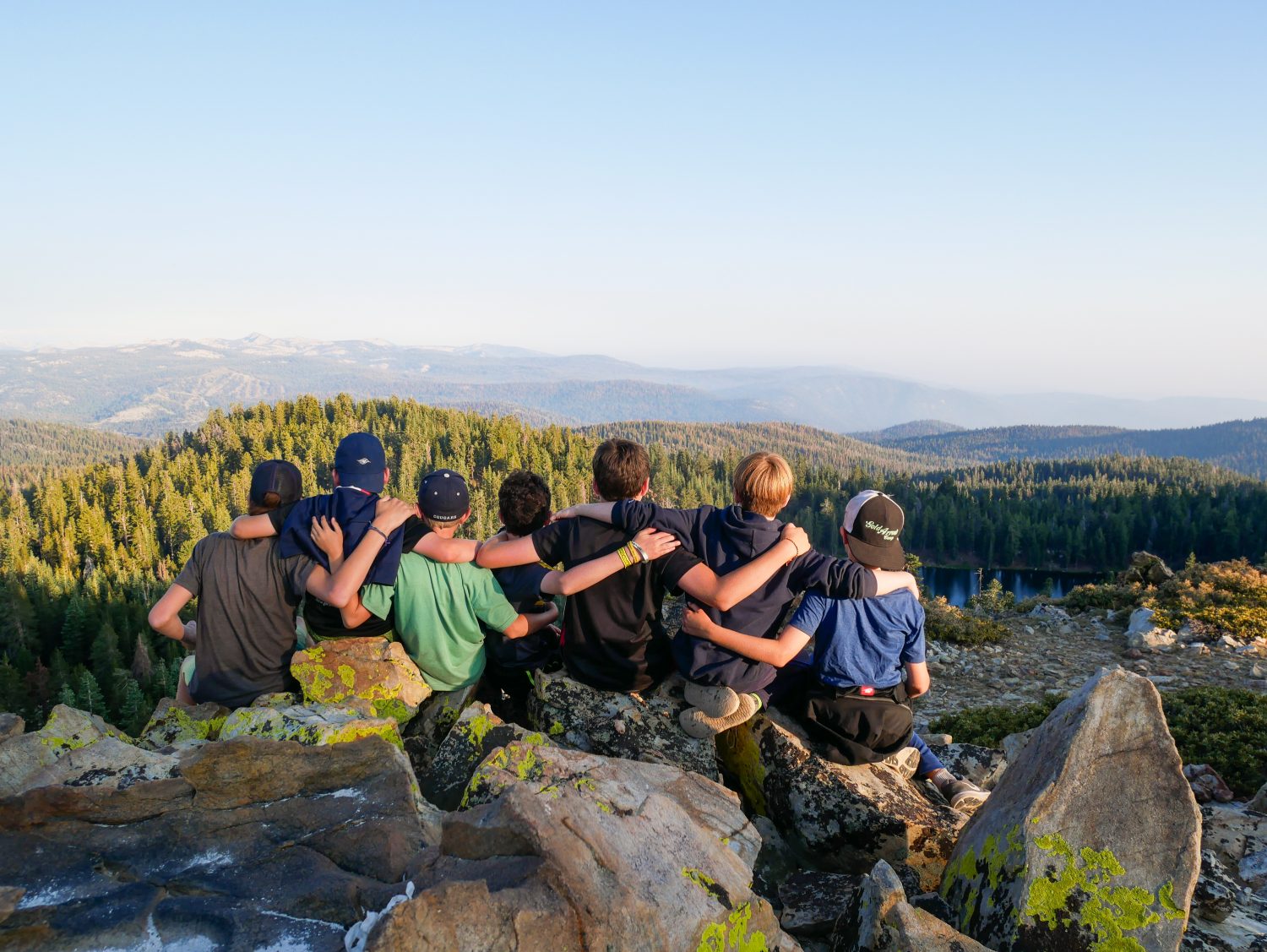 Episode 35.
On Episode 35 of the GAC POG-Cast, Soy was joined by Moana. Moana came to camp only knowing one person, and had a great summer. Her insights into how to get the most out of camp when you're pretty new to the culture and community of GAC were outstanding for new campers and first year staff as well.
Podcast: Play in new window | Download
Subscribe: Apple Podcasts | Android | Email | Google Podcasts | Spotify |
By Audrey "Sunshine" Monke. Originally published at Sunshine Parenting
#1 Improve Interpersonal Skills & Form Close Friendships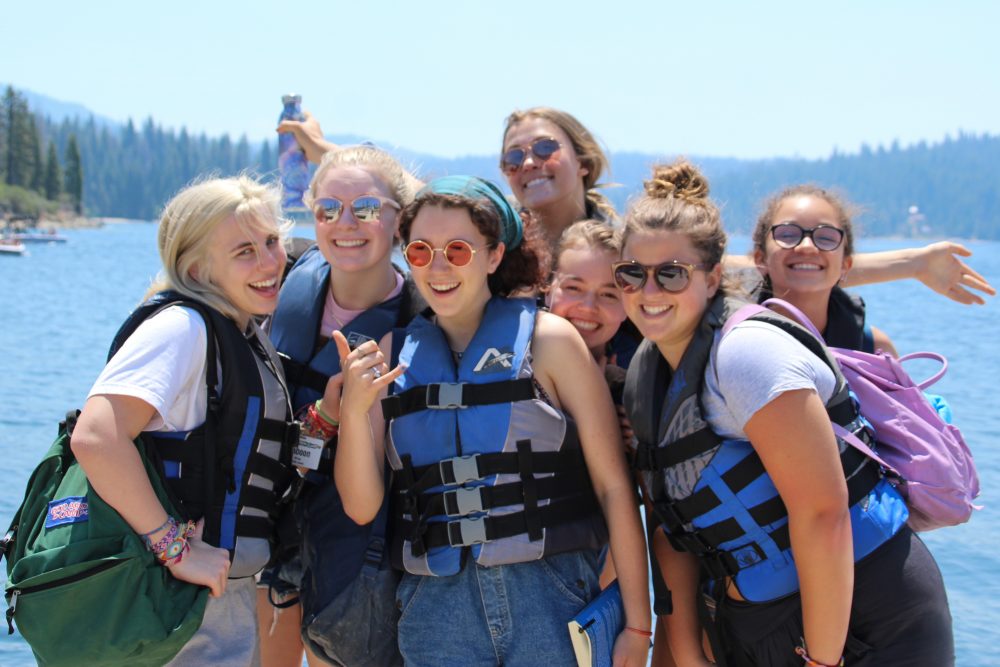 "In a … study of 515 senior executives, emotional intelligence was a better predictor of success than either relevant previous experience or high IQ." -Forbes, "Look for Employees with High EQ over IQ"
In a world where anyone can look up a fact or equation and where machines are replacing even complex workplace tasks, employers need employees who can interact effectively with other people. This is one of the most important skills teens learn at camp. In the unplugged, non-competitive camp culture, teens build up their "emotional intelligence" (EQ), their face-to-face communication and relationship skills. 21st-century employers need people who can communicate, collaborate, and cooperate with others, and teens who come to camp get to practice those skills every day.
If you are debating whether your teen can miss a few weeks of SAT prep or a summer academic program, know that the 1600 SAT score will never outweigh the important communication and relationship skills he or she will develop at camp. Whether on a backpacking trip, cheering each other through a ropes course, or chatting around the campfire, the interpersonal skills teens build are the same ones they'll need to be successful adults in families, communities, and companies.
#2 Take Safe Risks and Challenges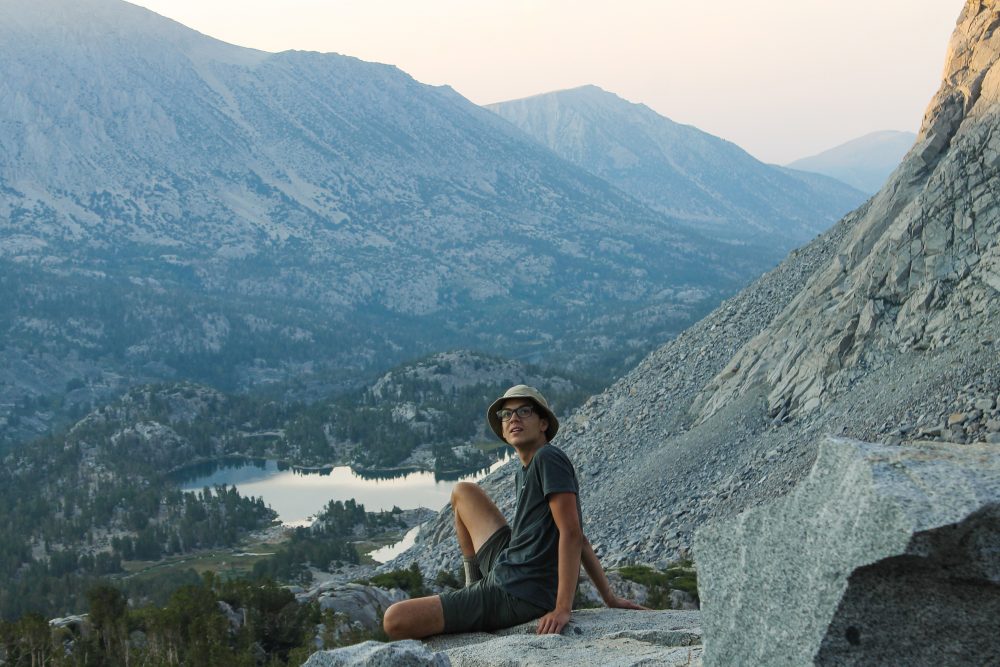 Teens thrive on risk. Thanks to recent findings (described in Age of Opportunity and Brainstorm) about the unique attributes of the teen brain, we now understand the reason for the "mortality bump" for 17-year-old boys. They do stupid, daring things not because they aren't aware of the dangers, but because—to them—the reward of leaping from a rocky cliff or speeding along a curvy mountain road seems to far outweigh the risk.
A teen at camp has the opportunity to take many safe, controlled risks. Climbing to new heights on a rock wall or ropes course, jumping the wake of a boat on a wake board, or reaching the peak of a 10,000-foot summit are all healthy risks teens take at camp. Plus, being in a controlled camp environment frees teens from exposure to health risks like alcohol and drug use.
#3 Experience Character Growth and Develop Life Skills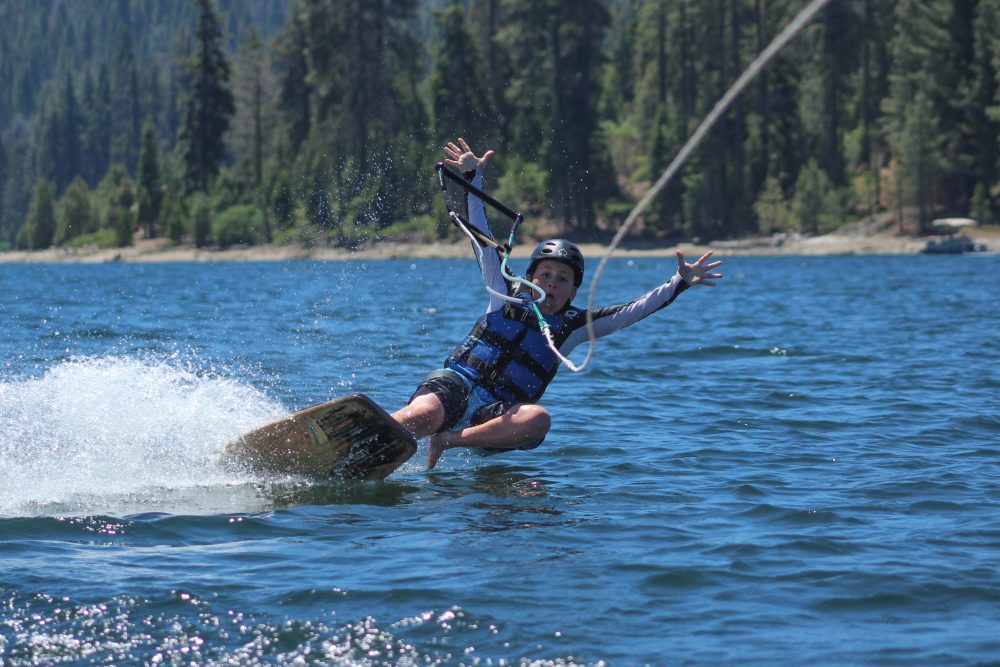 "A profound gap exists between the knowledge and skills most students learn in school and the knowledge and skills they need for success in their communities and workplaces." –Partnership for 21st Century Skills
Schools aren't doing a very good job teaching kids grit, perseverance, and leadership. But that's not their job. Rather, schools are VERY busy teaching the core curriculum and assessing how well our kids know it. No school has time to see how "gritty" a kid is, but at camp, the "grit-meter" is always running, and it's personal character—not a report card or an athletic achievement—that rises to the top.
Teens also develop other important life skills at camp, including independence, responsibility, and decision-making. Teens grow considerably in an environment away from their parents where they are forced to live on their own and find their own resources.
#4 Meet Positive Role Models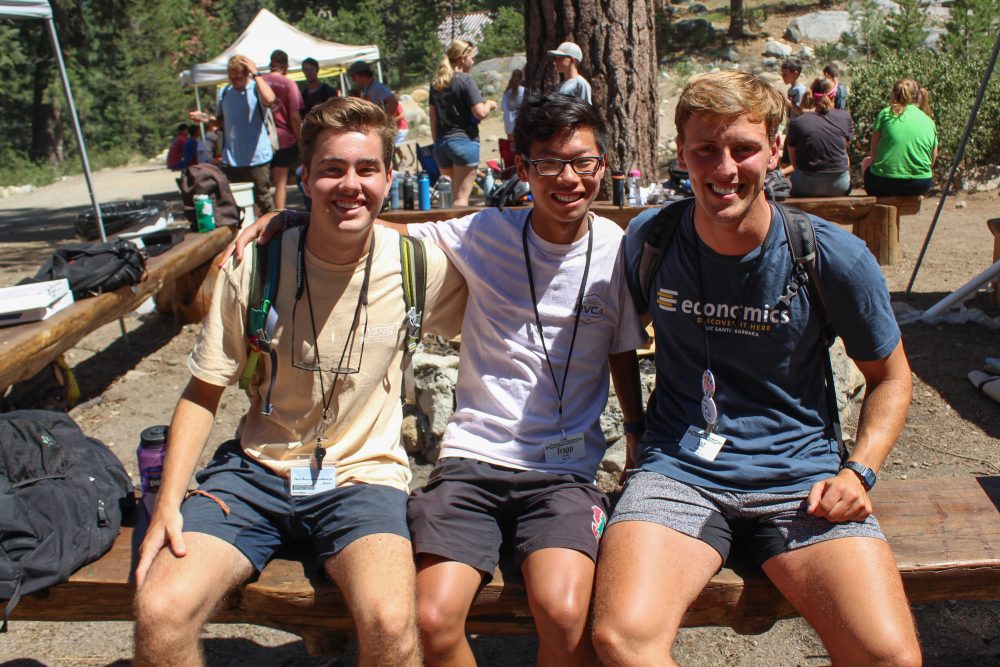 Watch or listen to a popular music video, reality TV show, or sports event, and you'll be hard-pressed to find positive young adults teens can emulate. But walk into any well-run summer camp and you'll be surrounded by wholesome, outdoorsy young people who like being around others and doing fun activities. Camp offers teens the opportunity to be among young adults who are positive role models and to form close relationships with them. Most camp counselors are hard-working college students who want to serve others. They are friendly, personable, and are just the kind of young adults you want your teen to become.
#5 Discover Their Best Self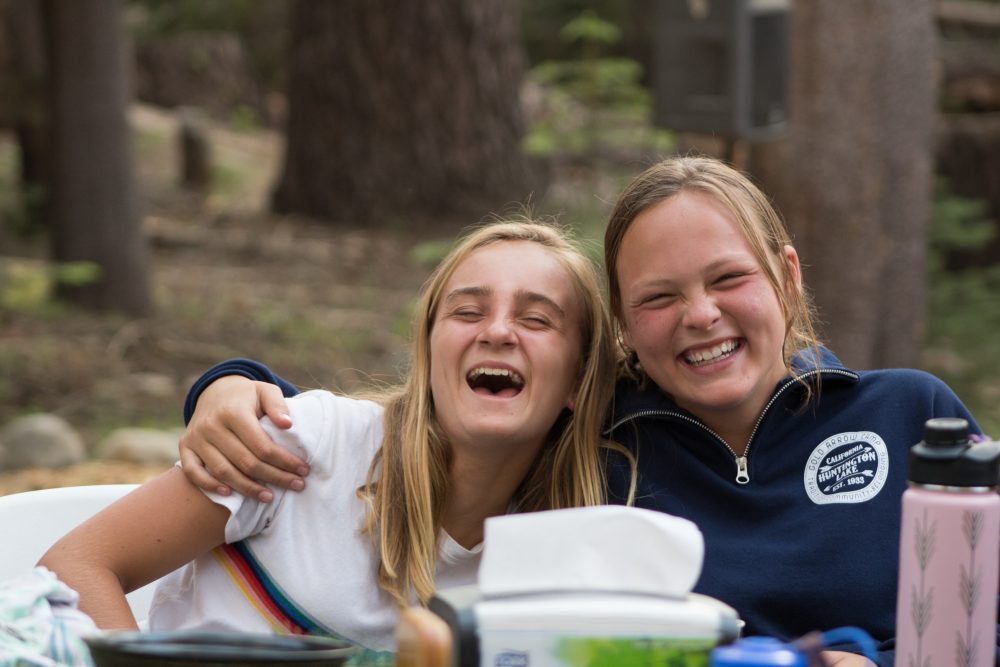 We live in a world where teens—often by their own parents—are steered towards success via the SAT, the college admissions grind, a "good" major, and a high-salary job. Look around at many adults, however, and see where that path got them. Despite knowing better, we still expose our kids to the same gauntlet.
Perhaps college education is the best option for most young people, but I've met many who are halfway done (or all the way done) and still don't know who they are or what they are passionate about. Camp experiences offer teens the chance to step back from the treadmill of academics, competitive sports, and their sleep-deprived, over-scheduled existence, and instead think about what's important to them. Many campers become less self-absorbed after spending a few weeks at camp, learning to train their focus on others. They also discover new hobbies and avenues to pursue in education and their future careers.
Each summer, tens of thousands of teens leave their phones and car keys at home and head to summer camp as campers, counselors in training, or counselors. Many teens who have never been to camp cannot relate to how a teenager could make such crazy personal sacrifices. And yet, teens are the age group that fills most quickly at many camps. Because, perhaps more than any other time during youth, camp offers the respite, recreation, and renewal to help teens thrive. Teens who have already been to camp know this and want to come back, year after year.

Gold Arrow Camp offers a Junior Counselor Program for returning GAC campers and an Outdoor Leadership Course for teens (grades 9th-11th).
Episode 32.
On this episode of the as-yet-unacclaimed GAC POG-Cast Soy and Avo sat down and chatted about what it's like to come to camp as a new person and why she enjoyed teaching watersports last summer. Soy plays guitar, there's a GACspiration, and a Dad Joke of the Cast.
Podcast: Play in new window | Download
Subscribe: Apple Podcasts | Android | Email | Google Podcasts | Spotify |