By Audrey "Sunshine" Monke, originally published at Sunshine Parenting.
I've learned to face my fears, I've tried new things, and I have learned that you don't always need to have your phone or video games.
-Kimberly, Camper
Children between eight and ten years old currently spend nearly eight hours a day on media. Adolescents average nearly eleven hours per day, seven days a week, on screens. The negative impact of this digital lifestyle is evident in kids' expanding waistlines as well as their growing lack of interest in being outdoors. Now there's an additional worry about the impact of our kids' excessive screen use: anxiety.
In a New York Times article—Why Are More American Teenagers Than Ever Suffering From Severe Anxiety?—Benoit Denizet-Lewis writes, "Anxious kids certainly existed before Instagram, but many of the parents I spoke to worried that their kids' digital habits—round-the-clock responding to texts, posting to social media, obsessively following the filtered exploits of peers—were partly to blame for their children's struggles. To my surprise, anxious teenagers tended to agree."
Anxiety is on the rise—among children, teens, and adults—and our screen time is exacerbating the issue. The problem is not just with teens. Adults are modeling this uber-connected life and experiencing a similar rise in anxiety. Ubiquitous screens are all that this anxious generation has ever experienced, and as parents, we can feel powerless to stop devices from overtaking our family's lives.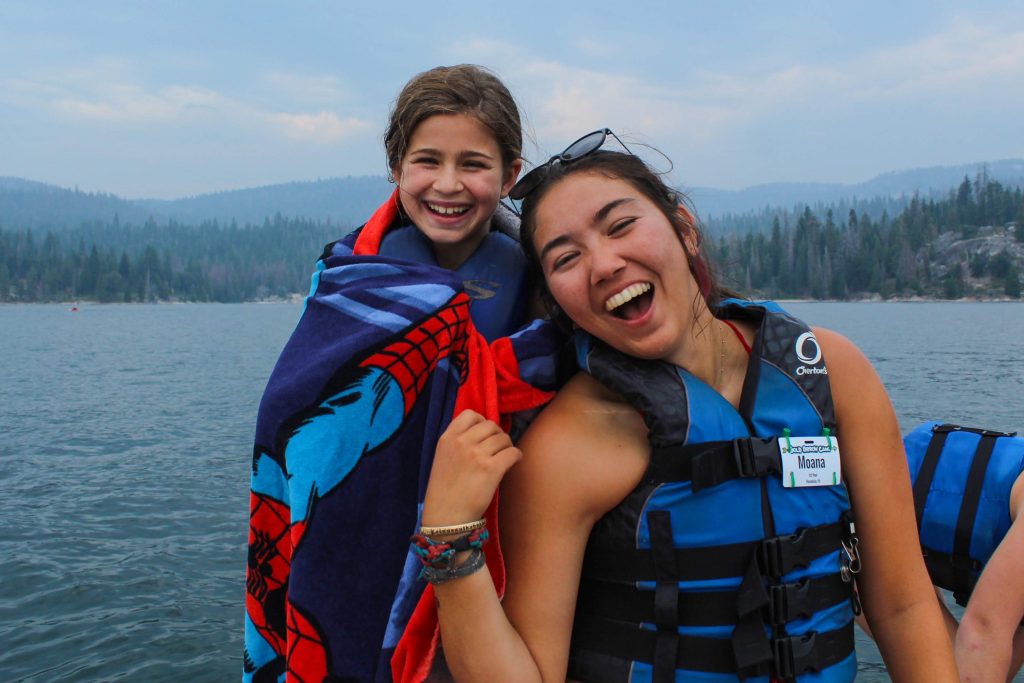 Whether sending or receiving SnapChat messages, watching YouTube videos, scrolling on Instagram, playing video games, or taking 100 selfies to find the best angle, our children are inundated with digital input while also feeling pressure to post the "right" things. The attraction of media is hard to resist, so most of us (including parents) simply succumb to having the near-constant presence of our electronics.
Many of us find it difficult to drag ourselves away from our laptops and smartphones, and often our schedules and lifestyles don't allow for adequate time to just be outside and enjoy our natural surroundings. Richard Louv coined the term "Nature Deficit Disorder" in his book Last Child in the Woods to describe the alarming trend of children spending less and less time outdoors. Whether due to sensational media accounts of lost hikers that have fanned parental fears, or simply a lack of time in over-scheduled lives, children simply aren't outside playing as much as they used to. Instead, they're inside on their screens.
I don't think anyone would debate that we all need to unplug more, but it's very difficult to actually get kids off their screens, especially now that many schools are operating virtually, and most kids have their own smartphone by middle school.
Recently, I interviewed a mom who gave clear instructions before her twelve-year-old daughter's birthday slumber party: devices would NOT be allowed. But this mom, unfortunately, is still the exception, not the rule. She lamented that when her kids go to other people's houses, they complain that all the kids do is play on their devices the entire time. While we can get our kids to turn off and put away screens at home, it's difficult to monitor them when they're not at home. And, unfortunately, kids are drawn to homes where screens are not as limited.
While a few weeks at camp is not the only answer to all the screen and anxiety problems, camp experiences can be a great salve for our kids. Breathing fresh air, connecting face-to-face, and not worrying about "likes" and what they're missing, kids relax and enjoy themselves. And they report feeling happier and less anxious.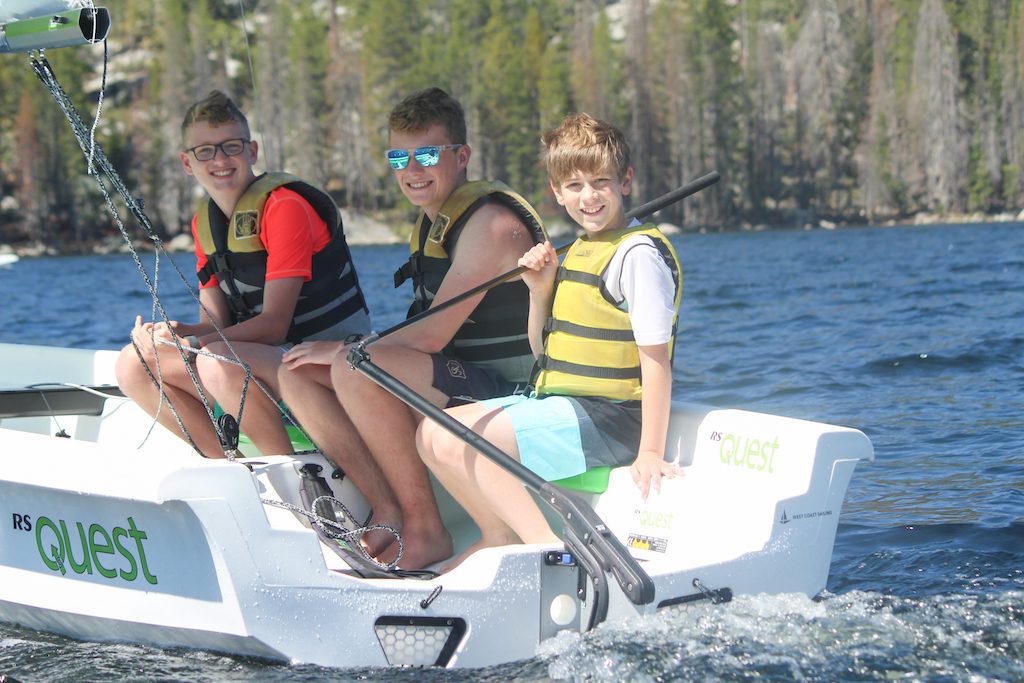 Here are four ways summer camp can help with the parenting challenge of too much screen time:
DETOX:
Just being completely unplugged for a few weeks is a new and refreshing experience for kids—a true digital detox. Because they're having fun and staying engaged and entertained, they get over their screen addiction quickly. And, because it's a "cold turkey" approach with no ambiguity (everyone's following the same rules), campers don't push back against being unplugged like they do at home.
CHANGED PERSPECTIVE:
By experiencing screen-free fun and friendships, many campers express a new desire to spend less time on their devices once they return home. Campers and staff have frequently reported examples of providing leadership in asking friends to participate in phone-free times.
APPRECIATION FOR NATURE AND OUTDOOR RECREATION:
While counting shooting stars, appreciating spectacular views from a hike, or smelling the smoke from their campfire, campers aren't thinking about their TV, video games, and cell phones. Instead, they are experiencing nature and being truly present with others. Many discover new outdoor activities they enjoy, and they are inspired to spend more time outside and in the moment once they return home.
BETTER FACE-TO-FACE FRIENDSHIP SKILLS:
Social interactions can be difficult, and many kids choose to keep interactions safely behind a screen. At camp, while sharing stories around the campfire and spending quality face-to-face time with new and old friends, campers gain more confidence in their social skills and are more likely to pursue real, face-to-face friendships upon returning home.
Getting kids off their screens — and convincing kids how good it feels to be unplugged — can be a real challenge. Summer camp can help.
"To be yourself in a world that is constantly trying to make you something else is the greatest accomplishment."
― Ralph Waldo Emerson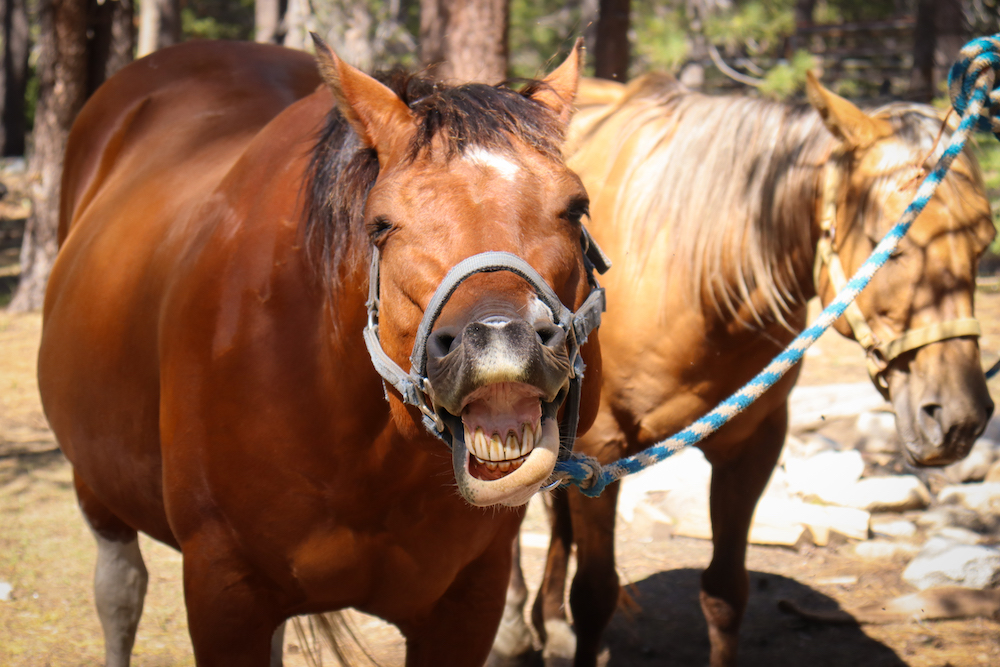 To keep up with our BE YOU theme this summer:
Check your inbox on Monday for our BE YOU weekly email.
Follow GAC on Instagram
(Use hashtag #GACbeyou.)
Be You!
It sounds like such a simple task. After all, aren't we all just automatically ourselves?
But it's actually not as simple as it seems. We all feel pressure to fulfill expectations, fit in, go with the flow, look and act a certain way, and do what everyone else is doing.
Sometimes all of that pressure can lead to feelings that we're not enough just the way we are. Confidence can be eroded when we feel like we're falling short.
At GAC we believe in encouraging campers and staff to accept and celebrate our own and others' strengths and unique traits. "Being You" is one of our core values, and many kids tell us that they feel freer to be themselves at camp than in other places. Campers and staff often report that they feel like they can "be themselves" at camp.
Each year, we pick a theme to help guide us through camp. This summer, even though we won't be together at camp, we'll be exploring and sharing about what it means to be our true, authentic selves.
We'll encourage campers to explore what it means to be their "best selves" with questions like these:

What do I like best about myself?

What do I really enjoy doing?

What are my goals?

What do I dream of doing?

What are the personality quirks and strengths that make me special?

How can I be kinder to myself with my "self talk"?

How can I encourage and support my friends in being their authentic selves?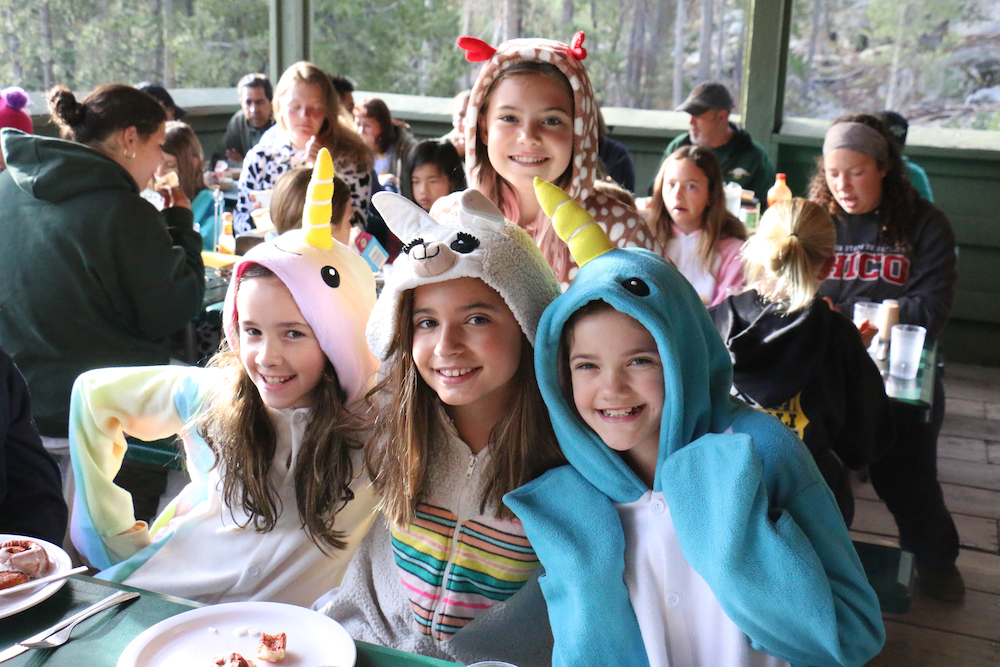 When we spend time talking and thinking about the interests, traits, and strengths that make us who we are, we gain self-awareness, which is an important aspect of emotional intelligence and one that helps us be a better friend to others. Self-awareness also builds our confidence and ability to understand that we don't need to be an expert or be perfect at everything. No one is!
When we support our friends by pointing out their strengths and the unique, cool things we like about them, we strengthen our friendships, too.
This summer , not only will we be learning about how to be our best selves, we'll be learning about how to help our friends be their best selves, too!
Our "Be You" theme for 2020 gives us the opportunity to take advantage of our extra time for reflection (because we're all stuck at home) and reconnect with what makes us awesome just the way we are.
Check out Monkey and Soy's formal announcement of our theme (back in January, before we knew we'd be stuck at home this summer), complete with many "b" based puns, enjoy this video:
by Audrey "Sunshine" Monke
Wendy Mogel's best selling book, The Blessing of a Skinned Knee, resonated with me. I can relate much of her message to camp and to my own family. I heard Dr. Mogel speak at a conference several years ago, and she continues to be active in the camp community. Many of our camp parents have heard her speak at school parenting events or have read her book. If you haven't had a chance to read The Blessing of a Skinned Knee, I highly recommend it. In addition to sharing about the importance of letting our kids take healthy risks, and not always rescuing them from failure, Mogel gives many other valuable insights. She has recognized the value of camp experiences in the development of emotionally healthy kids, as you can read in the article "Camp Blessings" on her website.
A question I often get asked, especially by kids who haven't yet been to GAC, is "What if I don't want to do an activity?" Sometimes it starts with a statement, "I don't like horses. Do I have to do that activity?"
My short answer is, "You won't be forced to do any activities, but you will still go with your group, and you will be encouraged to try."
I think there are three main reasons kids don't want to do a particular activity, and they are the same reasons why adults often choose to forgo some recreational options:
1. A previous negative experience with the activity, usually not at camp and not with experienced instructors.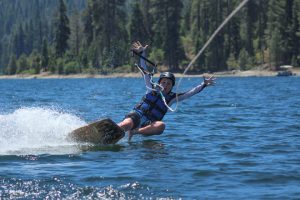 Falling off a horse, being dragged behind a ski boat and not getting up, or getting lost on a hike are all examples of negative experiences that make a person naturally inclined not to want to try again.
2. Fear!
Fear of being humiliated. Fear of failure. Fear of heights. Fear of deep lake water. Fear of rocks. Fear of going to the bathroom in the woods. Fear of getting hurt. The list goes on and on.
3. Based on their perception of themselves or their past successes/failures, they think they won't like it.
It's not in their normal repertoire of things they like and/or are good at.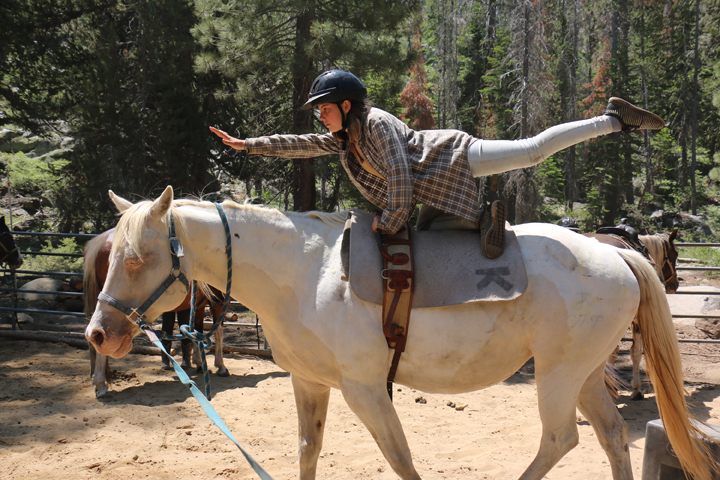 I'm sure there are other reasons for kids to not want to do an activity, but these are three that readily come to mind from what campers have told me over the years. Interestingly, the reasons kids don't want to do an activity are the very reason for trying the activity and may be the best thing that happens at camp for that camper.
If a child doesn't want to do an activity because of a previous negative activity, trying it at camp could lead to either a changed mind (and a new activity they like) or, at the very least, a not-as-negative experience to remember.
If a camper doesn't want to do an activity because of fear, then trying the activity could be the most life-changing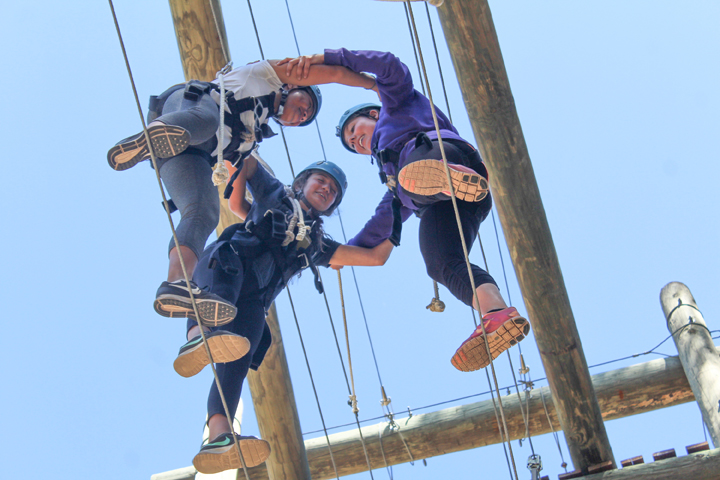 event that occurs for that camper during their camp stay. Overcoming fears and challenging oneself to attempt something that seems impossible can lead to great feelings of accomplishment and improved confidence. With the support and encouragement from cabin mates and counselors, campers feel on top of the world after successfully trying something they feared. For the camper with a fear of heights, climbing half-way up the ladder on the high ropes course will be celebrated as a huge accomplishment, and one that can make him/her proud. This is an example of something hard that leads to something good, a theme that Dr. Mogel stresses. The camp environment offers a supportive place for kids to learn how to overcome fears and accomplish things they didn't think were possible.
If a camper doesn't want to do an activity because they don't think they'll like it based on their preferences or perception of themselves, trying something different offers an opportunity for expanded confidence. A camper who sees himself as non-athletic and more adept at target sports may shy away from the more physical activities, yet trying and accomplishing them could change his perception of himself in a positive way. A camper who likes shopping and clothes and sees herself as not an "outdoorsy" kind of person may dread going on a backpacking trip. Yet, the experience of cooking and sleeping outdoors could lead to an expanded view of herself and an appreciation for the many different facets of a personality. Sometimes, the activity a camper thought would be their least favorite becomes a favorite!
So, when a camper tells us all the reasons why they "don't want to" or "can't" do an activity this summer, we will continue to encourage them to "give it a try," because we know the hidden blessings in the least favorite activity.
In 2009, Gold Arrow Camp lost a dear friend. Ken "Coach" Baker (March 10, 1951 – April 5, 2009) worked at GAC as Camp Assistant Director and Director from 1981-1992 and had a huge, positive impact on many of us who are still here at camp today. Ken was instrumental in helping Sunshine purchase Gold Arrow from Jeanie Vezie in 1989, and mentored Sunshine, Monkey, Woody, Chelster, Tigger, Junior, Trapper, and many other GAC staff during their early years working at camp.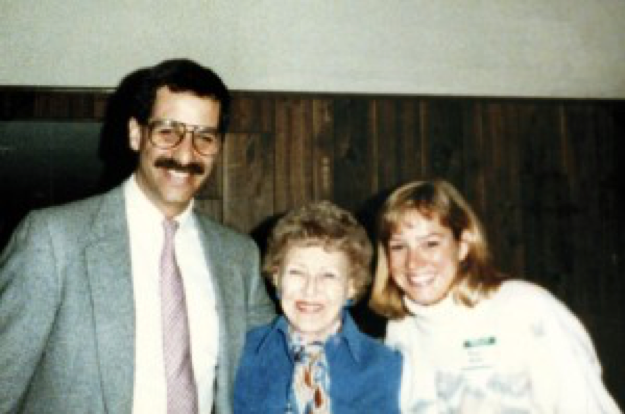 Ken had an amazing way of making even mundane tasks like picking up trash and painting buildings feel monumentally important. He had a way of clapping his hands together and giving a pep talk that got everyone fired up to do their jobs well. Ken had a near-constant smile on his face and took every challenge that came his way in stride. We all knew we could go to him with any problem and he would help us figure out how to fix it.
To honor Ken, in 2009 we established "Coach's Award." This award has been given each year since to a leader at camp, nominated by his/her peers, who motivates others through positive leadership and encouraging words and exemplifies Ken "Coach" Baker's dedication to GAC's vision.
To select each year's recipient, we ask the entire staff to complete a nomination form, where they put the name of one person whom they think deserves this honor. They include comments about the person they nominate. We have such a high caliber of staff, many of whom are extremely positive and exemplify what Coach stood for, and we are grateful for the legacy he left us and that so many people at GAC are incredibly positive and motivating to others.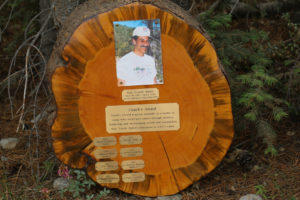 This summer, we had 39 staff members who stood out so much to their peers that they were nominated for this prestigious award. Each of those 39 people made an impact with their positive energy every day at camp.
2019's recipient, Simba, stood out in those many nominations for his positive leadership and love of camp. His name has been added to Coach's Award, which hangs in our camp store.
To me, Simba is someone who always maintains a positive attitude and carries himself as a positive role model for campers at GAC. In my eyes as a first-year counselor, Simba is someone to model themselves off.
Simba has such a genuine love of GAC, and he truly loves his boys as much as he loves the place. I love watching him interact with his cabins and the other campers he talks to. If we're picking people based on positive leadership, it is hard to pick someone better than Simba. Well done, Simba!
Wow man, you are so good with the kids and staff. You are a friend that I can talk to about anything.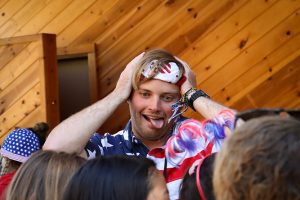 Whenever I see him he has a smile on his face. He makes everyone feel so much better and warms people with his presence. You can tell that he puts a lot of effort into every relationship he has, with staff or a camper. He's all about making sure his boys are having the best possible GAC experience.
Throughout this summer I have been wildly impressed with how well Simba holds himself, how he acts in the face of a challenge, and how welcoming he is in every situation. I feel like I've learned so much about the world and how to value life through talks and watching him live each moment to the fullest. Thank you for being so incredible, I'll never forget what you've taught me.
You have made me a better, more confident person. I have modeled who I want to be as a counselor after you. You have an amazing head, sense of humor, and have never told me a lie. I feel you taught me how to be a part of Valhalla. I love you.
Simba is always encouraging other counselors to stay positive and energetic. He's a great role model for the boys of 32 and has always found a way to make everything his cabin does enjoyable and a lasting memory.
Simba has been such a positive impact on camp and on his campers. He is super outgoing and fun for others to be around.
Simba truly embodies what it means to motivate others. He carries himself in a way that shows campers that they can be themselves. He encourages confidence, teamwork, and leadership to everyone that he meets!
For being such a positive role model and inspiration to the boys of Valhalla. Everyone in camp looks up to him and personally I aspire to one day make an impact on people in the same way that he does.
One of the greatest people I've ever met! He always has a smile on his face. Whenever I see him he gives me a high five. Overall great guy.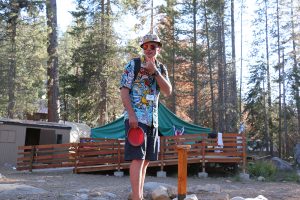 He truly is a pleasure to be around. He is such a warm spirit and truly embraces the values of camp in himself, and in his campers. He lifts my mood and challenges me to be a better staff member, friend, and person myself. I believe that he is one of the most deserving nominees for this award.
His never-ending enthusiasm motivates not only his campers but all the staff around him. He is the most incredible frisbee golf counselor which goes to show that he can make any activity the best activity. Simba inspires me to give more to my campers and live every day to its fullest.
An incredible leader and counselor. Simba is so supportive and creative when working with his cabin. He inspires me to be a better counselor and I am grateful for his friendship and positivity. A true leader.
Simba is always welcoming to all people at camp regardless of who they are or what they do. He is always high energy with his kids and makes sure everyone feels included. He makes sure to engage everyone and makes camp a better place.
Always in good spirits, shows tremendous leadership, spreads the excitement, everyone's hype man- constantly finding something to laugh about. Overall, he's a good role model for everyone!
Simba was a leader in camp this year! He made a positive difference to those around him, and camp is a better place now because of his influence.
A boy inside a man's body. Whenever you see him he's smiling and joining in with the kids. I couldn't believe when he said he was only 22. A great GAC role model, and an inspiration for me.
I am so impressed with his ability to lead his campers so well. He is humble, genuine, kind, fun to be around, and hilarious. So many people at camp look up to him because of the way he carries himself and the magic he makes at GAC. I am so thankful he is here and that campers and counselors alike are able to learn from Simba!
CONGRATULATIONS SIMBA!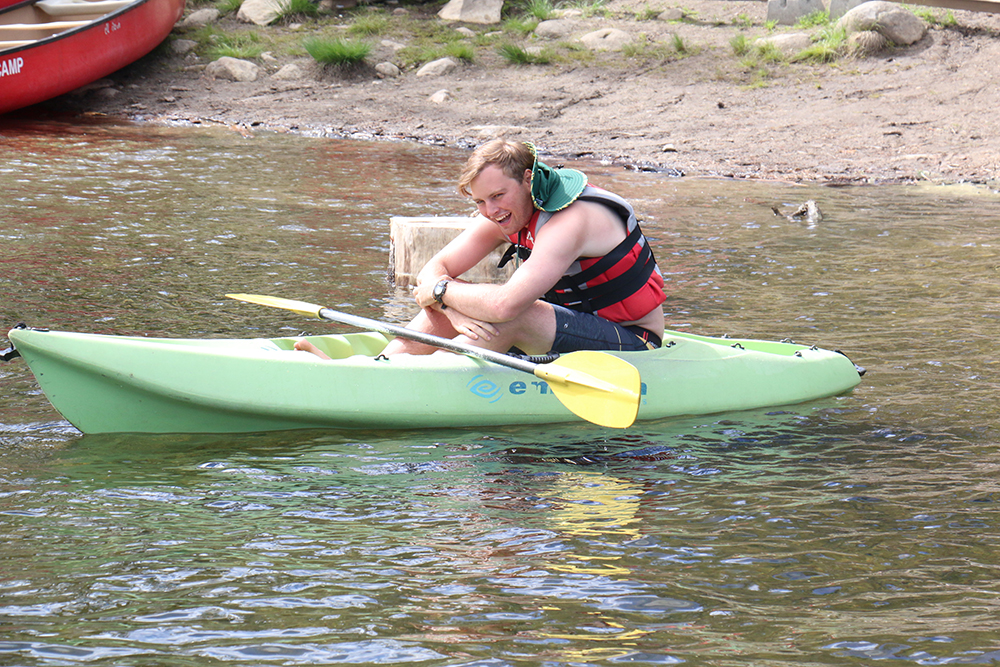 Episode 49
Sailing instructor Oyster joins Soy from Leeds University in England. They had a long discussion about the way camp allows campers to really be in charge. They also talked about the benefits of cultural exchange in the J-1 summer camp counselor visa program. Soy shares a friendship tip and a joke of the cast!
Podcast: Play in new window | Download
Subscribe: Apple Podcasts | Google Podcasts | Spotify | Stitcher | Email |
Episode 48
On this week's POG-Cast, Soy and Magic sit down and chat about what camp holds for campers that come back year after year, and how Magic ended up working with a co-counselor she first met when they were both 7! There's a great Dad joke for the Joke of the Cast, a new friendship theme, and a great GACspiration.
Podcast: Play in new window | Download
Subscribe: Apple Podcasts | Google Podcasts | Spotify | Stitcher | Email |
Episode 47.
Luna, who is a student at the Art Institute of Chicago as well as being an Arts & Crafts Counselor at GAC, stopped by the POG-Cast to chat about art, creation, and her favorite parts of working at camp. In addition to being an Arts & Crafts Counselor, Luna was also a Group Counselor for a session in 2019, so she had great insights into what it was like to do both of those jobs. There's also a GACspiration and a dad-joke-based Joke of the Cast.
Podcast: Play in new window | Download
Subscribe: Apple Podcasts | Google Podcasts | Spotify | Stitcher | Email |
Episode 46
This week, Soy is joined by Hilly, who came to camp on a J-1 Summer Camp Counselor Visa last year. They talk about what Hilly learned about the United States, the hardest and easiest parts of being a Group Counselor, and the POG-Cast speed round. There's a reptile based Joke of the Cast and an artistic GACspiration.
Podcast: Play in new window | Download
Subscribe: Apple Podcasts | Google Podcasts | Spotify | Stitcher | Email |
Episode 45
It's a Hoosier state reunion as Van (Fort Wayne) joins Soy (Kokomo) on the POG-Cast. They have a great chat about being a near-peer mentor. They also talk about trying new things and how she discovered jicama! Joke of the Cast takes on the Haloween season and Sunshine drops in with a GACspiration.
Podcast: Play in new window | Download
Subscribe: Apple Podcasts | Google Podcasts | Spotify | Stitcher | Email |
Episode 44.
Simba drops by the show today. He is the winner of the 2019 Ken "Coach" Baker award. Simba talks with Soy about how camp changed since his first year (15 years ago!). He also shares a ton of wisdom about the important things that don't change at camp and tells great stories about him dancing and why his name was almost "Fez."
Podcast: Play in new window | Download
Subscribe: Apple Podcasts | Google Podcasts | Spotify | Stitcher | Email |