Episode 47.
Luna, who is a student at the Art Institute of Chicago as well as being an Arts & Crafts Counselor at GAC, stopped by the POG-Cast to chat about art, creation, and her favorite parts of working at camp. In addition to being an Arts & Crafts Counselor, Luna was also a Group Counselor for a session in 2019, so she had great insights into what it was like to do both of those jobs. There's also a GACspiration and a dad-joke-based Joke of the Cast.
Podcast: Play in new window | Download
Subscribe: Apple Podcasts | Android | Email | Google Podcasts | Stitcher | Spotify |
Episode 46
This week, Soy is joined by Hilly, who came to camp on a J-1 Summer Camp Counselor Visa last year. They talk about what Hilly learned about the United States, the hardest and easiest parts of being a Group Counselor, and the POG-Cast speed round. There's a reptile based Joke of the Cast and an artistic GACspiration.
Podcast: Play in new window | Download
Subscribe: Apple Podcasts | Android | Email | Google Podcasts | Stitcher | Spotify |
Episode 45
It's a Hoosier state reunion as Van (Fort Wayne) joins Soy (Kokomo) on the POG-Cast. They have a great chat about being a near-peer mentor. They also talk about trying new things and how she discovered jicama! Joke of the Cast takes on the Haloween season and Sunshine drops in with a GACspiration.
Podcast: Play in new window | Download
Subscribe: Apple Podcasts | Android | Email | Google Podcasts | Stitcher | Spotify |
Episode 44.
Simba drops by the show today. He is the winner of the 2019 Ken "Coach" Baker award. Simba talks with Soy about how camp changed since his first year (15 years ago!). He also shares a ton of wisdom about the important things that don't change at camp and tells great stories about him dancing and why his name was almost "Fez."
Podcast: Play in new window | Download
Subscribe: Apple Podcasts | Android | Email | Google Podcasts | Stitcher | Spotify |
Episode 43
Kiwi dropped by the GACHQ to chat with Soy face to face about what makes camp so special. She talks about her family connection to camp (even though she wasn't a camper) and how camp has impacted her phone use now that she's back at school. There's also a friendship tip, a GACspiration, and Joke of the Cast to enjoy!
Podcast: Play in new window | Download
Subscribe: Apple Podcasts | Android | Email | Google Podcasts | Stitcher | Spotify |
Episode 41
The POG-Cast is back! If you found our podcast during the summer, when it is called Wadda Day, this episode will be a bit of a surprise to you. During the year, our podcast turns into the POG-Cast, which is a weekly podcast that features more in-depth interviews with staff members, parents, and campers. It also has some of the great parts of morning assembly, like Joke of the Day, Stat of the Day, and the Friendship Tip!
This week we have Gold Arrow Camp's newest director, Heather "Cheerio" Veatch, who just joined our team year-round after 10 summers working at camp. Prior to working for camp, Cheerio was an elementary school teacher. She and Soy have a great conversation about education and camp, as well as some behavior management tools that we use at camp that you can use at home.
Submit WOWs and answers to Stat of the Cast to wow@goldarrowcamp.com
Here's how you can make some breathing beads at home!
Podcast: Play in new window | Download
Subscribe: Apple Podcasts | Android | Email | Google Podcasts | Stitcher | Spotify |
Episode 40.
The GAC POG-Cast is over the hill! We're also over the moon that April joined us to talk about her role as a photographer at camp last summer. She also had great insight on how to deal with the fear that coming to camp sometimes creates in campers. Soy is back to playing guitar and telling Dad jokes and there's a GACspiration too!
Podcast: Play in new window | Download
Subscribe: Apple Podcasts | Android | Email | Google Podcasts | Stitcher | Spotify |
by Andy "Soy" Moeschberger
My single favorite time of day at camp is campfire. Every night each of our 31 cabins has its own campfire unless the cabin is at a social (a campfire with another cabin) or our dance. Why do I love this time of day so much? In part because I love the smell of woodsmoke. In part because it means the day is winding down and I'll be in bed within the next 3 hours. But mostly because of the magic.
What could be so magical about a campfire? Some logs, some pine needles, a match, and some popcorn. That's simple and fun, but it isn't magic.
I beg to differ. I think that the time spent around a campfire is magic. It's transformational and powerful in the way that nothing else I have experienced in my life is. When a group of 10 friends is gathered around the flickering flames under a blanket of stars they can and will share truths that are more lasting and meaningful than if they were in a game room or around a dining room table.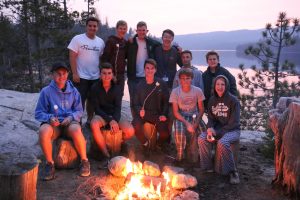 But why? What is it about the campfire that makes this possible? Well, maybe it isn't magic. Maybe it's science. According to a study from the University of Alabama, adults who were exposed to a "fire with sound condition" (a video of a fire with the sound turned on) showed lower blood pressure and increased "prosocial" behaviors (such as smiling, making eye contact and engaging in conversation). And that was a VIDEO of a campfire with an adult by themselves! The authors hypothesize that this is an evolutionary development. They believe that for ancient humans the fire provided warmth and a way to cook, and also signaled the safety of numbers. Our ancient forerunners knew that by being around the campfire they could relax. Even a millennium after we moved indoors, our minds still subconsciously know that a fire is a place where we are safe.
Children need this more than ever today. The pressures of the world increasingly weigh on young people. If they can have an opportunity to feel, like the cavemen of old, relaxed and safe, then they can begin to become their best selves. The campfire is a natural way to do that. As I tell our graduating campers at their Paddle Ceremony, the most meaningful moments of their camp careers probably occurred around a campfire.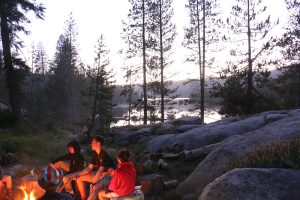 Many camps have only occasional campfires, or "flashlight" fires. While there are benefits to that, we know the nightly practice of an actual campfire is important. Our counselors are trained specifically on campfires. The training is far more than how to stack the logs and what the ideal marshmallow looks like. Indeed, they practice in our training how to lead a meaningful discussion around the fire. They lead campers in sharing their highs and lows of the day. They help to facilitate discussions about real life topics that campers are interested in or struggling with.
On our last night of camp, we gather for an all-camp campfire that we call Appreciation Campfire. There are songs and stories and skits. Off to the side of our amphitheater (which we call Big Campfire!), there is a campfire pit, where the logs crackle away merrily. As the night winds down, the flames grow lower and lower. At the end of the night, counselors share their appreciation for their cabins by candlelight as the last embers of the campfire glow.
That's just a last tiny piece of magic before we go home.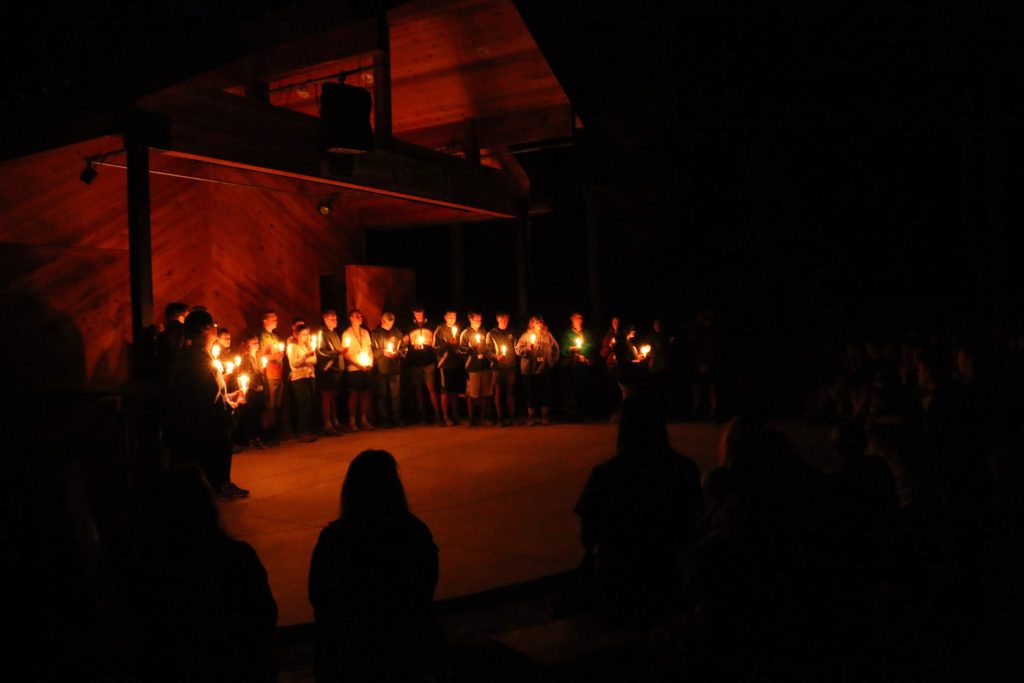 by Audrey "Sunshine" Monke, Camp Director
Recently, I've been going through the many boxes of letters, photos, and memorabilia which I have collected over my first five decades. It's been a time-consuming task, but I'm trying to organize into a smaller number of boxes what has been accumulated over the first half of my life. What has struck me most is the huge number of letters I amassed from my childhood, high school, and college friends. Until this week, I didn't remember how much we corresponded, but I just finished going through hundreds of letters. I now have proof of the many friendships that were solidified over hours of writing to one another.
I mostly have the ones written to me, but I can assume from the "Thanks for your letter"s that I was writing at the same rate as my friends were. Maybe some of my letters are in a box out there somewhere?
Not only was there a huge volume of letters (see picture), some of the letters were ten pages long, with tiny writing. Others were short notes or fun greeting cards. Most of them were in beautiful, cursive writing, even some from boys! What an amazing thing to think about. Back then, without the distractions we all have today, we had TIME to write letters like that! Plus, we enjoyed it and were good at it! We wrote letters, because often long distance phone calls were too expensive. Many of us traveled and studied overseas, so the letters chronicle our trips.
The process of trying to get rid of most of this paper required that I at least skim through each one. I pulled out many that I simply can't bear to throw away. I found letters from my late grandparents, with their words of wisdom. I found letters my parents had written to me over the years. I also found letters from friends showing major teen angst, which is a good reminder now that I have teens of my own. We weren't that different back then after all! It's just that we didn't splash our anger and sadness at each other on Facebook. We wrote each other heartfelt notes.
One thing I realized is that my kids will not have a big box of letters like mine. They don't write letters like we did in the pre-computer, pre-email, pre-social networking, pre-cell phone era. But then I had a revelation! They DO still get to send and receive letters. It's when they're at camp! I have told parents how much campers enjoy getting "real" mail while at camp (the kind with a stamp), but now I have realized another benefit – they will have these letters as keepsakes and memories of their childhood. And you, as parents, most definitely should save all of the letters you get from your camper!
Among my box, I came across a postcard I sent to my parents in 1977, when I was a camper at Gold Arrow Camp. This is what it said:

My postcard home from camp, 1977.
"Dear Mommy,
I think it's mean that you have to write a letter to get into dinner, but I'm glad to write a letter to you because I love you. It's been raining since we got here. But we still went horseback riding. I wrote a letter to daddy this morning and sent it. Camp is so fun. I can't wait to tell you. My counslers name is Liz. She's nice.
Love, Audrey"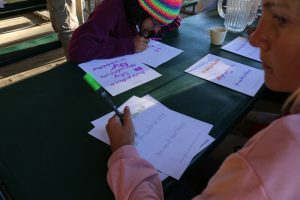 Let me tell you, we have gotten some good laughs in our house over this postcard. Not just about how I spelled "counselor," but about my comment about the "Mail Meal" (dinners on Wednesday and Sunday that you need to have a letter or postcard home as your ticket in). The dreaded "Mail Meal" has been a camp tradition for as long as anyone can remember, but I didn't even remember thinking it was a bad thing. My adult view is much different than my ten-year-old one! I now understand how much parents need those letters. I hope most kids get beyond the "I have to write this letter" part, and share some of their feelings and memories of camp. The resulting memorabilia will be priceless.
So, here's to another benefit of camp I've only this week realized. We have the chance for our kids to experience the (almost) lost art of writing and receiving handwritten letters. And you, as a parent, have a chance to write down words that your child will be able to read and keep long beyond any email you've sent them!
P.S. Did you see this hilarious book? P.S. I Hate it Here: Letters from Camp It is full of some really funny, real letters kids wrote to their parents from camps.
Episode 38.
On this episode, former camper (and current Head Counselor) Frames joined Soy. They had a great chat about why being a camp counselor is better than taking an internship and what she was most nervous about when she came to camp for the first time at eight years old. There's also a great oceanic Joke of the Cast and we learn all about Frames' dog's name, which Soy enjoys more than he should.
Podcast: Play in new window | Download
Subscribe: Apple Podcasts | Android | Email | Google Podcasts | Stitcher | Spotify |