March GATA Webinar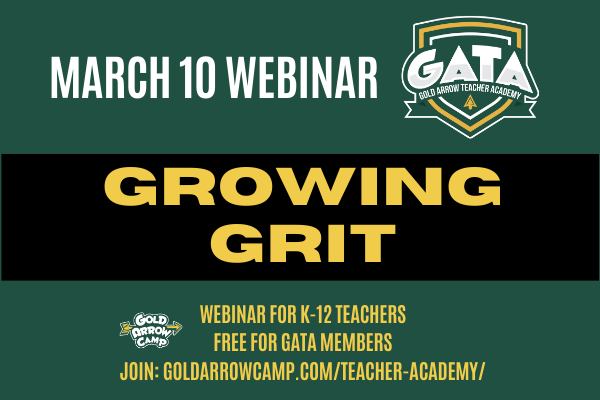 For this month's Gold Arrow Teacher Academy (GATA) webinar on Wednesday, March 10 at 5pm PT/8pm ET, we are focusing on Growing Grit!
Grit, which is another word to describe the important character trait of "resilience," is predictive of student well-being and success. In this webinar, we'll cover ideas and strategies for helping students grow the grit muscles they need to thrive both in and out of school.
We know from decades of research that one of the most useful predictors of student success is how persistent they are when faced with a problem. This was catapulted into the public conversation by Angela Duckworth and her groundbreaking research on grit. Many of you have probably seen her TED talk in a professional development meeting! In this webinar, we'll share what we've learned about teaching kids to develop grit at camp and share ideas for how you can help kids develop grit and how you can recognize kids for using grit in your classroom.
This webinar is free for all GATA members! If you are not yet a GATA member, you can join here or register just for the webinar here. Even if you're not able to attend the live webinar on Wednesday, you'll be able to access the recorded webinar and the accompanying resources.