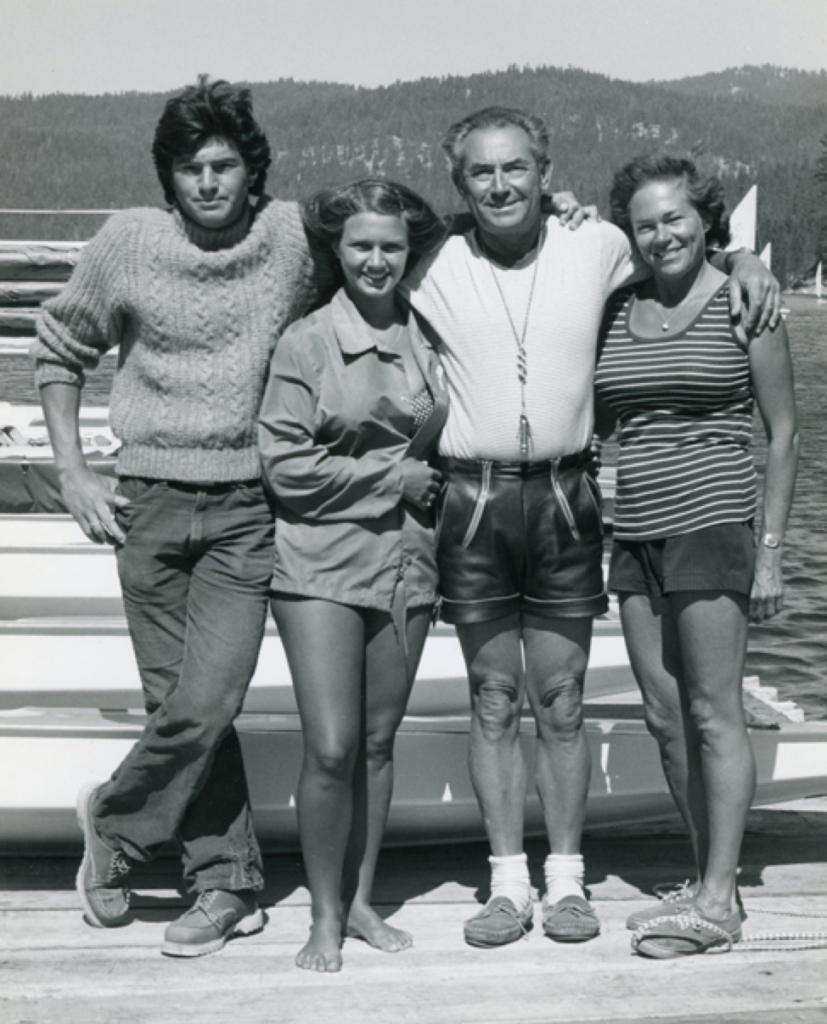 "Push the tiller towards the sail!"
Boris Gregory's distinct voice boomed through his megaphone across the GAC cove for close to three decades. Campers from the 1960s well into the 1990s will never forget the dynamic sailing duo of Boris and Irene Gregory. They taught countless campers and staff how to navigate the Huntington Lake winds.
Last weekend, surrounded by his four children, including current GAC staff member Claudia "Cloudy" (Gregory) Werlin, Boris passed away in Santa Barbara, California, at the age of 96. He joined his beloved wife Irene, who preceded him in death by 14 years (April 16, 2002). Born on May 14, 1920, Boris lived a full and energetic life, which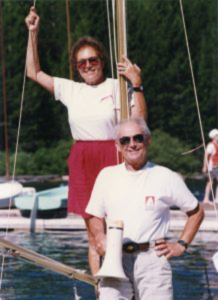 included not only his many years of teaching GAC campers how to sail across Huntington Lake, but also coaching sailing at the college level. Up until he was 90 years old, Boris taught fitness classes to seniors. All of us who were blessed to be at GAC with Boris remember trying to keep up with the brisk pace at which he walked through camp and wondering how he could be so much fitter than staff members a third his age! According to his son Michael, the answer may be Boris' discipline and that, like the rest of the Gregorys "he rarely ate processed or preserved foods."
The Gregorys arrival and influence at GAC is documented in the upcoming GAC history book:
During that summer of 1966, a community college teacher andsailing coach from the Bay Area was vacationing at Huntington Lake with his wife and four children. It was a trip they'd been making for years as a family, trekking to Lakeshore with two sailboats and a loaded Volkswagen Westphalia camper. They lived for a month each summer at the "College Camp" campground, sailing every day on what had become known as one of the finest sailing lakes in the western United States. After their sail, the coach and his wife—Boris and Irene Gregory – made it part of their daily routine to picnic on the beach across the cove from Gold Arrow. From that vantage point, they could see that Manny had skimped a bit on the sailing program.
The program was mostly chaotic, especially given the typical afternoon wind conditions. But much of it had to do with the battered, twenty-year-old sailboats. The Naples Sabots kids sailed were not only worn from years of tough service, they were difficult to sail and even more challenging to turn upright after capsizing. In general, the Gregorys took note of what seemed to be a lack of instruction, chuckling at misguided directions hollered through megaphones.
One day they saw Manny himself on the sailing dock blasting instructions through a bullhorn to his sailors. It was clear that challenging afternoon winds were frustrating the kids and the man tasked with teaching them. Finally, the Gregorys had seen enough. They sympathetically packed up their picnic and went over to Gold Arrow to introduce themselves, tracking Manny down on the dock. We couldn't help but notice…, Boris began. He went on to tell Manny that he coached the sailing team at the College of Alameda in the Bay Area, that he had an excellent first mate in his wife Irene, and he had four kids who were terrific sailors in their own right. He then asked Manny if he wanted a little help. "Manny enthusiastically accepted," said Len Gregory, the second of the four Gregory kids. He then invited Boris and Irene to the dining porch "for a look around and a talk," said Len, and by the following summer (1967), Manny had a whole new staff of sailing instructors. Boris directed the program, with Irene and oldest son Ron providing instructional support; Len was hired at sixteen to work as a "mechanic's assistant" while the two youngest, Mike and Claudia, "were quite young and they became campers."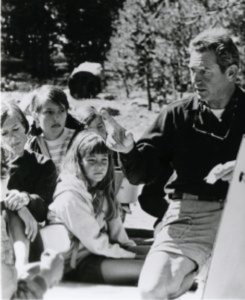 If the decade of the sixties was one of expansion and great change, the seventies ushered in a shift in focus on activities. "The Gregorys," wrote Hoff, "solidified the sailing program as a key component of camp experiences." They introduced a variety of new sailboats more appropriate for training, and emphasized water safety and sailing techniques that had been previously lacking. Activities like canoeing, kayaking, and "paddling on a surfboard," wrote Hoff, "took a back seat to the more adventurous appeal of sailing." Gold Arrow Camp yearbooks from the seventies reflect as much; all of them feature the sailing program prominently, with pictures of an impressive fleet of sailboats as well as campers holding High Sierra regatta trophies alongside their tanned and very proud sailing coach, Boris Gregory. "My father poured his heart and soul into the sailing program and it became his pride and joy," wrote Claudia Gregory-Werlin. Holiday newsletters echoed that success, highlighting accomplishments from previous summers: "Every year, our sailors seem to conquer greater heights in the regattas." Camper Vic Karidakes (1968-70, 75), who won the Will O' the Wisp race twice, wrote that the Gregorys "were the greatest family ever": "They were great at teaching every aspect of sailing, from pure beginners to advanced sailors." Boris and Irene enjoyed their work, and they enjoyed each other.
"My parents had an agreement […] that they would go for a swim off the sailing dock every day in the snowmelt called Huntington Lake," added Claudia. "They never missed a day."
We are incredibly grateful for the legacy the Gregorys left at GAC, which goes far beyond sailing. Their son Michael Gregory summed it up well, "Life with Boris & Irene was a parade and celebration of humanity. No bystanders, spectators or wall flowers, all were welcome to join in."
We are grateful for the legacy of the Gregorys. Their hard work, love for others, and positive impact on all who worked with them and learned from them, continue to live on in the generations that have followed. In fact, two of of their grandchildren, Jake "Genki" and Jessie "Cosmo" Werlin, spent time on the sailing dock serving as GAC Sailing Instructors and then as Sailing Directors! Boris and Irene's daughter, Claudia "Cloudy" Werlin, has continued to work at camp in various capacities over the years, and in the most recent years has brought her husband Bill "Oddjob" to join the GAC team. So while we have said goodbye to dear Boris and Irene, we know the Gregory legacy will live on forever at GAC.
If you listen carefully while sailing in the GAC cove, you just may hear the echo of Boris' voice in the wind.
The Gregory family has suggested that, for those alumni wishing to make a remembrance donation, the Max and Marion Caldwell Foundation (campership fund, please designate Gregory Fund, Gold Arrow Camp) or the American Red Cross, would both be great choices that honor Boris and Irene.
Words of Remembrance from Boris' son-in-law, Bill Werlin
Lives are written in many ways. Some are a story with footnotes. Most have chapters but for a special few, they write volumes. Born as Boris Gregorivich Hamovich, he was a master author.
Perhaps only in the minds of a Hollywood writer or an epic novelist could a Russian man born and raised in China find his way around the globe and generate nearly a century of laughs, loves and legacies.
It's impossible to cover a life like Boris's in a simple fashion. At 18 he made what for most people would be an inconceivable decision to leave his family and head for US shores. Ironically, as soon as he arrived, his American dream began with volunteering for the US Army, wading ashore at Omaha Beach during the Normandy invasion, hard duty in the Battle of the Bulge and finally a purple heart in the service of his new homeland.
As with all dark nights, new dawns bring new adventures. An invitation to a party in Malibu and a chance encounter with a newly arrived, beautiful German girl led to 54 years of true wedded bliss, four exceptional children, eight grand children and life-long impact on hundreds if not thousands of students and children who had the good fortune to fall under his wing.
Putting himself through UC Berkeley and settling the Gregory family in the East San Francisco Bay Area, Boris was the true immigrant success story. Hundreds of students and adults at local colleges experienced a loving but no compromise education in gymnastics, swimming, physical education, sailing, first aid and how to never cry "uncle". As if his mentoring wasn't enough in the Bay Area, he took the Gregorys on a year's teaching exchange program to London and another foray to work the Munich Olympics. Trains, planes and old VW buses introduced the family to a myriad of cultures, languages and friends, the memories and impact of which have sculpted family members even today.
Lido races on Lake Merritt, US travel adventures in that same Euro VW bus, the Jolly Trolley which followed them home from Europe, countless hours sailing the San Francisco Bay on the Mad Rush, dance parties until early morning hours were constant color additions to his life's palette.
Truly impactful participation in Rotary Club, the American Red Cross and Encinal Yacht Club added to the sum total of how widespread his influence and legacy ranged. Perhaps most of all was Boris and Irene's 30+ years of introducing children from all walks of life to the joys of sailing and reveling in the outdoors. Patience, care, support, encouragement and the reminder to first time solo sailors, "Don't forget to write!" as they sailed away from the dock are etched into countless memories of Gold Arrow Campers.
From Harbin China, and literally around the world to his final resting place in California, perhaps about Boris, Kipling says it the best…
If you can talk with crowds and keep your virtue,
Or walk with Kings—nor lose the common touch,
If neither foes nor loving friends can hurt you,
If all men count with you, but none too much;
If you can fill the unforgiving minute
With sixty seconds' worth of distance run,
Yours is the Earth and everything that's in it,
And—which is more—you'll be a Man, my son!
Thank you Boris!