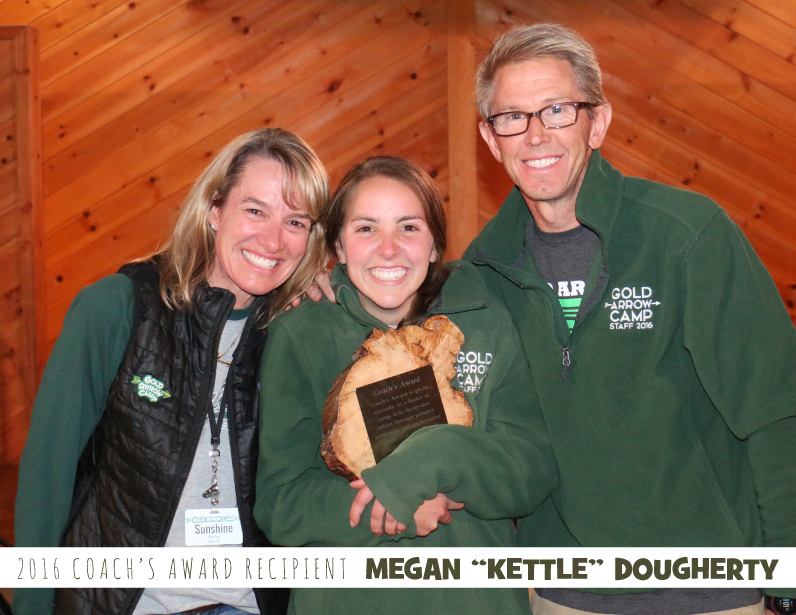 In 2009, Gold Arrow Camp lost a dear friend. Ken "Coach" Baker worked at GAC from 1981-1992 and had a huge, positive impact on many of the "old timers" who are still here at camp today, including Sunshine, Monkey, Chelster, Tigger, Woody, and Trapper. In his honor, we established "Coach's Award," which is given annually to a leader at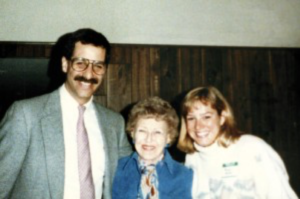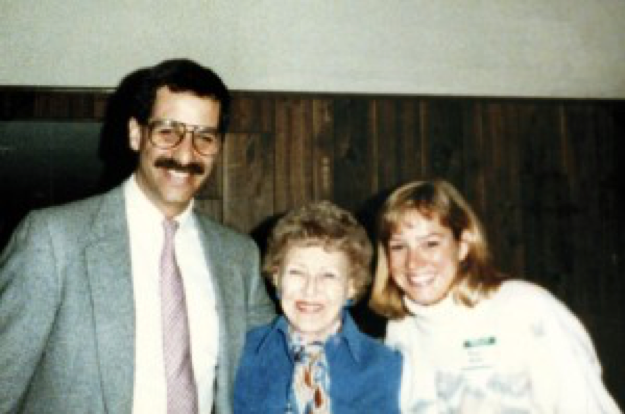 camp who motivates others through positive leadership and encouraging words and exemplifies Ken "Coach" Baker's dedication to GAC's vision.
To select each year's recipient, we ask the entire staff to complete a nomination form, where they put the name of one person whom they think deserves this honor. They include comments about the person they nominate.
We have such a high caliber of staff, many of whom are super positive and exemplify what Coach stood for, and we are grateful for the legacy he left us and that so many people here are incredibly positive and motivating to others. There are many 2016 staff who met the qualifications for this award and stood out for their positive attitudes and encouraging words for others. In all, 31 different staff members were nominated.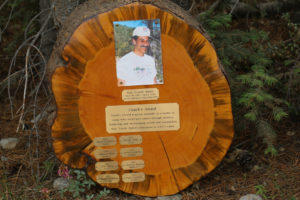 This summer's Coach's Award recipient, Kettle, stood out for the largest number of staff who were influenced by the many positive qualities that make her an outstanding counselor and leader. Not only is she amazingly positive and energetic, but she also has the ability to make any activity or event, even mundane things like putting on sunscreen, super fun. This was also one of Coach's great qualities.
One counselor summed it up well with this comment: "Kettle is an inspirational counselor and embodies everything we believe in at GAC. Her constant positive attitude and loving nature brings so much joy to her campers and fellow staff. In every action and thought Kettle puts the needs of her campers first which is why I believe she deserves the Coach's Award."
Another nomination included the following comment: "She is selfless and endlessly enthusiastic and caring. She doesn't have to turn her "camp attitude" on because it's just her personality. She puts her campers above all else and loves on them just how their families would. I love Kettle."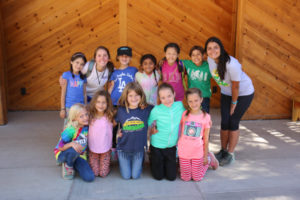 Another said, "Kettle greets the world with a smile every day and is absolutely inspiring. She's always prepared and never wears her stressors on her sleeve. Kettle inspires everyone to be not only a better counselor, but a better person."
More comments counselors had about Kettle:
"Every time I see her she is glowing with happiness and is genuinely so full of joy. Being a GC is not easy but she does it so well! Keep on shining!"
"Kettle is patient and positive and supportive. I think she exemplifies what it means to be a Gold Arrow counselor."
"Amazing all rounder. I feel like she genuinely loves being crazy with her campers and that's what GAC is about."
"You strive for excellence with everything that you do, whether it be jumping in the water before your girls or making sure all their shoes are in line before activity. You always have a smile and only positive things to say. You are nothing short of amazing. You are going to go very far and complete amazing things. Can't wait to see where your future brings you."
"Her positive attitude is infectious, she is without a doubt in my mind the best asset GAC has in terms of spreading happiness and joy throughout camp. Although this is my second year, I've learnt so much from her and she is an inspiration every day."
"She does such an amazing job with her cabin, and her positive energy radiates throughout the whole of camp. She always has a smile on her face and never seeks any of the recognition she deserves."
"In case you aren't sure, there is a very poignant analogy of the duck who appears to be floating effortlessly while beneath the opaque surface it is paddling madly. You do your job with an effortless air of flawless grace while beneath the surface I know you are working around the clock with every ounce you've got. It's like watching nature – It is, said in the most honest sense of the word, awesome."
"She organizes her cabins with so much fun, positivity and love and is a true example to everyone in camp. Having so much energy still after a whole summer with the youngest bears is truly incredible."
"I have never seen her without a smile on her face. She is the most hard working person I've ever met and the kindest. She is what makes GAC what it is."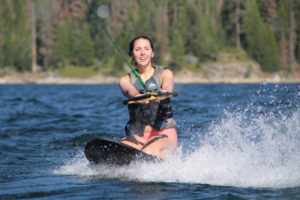 "She is one of the most positive and patient people I have ever met. Everyday she comes up with new ideas to entertain her campers while also making sure all the staff around are happy too! Camp wouldn't be the same without her because of how much she has inspired others."
"Kettle totally inspires me when I see her with her campers! Her positive attitude always pushes me to do better and she's killed it with the baby bears two years running! Love you Kettle – You da bomb!"
"Such an absolutely incredible staff member, person, and friend. Always amazed by your enthusiasm and huge smile no matter what. You never seem tired or phased and your genuine love for your campers is inspiring. You are simply incredible. Keep smiling. Much love."
We caught up with Kettle and asked her some questions about camp and about receiving Coach's Award:
Why did you want to be a counselor at GAC?
Before my first year at Gold Arrow I worked at a Day Camp in Potomac, Maryland. Every other session the older campers would have the opportunity to camp out overnight. It was then that I decided that I wanted to work at a sleep away camp the following summer. Originally, I looked into working at the sleep away camp I attended growing up, but then realized this would be a great opportunity to experience a new part of the country. I googled "best summer camps in California" and happened upon Gold Arrow. After watching a few videos on the website, I applied, and I am thankful every day that I did. After learning more about the location, philosophy, and Gold Arrow's commitment to its staff and campers, I knew it would be a perfect fit. Gold Arrow was somewhere I could grow individually by being pushed outside my comfort zone, while simultaneously allowing me to return to a familiar camp environment that I treasured as a kid.
What do you like best about being a counselor?
Being a Group Counselor is a dream job. There are countless rewarding aspects of being a counselor. You are the person that gets to see the smile on campers' faces when they get up on water skis for the first time, you're the person that helps them gain independence, you're the person that gets to encourage them to try something new, you are the person that helps them overcome their fears, and you are the person that gets to make camp a magical place.
There are hundreds of things that I love about being a camp counselor, but I think my favorite aspect of the job, if I had to choose only one, is that you are your campers' 'person' for the two weeks that they are at camp (if that makes sense). You're the person campers run up to and hug after Free Time to tell you that they saw a frog, you're the person they want to tuck them into bed, you're the person they want to hold hands with on the way to dinner, you're the person they ask random questions, you're the person that they make a puppet show for, you're the person that receives all their unconditional love and that is present for all the little moments. Countless times, my high of the day has been something goofy one of my campers said to me while they were getting in line. As a group counselor, even if everything seems to be going wrong, there is an innocent little 7-year-old that is going to do something that is going to make you smile or laugh. I am so grateful that I have the opportunity to experience the wonder and love of my campers for two months out of the year.
What is your favorite camp activity?
My favorite camp activities are our outpost trips: Shaver and Bears Adventure. I think most counselors enjoy Shaver because it is prime time for growth. There are few things as rewarding as helping a child overcome a fear or reach a new goal. I love the opportunity to get in the water and help a camper try kneeboarding for the first time or reach their goal of getting up on water skis. While on the island, campers also become especially close. Manners once explained it to the Junior Counselors as a 'time where you go from ten individual campers to a collective cabin.'
Secondly, Bears Adventure is one of the most fun activities during the session!! It brings out the imagination in campers and is a great place to witness organic play. Campers are covered in dirt, have the biggest smiles on their faces, and have so much fun getting to run around and simply be a kid.
What's your favorite camp song?
My favorite camp song is Sandwich singing "Get Loose." If you are ever having a rough morning or maybe were up really late with a camper who was missing home and you didn't get enough sleep the night before, I guarantee Sandwich will make you feel better after watching him dance around on stage singing "OH your toes." (Then again, I feel like Sandwich could make my day with singing any song.) I also am a huge fan of singing "Proud To Be A GAC Bear," at the top of my lungs on the dining porch!
What's your favorite camp game?
We play A LOT of games in cabin 14! My campers really enjoy playing house, four corners, heads up seven up, look up look down, and Simon says. My absolute favorite game we played this summer, however, was during session one at our Nature Activity. Every camper prepared an entrée out of sticks, mud, and rocks and presented their creation to Ridge and me. After careful deliberation, we chose winners for multiple categories including creativity, presentation, taste, use of flowers, and more. It was so much fun and the kids really enjoyed it!
What was going through your head when you received Coach's Award?
Hearing my name was a lot to take in. Finally, it clicked that I needed to walk down the stairs instead of continuing to sink down in my seat. The best way I can describe how I was feeling is just tremendously humbled. Gold Arrow's staff members are super heroes. I look up to the counselors so much and have a tremendous amount of respect for the commitment and work ethic that is displayed by the Counselors, Leadership Staff, Directors, Office Staff, Kitchen Staff, and Amigos. The staff is what makes Gold Arrow so special, and I am honored to get to work in such a positive, supportive, and encouraging community. I am beyond thankful to people like Quailman, Cheerio, Cupcake, Sunshine, Bean, Chelster, Mocha, Sandwich, Mac, Baboon, Bucky, Latte, Smalls and so many others for teaching me their tricks and supporting me every time I needed help. I am forever grateful for the role models, mentors, and friends Gold Arrow camp has given me.
Anything else you want to share about your time at GAC?
I have met some of my best friends at camp and do not know what I would do without them!
The last two summers have validated my love of working with children and have helped shape my career goals of working in an elementary school.
Thank you so much to all the staff that make Gold Arrow Camp such a magical place. It is somewhere that will always hold a special place in my heart. (Mocha and I also joke about coming back and being camp moms or Shaver Hosts!)
Congratulations to Kettle, our 2016 Coach's Award recipient!