GATA Webinar – January 13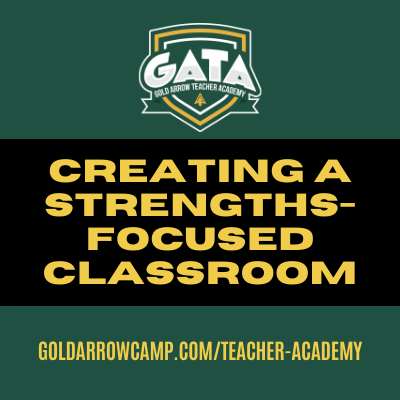 Happy New Year! Kick off the new year by attending the first Gold Arrow Teacher Academy (GATA) webinar of 2021 on Wednesday, January 13 at 5pm PT/8pm ET. This month's webinar looks at Creating a Strengths-Focused Classroom.
Parents and teachers tend to be more focused on children's weaknesses and spend the majority of time and focus on skills and traits that are areas of deficit or lack. A more effective way to bring out the best in students is to focus on strengths and guide students to use their strengths to be successful in school, in relationships, and in life. In this webinar, we'll provide resources and guidance on the language and activities that will make your classroom more positive and strengths-focused and a place where students learn to embrace their best qualities.
This webinar is free for all GATA members! If you are not yet a GATA member, you can join here or register just for the webinar here. Even if you're not able to attend the live webinar on Wednesday, you'll be able to access the recorded webinar and the accompanying resources.
Please share this information with the educators in your life!