On August 19, 2023, 150 camper and staff alumni, spanning every decade from the 1940s through the 2000s, joined many current GAC staff, to celebrate Gold Arrow Camp's 90th summer.
Photos from the event can be seen here.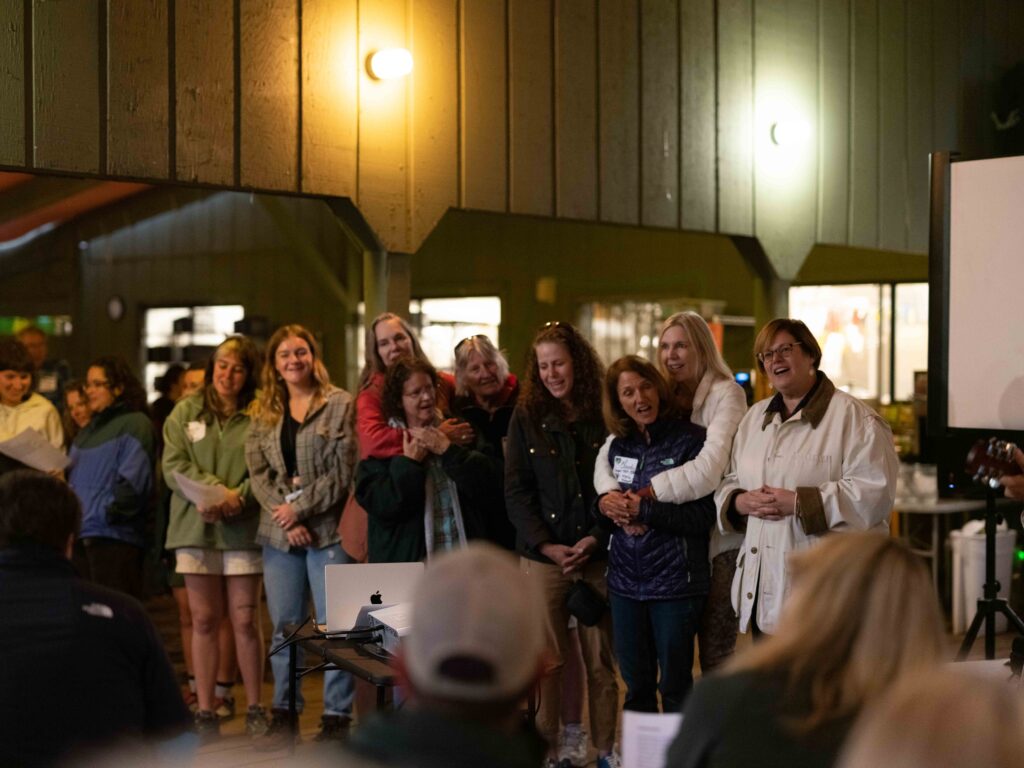 Watch the 90th Reunion Slide Show.
Alumni arrived in the afternoon for tours of camp, reconnecting with camp friends and meeting new ones, and boat rides on Huntington Lake. . Attendees with memories from GAC's earliest years were Manny Vezie's children, Tim Vezie and Diana "Bunny" Vezie Bunney, as well as Manny and Estaline Vezie's grandchildren, Lisa "Bun Bun" Swann, Keith Bunney, Laura Bunney, and Kyle Vezie. Also in attendance was Oliver Hoxie (Kyle's son), Manny's great-grandson.
Other multigenerational families in attendance included:
Marcia Piper (camper 1968-1970) and her son Michael (camper early 1990s)
Susan and Harry Macy (staff 1967-1971), their daughter Chelsea "Chelster" Rowe (camper 1980, staff member 1990-present), and granddaughter Macy "Catavee" Rowe (camper & current staff member).
Doug Balatti (staff member 1968, 1969, 1971) accompanied by his daughter, son-in-law and future camper grandchildren.
The Daubert Family including Camp Doctor Patrick "Ryder" (2011-2023), Camp Doctor Janeline"Red" (2012-2016), Paloma (camper 2011-2021), and Avery "Sprocket" (camper 2011-2021, staff member 2023).
The Tucknott/Norton Family – Dad Rod Tucknott was a camper and staff member, and the Tucknott kids include Asher (camper) and Sydney "Crush" (camper & 2023 staff member).
Stay in touch with your GAC Family and make sure you stay tuned for the 100th GAC celebration in 2033!
Do you have alumni friends who you'd like us to add to our alumni email list? Please complete this form and let's include them!