November Parent Coffee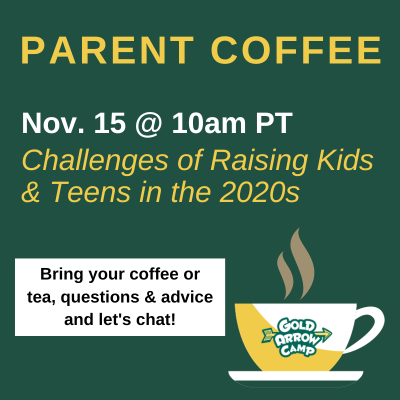 The GAC Parent Coffee series kicks off next month!
Join Audrey "Sunshine" Monke & Chelsea "Chelster" Rowe at 10am PT on November 15 for a discussion of your biggest parenting challenges. We'll talk about our observations about campers and staff, share ideas and resources, and discuss topics you listed on your evaluations as areas where you want more parent education this school year, including:
Social Emotional Health of Kids & Teens (including anxiety, overcoming disappointment)
Social Media
Friend drama, mean girls, and bullying
Fostering independence & raising self-starters

Plan Ahead!
January 17 Parent Coffee – How to Raise Kids Who Become Thriving Adults
Audrey "Sunshine" Monke, GAC's Chief Visionary Officer and author of Happy Campers: 9 Summer Camp Secrets for Raising Kids Who Become Thriving Adults, will discuss simple, research-based and experience-backed strategies covered in HAPPY CAMPERS for bringing some camp strategies home to your family.