"To be yourself in a world that is constantly trying to make you something else is the greatest accomplishment."
― Ralph Waldo Emerson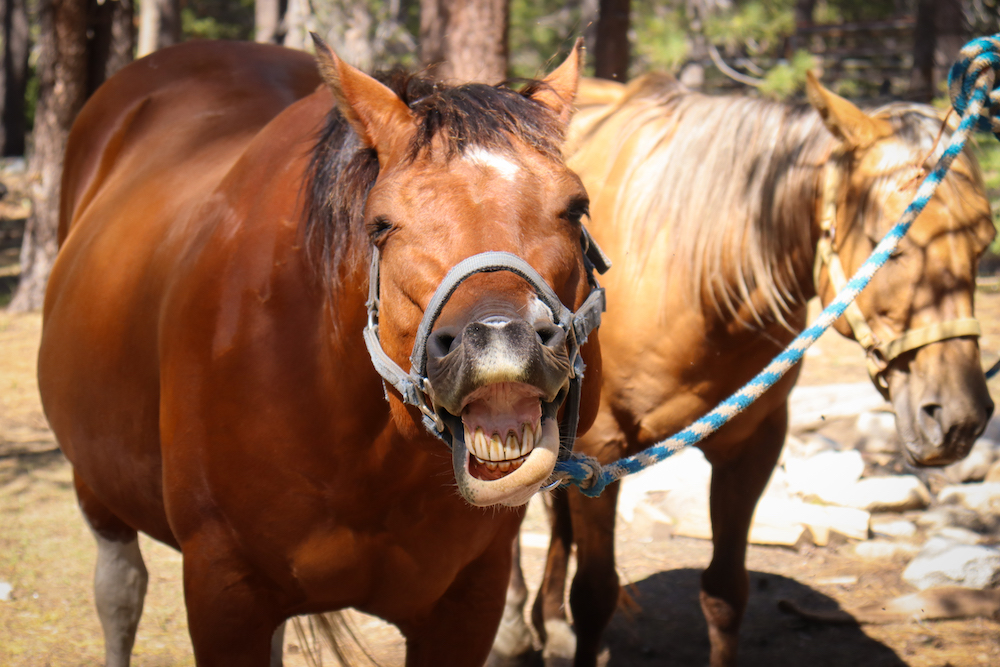 To keep up with our BE YOU theme this summer:
Check your inbox on Monday for our BE YOU weekly email.
Follow GAC on Instagram
(Use hashtag #GACbeyou.)
Be You!
It sounds like such a simple task. After all, aren't we all just automatically ourselves?
But it's actually not as simple as it seems. We all feel pressure to fulfill expectations, fit in, go with the flow, look and act a certain way, and do what everyone else is doing.
Sometimes all of that pressure can lead to feelings that we're not enough just the way we are. Confidence can be eroded when we feel like we're falling short.
At GAC we believe in encouraging campers and staff to accept and celebrate our own and others' strengths and unique traits. "Being You" is one of our core values, and many kids tell us that they feel freer to be themselves at camp than in other places. Campers and staff often report that they feel like they can "be themselves" at camp.
Each year, we pick a theme to help guide us through camp. This summer, even though we won't be together at camp, we'll be exploring and sharing about what it means to be our true, authentic selves.
We'll encourage campers to explore what it means to be their "best selves" with questions like these:

What do I like best about myself?

What do I really enjoy doing?

What are my goals?

What do I dream of doing?

What are the personality quirks and strengths that make me special?

How can I be kinder to myself with my "self talk"?

How can I encourage and support my friends in being their authentic selves?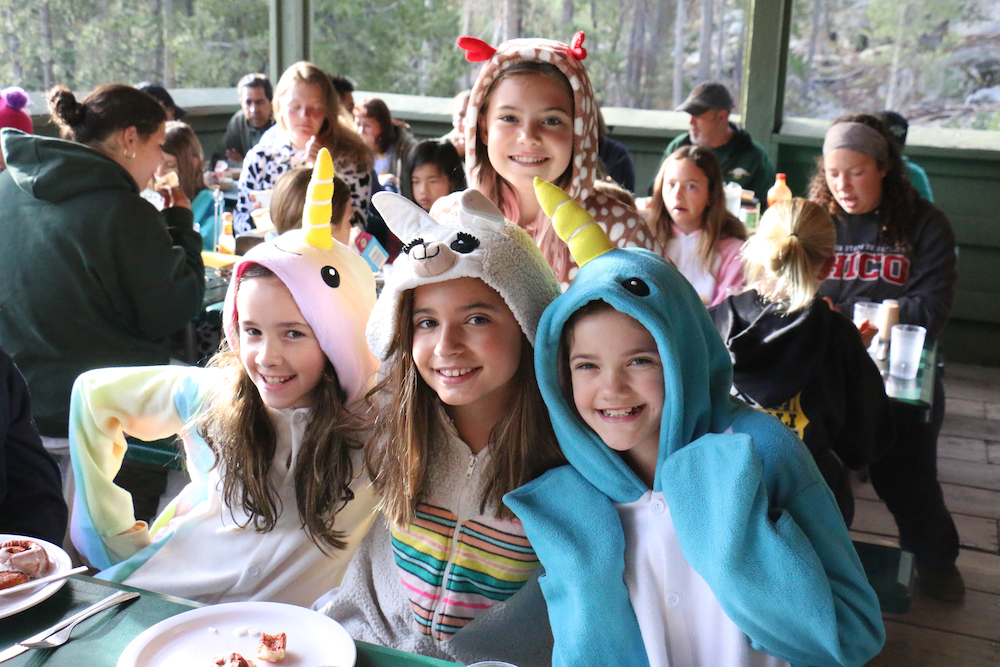 When we spend time talking and thinking about the interests, traits, and strengths that make us who we are, we gain self-awareness, which is an important aspect of emotional intelligence and one that helps us be a better friend to others. Self-awareness also builds our confidence and ability to understand that we don't need to be an expert or be perfect at everything. No one is!
When we support our friends by pointing out their strengths and the unique, cool things we like about them, we strengthen our friendships, too.
This summer , not only will we be learning about how to be our best selves, we'll be learning about how to help our friends be their best selves, too!
Our "Be You" theme for 2020 gives us the opportunity to take advantage of our extra time for reflection (because we're all stuck at home) and reconnect with what makes us awesome just the way we are.
Check out Monkey and Soy's formal announcement of our theme (back in January, before we knew we'd be stuck at home this summer), complete with many "b" based puns, enjoy this video:
This year's summer theme, chosen to help guide campers to be the best versions of themselves, is "Filling Buckets."
Our first summer theme was in 2012 when we chose the theme of gratitude. We followed that theme with kindness (Cool 2B Kind), relationship building (Creating Connections), helpfulness (Give a Hand), grit (Growing Grit), positivity (The Energy Bus), and 2018's focus on friendship (Find-a-Friend).
One thing that makes life at camp special is that we live in a community where our shared experience is full of face-to-face, positive interactions with each other. At camp, we are shielded from input and news from life outside of GAC and we take a break from the pressures of social media. This unique setting provides us the privilege and responsibility of maintaining our own positive and encouraging atmosphere.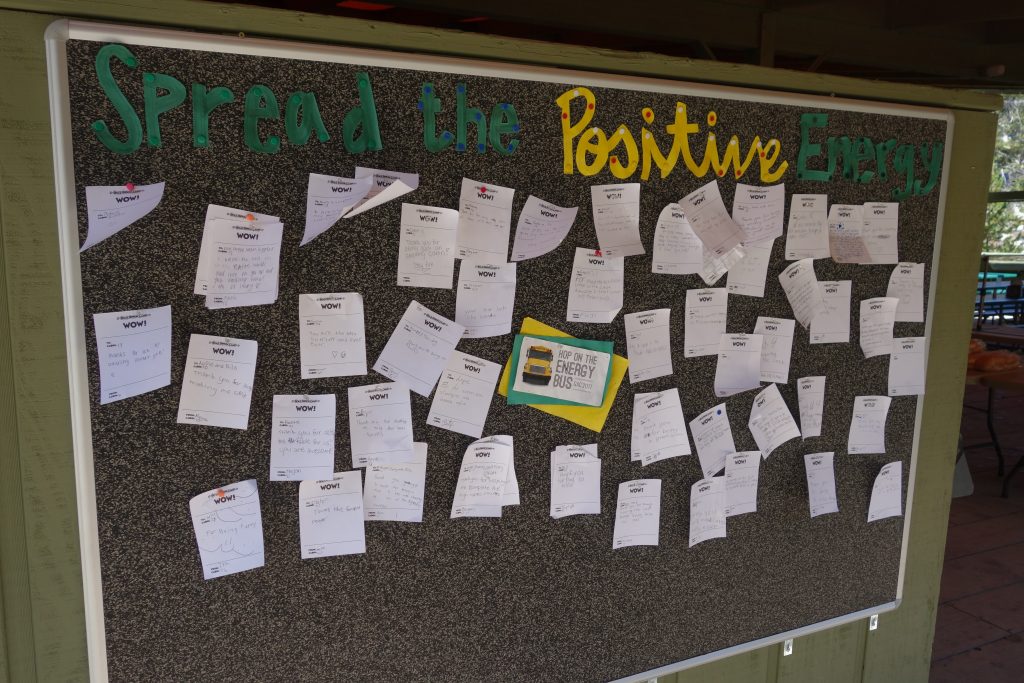 Every interaction we have with another person is an opportunity to have a positive, negative, or neutral impact. It is easy to be too self-focused and worry about our own agenda and needs. Encouraging others and actively seeking opportunities to have a positive impact are noble challenges we are excited to embrace in our community.
Tom Rath and Donald Clifton of Gallup Strengthsfinders introduced "The Theory of the Bucket and the Dipper" in their bestselling 2004 book, How Full is Your Bucket? Positive Strategies for Work and Life.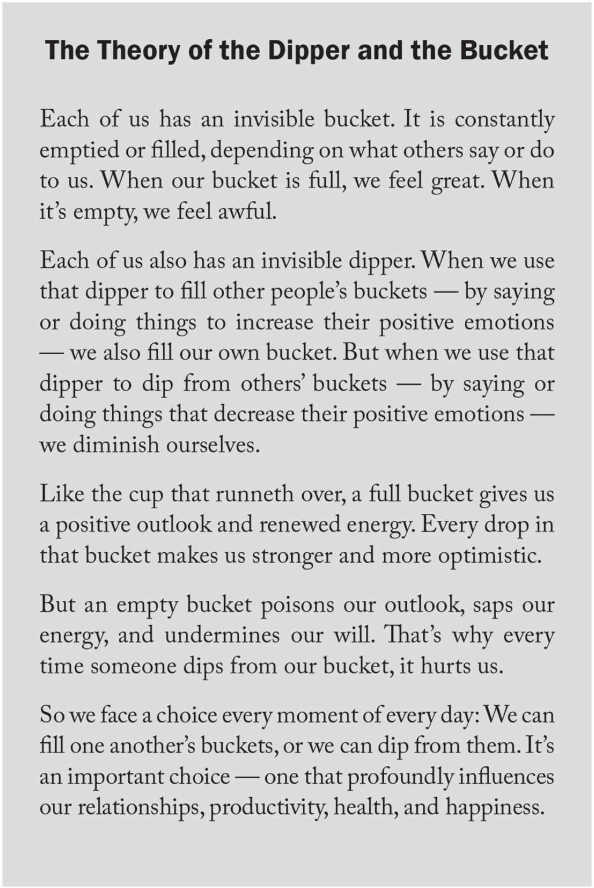 Carol McCloud's 2015 children's book Have You Filled A Bucket Today? presents Rath and Clifton's concept in a simplified version and is our inspiration for this year's theme.
Here are some of the 2019 GAC staff reading Have You Filled a Bucket Today?:
We're thrilled to make our GAC community stronger by helping campers understand that encouragement makes others feel valued. Together, we will experience the joy that comes from making others our focus.There are many opportunities at camp to fill other people's buckets through kindness and encouragement. Filling Buckets means using our words and actions to show how much we care:
Sharing a heartfelt smile
Greeting each other by name
Helping others without being asked
Giving sincere compliments
Recognizing others for bravery and achievements
Encouraging others when they succeed and also when they're struggling
Elevating the needs of others above our own
Seeking opportunities to have a positive impact on others
Filling Buckets builds on the work we've done in the areas of positivity, friendship, and kindness. The friendships we forge at camp are special for many reasons, and we know that keeping the focus on lifting each other up will add depth and richness to our connections. It is our sincere hope that 2019's GAC campers will take this theme home and continue to make positive changes in their communities by being kind and encouraging with everyone they encounter. Everyone deserves a full bucket!
How Full is Your Bucket, Tom Rath & Donald Clifton
Have You Filled a Bucket Today? Carol McCloud
The Theory of the Dipper and the Bucket
Episode 12.
On Episode 12, Soy is joined by Bambino, and they talk about the theme for 2017, Hop on the Energy Bus. Bambino is the man who brought the Energy Bus to camp in the first place, and he shares about his experience sharing the book with 13 and 14 year old boys. There's also a Joke of the Cast, TSwift, and Soy reads WOWs and a haiku. As always, you can send suggestions or WOWs to wow@goldarrowcamp.com
Podcast: Play in new window | Download
Subscribe: Apple Podcasts | Google Podcasts | Spotify | Stitcher | Email |