By the end of high school, teens need to have mastered more skills than just reading, writing and math to be successful, thriving adults. Gold Arrow Camp's Outdoor Leadership Course (OLC) helps campers develop important life skills that stretch them far beyond academics: Leadership, Independence, Communication Skills, Resilience, and Responsibility.
The OLC is a two-week program for young people interested in developing important life skills. Trained leaders guide OLC participants on a challenging, six-day, 30-mile backpacking trip into the High Sierras. Throughout the session, campers develop backcountry navigational and survival skills, practice wilderness first aid skills, and participate in GAC activities.
The purpose of OLC is to challenge teens to learn and grow in self-awareness, develop maturity, discover the value of community and working with others to solve problems and accomplish shared objectives. While growing and learning, participants develop five skills vital for success: Leadership, Independence, Communication Skills, Resilience, and Responsibility.
1. Leadership
"Being a part of OLC has influenced my life after camp because it taught me how to be a leader and being a part of a high school swim team, being a leader is a big part of staying together as a team." – Sophia, OLC Participant
After arriving at camp, OLC participants receive leadership training before departing on the backpacking trip. They do exercises in team building, learn conflict resolution techniques, and practice positive communication. While in the wilderness, campers have the opportunity to learn and practice map and compass navigation, outdoor cooking, Leave No Trace principles and ethics, sustainable backcountry living, and wildlife biology.
All OLC participants serve as "Leader of the Day," which means they use navigational skills to determine which path to take, when to stop for breaks, and what to do about any situations that arise while hiking. At the end of the day, the "Leader of the Day" receives feedback from trip leaders and peers.
2. Independence
Achieving independence is essential to making the transition to adulthood, and participating in challenging outdoor program with other teens is a perfect way to develop the self efficacy needed to feel confident away from home. The hard skills learned during the OLC — navigation, outdoor cooking, wilderness first aid, camping, and hiking — require independence, curiosity, and creative problem solving.
3. Communication Skills
"I love the separation from technology at camp because it allows everyone to love in the moment and have good face-to-face conversations. Especially during OLC, we spent so much time together as a group that I realized technology really draws from social interaction in everyday life." – Sophie, OLC Participant
Effective communication is arguably the most important of all life skills. Trained trip leaders use positive guidance to facilitate reflection, dialogue and group discussion throughout the program. Leaders encourage campers to think about what happened that day, what their successes and challenges were, and how to grow from those experiences. At the end of the course, all OLC participants have improved communication skills with peers and counselors.

4. Resilience
Research shows that wilderness courses are well-suited to teach outdoor skills, self-confidence in general and confidence during adversity. Participation in an outdoor leadership program have a positive impact on emotional intelligence, specifically on stress management and adaptability. All OLC participants set personal and group goals before leaving on the backpacking portion of the course and work to accomplish those goals throughout the session with the help, direction, and encouragement of trip leaders.
A multi-day backpacking trip through the rugged terrain of the High Sierra has days that tax participants both mentally and physically. In the Outdoor Leadership Course, teens learn to push through challenges through encouragement from their trip leaders, supportive group dynamics, and building their self leadership. While surrounded by their peers, they learn just how far they can push themselves. They learn, literally, that they can climb mountains. After their OLC accomplishments, finding a way to make it to sports practice or finishing up a college admissions essay seem easy.
5. Responsibility
OLC participants are responsible for managing their equipment, completing tasks carefully and on time, admitting their role in mistakes, and working to correct those mistakes. The OLC equips campers to take the initiative to make their own decisions, fulfill obligations, and grow from their experiences.
In addition to the skills OLC participants learn and the growth they experience from the program, there is something else that too many teens don't have the time to find; genuine face to face FUN!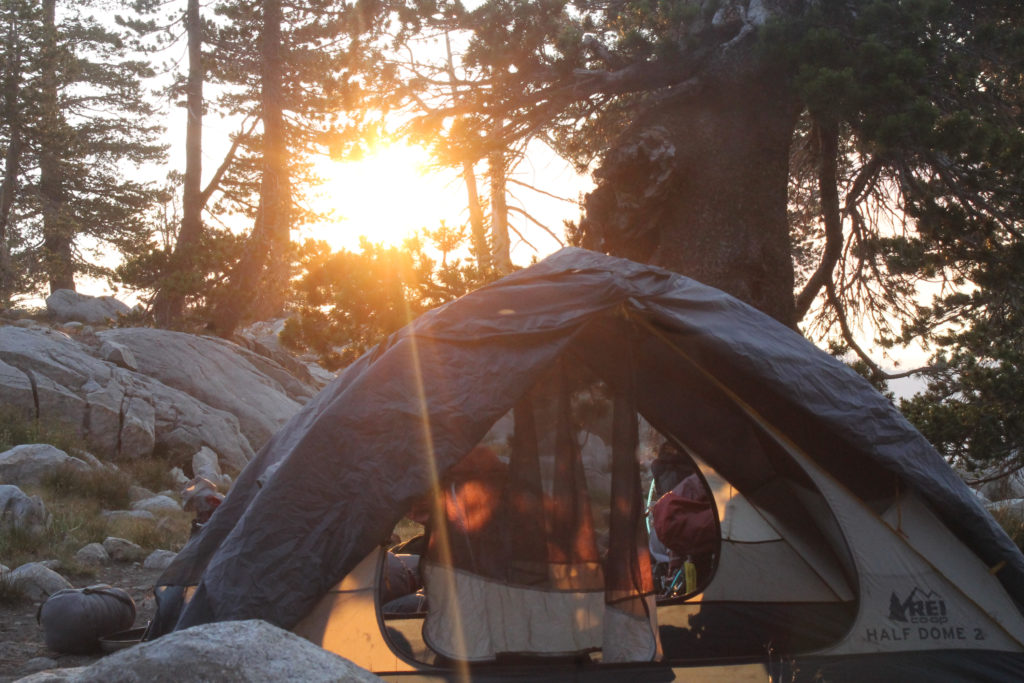 "What I enjoyed about the OLC was that every day was different, some days we would do longer hikes, and others we would have a lot of time to relax and the enjoy the people and scenery. One of my favorite days out in the backcountry was when we hiked about 5 miles and then hung out in a river for the rest of the afternoon, and then made quesadillas for dinner. The food was always amazing, and there was always plenty to eat. My favorite lunch was probably Nutella and English muffins. We had a lot of Nutella." – Charlotte, OLC Participant
If you have any questions or would like to know more, visit the Outdoor Leadership Course page, email us, or give us a call at 1-800-554-2267 ex. 0.