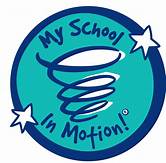 My School In Motion!
My School In Motion, founded by camp parent Apryl Krakovsky, is a program designed to get school communities moving and learning every day. Their videos are fun exercise routines for kids and adults that incorporate positive messaging about health, wellness, and nutrition.
"My School In Motion, Inc.'s mission is to provide all students, regardless of race or socioeconomic status, with an early positive physical activity experience, while at the same time educating them in the areas of nutrition, fitness and wellness, and empowering them to make smart choices today and in the future. We want to ensure that students have the best start to every school day and set them on a path for a lifetime of health, productivity and happiness."
We are lucky enough to be able to share some of My School In Motion's exercise routines to you in your home! Do these routines with your family and enjoy the fun you have with them!
Movement Routines: Good Life, Boom Boom Pow, I Like to Move It, PB & Jelly Time
Movement Routines: PB & Jelly Time, Who Let the Dogs Out, Cupid Shuffle
Movement Routines: Popcorn, U Can't Touch This, Jack Attack, Good Life
Movement Routines: Set A Goal – One Step at a Time Warm-Up, Waka Waka, I Like to Move It, Cupid Shuffle, Yoga/Focused Breathing Cool Down
Movement Routines: Sunburst, Just Say Yes, 5678, Who Let the Dogs Out, Agadoo
Movement Routines: Dynamite, 5678, Addams Family, Macarena, Agadoo, Focused Breathing/Balloon
Movement Routines: Cardio Routine 1, PB&Jelly Time, Waka Waka, Just Say Yes, Good Morning Sky