How To Pack For Camp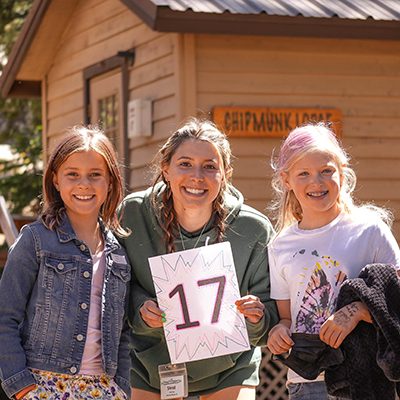 Packing for camp is the start of your child's independent camp experience. Please have your child participate in packing for camp so that he/she knows where to find their clothing and other items. Campers who don't participate in packing often don't know what they have or where to find things, which makes it harder to acclimate to camp. Be sure to download and print the appropriate packing list.
Luggage
For our two-week (and longer) sessions, we recommend campers pack in two pieces of luggage. One larger piece (soft-sided trunk or footlocker) can be used for most of the camper's clothing. A smaller duffle bag can be used for sleeping bag, pillow, and other equipment that doesn't fit in the main piece of luggage. The smaller duffle bag will be used for campers who travel to and from Shaver Lake. For campers traveling by air and coming with only one piece of luggage, a backpack or small sport-sized duffle bag can be packed within your main bag and used for the Shaver trip. A small backpack is also useful for carrying a towel, shower supplies, or other equipment around the camp. Please note that campers do not unpack into drawers or cubbies in the cabin during their stay.
All luggage must be tagged with camper's name. Luggage tags are sent to camp families in April. Additional luggage tags will be available at the bus stops and camp on the first day of each session.
Labels
All of your camper's clothing and belongings must be clearly labeled with your camper's full name. Items that are not labeled are unlikely to be returned to your camper if lost in the cabin or around camp. A sharpie marker, iron-on or stick-on labels, or stamps all work for labeling.
Shoes
Our terrain at camp is rough and uneven, and appropriate footwear is a safety requirement. Please make sure your camper has at least one pair of closed-heal and closed-toe shoes that have adequate tread for walking on rocks, dirt, and other uneven surfaces. Running shoes, hiking shoes, or other athletic footwear work well at camp, as long as they fit the camper well and have adequate tread. Other types of shoes (flip flops, Crocs, Converse, etc.) can be worn in the cabin and at the waterfront, but closed-heal, closed-toe shoes must be worn while walking around camp, participating in activities, and traveling to and from camp.
Younger Campers
For younger campers, we recommend placing like-items together in their main piece of luggage to easily access what they need for the day or activity. For example, stack all short-sleeve t-shirts together, include underwear in a packing cube or plastic zip-lock bag, group pants in one area, etc.
Climate
Gold Arrow Camp is located at 7000 feet elevation, and our night time, mountain temperatures can get very chilly. Be sure your camper's sleeping bag is rated to at least 30 degrees F (or lower), so that your camper will be warm at night. Sleeping bags used for indoor, overnight sleeping are not sufficiently insulated for camp use.
What Not To Bring
Do not send any of these items, as they are not allowed: food, candy (including gum), cash, water guns, silly string, water balloons, sling shots (or any other weapons), electronic games, headphones, e-readers, cell phones, fireworks, knives, matches, lighters, tobacco, alcohol, or illegal drugs. For campers traveling by air, cell phones, headphones, and travel money can be held in our office.
Do not send valuable items such as expensive cameras and jewelry. We recommend campers use a disposable camera marked with their name.
Send old clothes that do not require dry cleaning or special washing. Laundry service is provided for campers staying three weeks or longer. Urgent laundry will be done for campers staying for a one or two-week session. Do not bring irreplaceable items to camp, as they could get lost or damaged.
Please do not send any personal athletic equipment (water skis, fishing poles, etc.). We provide top quality equipment that is sized for our campers.