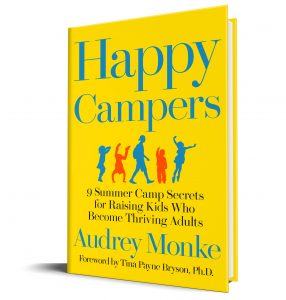 Happy Campers is a joyful and wise parenting book. Drawing on her lifetime of experience as a camper, camp counselor and camp director, Audrey Monke shows us what is most important in the lives of children. She then takes the next step and teaches parents how they can recreate the magic of camp in their own homes. I have never read a more optimistic and well-grounded guide to parenting.
–Michael G. Thompson, Ph.D., Bestselling author of Raising Cain
Keep the growth of summer camp going all year! Join author Audrey "Sunshine" Monke as she shares resources and ideas from her new book, Happy Campers!
To join the Happy Campers 2019-2020 Read-Along, complete this form, and you'll be sent the Read-Along Schedule, Discussion Guide, exclusive resources, and monthly links to join (optional) Zoom coaching calls with Sunshine.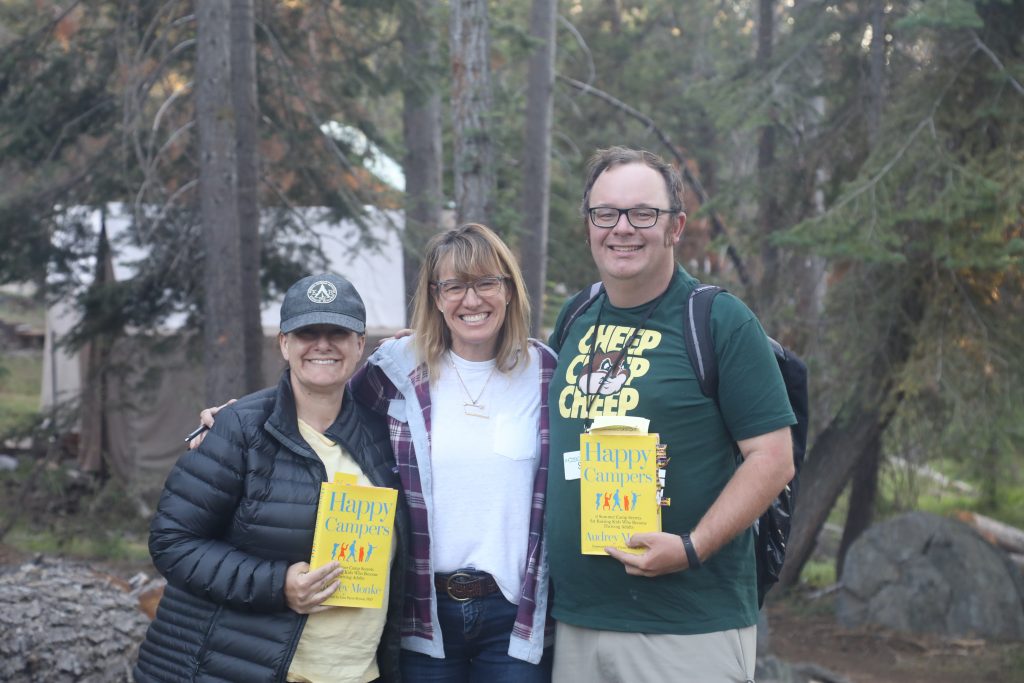 Other Happy Campers Opportunities
September 18 (12:00 pm PT): Live Zoom Chat about Camp Secret #1: Connection Comes First (first chapter of Happy Campers)
This is the first live coaching call of the 2019-2020 Read-Along. Join the Happy Campers Read-Along and you'll get an email with the link to join the Zoom meeting. Join Happy Campers Read-Along.
September 26 (7:00 pm): Pages a Bookstore, Manhattan Beach, CA (Sponsored by South Bay Families Connected)
September 27 (9:00 am – 4:00 pm): Raise Thriving Kids, Newport Beach, CA
Information and registration details.
USE DISCOUNT CODE GAC FOR $50 COUPON!
More of Sunshine's Upcoming Events
Happy Campers: 9 Summer Camp Secrets for Raising Kids Who Become Thriving Adults is on sale in the US today!

In Happy Campers, Sunshine shares what she's learned from over three decades at Gold Arrow Camp creating a community that campers and staff call a "second home" and their "happy place."
You can order Happy Campers at Amazon, Barnes & Noble, IndieBound, Books-a-Million, or Kobo.
Join Sunshine on Facebook Live tomorrow (May 8) at 12:00 pm PT / 3:00 pm ET for an online book launch celebration and discussion.
Check out the Happy Campers Book Hub for many free resources, including a Happy Campers Workbook and Discussion Guide, 2019 Summer Read-Along Schedule, and much more!
Join the Happy Campers Book Club Group on Facebook to join Sunshine this summer as she covers one "secret" per week in July and August!
Come see Sunshine and get your book signed at an upcoming event:
May 16 (6-8 pm) – Branches Books & Gifts (Oakhurst, CA): Book Launch Party, Signing, Q & A, and Live Podcast Recording
May 19 (4-6 pm) – GAC Northern California Party (Atherton, CA)
May 20 (7-8 pm) – New Brighton Middle School (Capitola, CA): Raising Kids Who Become Thriving Adults Talk & Book Signing
May 30 (5-7pm) – Linden Tree Books (Los Altos, CA): Book Signing (it's also farmer's market day in Los Altos!)
Already have your copy? Post a photo of yourself (or your GAC camper!!) with a copy of the book. Tag Sunshine (@audreymonke on Twitter, @sunshine.parenting on Instagram, or @SunshineParenting on Facebook) or use the #happycampersbook hashtag!
Thank you so much for joining Sunshine in sharing ideas for raising kids who become thriving adults!