At GAC, we believe that connecting with our kids and forming close, positive relationships with them is the most important responsibility of being a parent (or camp counselor!).
Opportunities to learn more about connecting with your kids
Connection Tips & Resources
Our Chief Visionary Officer, Audrey "Sunshine" Monke (host of the Sunshine Parenting Podcast and author of Happy Campers: 9 Summer Camp Secrets for Raising Kids Who Become Thriving Adults) is sharing connection tips with parents who sign up for her email series: Connection Comes First. As soon as you sign up, you'll immediately get access to a free audio or print download of the first chapter of Sunshine's book: Camp Secret #1: Connection Comes First.
Sign up for Sunshine's connection tips (and the free book chapter) here.
Connection Coffee Chat
Join with other GAC community members (staff & parents) to chat about the important topic of connecting with our kids! We'll share tips and resources AND get the chance to connect with one another.
When: Sep 29, 2021 08:30 AM Pacific Time (US and Canada)
Register for the 9/29/21 parent coffee chat by clicking this link.
After registering, you will receive a confirmation email containing information about joining the meeting.
Listen to Sunshine Parenting Ep. 85: Grit is Grown Outside the Comfort Zone:
Episode 85 of the Sunshine Parenting Podcast, was recorded live at Pegasus School in Huntington Beach as part of their PEGtalks Parent Education Series. I'm with my frequent guest, Sara Kuljis, the owner and director of Yosemite Sierra Summer Camp and Emerald Cove Day Camp. We talk about my book, Happy Campers and discuss Camp Secret #5, Grit Is Grown Outside the Comfort Zone.
Read more in 5 Ways Camp Grows Grit.
BIG IDEAS
Kids tend to be more courageous and try more things when their parents are not around.
It's important for parents to learn how to help their kids to become resilient human beings and take risks even when they're near us.
It's really important for kids to grow their grit-muscle.
Parents need to fight the tendency to overprotect their kids because too much protection makes kids fragile.
When parents jump in to rescue their kids it doesn't usually work out too well.
Kids need to see their parents as real, authentic people. This reassures them.

QUOTES
Sara: "This book is just packed full with so many awesome parenting tools drawn from the camp environment."
Audrey: "I found myself talking to camp parents a lot more about things that were going on with their kids at home, about things that we do at camp that they could try to make their kids feel better and happier at home."
Audrey: "I also found that a lot of the training we did with our counselors, about just basic positive behavior management techniques, friendship skills, was really applicable to parents."
Audrey: "We believe in summer camp for kids, but even more so, I believe in the great experience it is for camp counselors. The experiences of having to lead a group, manage kids, learn how to speak and lead positively, learn how to manage conflicts, clean up throw up–these are skills that are really beneficial when you do become a parent at some point later in life."
Audrey: "Kids tend to be more courageous and try more new things when parents aren't sitting right there. We are really fortunate to see a ton of growth in this area at camp because we get to have these kids in this environment where they are suddenly feeling like, 'OK maybe I can try this'."
Audrey: "We must learn how to help them become resilient human beings, even when they're near us. We're seeing a lot of the results of kids who aren't growing that kind of resilience. It comes out when they're teenagers or young adults as serious mental health issues because they don't feel that they have the capacity to bounce back from the normal setbacks and problems of life."
Sara: "Think of grit as a muscle. You don't start lifting 400 lbs at the gym; you start small. Little by little, you bump up that weight on the bench press. It's fun to think of ways that even our little humans can start to grow their grit muscles. When, in time, you're sending that big human off to college, hopefully, they have grown some good muscle. That freshmen year isn't so overwhelming because they have practiced folding their clothes and doing their laundry. They have gone to talk to their teacher and can advocate for themselves. They have had to suffer through a disappointing grade. They can make new friends and say 'I'm sorry' to a friend. All those little grit-muscle growth opportunities are essential."
Audrey: "I first heard the term 'grit' in Paul Tough's How Children Succeed. In their research, the trait that they found that was most predictive of successfully completing college was grit or resilience. It's a really important trait in all areas of life."
Audrey: "As a parent, it's our natural inclination to want to protect (our children) their whole life. If we keep protecting them too long and too much, we end up making them fragile. You have to be blown around and have some hardships to get strong. If you keep your child too protected from any kind of physical, emotional, or social pain for too long they can be blown over by little things."
Audrey: "Think about what you used to do at different ages. That should really give you the confidence to know that your kids can probably be doing more than what you think they can right now."
Sara: "When your kids are small you're a caretaker. But then you transition into being their coach. And ultimately, you transition into being their consultant."
Audrey: "It's very tempting when something goes wrong to want to fight our kids' battles. Instead, turn it around so they're not a victim. Explain that it's not all about them but it's the other person's bad behavior. Tell your kids, 'I know you can handle this' because–as we all know–when mom or dad does step in or talks to the teacher, it doesn't usually work out very well."
Audrey: "It's never as clear as it looks. We all have our moments and all of our kids have the capacity when their feelings are hurt, or when they feel left out, to say something or do something that's not kind."
Audrey: "We can do so much for our kids, and build their social resilience and grit, by letting them know that it is normal to have people do rude things. It happens every day in life. If your kids are really young, you can empower them and give them the confidence that they have strategies to deal with it. That's the kind of resilience you want your kids to have."
Sara: "We often ask, 'What do you think is the other side of the story?' Just building that bit of empathy for the other side is so helpful. When we don't crumble when our kids go through hard things and when we don't panic and rush to rescue them, it teaches our kids that they can handle it too. They see us modeling our confidence and peace, trust in each other and in good decisions. Borrowing courage until you have your own is a pretty groovy tool to have. Sometimes as parents we have to reach out to friends and peers and borrow courage, as well. We are all human and need to help each other raise our kids."
Audrey: "Remember stories from childhood and share them with your kids, especially the struggles you experienced. They need to see us as authentic, real people who had these same kinds of things happen to us because it's really reassuring to them."
Audrey: "You grow grit from trying new things. There's this model to teaching: first you do it for them, then, second, you do it with them. Then, you're watching them and helping them do it, and then, finally, they're doing it independently. You can think about that with anything from driving, to social stuff, to new sports that you're teaching, riding a bike. That is how you help them to learn new things with your support."
Audrey: "At camp we have to make everything fun, even putting sunscreen on. We've mastered the art of making mundane things fun. When you make mundane things fun at home, that just creates a really fun culture."
Audrey: "Setting goals is a great grit-building idea. It's something you can do as a family. You can all set a goal of something you want to try. Model for your child that you're setting a goal and working towards it. My kids have learned much more from watching me do things than from me telling them to do something."
Audrey: "I like the idea of a courage box where each person tries something they're afraid of, or something new–it can be anything–but each person sets a goal to overcome that fear, of pushing their comfort zone. The idea is celebrating courage with your kids."
Sara: "Take the heat out of having to be an expert the first time you try something. We don't try a new sport to be on varsity or to be the best. Sometimes we try it because it's fun, or we're curious or just to try something new. We need to take away the pressure to excel that is so prevalent in our culture. It keeps kids from trying things. It is not about being excellent; It's about going out and trying."
Audrey: "Leadership, parenting, it's all the same."
Excerpt from Camp Secret #9: Coach Kids to Better Friendships
(Happy Campers: 9 Summer Camp Secrets for Raising Kids Who Become Thriving Adults)
Why Kids Make Their Closest Friends at Camp
The great outdoors can be a great experience for children only if they know how to live and play together in a cooperative and collegial manner.
—Anne (teacher and camp parent)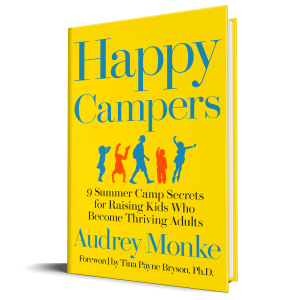 Why do campers and alumni frequently say that they consider their camp friends, many of whom live far away and they see for only a few weeks each summer, their closest friends? Most camp experiences are intentionally set up to foster friendships as one of the top priorities, if not the top, priorities. At schools, on sports teams, and in other settings, there are usually other goals for kids that supersede social growth and fostering friendships. But at summer camp, making friends is the overarching and most important goal, so we take it seriously.
Kids who are socially adept and good at making friends thrive at camp, just like they do in all their other social settings. But it is the kids for whom social interactions are more challenging, whose social life presents a daily challenge, who have benefited the most from their camp experiences. Because counselors view themselves as their campers' "Friendship Coaches," understand their important role in helping campers learn to form close relationships, and provide ample opportunities for practicing, campers often improve their social skills while at camp. Counselors assess kids' skills, identify social strengths and deficits, and use proven coaching techniques to encourage campers to learn and practice important friendship skills. Conversations about friendship are prevalent at camp, friendships are celebrated, and continuing connection outside of camp is encouraged. Many kids report that their camp counselors are the first adults who ever talked with them about making friends and being a good friend.
Happy Campers: 9 Summer Camp Secrets for Raising Kids Who Become Thriving Adults (Hachette, 2019)
Sunshine Parenting Posts & Podcast Episodes about Friendship Skills
Friendship, The Gold Of Childhood
Creating Connections: Making Friends At Camp And Beyond
Research Finds Children Learn Social Skills At Camp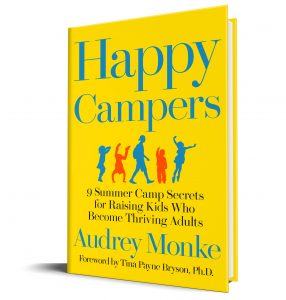 Happy Campers is a joyful and wise parenting book. Drawing on her lifetime of experience as a camper, camp counselor and camp director, Audrey Monke shows us what is most important in the lives of children. She then takes the next step and teaches parents how they can recreate the magic of camp in their own homes. I have never read a more optimistic and well-grounded guide to parenting.
–Michael G. Thompson, Ph.D., Bestselling author of Raising Cain
Keep the growth and happiness of summer camp going all year! Join author Audrey "Sunshine" Monke in the Happy Campers Book Club as she shares resources and ideas from her book, Happy Campers, 9 Summer Camp Secrets for Raising Kids Who Become Thriving Adults!
To join the Happy Campers Book Club

Step 1: Pick up a copy of Happy Campers at your favorite book seller: Barnes & Noble, Indiebound, Books-A-Million, or KOBO
Step 2: Complete this form, and you'll be sent exclusive downloadable resources and monthly links to join (optional) Zoom coaching calls with Sunshine.
Free Happy Campers Downloads
Happy Campers Book Trailer (featuring GAC campers & staff)
Happy Campers: 9 Summer Camp Secrets for Raising Kids Who Become Thriving Adults is on sale in the US today!

In Happy Campers, Sunshine shares what she's learned from over three decades at Gold Arrow Camp creating a community that campers and staff call a "second home" and their "happy place."
You can order Happy Campers at Amazon, Barnes & Noble, IndieBound, Books-a-Million, or Kobo.
Join Sunshine on Facebook Live tomorrow (May 8) at 12:00 pm PT / 3:00 pm ET for an online book launch celebration and discussion.
Check out the Happy Campers Book Hub for many free resources, including a Happy Campers Workbook and Discussion Guide, 2019 Summer Read-Along Schedule, and much more!
Join the Happy Campers Book Club Group on Facebook to join Sunshine this summer as she covers one "secret" per week in July and August!
Come see Sunshine and get your book signed at an upcoming event:
May 16 (6-8 pm) – Branches Books & Gifts (Oakhurst, CA): Book Launch Party, Signing, Q & A, and Live Podcast Recording
May 19 (4-6 pm) – GAC Northern California Party (Atherton, CA)
May 20 (7-8 pm) – New Brighton Middle School (Capitola, CA): Raising Kids Who Become Thriving Adults Talk & Book Signing
May 30 (5-7pm) – Linden Tree Books (Los Altos, CA): Book Signing (it's also farmer's market day in Los Altos!)
Already have your copy? Post a photo of yourself (or your GAC camper!!) with a copy of the book. Tag Sunshine (@audreymonke on Twitter, @sunshine.parenting on Instagram, or @SunshineParenting on Facebook) or use the #happycampersbook hashtag!
Thank you so much for joining Sunshine in sharing ideas for raising kids who become thriving adults!