Most of us know the importance of family dinners:
Kids who regularly eat dinner with their families are more emotionally stable, are less likely to abuse drugs and alcohol, get better grades, have fewer depressive symptoms, and are less inclined to obesity or eating disorders.
It's certainly a compelling list. But what can you do if your family dinner isn't that great? If people just "eat and run" or don't really connect? One answer might be turning your dinner table into a campfire pit. Not literally, of course, but group campfires at summer camp offer a great example of fun, engaging activities that have helped make dinners at our house last longer than the ten minutes it takes my boys to shovel down their food.
Here are some ideas:
Sharing highs, lows, and "gratitudes" (I know that's not a real word, but that's what we use)
One way we've found to get everyone talking and contributing at our dinner table is consistent sharing time. We find out what's going on in our kids' lives (and in the lives of unsuspecting visiting friends) and we as parents share what's going on in ours. For children who are quieter and generally don't "take the floor" as often, this consistent discussion helps them open up. And for those who don't naturally focus on the good things, it helps them see the positive in their day.
Around the campfire, it's an activity called "High & Lows," or—as it's now evolved in our family—"Highs, Lows, and Gratitudes." It's very simple: Each person has a turn (uninterrupted, with everyone focused on that one person) to share
• their HIGH point of the day,
• their LOW point of the day, and
• their GRATITUDE—what they're feeling grateful for.
For a twist, we sometimes make rules for sharing: a "high" might be limited to three words, or a "low" might have a one word limit. It creates a fun challenge and makes us think. If we can't come up with a low, we share another high.
Sometimes, we interrupt, tell long stories, or go off on tangents, but that's okay. We're connecting, sharing, and discovering what's happening in each other's lives. Our dinners last much longer than ten minutes, and our kids know they won't be excused until everyone shares.
In The Whole-Brain Child, Daniel Siegel and Tina Payne Bryson write about the importance of getting kids to remember their stories. So, instead of asking "How was your day?" which invariably gets a one-word response, they recommend asking "What was the best part of your day?" and "What was your not-the-best part?" Sounds like a high and low of the day to me!
Question or topic of the night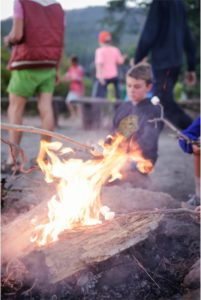 There are so many fun books and table games available, but you can probably just take turns thinking up a fun question for each person to answer, much like counselors do around a campfire. For my birthday a few weeks ago, a friend who knows me well gave me Q & A a day for Kids by Betsy Franco, which has 365 questions (one for each day) to discuss with your kids. We also have used The Enchanted Table (by Memorable Mealtimes) and Table Topics, a box of questions that our kids like taking turns reading.
Family Meeting (once per week)
At camp, we always start the session with what we call our "First Night Campfire." The counselor has a specific agenda for the campfire, which includes all the kids getting to know each other, sharing a goal they have for camp, and what guidelines they want to live by during their two-week stay. Families need to do the same kind of checking in with one other, so—once a week—we have a "Family Meeting" during dinner. We have an agenda that's on a legal pad next to the table, and we take turns being the "chair" of the meeting.
On our agenda:
• What's going on this week? We talk about the schedule for the coming week (any big projects/assignments due, any events, parents going anywhere)
• Goal for the week: Each person shares a goal for the week (something we want to get done, do better, etc.)
• A value or social skill we want to talk about. These have been focused on social skills for the past year in our house, and we've talked about things like looking someone in the eye while meeting them and how to chat with an adult. We've also used this printable ("10 Social Manners for Kids" from iMom) for several topics. Lately, it's been a contest to see who can remember all ten!
We'll hold fast to our family dinner time as long as we have kids in the house; I know it will be over far too soon. In the whirl of the last four years, our family group of seven has dwindled to the "final four": me, my husband, and our two youngest. The meals we share are nothing like June Cleaver's pot roast, and they often involve my awesome husband cooking or picking up something easy to eat or make. It's rarely a big production, but it's still really big. When we are gathered around our table eating and talking—with no phones or tablets in sight—it doesn't matter if we have a home-cooked meal or a Panda bowl; as long as we're connecting and sharing, it's the biggest and best part—it's our HIGH point—of the day.
All we're missing is the campfire.
Originally published at Sunshine Parenting.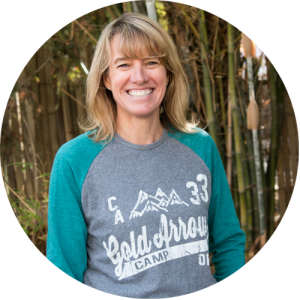 Audrey "Sunshine" Monke, MA, has been the owner of Gold Arrow Camp since 1989 and currently serves as the Chief Visionary Officer. In addition to her vision-casting and mentoring at GAC, Sunshine is an author (Happy Campers: 9 Summer Camp Secrets for Raising Kids Who Become Thriving Adults), podcast host, speaker and coach on the topics of parenting, social skills, and happiness. Find out more at her website, Sunshine Parenting.
by Andy "Soy" Moeschberger
My single favorite time of day at camp is campfire. Every night each of our 31 cabins has its own campfire unless the cabin is at a social (a campfire with another cabin) or our dance. Why do I love this time of day so much? In part because I love the smell of woodsmoke. In part because it means the day is winding down and I'll be in bed within the next 3 hours. But mostly because of the magic.
What could be so magical about a campfire? Some logs, some pine needles, a match, and some popcorn. That's simple and fun, but it isn't magic.
I beg to differ. I think that the time spent around a campfire is magic. It's transformational and powerful in the way that nothing else I have experienced in my life is. When a group of 10 friends is gathered around the flickering flames under a blanket of stars they can and will share truths that are more lasting and meaningful than if they were in a game room or around a dining room table.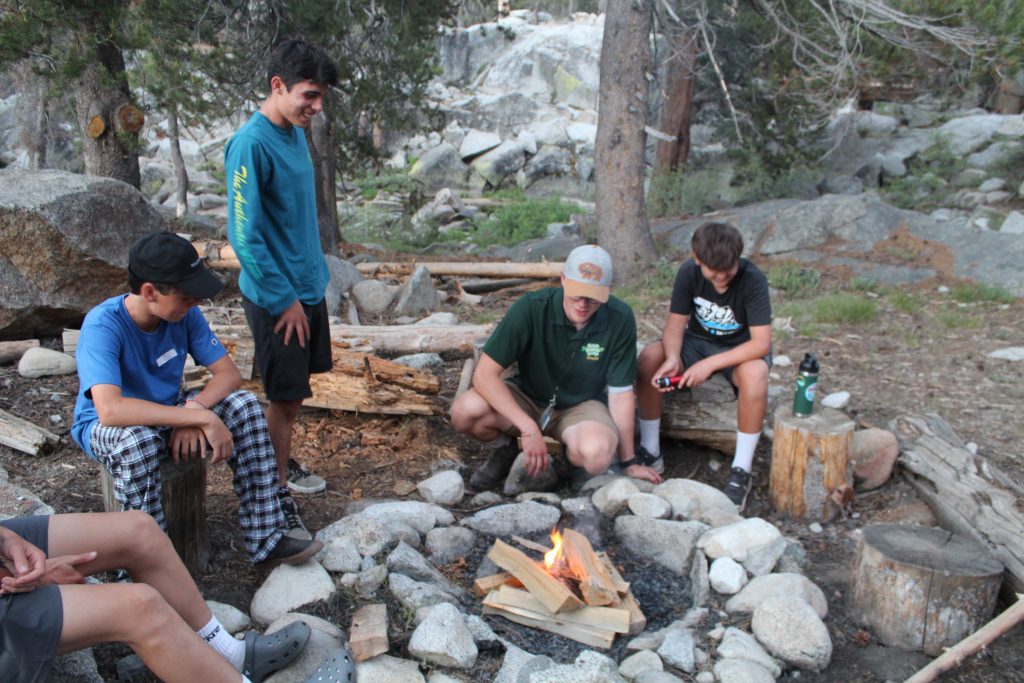 But why? What is it about the campfire that makes this possible? Well, maybe it isn't magic. Maybe it's science. According to a study from the University of Alabama, adults who were exposed to a "fire with sound condition" (a video of a fire with the sound turned on) showed lower blood pressure and increased "prosocial" behaviors (such as smiling, making eye contact and engaging in conversation). And that was a VIDEO of a campfire with an adult by themselves! The authors hypothesize that this is an evolutionary development. They believe that for ancient humans the fire provided warmth and a way to cook, and also signaled the safety of numbers. Our ancient forerunners knew that by being around the campfire they could relax. Even a millennium after we moved indoors, our minds still subconsciously know that a fire is a place where we are safe.
Children need this more than ever today. The pressures of the world increasingly weigh on young people. If they can have an opportunity to feel, like the cavemen of old, relaxed and safe, then they can begin to become their best selves. The campfire is a natural way to do that. As I tell our graduating campers at their Paddle Ceremony, the most meaningful moments of their camp careers probably occurred around a campfire.
Many camps have only occasional campfires, or "flashlight" fires. While there are benefits to that, we know the nightly practice of an actual campfire is important. Our counselors are trained specifically on campfires. The training is far more than how to stack the logs and what the ideal marshmallow looks like. Indeed, they practice in our training how to lead a meaningful discussion around the fire. They lead campers in sharing their highs and lows of the day. They help to facilitate discussions about real life topics that campers are interested in or struggling with.
On our last night of camp, we gather for an all-camp campfire that we call Appreciation Campfire. There are songs and stories and skits. Off to the side of our amphitheater (which we call Big Campfire!), there is a campfire pit, where the logs crackle away merrily. As the night winds down, the flames grow lower and lower. At the end of the night, counselors share their appreciation for their cabins by candlelight as the last embers of the campfire glow.
That's just a last tiny piece of magic before we go home.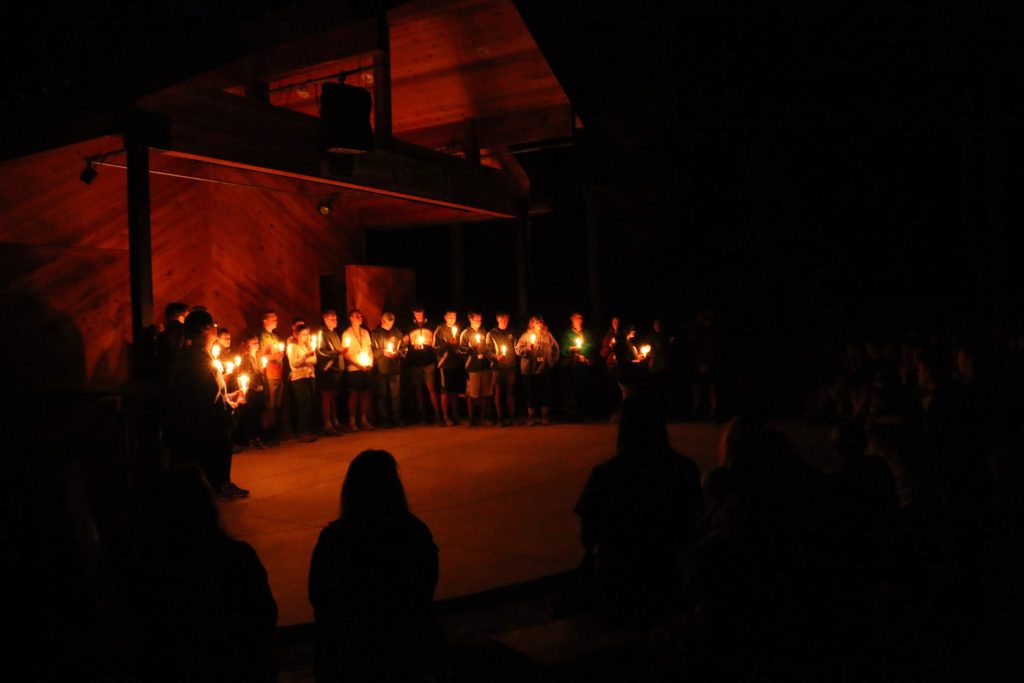 Episode 20.
On the 20th episode of the not-yet-critically-acclaimed POG-Cast, Soy is joined by veteran boat driver and all around wonderful human being Kronk. They chat about why campfires are so wonderful and share a love of artichoke hearts. There's also a Joke of the Cast and Soy's performance debut on guitar.
Podcast: Play in new window | Download
Subscribe: Apple Podcasts | Google Podcasts | Spotify | Stitcher | Email |