NOTE: As of August 1, 2021, we are now requiring a pre-camp, negative PCR test for all incoming campers (vaccinated & unvaccinated).
Quick Links:
COVID-19 Pre-Camp Test (Updated 8/1/21)
COVID-19 Test Selection Form (Updated 8/1/21)
Delta Variant (8/1/21)
Although "breakthrough" cases of vaccinated individuals transmitting the virus are appearing on the news frequently, they are still considered rare. However, these cases are on the rise. In Los Angeles County, where more than half of our Session 4 campers reside, vaccinated people accounted for 20%, or 1 in 5, COVID cases in June, a dramatic increase from previous months. This information, along with recent news from the CDC that vaccinated individuals can transmit the virus as readily as the unvaccinated, have prompted us to make some changes to our testing policies.
After reviewing the information about the recent surge with our team of medical consultants and wanting to exercise an abundance of caution to protect our younger, unvaccinated campers, we are now requiring a negative PCR test from ALL incoming campers.
We know this is a new, last-minute requirement for families with vaccinated campers. For your convenience, our testing partner, Total Swab, has an at-home PCR test kit that you can purchase (before the end of the day Monday) online. The kit must be administered Thursday before the session begins and then sent via courier in the package provided. More information about our pre-camp testing can be found here. Of course, you may also use your own local laboratory for the PCR test. If you use this option, please make sure the test is a PCR/NAAT test and not an antigen test. An antigen test of any kind will not be accepted for camp.
Because we have been following the CDC guidelines for summer camps, and have continued to require indoor masking of campers and staff (vaccinated & unvaccinated), we are in compliance with the latest CDC masking guidelines.
We will continue to follow the testing, screening, cohorting, and masking protocols as communicated in this plan. These protocols have protected our community thus far from COVID-19 illness.
The following information is designed to keep our camp families informed of how Gold Arrow Camp plans to adapt and modify our program as we welcome campers back to camp this summer. We have developed these protocols based on guidelines and best practices from the CDC, California Department of Public Health (CDPH), American Camp Association (ACA), and our local health authorities. While we strive to communicate the most accurate information, please note that some protocols and policies may change over the summer as new information and guidelines emerge.
We are thrilled to be bringing our community back together this summer. And while COVID-19 has made operating camp much more challenging, we are ready to offer the fun, friendship, and growth our campers need in the safest and healthiest way possible.
While people within our community (campers, staff, and parents) may have different opinions about specific COVID-19 responses and procedures, we can all agree that our children need camp more than ever this summer. After a long year spent on screens and, for many of our campers, not with friends or outdoors, this summer will be an amazing time of getting back in touch with themselves and nature and connecting with others.
Our ability to operate camp successfully this summer rests on the cooperation of every member of our community abiding by our health protocols, regardless of our individual opinions about those protocols.
Gold Arrow Camp is especially well-suited for operating safely during this pandemic due to our mostly outdoor setting. Our campers live in open-air, large tents, eat on an open-air dining porch, and participate in outdoor activities. The only indoor facilities campers will be using this summer are our bathrooms and our Wellness Center.
COVID-19 testing will be required prior to arrival at camp, on day 3 of camp stay, and in case of COVID symptoms that are not explained by other health issues.
We and our staff are adapting every aspect of our operation – including food service, activities, transportation, and scheduling – to mitigate the risk of exposure to and spread of COVID-19 while maintaining the fun and integrity of our camp program. 
We are working hard to make this summer the best one yet and as normal as possible under the restrictions. We will be implementing many layers of Non-Pharmacological Interventions (NPIs), to help keep the Gold Arrow Camp community safe.
Note: There will be a $100 per camper COVID-19 fee added to your family's invoice to offset some of the costs of our COVID-related expenses. 
These extra expenses include testing as well as PPE, building modifications, and other related equipment. The fee will be added to all campers' accounts as we anticipate needing to test symptomatic campers frequently, regardless of vaccination status. Even in a year without COVID-19, because of our population size, we estimate seeing a camper or staff member presenting with a symptom mimicking COVID-19  (albeit some are low-risk symptoms) almost every day. We realize that another added expense this year is not ideal and we appreciate your support as we keep our camp community as safe as possible from COVID-19.
Updated 8/1/2021
Your Pre-Camp COVID-19 Quick Checklist (more details below)
Review and sign The Chipmunk Commitment in

My GAC Login

. This is our community agreement to keep each other and ourselves safe this summer. You can download a copy

here

.

Review and sign Safer Together in

My GAC Login

. This form includes an acknowledgement that you have read GAC's COVID-19 Action Plan 2021 and will periodically review the plan before your child's session.

Complete your camper's COVID-19 Health History Addendum accessible for review two weeks prior to your camper's session in

My GAC Login

to be COMPLETED and SUBMITTED on the Friday prior to your child's session. 

Plan for your camper's pre-camp COVID-19 test by completing Gold Arrow Camp's COVID-19 Pre-Camp Testing Selection Form ASAP. After completing the form, you will be directed to next steps if you selected to order an at-home test from our testing partner, Total Swab.
BEFORE CAMP
In order to operate a safe, successful summer, we must partner with parents to send healthy campers to camp at the start of the session. We are asking all campers and staff to follow important health and safety measures before and during camp. The preparation for camp must include new things this year as we aim to keep the safety of our camp families as our top priority. Thank you for supporting and adhering to the precautionary measures outlined below.
Pre-Camp Expectations: Staying Healthy Before Camp
Because we are a large community with people gathering from different geographic areas, we are asking families to follow these precautions in the days leading up to camp to protect our community.
Vaccinated & unvaccinated campers:
Avoid any unnecessary travel in the 10 days prior to camp. 

Follow common sense health protocols to avoid COVID exposure while traveling to camp and in the days leading up to camp. These guidelines include:

Wear a face covering at all times when outside of your household.

Avoid close contact with those outside of your household.

Do not attend any large, indoor gatherings.

Do not participate in any sports tournaments or other large outdoor gatherings.
Campers who are still in school or must attend out-of-home childcare during the week leading up to their session are required to follow masking and distancing guidelines while there and maintain your family bubble expectations while not at school.
Health History Addendum (due Friday before the session begins)
Please log in on the FRIDAY prior to your camper's arrival at camp to complete the COVID-19 Camper Health History Addendum. This addendum asks about your child's vaccination status, COVID-19 health history, and pre-camp behavior in the 14 days before the start of your child's session. The form will be available in My GAC Login two weeks prior to your child's session and must be completed and submitted on the FRIDAY prior to the session. This form is REQUIRED for all campers attending camp this summer.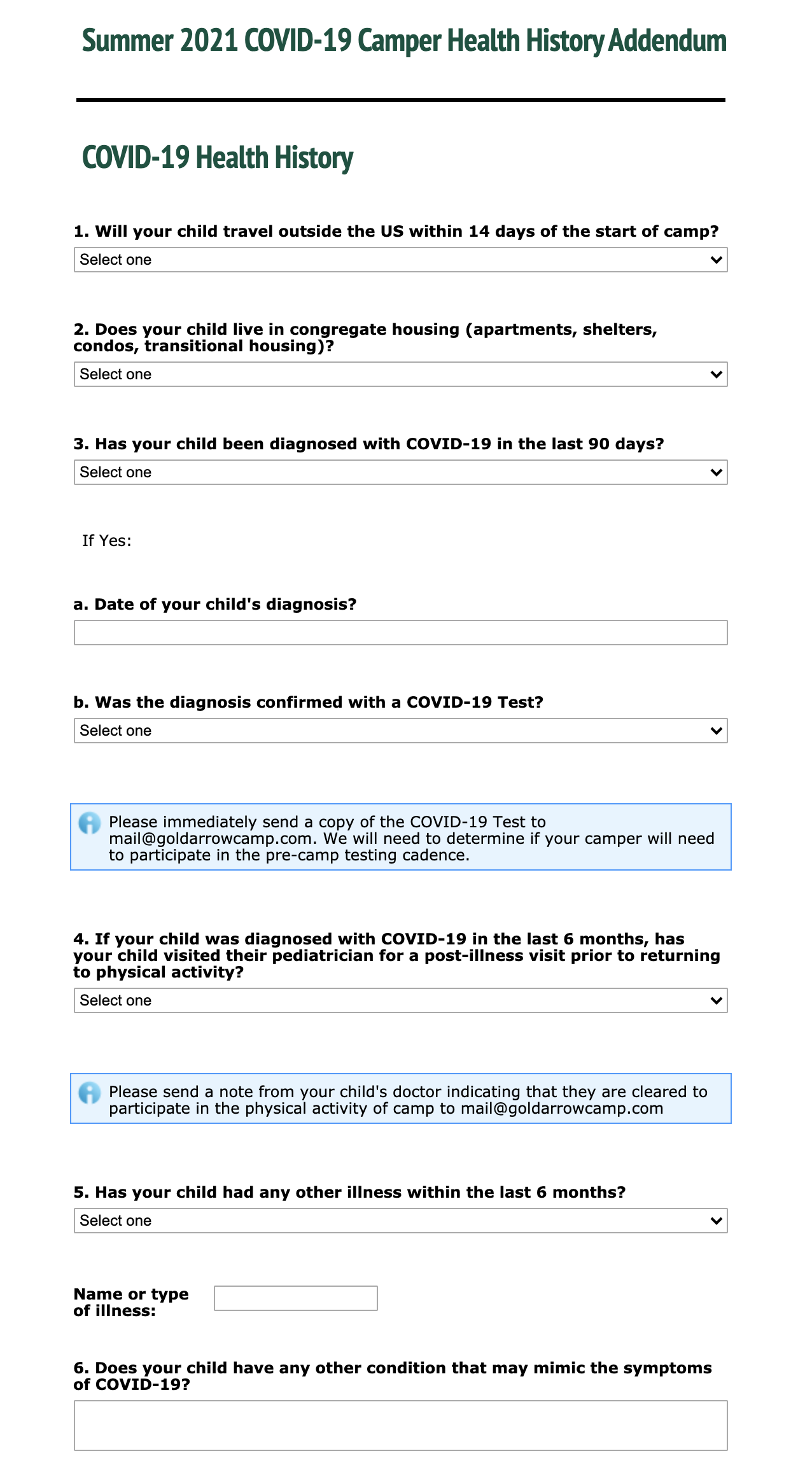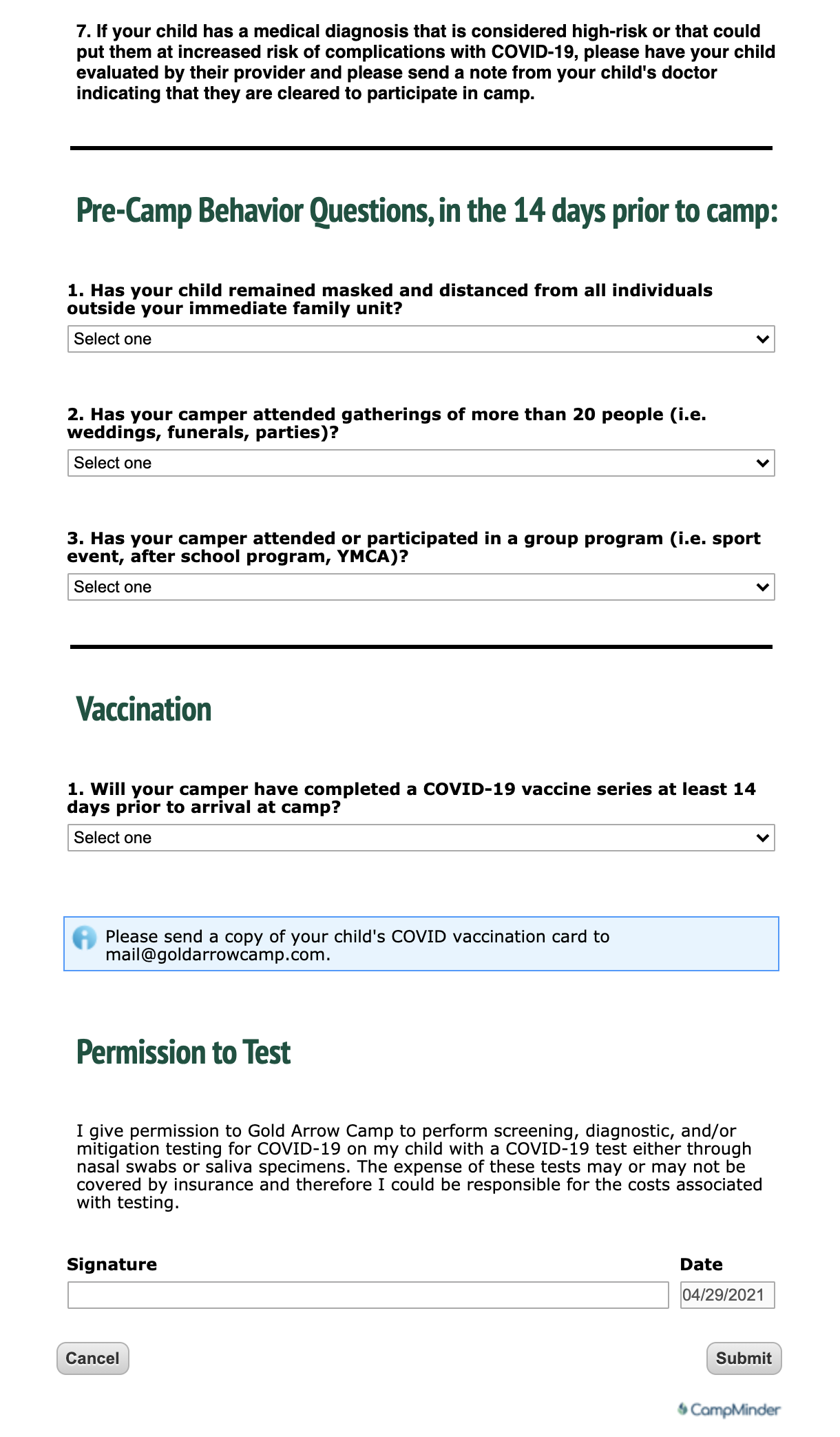 Testing (Thursday before session begins)
Any updates to our testing program will be communicated prior to your child's session.
All parents (for vaccinated and unvaccinated campers) must complete Gold Arrow Camp's COVID-19 Pre-Camp Testing Selection Form ASAP or at least two weeks prior to the start of your child's session. After completing the form, you will be directed to next steps if you selected to order an at-home test from our testing partner, Total Swab.
Vaccinated campers mail vaccination verification card to mail@goldarrowcamp.com or upload to Forms & Documents in the parent login.
All campers must provide results of a negative PCR SARS-CoV-2 test taken on the Thursday prior (within 72 hours) to the start of the session.  Test results need to be uploaded to the parent login area or emailed to the camp office by 3:00pm on the Saturday before the session begins.  Failure to provide proof of a negative PCR test result will result in campers not being admitted to camp. Only PCR test results will be accepted.  Do not submit results of any antigen-based testing; these will not be accepted and the camper will not be admitted to camp. All expenses incurred from this test will be the responsibility of the families.  If you have difficulty finding a lab that can perform the PCR test in a timely manner, please contact our office for help.
We anticipate testing all campers with another PCR test 3 days after arrival at camp. We will also be testing and isolating campers or staff who present high risk symptoms.
ARRIVAL DAY
Traveling by GAC Charter Bus
In order to minimize the risk of COVID transmission, following the guidance of the ACA, CDC, and in consultation with health officials: 
Bus seating will be assigned by cabin group, so that campers are only in close contact with people who will already be in their cohort.

We will maintain physical distancing between cohorts on the bus.

We will use only vaccinated staff to supervise bus travel.

In order to ensure that we can maintain appropriate physical distancing on the bus, we will only assign approximately 50% of the seats on the bus.

To reduce risk of transmission at the bus stop, parents will not be allowed to exit their cars and intermingle with staff, other campers, or other camp families.

Everyone on the bus will be required to wear a face covering unless they are drinking water. 

No snacking will be allowed on the bus and we will, as always, have a lunch stop outdoors where campers can eat with their cabin group, appropriately spaced from other groups.

Your family will be assigned a specific time to arrive at the bus stop. In order to maintain the safety of our camp community, parents will not be allowed to exit the car (except for a goodbye hug). Each family will be greeted by a staff member who will ask you medical screening questions, take your child's temperature, move your luggage to the bus, and get your camper settled in and meeting friends. 

To accommodate all of our campers and safely board our buses, you will need to depart the parking lot after your child has been screened and has boarded the bus.

Traveling by Airplane
Campers arriving by air will follow the CDC's travel guidance. Campers who travel to camp via a flight (or get dropped off by parents) at the Fresno Airport will need to schedule arrival/departure between 10am-2pm. Campers are required to follow all CDC recommended health guidelines, including masking, while in public places or on public transportation traveling to camp. Campers will be greeted at the airport by vaccinated camp staff, screened, introduced to other campers, and board the bus (with counselors) to travel to camp.
Travelers from outside the United States will need to comply with State Department requirements for travel at the time of their travel (a comprehensive list is available here). If the test they use to fly will be older than 72 hours at the time of your arrival at camp or the bus stop, they must arrange for a test in the United States to meet that requirement.
Traveling by Personal Vehicle
Campers who are arriving by car should only travel with people from their immediate family. Further, while traveling they should follow the CDC's travel guidance.
To protect our camp community, these are our camper drop off procedures for this summer:
You will be greeted in the parking lot of the China Peak Mountain Resort by our staff who will ask you medical screening questions, take your child's temperature, move luggage to camp, and then introduce your camper to a counselor who will accompany him/her into camp to meet cabin mates and get settled in. 

We will not be offering tours of camp and only our campers and staff are allowed on camp premises.
DURING CAMP
Cabin Group
At GAC, our camper's primary friendships and connections at camp have always been within their own cabin group. This structure has been how we live out our philosophy of nurturing close friendships and encouraging campers to try new activities. This is also the ideal model for operating a safe camp experience according to the CDC and ACA. 
For each of our campers, their cabin group (campers and counselors) is their camp family for their time at GAC. They will live together in the same open-air tent, have meals together, go to activities together, have campfires together, sing together, hug and high five each other. When with their group, masks and distancing will not be required.
The 2 of 3 Rule
We will be following the 2 of 3 Rule any time campers are interacting with campers and staff outside of their own cabin group. 
The 2 of 3 Rule means camp community members will meet two out of three of the following protocols:
Be outdoors (which is always the case at GAC except in bathrooms or while inside the Wellness Center).

Wear a mask.

Be 6' apart.
Activities
Campers at GAC participate in all of our camp activities as a cabin group. All of our activities are outdoors. Campers participating in activities will be required to abide by the 2 of 3 Rule. For example, if a cabin is at sailing, they will wear their masks any time a sailing counselor from outside their cabin group is within 6 feet of them, but not while they are on a boat with their cabin mates. You can see videos of many of our activities here.
Meals
As always, campers will wash their hands thoroughly prior to each meal. 
Meal Schedule:
Breakfast served between 7:30-8:45am.

Lunch served between 12:00-1:15pm.

Dinner served between 5:00-6:15pm.
While walking onto and off of the dining porch, and while selecting food and drink options, campers and staff will wear masks. While sitting down and dining with their cabin group, campers and staff will not wear masks. 
Masks 
Since California relaxed mask guidelines on June 15th, we have been asked about how that change impacts our mask policy at camp. As an overnight resident camp, we are required to follow stricter health and safety guidelines than many other businesses and private citizens. We wish we could move toward less masking in camp, but we are bound by the California Department of Public Health's guidelines for Overnight Camps. It is our intention to follow–and not exceed–the guidelines provided to us from the California Department of Public Health. We will not enforce rules for masking that are stricter than those required by the state.
Even with the June 15 opening of California, the CDPH guidelines for overnight camps did not change. They still say that even if one person in the camp is not vaccinated, "masking is required indoors regardless of physical distancing and outdoors when six-feet physical distancing may not be maintained at all times." However, even under these rules, campers will be unmasked most of the time at camp. The cabin groups (cohorts) are unmasked when together in their cabin and participate as a group in activities, and we are outdoors the majority of the day here at GAC. Distancing and being outdoors will fulfill our "2 of 3" rule most of the time.
Our masking guidelines are currently:

When in larger groups or areas where they are mixing with other cabin groups, campers and staff will follow the 2 of 3 Rule.
As mentioned in "Cabin Group" section above, campers will not be required to wear masks when with their own group.
We will be using our 2-of-3 COVID mitigation plan regarding masking and distancing until the guidelines provided for summer camps have changed.
New Medication Protocol For 2021
To free up our Wellness Center staff to attend to the increased health screening, testing, and treatment protocols required this summer, all camper prescription medications, as well as any over-the-counter medications or vitamins taken daily, must arrive at camp in a strip of individually packaged single doses prepared by a pharmacy of your choice.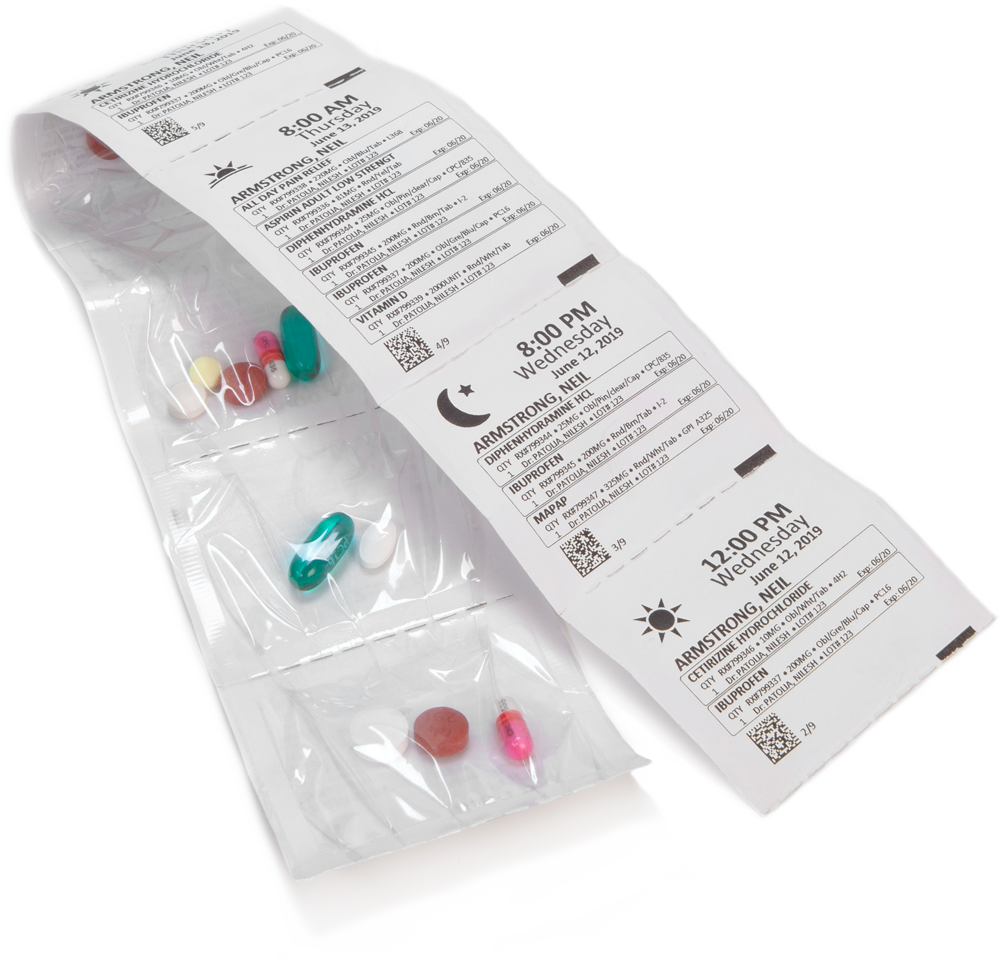 For example, if the camper takes two different prescription medications in the morning, both medications must be placed in the same pharmacy labeled package for morning distribution by our nurses. 
Please do not send over-the-counter medications that are not taken daily, as these are already stocked in our Wellness Center.  For over-the-counter medications taken daily, please have your pharmacy include those in the appropriate individual package(s) by dose if combining with prescription medication.
To help with distancing of our cabin groups during medication distribution, cabins will be assigned a specific time to stop by the Wellness Center, and those times will correspond with the staggered meal times. The standardized medication distribution for cabins will fall within the following times: 7:30-8:45am, 12:00-1:15pm, 5:00-6:15pm, and 8:00-9:00pm. Please consult with your physician and pharmacist to plan your child's medication dosage and schedule accordingly. You may choose any pharmacy to pre-package your camper's medication. CVS is one of the large pharmacies that offers this service. Please refer to the Camper Medication page for more details and for medication that does not qualify for this type of packaging. 
Daily Health Screening
Counselors will do a visual and verbal health screening of each of their campers every morning prior to breakfast and will report to the Wellness Center staff the status of their campers' health. Any campers with illness symptoms or health needs will be referred to the Wellness Center staff for assessment and treatment.
Morning Assembly/Big Campfire/Age-Group Events
Large group events will be held outdoors and, if adequate spacing between cabin groups is not possible, masks will be worn. We will follow the 2 of 3 Rule.
Communication
There are several ways we will be providing updates and information to parents while your camper is with us this summer. We will be using emails (be sure mail@goldarrowcamp.com is an approved sender in your email), text messages, and automated calls. Please check your email regularly before and during your child's camp stay. 
See below (in the FAQ) for more details about our criteria for contacting parents.
Vaccine
CDC Recommendation
If eligible, staff, volunteers, campers, and family members should get fully vaccinated for COVID-19. Ideally, wait 2 weeks after completing vaccination for COVID-19 before traveling to camp.
In our GAC community this summer, all of our camp staff and the majority of eligible campers (ages 12 and up) are fully vaccinated. All members of our community follow the same guidelines, regardless of vaccination status. With the awareness that the Delta variant can impact vaccinated individuals as well as unvaccinated, masking when indoors or when in large group settings continues to be our best additional protection, and we will continue to follow the protocols we have in place (see the 2 out of 3 rule).Our staff will be vaccinated and we hope that many of our eligible campers are also vaccinated this summer. The more people in our camp community who are vaccinated, the less likely we are to have anyone contract the virus and be required to shorten their camp stay.
Vaccinated campers will not need to submit results of a negative PCR test prior to arrival at camp but may be subject to screening at camp. Vaccinated campers will not necessarily have all the same quarantine precautions as unvaccinated campers should someone in their Cabin Group test positive for COVID-19 while at camp.
Visitors & Tours
In order to reduce the risk of COVID-19 exposure, we will not be hosting any camp tours or allowing visitors (including parents and relatives of campers and staff) onto camp premises this summer. Only staff and campers who have met the pre-camp and ongoing testing or vaccine requirements will be allowed on camp premises.
FAQ
RESOURCES