In 2009, Gold Arrow Camp lost a dear friend. Ken "Coach" Baker (March 10, 1951 – April 5, 2009) worked at GAC as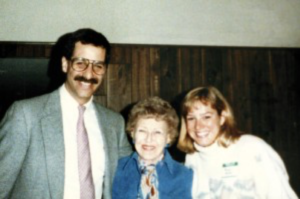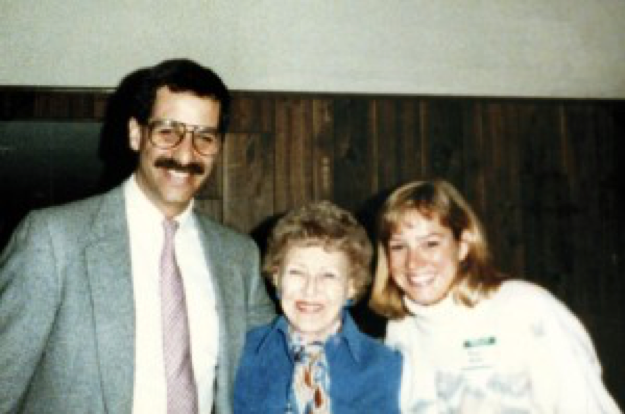 Camp Assistant Director and Director from 1981-1992 and had a huge, positive impact on many of us who are still here at camp today. Ken was instrumental in helping Sunshine purchase Gold Arrow from Jeanie Vezie in 1989, and mentored Sunshine, Monkey, Woody, Chelster, Tigger, Junior, Trapper, and many other GAC staff during their early years working at camp.
Ken had an amazing way of making even mundane tasks like picking up trash and painting buildings feel monumentally important. He had a way of clapping his hands together and giving a pep talk that got everyone fired up to do their jobs well. Ken had a near-constant smile on his face and took every challenge that came his way in stride. We all knew we could go to him with any problem and he would help us figure out how to fix it.
To honor Ken, in 2009 we established "Coach's Award." This award has been given each year since to a leader at camp, nominated by his/her peers, who motivates others through positive leadership and encouraging words and exemplifies Ken "Coach" Baker's dedication to GAC's vision.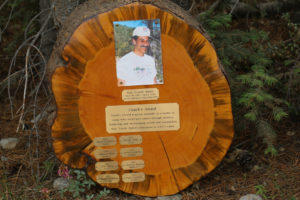 To select each year's recipient, we ask the entire staff to complete a nomination form, where they put the name of one person whom they think deserves this honor. They include comments about the person they nominate. We have such a high caliber of staff, many of whom are extremely positive and exemplify what Coach stood for, and we are grateful for the legacy he left us and that so many people at GAC are incredibly positive and motivating to others. There were many 2017 staff who met the qualifications for this award and stood out for their positivity and encouraging words for others. In all, 30 different staff members were nominated. That means that each of those 30 people stood out to another staff member as someone who was a positive, encouraging, supportive leader.
This summer's Coach's Award recipient, Crater, stood out for the largest number of staff who were influenced by the many qualities that make him an outstanding counselor and leader. Two words that were used in almost every nomination were "positive" and "energetic."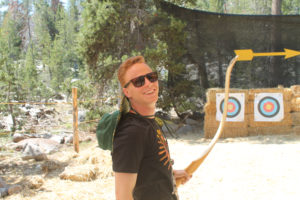 One counselor summed it up well with this comment: "An inspiration to how I carry myself around camp. He showed me how to make a stranger feel completely welcome. He brought amazing and contagious energy every day and always had a smile I can rely on."
Another nomination included the following comment: "He amazes me with his energy each and every day at camp. He is positive, funny, kind, and loving towards his campers and the staff. It's incredible how much he shows me every day at camp that smiling can change your attitude. I couldn't imagine a better counselor. He exemplifies what Coach's Award means to me."
Another said, "He goes out of his way to make every single camper in his cabin feel like they're special and like they can talk to him about anything they need. He's a great role model for campers and staff, and he's a great friend to fellow staff. His campers emulate him, which speaks volumes to his leadership and personality."
More comments counselors said about Crater:
"He truly embodies the camp spirit and is so great with the kids. Even in times of being exhausted he still pushes through and keeps his positivity!"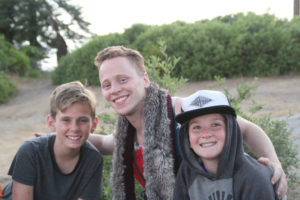 "A true leader – loved by campers and counselors alike, never a bad word said about him."
"Such an incredible person and co. Always full of energy and positivity and gives 110% all the time."
"Such a brilliant counselor, always on top form. Always brings enthusiasm. Kids love him. Ready to help anyone at the drop of a hat. Really inspirational."
"He rose to the challenge of becoming a GC and 100% rocked it. I was sad that he wasn't going to be on backpacking with me again but once I saw him working as a GC with his kids I was nothing but happy for him. Crater is the example we should all follow when it comes to the who we are with our campers."
"Created a positive atmosphere everywhere he went while leading by example by putting himself out there. He gave the Tiger Boys an identity and made them proud to be Tigers."
"He is always 'on.' He makes the little things special and everyone feels like a person around him. A brilliant example for campers and counselors."
"Legend."
"You showed great leadership, and the session I was a co with you, you were without a doubt the best GC I'd met and campers and staff love you."
"Crater leads with his heart. He is a constant source of joy and enthusiasm. It is absolutely contagious. His selfless spirit and ability to lead without trying is inspiring. He makes Gold Arrow Camp a better place."
"Firstly, he was a positive role model for me in Tweek. He showed me how a counselor should be. Also, I respect his opinion and self confidence. Since then, during sessions 1-4, he has managed to keep his energy levels high. He is great with all his campers, which is seen by how much they admire and listen to him."
"Very outgoing and encouraging. Always high energy and relates really well to his boys. Goofy yet knows when to be serious. Very interactive. Always with kids and keeps kids as a #1 priority."
"Always energetic and outgoing. Kindest man I ever met. So loveable. Love ya, Bro!"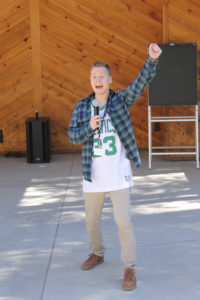 "Crater has had amazing energy all summer. He helped me out whenever I needed advice. Crater stood out above lots of great counselors."
"He works so hard for his kids and serves as an example to me. His energy and enthusiasm are matched only by his kindness and willingness to listen. He always puts others before himself and is first to volunteer for less desirable tasks."
"I feel that Crater has had such a huge impact on my time here at GAC. He has been a figure of support for me. When times are tough he helps you out no matter how much is on his plate. Whenever I have seen him with his cabin, he has been positive and full of energy. Crater is a friend for life, and a natural, wonderful group counselor."
"You bring so much energy to this place and to everyone's life. I love you dude and am so grateful to be able to know you and to be your friend. You deserve this."
"You approach every day with so much excitement and joy! The energy that you give off is contagious and it puts everyone in such a better place. You have made such a positive influence on not just the campers, but everyone around. I strive to be a positive role model like you are in camp."
"Energy! Attitude! Positivity!"
"Crater is a ball of smiling energy. I enjoy watching him attack life at camp with all of his passion. He demonstrates daily a dedication to guiding young men with love and positive energy. I miss the joy he used to bring to the luggage party."
"He has constant energy. His campers love him and it completely shows. He is positive, creative, and has completely taken on the GC role effortlessly. Camp would not have the same vibe without him."
"He is always smiling and encouraging to everyone in and outside his cabin. He never shows he's tired and is always showing 100% energy."
Congratulations to Crater, our 2017 Coach's Award recipient!