Cabin Groups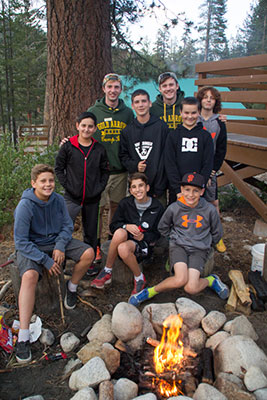 As part of our structured program, Campers are scheduled to participate in most of the activities offered at camp with their cabin group.  Each day, after breakfast, lunch, and dinner, cabin groups check the schedule board to see to which activity they are assigned to for their morning, afternoon, and evening activities, respectively.  Participating in activities as a group promotes bonding within the cabin and also ensures that campers will attempt activities they might not be familiar with or comfortable with.  Each evening, the cabin group circles around their own campfire pit to eat marshmallows or popcorn, and to share stories and talk about their accomplishments from the day.  Cabin groups are guided by a Group Counselor, that lives with and participates in the activities with the group.  Also living in the cabin is one or more Activity Counselors, who spend the day teaching one of our activities.  Between the Group Counselor and Activity Counselors, there is always someone supervising the cabin group who knows the children personally and the dynamics of the group.  For more information on the importance of activities with cabin groups, "See Our Blog".
All cabin groups are scheduled for one or more overnight trips, that may include destinations such as our island at Shaver Lake, Hilltop Outpost, and backpacking trips to various lakes and waterfalls in the area.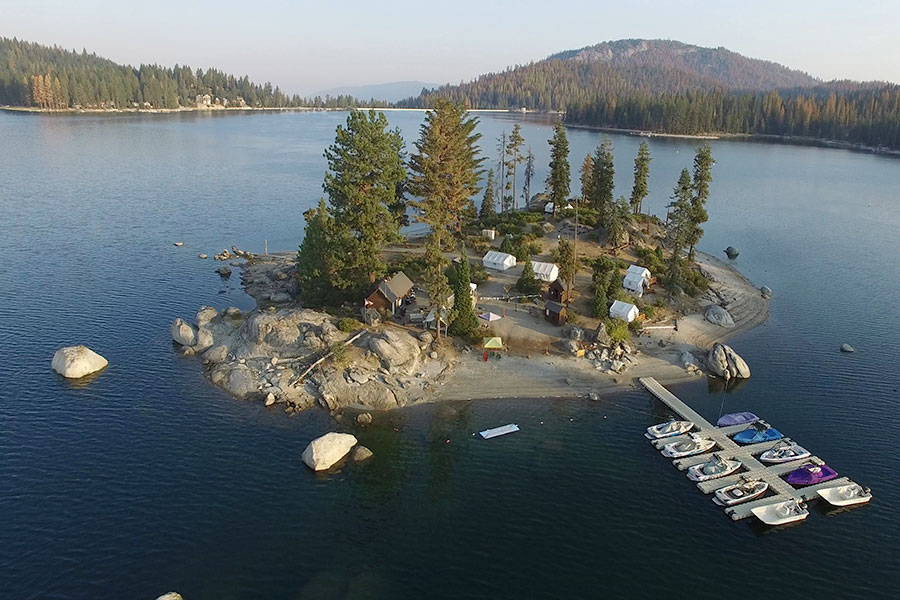 Shaver Lake Island Outpost Camp
Special Events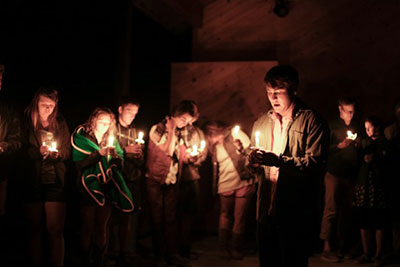 In between activities, campers are supervised by their cabin counselors at meals and other special events such as Morning Assembly, Rest Time, campfires, and special age group and all-camp events.  The campers are broken up into sections at camp based on their school grade: Bears (K-3), Tigers (4-5), Lions (6-7), and Eagles (8-9), and the cabin groups in each section will have one or more special social event.  These include ice cream socials, bingo night, and casino night, depending on the group.  All campers enjoy the mid-session Carnival together as a group.  Each session concludes with Appreciation Campfire, with all campers attending, which is a time for reflection and celebration.
In addition to our regular menu, at the end of each session, campers and staff enjoy a special banquet. After an afternoon of showering and packing, campers enjoy a fun meal and dessert in celebration of the last two weeks at camp.
| | | |
| --- | --- | --- |
| 6:00 | Optional early morning activities: waterskiing, fishing, horse care | |
| 7:30-8:30 | Breakfast | |
| 8:30 | Cabin clean-up, showers, camp store open | |
| 9:00 | Assembly: announcements, songs, and skits | |
| 9:30-12:00 | Morning activities: one long or two short programs | |
| 12:00-1:00 | Lunch | |
| 1:15-2:00 | Rest Time | |
| 2:15-4:45 | Afternoon activities: one long or two short programs | |
| 5:00 | Dinner | |
| 6:15-7:45 | Evening activities | |
| 8:00 | Campfires | |
| 9:00 | Lights out for Bears (completed grades K-3) | |
| 9:30 | Lights out for Tigers (completed grades 4-5) | |
| 10:00 | Lights out for Lions & Eagles (completed grades 6-9) | |
Living Areas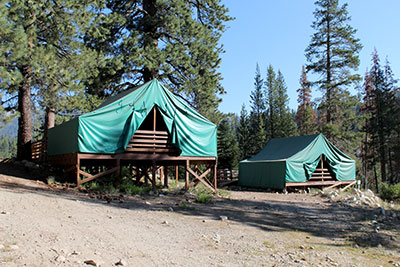 In between activities and in the evenings, campers relax and sleep in tent cabins or rustic wood cabins on camp-style bunk beds in sleeping bags.  Living without modern conveniences of electricity and temperature control in the cabins is an important element of our philosophy where campers get a more personal experience with the forest and develop resiliency and grit.
Modern bathrooms with electricity and hot water showers are located near the cabins.  Campers are scheduled to take a shower every other day, but can choose to take one every day if they wish. To see some of our living area up close click here!