Want to bring some of the fun and connection of GAC home to your family this year?
Creating a close and connected family culture that promotes positive, lifelong relationships is the most important thing we can do for our children. Grab your coffee or tea, login, and join other GAC parents for our first parent coffee of 2022. We'll learn about and discuss simple, research-based and experience-backed strategies for adding more fun and connection at home.
Audrey "Sunshine" Monke, who will be speaking at this coffee, is Gold Arrow Camp's Chief Visionary Officer, the author of Happy Campers: 9 Summer Camp Secrets for Raising Kids Who Become Thriving Adults, and the host of the Sunshine Parenting Podcast. Audrey regularly speaks to parents and teachers on the topics of friendship skills, connection, and well-being. See some of her past interviews and events here.
All Gold Arrow Camp parents who register will be entered in our drawing for one of 10 free, signed copies of Happy Campers. Drawing will take place and winners will be notified on January 14, 2022.
Registrants will be sent a recording after the meeting as well as a PDF with the strategies and links we discuss.
Register here to attend the January 19 Parent Coffee and be entered to win a free copy of Sunshine's book, Happy Campers!
Resources & Links
Happy Campers: 9 Summer Camp Secrets for Raising Kids Who Become Thriving Adults
Listen to Sunshine Parenting Podcast Episode 91: 4 Reasons Not to Worry While Your Kid is at Camp.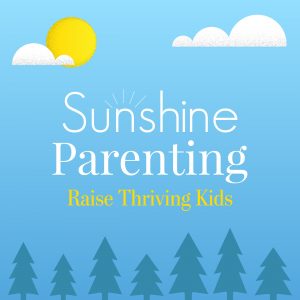 Worrying when our kids are away from us is normal for parents. Every time I've ever dropped my kids off for a new adventure without me, I'm excited for them. But I'm also concerned about their safety, secretly wishing they would just STAY HOME, then counting the days until they return. I know it's not rational (few things about parenting are), but I believe my kids are always safest when they're home with me.
If you are new to sending your kids to summer camp, let me reassure you that while they are away, you can relax your worrying muscles. I've spent more than three decades working at a summer camp, sending my kids to other camps, and participating in the networking and training of summer camp professionals. I know A LOT of camp directors, have visited many camps through the American Camp Association accreditation process, and am a faithful reader of Camping Magazine. I definitely know about camp.
In Episode 91 of the Sunshine Parenting Podcast, I chat with my longtime friend, Camp Owner/Director Maria Horner. Maria and her husband, Tom, have been the executive directors of Catalina Island Camps since 1995. In this episode, we discuss four reasons not to worry while your child is at camp.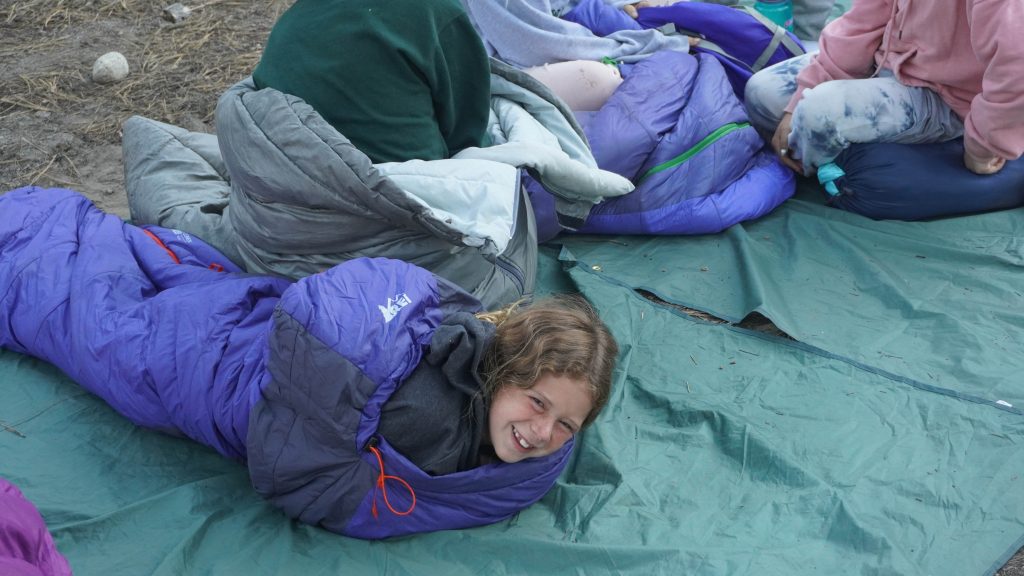 Reason #1: Accreditation from the American Camp Association
You have chosen a camp program that's accredited by the American Camp Association. This means that the camp meets the ACA's high standards to ensure a safe and nurturing environment for your child.
You have been in touch with the camp director. Always be upfront with any issues your child may be dealing with so that the staff can be prepared to help them. Take time review at all the material that the camp has sent you ahead of time and phone them with any questions you may have.
Reason #3: Preparation of Your Child
You have prepared your child for the experience:
You've allowed your child the opportunity to sleep away from home with adults other than parents.
You've reviewed the materials from the camp with your child.
You've packed for camp together so they know what they are bringing with them.
You've talked to your child about camp, focusing on the fun. Develop strategies with your child to address anything they may be feeling nervous about.
You've expressed confidence in your child. Say, "I know you're going to have a great time and enjoy this!"
Reason #4: Parent Preparation
You have prepared yourself for the experience:
Manage your expectations.
Be realistic about contact with your child while they're gone.
Don't over analyze the communication you do get from your child.
Want more reasons not to worry? Read this Sunshine Parenting post: 5 Reasons NOT to Worry While Your Kids are at Camp.
Quotes from this Episode
Audrey: "One of the reasons not to worry is actually the amount of training we do with our staff."
Maria: "You chose an accredited camp, so if you're coming to my camp, or if you're going to any other camps in your Happy Campers group, those camps are all accredited by the American Camp Association, which means that those camps care enough to undergo a thorough peer review of its operation. And that includes everything from staff quality and training to emergency management–all things that they're doing voluntarily to ensure that their program is top notch."
Maria: "Camp professionals from around the country can volunteer to be what we call standards visitors. So every five years, a team of trained standards visitors go into each accredited camp and observe, both through documentation and practices actually in place, based on the identified standards, to see that the camps are in compliance with all of them."
Maria: "If you're going to allow me to take care of your child for two or three or four weeks during the summer, I'd actually think it stranger if you don't want to talk to me first. I would imagine you would want to know who's the person in charge of the place where your child's going to be spending a lot of time. Pick up the phone and actually talk to the person who is running the show."
Maria: "I really encourage parents to be as upfront and transparent about your child as possible. We can do a lot at our camp and we can do it way more successfully when we know in advance. If we have to spend a few days figuring out what's going on with the kid, either socially or behaviorally, or even with their food issues, that's time lost. If we knew that up front, we would be able to meet those needs right from the very beginning."
Maria: "Get online and watch videos from camp. Besides our promotional videos, we have a program with our go-pro cameras and the kids make videos every summer. And that's a great way to get an insight into what camp looks like through the eyes of our campers."
Maria: "I think you really want to focus on the fun when you talk with your child. I think definitely engage your child in conversation to get a sense of their excitement level and if there are things that they are nervous about, you work together to develop strategies for the child to be able to address those."
Maria: "It's okay for me to be nervous, as a mom. It's not okay for me to project that onto my child."
Audrey: "What I really want parents to communicate to their kids is: 'Hey, at camp there are all these adults there to help you have a great experience. So if you need anything and I'm not there, here are some people you can talk to: your counselor, the camp director Maria, the head counselors.' I think that if you look on the website, or call the camp, you can find out who those people are. I think that empowering your kid to talk to those people is really important."
Audrey: "I do think we are very connected with our kids, which is a good thing and close relationships are fantastic. But the dark side is that it makes it a little harder–when your child's doing something independent from you–for you to have the separation."
Maria: "One of the things that I often tell parents is to really take advantage of this opportunity. Consider what it means to have some time either just to yourself or for you and your spouse together. That doesn't happen very often in the craziness of life and raising children."
Maria: "We tell kids, it's okay to miss home when you're at camp. You can miss home and still have fun at camp at the same time. Those two things aren't in conflict with one another. The same thing is true for the parent's side. Of course, you miss your child and worry about them. That's to be expected. And you can still allow them to have this amazing growth experience, even if you're a little bit nervous.
Audrey: "Give yourself permission to enjoy yourself. Spend some more time on a hobby you haven't had time for, go out to dinner, go to movies–there's nothing wrong with that. And actually, you giving your child the gift of a more relaxed, happier parent when they get home from camp is amazing."
Maria: "It okay to have an incredible experience not all together. It's okay to let your child do fun things without you and it's okay to do fun things without them."
Audrey: "It's always this kind of mixed bag; you're excited for your kid when they have some new adventure or get some great job far away, but then you're also like, 'Oh bummer. They're kind of far away.' I think always keeping these things in mind that it's okay to have both feelings."
Resources & Related Posts
5 Reasons NOT to Worry While Your Kids are at Camp
100 Questions about Summer Camp
Why choose an ACA accredited camp?
What are good questions to ask when selecting a camp program?
Ep. 10: Homesick & Happy with Michael Thompson, Ph.D.
Ep. 76: Partnering with Your Child's Camp Director
Ep. 37: How to Prepare for Overnight Summer Camp
Ep. 87: The Impact of Camp Experiences
How to Raise an Adult, Julie Lythcott-Haims
How Camp Helps Parents Raise Adults
Other Sunshine Parenting Podcast Episodes featuring Maria Horner:
Ep. 22: Jedi Mom Tricks, Part 1
Ep. 33: Jedi Mom Tricks, Part 2
Ep. 42: Jedi Mom Tricks, Part 3
Links
Podcast originally published at Sunshine Parenting.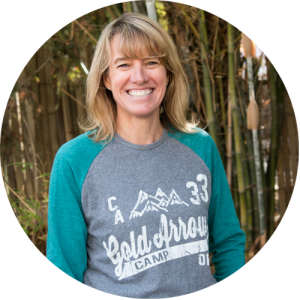 Audrey "Sunshine" Monke, MA, has been the owner of Gold Arrow Camp since 1989 and currently serves as the Chief Visionary Officer. In addition to her vision-casting and mentoring at GAC, Sunshine is an author (Happy Campers: 9 Summer Camp Secrets for Raising Kids Who Become Thriving Adults), podcast host, speaker and coach on the topics of parenting, social skills, and happiness. Find out more at her website, Sunshine Parenting.
My shy, quiet nine-year-old went to camp not knowing a soul. Two weeks later, she came home transformed. She blossomed. She made friends, learned a multitude of activities, felt safe, loved, confident, and happy — really, really happy. As hard as it was on me, it was all worth it for her. It was the single best thing I have ever done for her.
-First-time camp parent
Is your kid going to camp this summer? Congratulations! You're giving them an experience that may have many life-long, positive benefits. You are giving them the opportunity to grow and develop skills and character traits that are often hard to develop in the comforts of home.
Let this list remind you about some of the many reasons why you are being a great parent by sending your child to camp this summer!
At camp this summer, your child will…
#1 BE HAPPIER
Camp makes me happy and nothing can prepare me for life as well as this environment.
"Come on," you're thinking, "How can two weeks in the mountains change my child's overall happiness level?" Good question. In research I conducted a few years ago, one of the things that both parents and kids agreed was that children feel happier after being at camp. The combination of positive emotions, deep friendships, being disconnected from technology, and just plain fun makes kids feel happier at and after camp. I've previously written about how the science of positive psychology may explain why kids flourish at camp and demonstrate increased happiness levels during and after their camp experience. In this era, when we're seeing our kids suffer from rising rates of depression and anxiety, isn't it nice to know that there's a place where kids can go that actually serves as a positive intervention for overall happiness?

#2 DISCOVER THEIR BEST SELF
Being at camp gives me this sense of belonging that I've never felt anywhere else.
In many different ways, but all with the same underlying meaning, campers describe camp as a place where they can be themselves. They feel open to saying and being who they really are, not stuck conforming to what's considered "cool" and "acceptable" in the outside world. Surrounded by a diverse group of friends of different ages and backgrounds, kids develop the ability to explore their own interests and express their own thoughts better.
As a parent, I hate to admit that I sometimes push my own interests on my kids, even when I don't mean to. For example, I might say, "You're so good at softball! Don't you want to keep playing?" when my child says she doesn't want to play anymore. When kids step away from their regular activities and normal life schedules (as well as their well-meaning but often overly directive parents), they have the opportunity to think through what's really important to them as individuals.
#3 GROW THEIR GRIT
The counselors challenged me to do things I wouldn't normally do at home.
Learning self-reliance, experiencing mistakes and failures, and reaching for goals are all camp experiences that help campers develop their grit, an important character trait that we've learned is critical to success in life. Camp offers a unique experience to children – the chance to be away from their parents for a short period of time and learn to handle more things on their own. Without parents to step in and assist, or rescue from mistakes, kids develop confidence in their own ability to make decisions and solve problems. Just being "on their own" is a huge confidence builder for kids, and they feel more self-reliant after being responsible for themselves and their belongings for a few weeks.

#4 MEET POSITIVE ROLE MODELS
Camp has made me into a leader, having the best role models as my counselors to look up to.
One of the best things that happens at camp is that kids get exposed to a different kind of adult role model than what they see in the media. No reality TV stars will be gracing the waterfront or backpacking trips at summer camp. No perfectly coiffed and stick-thin model will be standing next to them brushing teeth in the bathroom. No macho guy who speaks disrespectfully about women will be leading the campfire discussion. In fact, the college students who choose to spend their summer working at camp are an outstanding bunch of young adults. Most are stellar students with outstanding leadership skills. They love the outdoors and working with kids, and they are the kind of people we want our kids to emulate. They love leading discussions on topics that are important to their campers and helping them build confidence. There's no focus on appearance at summer camp, and so designer clothes, makeup, and trendy hair-styles don't hold the same importance that they do at junior high or high school. In fact, the predominant style at camp is pajama pants paired with dirt and sweat-stained t-shirts. And we hardly ever spend time in front of a mirror.

#5 DEVELOP BETTER COMMUNICATION SKILLS
The other part of camp that has influenced me the most is the simple idea of trying to always smile.
In post-camp surveys, campers consistently write about how ditching their electronics was one of the best things about their camp experience. In fact, it's a practice they take home with them, setting aside phones during meals with friends so they can connect more genuinely, face-to-face. In the absence of technological tethers, campers have many hours each day to practice these face-to-face communication skills. They learn the importance of things like eye contact, smiles, and body language as they positively interact with their peers. Counselors help facilitate lively discussions, and campers learn to ask each other questions, listen more carefully, and figure out common interests. Kids learn and practice valuable communication skills at camp, which they can use throughout their lives.
#6 DEVELOP INDEPENDENCE
Going to camp has made me even more independent and a much better people-person. I am able to go confidently up to someone and introduce myself, or hang out with someone new because of my time at camp.
You are giving your child the opportunity to live and thrive without being with you and under your constant scrutiny. The growth in confidence and independence happen at camp BECAUSE you are not there. Read more about why camp experiences help kids develop independence in Parking Your Helicopter.

#7 EXPERIENCE OUTDOOR CHILDHOOD FUN & ADVENTURE
I have so many fond memories of camp that I can't choose a particular one. However, some of my favorites memories include sleeping under the stars, doing fun activities, and spending time with friends.
You are giving your child the gift of magical childhood memories – dirt, adventure, story, and joke-filled days and nights spent with friends outdoors, under the stars, and around the campfire. These childhood memories will last forever. And, as Michael Thompson, PhD, so eloquently states, "Our sweetest childhood memories do not include adults."

#8 RELAX
The atmosphere is so relaxed.
You are giving your child a break from the pressures and stress of competitive sports, school, and you. Forgive me if that offends, but I, too, am a well-meaning but over-involved parent who provides just a bit too much advice, feedback, and guidance to my children. Our kids need a break from our well-intentioned involvement in their lives.

#9 GET UNPLUGGED
Camp has helped me appreciate nature and the outdoors a lot more than I think I would have if I didn't go. I can go without my phone or connection to social media awhile, because camp has shown me that amazing stuff happens when you put your phone down and have a nice conversation with someone.
You are giving your child the chance to unplug and connect face-to-face with other kids and positive young adult role models.
#10 BECOME BETTER AT MAKING AND KEEPING FRIENDS
I feel like I have become a kinder person and am better at making friends because of camp.
The bonding and friendships that happen at camp are different from those that occur at school and on sports teams. The intensity of living together and experiencing life together, without distractions, creates the ideal setting to form life-long friendships and really get to know people well. Read more about camp friendships.
So, if people ever question your decision to send your young child to a traditional, longer camp stay this summer, let them know that it's hard for you to let your child go, but that you're giving your child a gift that will have more impact than any material item you've ever given.
There you have it! Ten of the reasons that great parents send their kids to camp! Don't you feel good about your decision?
Check out the Sunshine Parenting Podcast for TONS of resources and interviews about summer camp, parenting, and raising thriving kids!

Article originally published at Sunshine Parenting.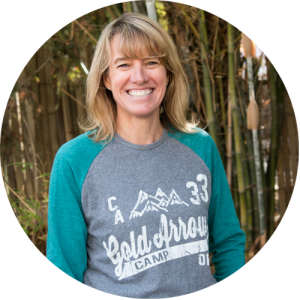 Audrey "Sunshine" Monke, MA, has been the owner of Gold Arrow Camp since 1989 and currently serves as the Chief Visionary Officer. In addition to her vision-casting and mentoring at GAC, Sunshine is an author (Happy Campers: 9 Summer Camp Secrets for Raising Kids Who Become Thriving Adults), podcast host, speaker and coach on the topics of parenting, social skills, and happiness. Find out more at her website, Sunshine Parenting.
Resources
https://www.cdc.gov/childrensmentalhealth/features/anxiety-depression-children.html
For each of us, 2020 held a lot of different moments and emotions. We have now entered 2021, which is a great time to sit back and reflect on all that was last year. Audrey "Sunshine" Monke, GAC's Chief Visionary Officer, shares with us an activity that your entire family can do together that encourages everyone to choose one word that will help to provide guidance, inspiration, and direction for the year.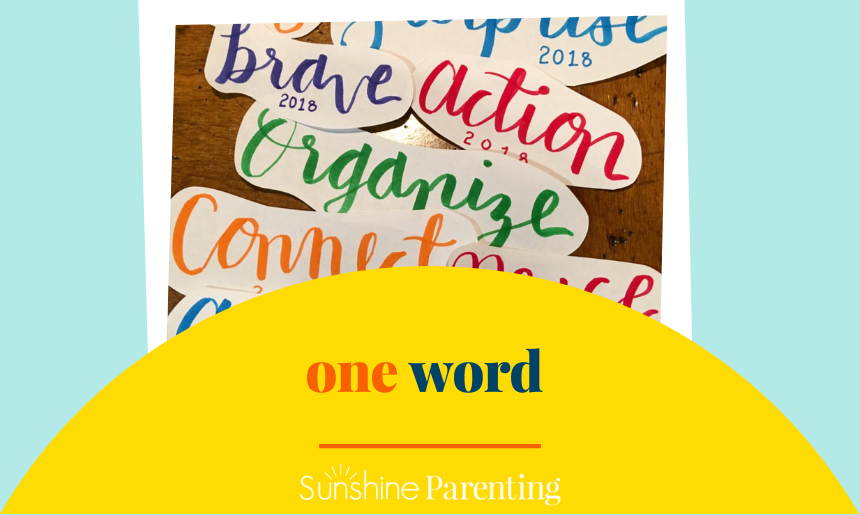 On her website (Sunshine Parenting) and her podcast, Sunshine shares many resources to encourage family time and reflection, among many other useful topics for parents. To access those resources, sign up to receive her weekly emails or subscribe to her podcast.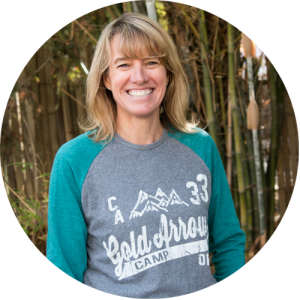 Audrey "Sunshine" Monke, GAC's Chief Visionary Officer, researches, writes, and speaks about parenting, social skills, and strategies for raising thriving kids at Sunshine Parenting. In her book, Happy Campers: 9 Summer Camp Secrets for Raising Kids Who Become Thriving Adults, Sunshine shares simple ideas parents can use to create the fun, connection, growth, and happiness of GAC at home. Here are four of Sunshine's favorite connection tips for families.
If you were to ask me the most important thing parents can provide their children, camp counselors can provide campers, and teachers can provide students, I can sum it up with one word: Connection.
-Audrey "Sunshine" Monke
Building a relationship and connecting with kids—while also helping them learn to connect with each other and form friendships—is the most important experience we can provide our kids to inoculate them against the inevitable setbacks they will face in life.
Here are some simple ideas from GAC for boosting family connections.
One-on-One Check Ins
On our counselor job description, one of their duties is to "check in with each camper, every day." We call these check-in meetings "One-on-Ones." Counselors ask campers specific, open-ended questions to elicit how campers are feeling. The counselors ask about their friendships, activities, how much they're missing home, what's going well, and if they need help with anything.
These are individual conversations, out of earshot of other kids, that last anywhere from two to five minutes. The campers get accustomed to the check-ins, so they're not surprised when their counselor starts chatting with them.
As a simple way to deepen your connection with your kids, and know how you can best support them, try having at least one daily one-on-one chat with each of them, modeled after what camp counselors do:
Turn off or put away your phone (and have them put theirs away, too).
Stop doing everything else (cooking, looking at a magazine, etc.).
Give your child your full attention (eye contact, body turned toward them, not thinking about other things).
Ask them a few open-ended questions. "Tell me about the best part of your day" is an easy place to start.
Your one-on-one chats can be anytime. You can make it a daily ritual over an after-school snack, while sharing a hot drink, or while tucking them in at bedtime, but that small, concerted daily investment of time will lead to a closer connection between you and your kids.
If your kids are already teens, know that the best way to have one-on-one chats is to be open to whenever they initiate the talk with you rather than forcing them to be on your schedule. When they talk, drop everything else you're doing, focus on them, and listen!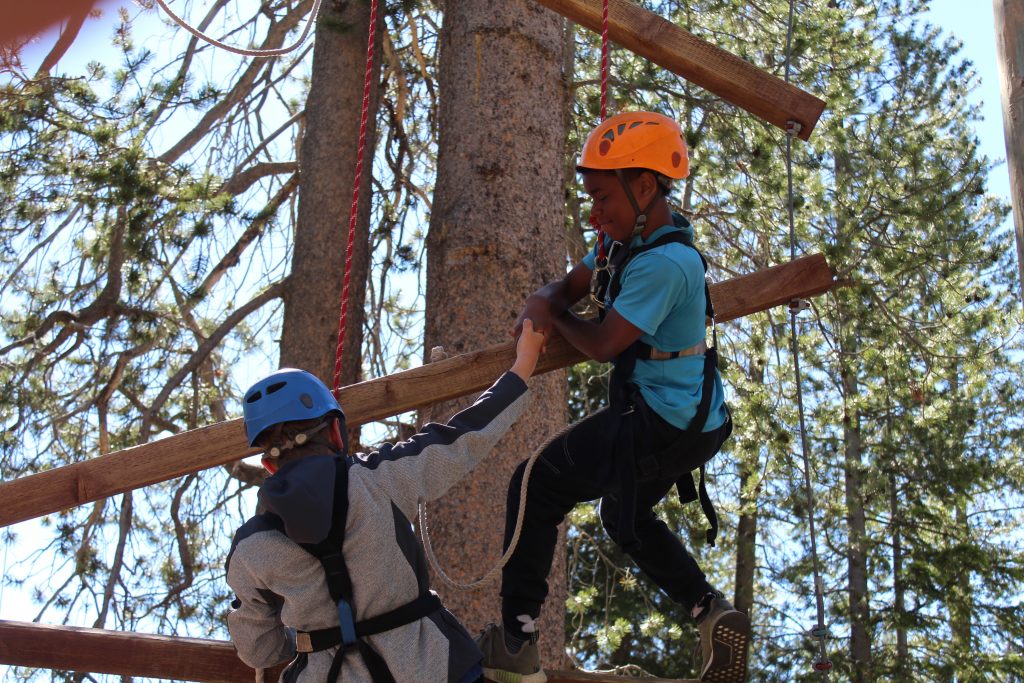 Daily Sharing
A highlight of each day at camp is our evening campfire. Gathered around the fire, counselors lead a daily sharing practice. Campers remember these conversations fondly and the evening campfires are many campers' and staff members' favorite camp memories.
Find a time each day – dinner or bedtime are often good times to set up a consistent sharing practice – to spend just a few minutes sharing with each other.
The only rules for your daily sharing are that one person speaks at a time and everyone else listens to the person speaking. Your kids may need a few reminders, as listening attentively is a skill most of us need to work on!
Your kids (especially if they are preteens or teenagers) may balk when you bring up the idea of daily sharing and do it for the first time. Stay strong. They will eventually learn to appreciate your daily sharing practice. Even if they continue balking, don't stop. Even if they don't show it on the outside, they will eventually come to appreciate a time each day when caring people listen to what they have to say.
Here are a few daily sharing ideas:
"Highs & Lows" or "Roses & Thorns"
This is a simple and well-known sharing practice where each family member shares something good that happened in their day (a high) and something bad (a low). Sharing often leads to stories and discussion about different events — the side track conversations are good, so let those happen! There are also additions you can add. At camp, we often do High, Low, and Hero, where each camper shares their high and low as well as someone who was kind to them or a "hero" that day. Another twist on this activity is called "Rose, Thorn and Leaf." The rose is the high, the thorn is the low, and the leaf is something you're looking forward to.
Three Good Things
Each person shares three good things that happened in their day or three things they are grateful for. This gratitude exercise (when journaled) has been proven to reduce depression symptoms. While your sharing conversation won't be written down (unless you choose to do so), it can still bring a positive focus to your sharing. Ideally, because everyone anticipates the daily sharing, everyone will be more aware of and looking out for the positive things that happen every day.
Kindness
Sunshine loves the idea of sharing something each person did that was kind or something kind someone else did for you. Focusing on kindness is incredibly important in our increasingly unkind-seeming world.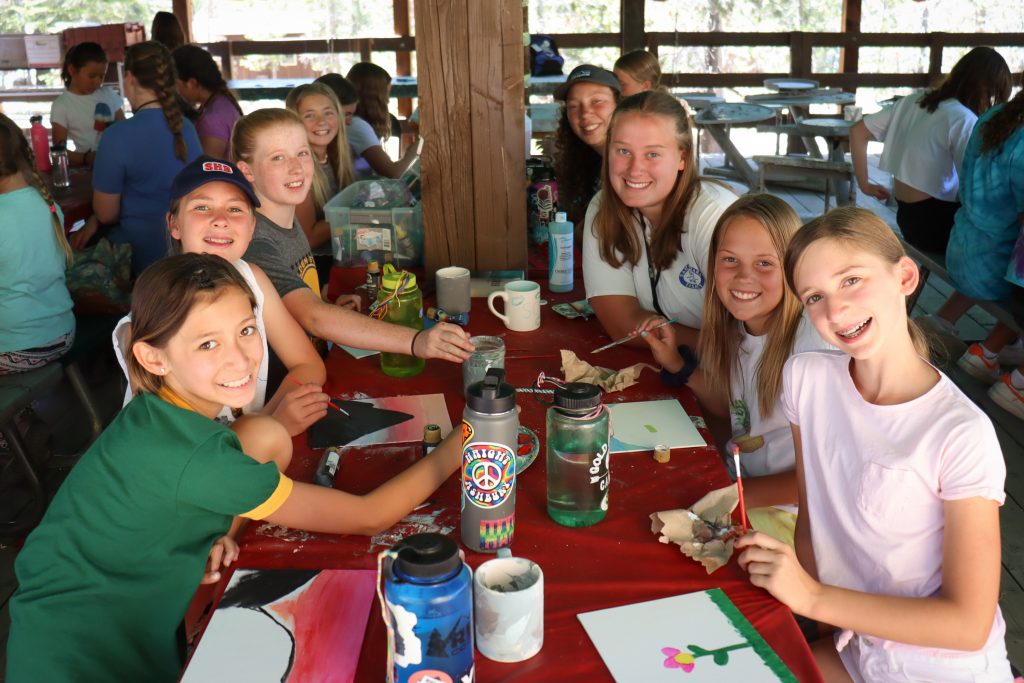 Ask Questions
Questions are a great way to connect with each other and get conversations started.
Here are a few to get you started (from the Questions for Connection GAC counselors use):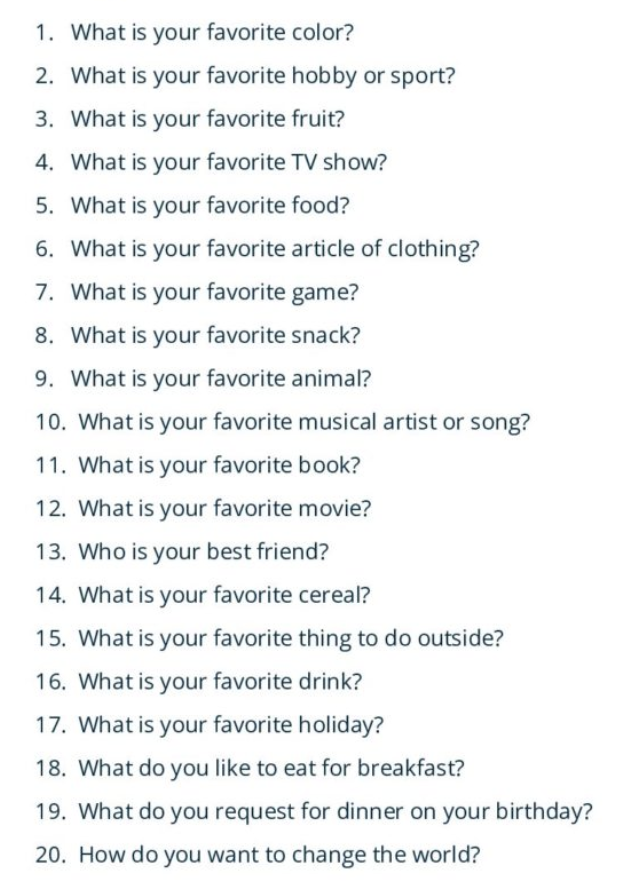 Sticky Note Compliment
At GAC, we focus on campers' strengths and encourage them to think about building upon their strengths. Often as parents we spend a lot of time managing our children or helping them with things they are not good at. A great way to connect and make your child feel great is to leave an encouraging note on your child's bathroom mirror, on their pillow, or in their lunch box. Tell your child something you really appreciate about them and something that's an inner quality or strength.
Resources/Related Posts