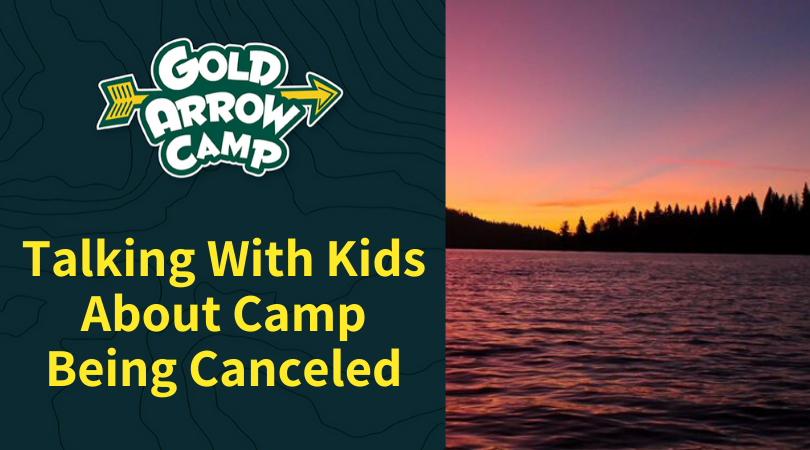 Talking With Kids About Camp Being Canceled
For some of our campers and staff – especially for those who have been counting down the days to their session and anticipating getting back to their favorite place on earth – the cancellation of GAC 2020 is yet another loss in a year that has already been full of loss. This pandemic is leaving no person or place untouched.
We are aware that the cancellation of camp makes an already difficult time even harder, and we had really hoped not to have to cancel all of our summer sessions. We know how beneficial camp would be for our community this summer.
We are committed to providing resources and support to our camp families during this difficult time. We will continue to stay connected to our camp community, and we will share resources with you. We will also encourage our campers and staff to continue practicing GAC's values.
Specifically, we will be encouraging our camp families to:
• Unplug and connect face-to-face with family members and others you are sheltering with.
• Get outside and experience the awe of nature.
• Practice kindness.
• Practice positivity and encourage others.
GALA (Gold Arrow Leadership Academy)
For those families who are interested in having some GAC connection and growth this summer, we are offering a four-week virtual camp program with consistent groups and counselors. The groups will meet three times per week for four weeks.
For more information, visit:
GALAMS (6-8th grades)
GALA (9-12th grades)
Resources for Parents
Tina Payne Bryson, Ph.D. has many helpful videos and resources for helping us and our children through this pandemic. The video below is particularly helpful as we help our kids process their disappointment over cancelled summer plans.
Sunshine talked with Tina on her podcast several weeks ago for this episode:
Ep. 136: Showing Up for our Kids during COVID-19
As you communicate with your kids about the cancellation of camp, expect that your kids may be upset. Psychologist and educator Dr. Christopher Thurber recommends that you don't try to give advice or problem solve right away. For many kids, there isn't a substitute for camp. Dr. Thurber recommends we let our kids sit with their grief for as long as they need to and we give them the space to talk about their feelings.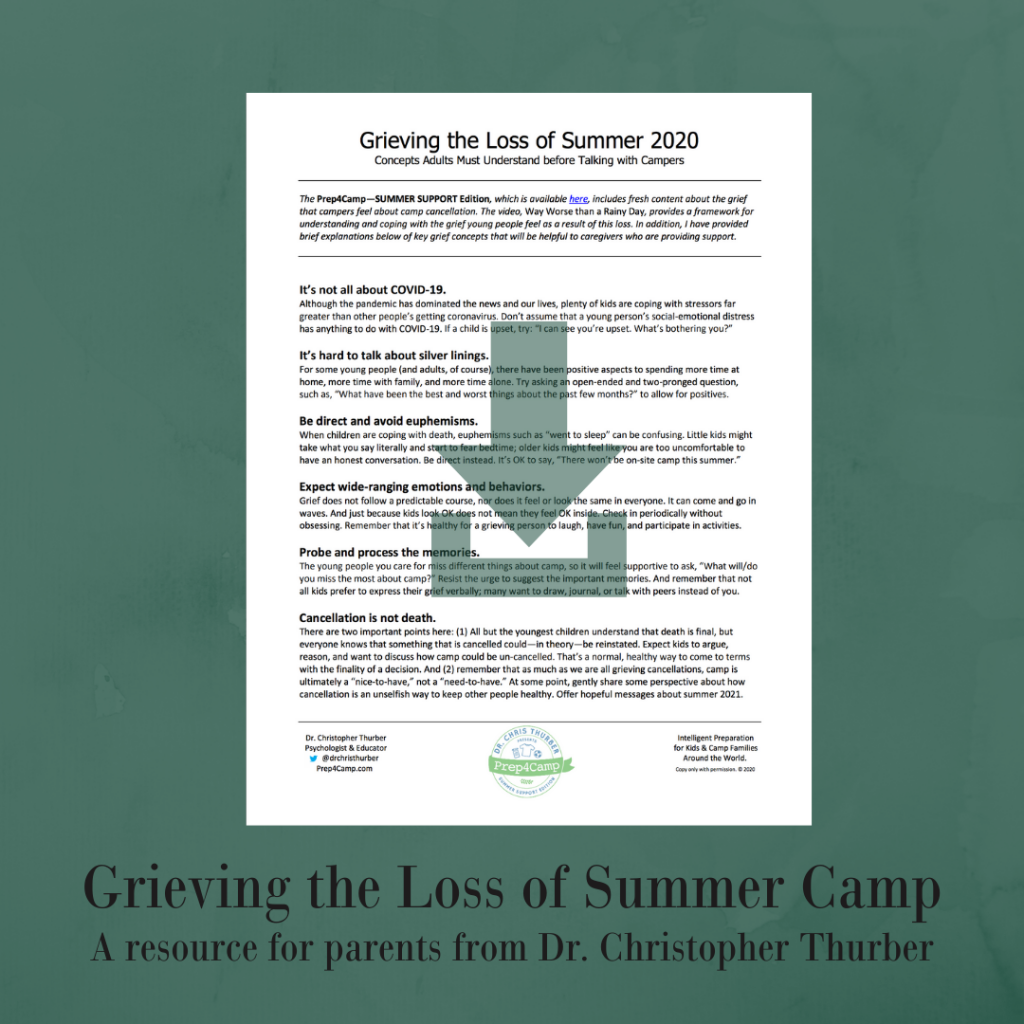 Sunshine talks about validating kids' feelings in this video:
Maintain the foundations of wellness & promote kids' mental health
Dr. Thurber also recommends we make sure our kids are eating and sleeping well and getting exercise.
For more information on the "Triumvirate of Good Health," listen to the interview Sunshine did with Dr. Jess Shatkin, a board-certified child, adolescent, and adult psychiatrist who leads the educational efforts of the NYU Department of Child and Adolescent Psychiatry, about promoting our kids' mental health.
Listen to Sunshine Parenting Ep. 124: Promoting Mental Health with Dr. Jess Shatkin
Dr. Thurber has some new resources for parents to help debrief with kids about their grief about the cancellation of camp and other important events this year. You can download this PDF with his talking points, and you might want to also watch Dr. Thurber's 9-minute video "Way Worse Than a Rainy Day" with your camper to help you with your communication. Activate your subscription for Dr. Thurber's video and other resources at prep4camp.com. Use GAC coupon code GOLDARWP4C at check out (we have pre-paid for our families to access these resources). Instructions are included below.
Step 1: Click here to access the "Way Worse than a Rainy Day" video by Dr. Chris Thurber
Step 2: Click "Get Access Now"
Step 3: Select "Prep4Camp" under "Choose offer", then click "Continue" (no payment is required!)
Step 4: Fill in your information to "Create an account"
Step 5: On the right side of your screen enter GOLDARWP4C for the "Discount code" and click "Apply"
Step 6: Click "Complete" in the center of your screen and wait 5 seconds for the site to redirect you to the "Way Worse than a Rainy Day" video
Talking Points with Children & Teens
It's not all about COVID-19.
Although the pandemic has dominated the news and our lives, plenty of kids are coping with stressors far
greater than other people's getting coronavirus. Don't assume that a young person's social-emotional distress has anything to do with COVID-19. If a child is upset, try: "I can see you're upset. What's bothering you?"
It's hard to talk about silver linings.
For some young people (and adults, of course), there have been positive aspects to spending more time at
home, more time with family, and more time alone. Try asking an open-ended and two-pronged question,
such as, "What have been the best and worst things about the past few months?" to allow for positives.
Be direct and avoid euphemisms.
When children are coping with death, euphemisms such as "went to sleep" can be confusing. Little kids might take what you say literally and start to fear bedtime; older kids might feel like you are too uncomfortable to have an honest conversation. Be direct instead. It's OK to say, "There won't be on-site camp this summer."
Expect wide-ranging emotions and behaviors.
Grief does not follow a predictable course, nor does it feel or look the same in everyone. It can come and go in waves. And just because kids look OK does not mean they feel OK inside. Check in periodically without obsessing. Remember that it's healthy for a grieving person to laugh, have fun, and participate in activities.
Probe and process the memories.
The young people you care for miss different things about camp, so it will feel supportive to ask, "What will/do you miss the most about camp?" Resist the urge to suggest the important memories. And remember that not all kids prefer to express their grief verbally; many want to draw, journal, or talk with peers instead of you.
Cancellation is not death.
There are two important points here:
(1) All but the youngest children understand that death is final, but everyone knows that something that is cancelled could—in theory—be reinstated. Expect kids to argue, reason, and want to discuss how camp could be un-canceled. That's a normal, healthy way to come to terms with the finality of a decision.
(2) Remember that as much as we are all grieving cancellations, camp is ultimately a "nice-to-have," not a "need-to-have." At some point, gently share some perspective about how cancellation is an unselfish way to keep other people healthy. Offer hopeful messages about summer 2021.
Psychologist & Educator for Kids & Camp Families
@drchristhurber Around the World.
Prep4Camp.com Copy only with permission. © 2020
What Campers are Grieving
According to Dr. Thurber, there are some common things kids might be grieving, including:
• The loss of the face-to-face communication, interaction with people, the opportunity to form lifelong friendships, and the chance to reconnect with their best friends in the whole world.
• The loss of the "camp vibe," the culture of positivity and fun and the kind way people treat each other.
• The loss of the physical contact that is a big part of camp – the high fives, hugs, and fist bumps that fill our camp days.
• The loss of some of the specific, fun activities campers only have the chance to do at camp.
• The loss of the beauty of the camp setting and the positive memories that being at camp evokes.
• The loss of the opportunity to relax, have fun being goofy, and be free from the stresses of school, competitive sports, social media, etc.
We hope your camper will be back with us in 2021, when we will all be even more grateful for our time together at camp. In the meantime, we hope you'll stay connected with us and participate in our online events this summer and live events (GAC Runners events, GAC Parties, etc.) next year.